I first met Masixole Ncevu (aka Macx Ncevu) when we worked as photographers in Cape Town in 2015. He was studying at the Vega School of Photography, and my first impression was of a fresh-faced and innocent student. It soon became clear that behind an almost cherubic façade lay a wealth of experience and street-wise savvy.
Born in the Eastern Cape in the 1990s, Ncevu's childhood mirrors millions of South African lives with a movement from his home to the harder and harsher realities of the city. He is now based in Johannesburg and Cape Town, documenting the lives of people living on the margins of both cities.
There, Ncevu's innocent charm is not a weakness, but perhaps his greatest advantage. The photographer's passion and honesty allow him to gain the trust of his subjects and, in return, he offers them something we all covet: the opportunity to be seen.
Ncevu's work falls into what can be loosely defined as the tradition of street photography. That contentious but candid form that some argue was forged (or at least refined) by French photographer Henri-Cartier Bresson.
"I didn't study at Michaelis," Ncevu jokes. "My work is very simple."
Simple though it may seem, Ncevu's work fits into the South African tradition of ethnographic photography – a form first spawned during the days of colonialism, which has been reproduced, explored and subverted for most of the 20th century.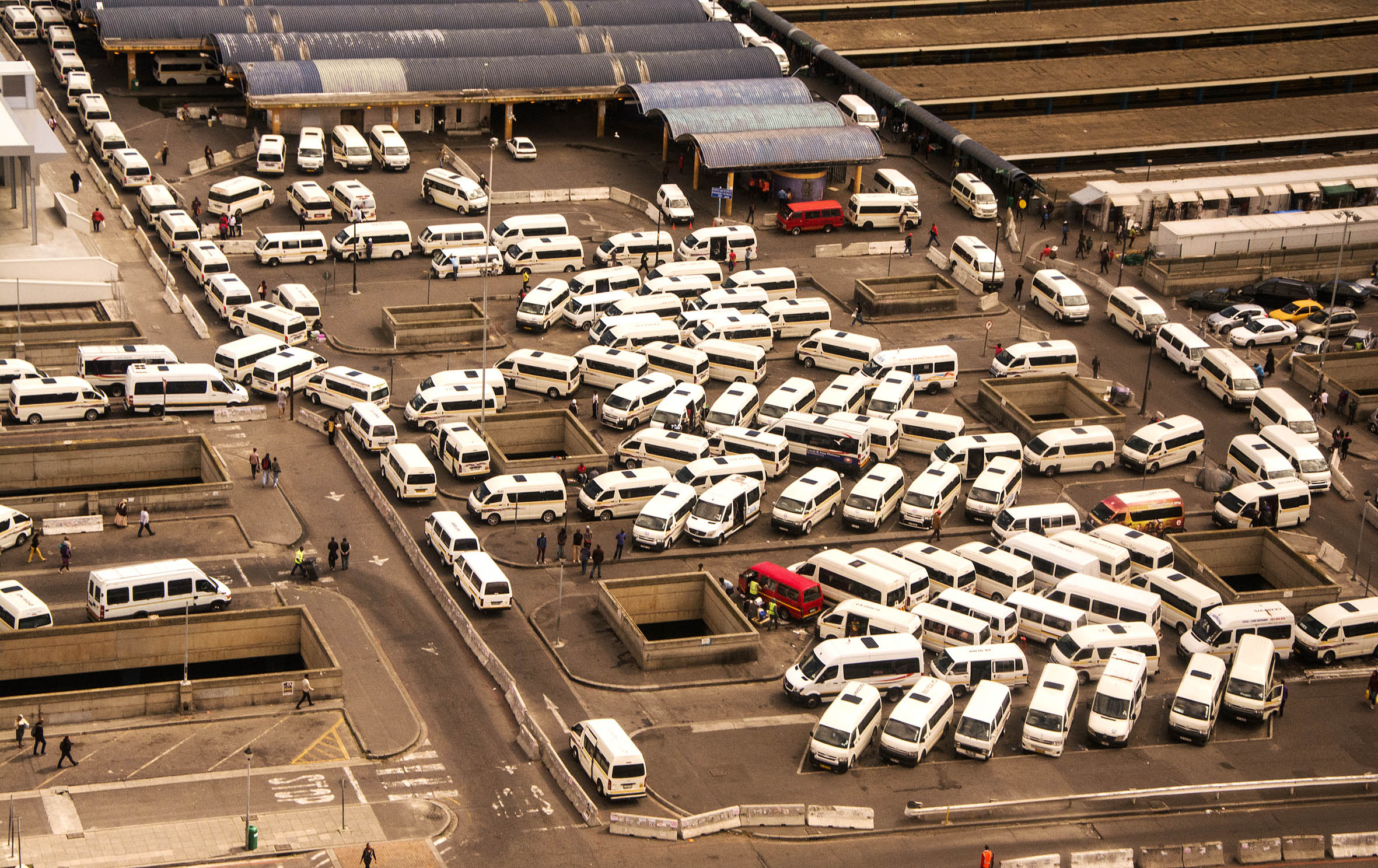 [Street photography: Ncevu highlights everyday life such as this taxi rank]
"I've been working with a foreign anthropologist for a while, which is a good paying job," Ncevu says.
Such a statement might make some uneasy, given the largely tarnished reputation foreign anthropologists have on the continent. But the sensitivity and honesty with which Ncevu works helps him to resist the affront of the white "gaze".
"Sometimes I feel like a magician, because people are so comfortable with me. I am always very honest from the start."
This focus on honesty has produced an interesting current that threads through his work. Sometimes his work is political, he says, but more often than not it is born out of his passion for people and the ways in which they conduct their lives.
It's not only the lives of others that inform Ncevu's work, but also his own. His slogan, "photography is my life", is more than just a clichéd line. Photography is indeed his primary way of living. It is the vehicle through which he is able to explore his love for the myriad kinds of people who inhabit the Earth.
"I have a huge interest in people, and how people connect with their environment, and for me seeing people on the streets, it doesn't matter what they're doing even if it's just walking. Photography allows me a way to explore people more deeply."
In line with the anthropological tradition, one gets the sense with Ncevu that he desires pictures that could only be taken by the much-theorised "insider". "Gaining trust and building a relationship to me are crucial. Once I have that trust, and am able to shoot freely, then I feel I can create an honest portrait," Ncevu explains.
His desire for immersion and understanding has taken him from the Eastern Cape to Johannesburg, which he says is his "gateway to Africa", because of the migrants from all over the continent. "I've been exposed now to Nigerians, Tanzanians, Ghanaians, and I've developed more of an interest in exploring my people, which is Africans. I still want to travel to more countries in Africa, and then maybe after that go and tell my story overseas."
Ncevu has already gained international attention; a group exhibition in London in October is on the cards. "I'm really interested in travelling to Europe, because they have a really great interest in what I'm doing and the way I see things."
How he is received in South Africa compared with Europe? The answer is familiar: "There's a huge difference, because my work is contemporary, it's something that's happening now, so for people who are local, it's something they see every day, whereas internationally people are still fascinated by what is going on in South Africa, and the way I see things, because it's very simple and very real.
"In South Africa I'm guessing it'll only be appreciated later on, maybe in the next 20 years or so."
He sees his work as being a kind of time machine, letting those in the future know what things were like in 2017.
Although most of his projects focus on people, they always include some sort of contextualising landscape. One project of his, Tafelberg Hof, contains no portraits at all; it is a series of interiors of damaged and abandoned rooms. Even when his pictures contain no humans, they are still fundamentally about people.
The Tafelberg Hof series gives the impression of a moment only just missed, remnants of what was once a life: broken mirrors, tables and headboards, strewn about as one imagines the former residents leaving, taking only what is vital.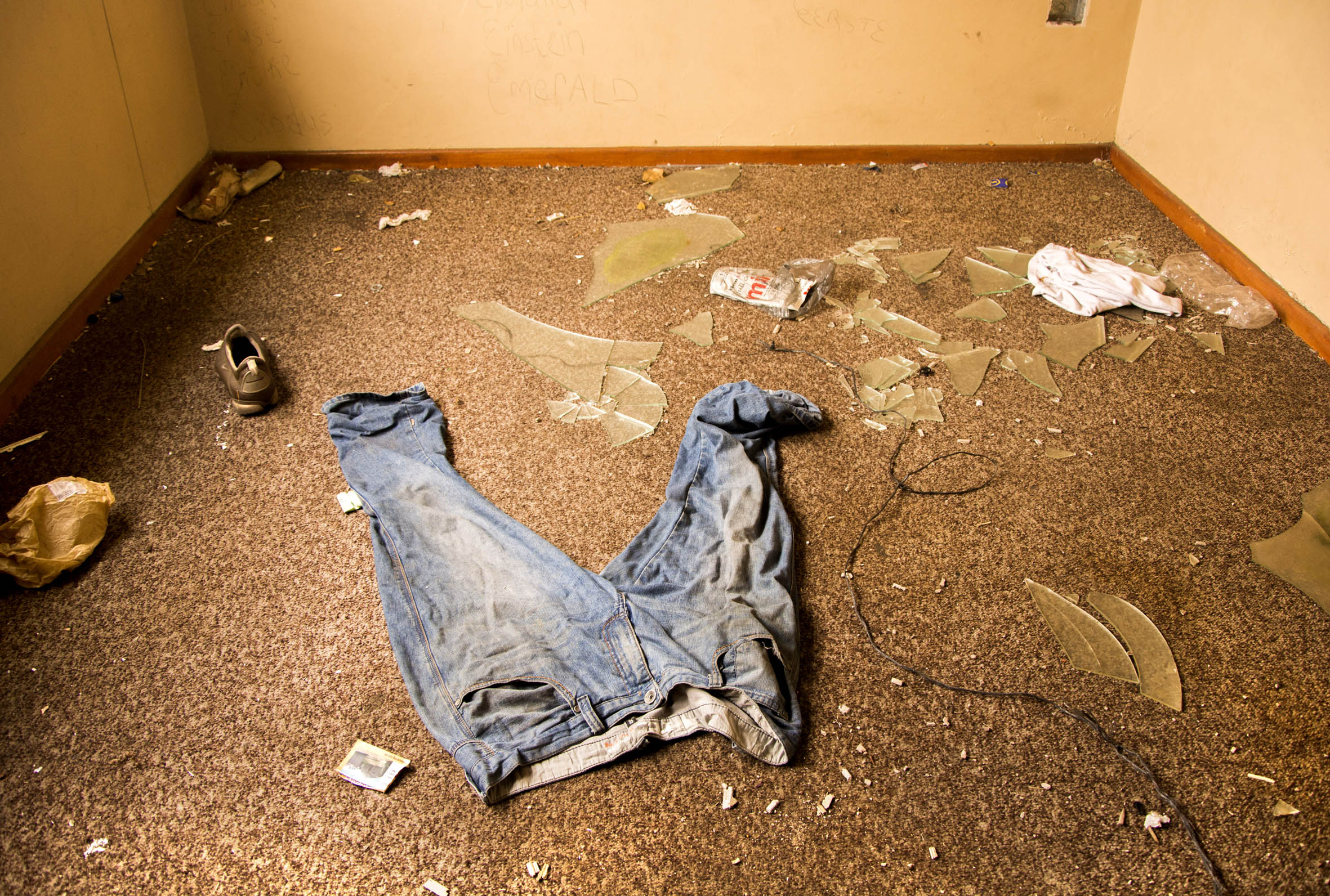 [Missed moments: part of Ncevu's Tafelberg Hof series]
In Way Through, Ncevu offers us a study in uniformity and the breaking of it. Here we see a taxi rank; a photograph of schoolgirls' shoes, all with the same beige socks; a man with an eye patch staring out from behind a row of bars.
For Ncevu, the banal and the everyday are poetic, not because of their uniformity, but because of how everyone appears, in their own small ways, to break that uniformity daily, injecting their own individuality and humanity into daily life.
Ncevu's enthusiasm and optimism about life shines through, even in some of his darker images.
Of his photographic influences, he reveals that he is inspired most by photographic pioneers such as German photographer August Sander. His most important local influence is Thabiso Sekgala, which is obvious when you read about Sekgala's passion for life, his integrity and his deeply respectful attitude towards his subjects.
Though still young and finding his place in South African photography, Ncevu is an important "voice", and a good example of how problematic street and ethnographic photographers can approach documenting people's lives: with honesty and integrity — and an endless supply of charm.