'The African project of succession also designates this same configuration of its locus of creativity. In effect in the early 1960s, the African scholar succeeded the anthropologist, the 'Native" theologian replaced the missionary and the politician to the place of the Colonial Commissioner." — VY Mudimbe (The Invention of Africa)
There's an odd behaviour people generally exhibit around reserved people. Either one becomes uncomfortable and speaks for the sake of easing discomfort or falls into an easy silence. For those orbiting the silent, there's a notion they're afforded the ability to fill in gaps with myths and legends of their own making.
Everyone has a Kudzanai Chiurai story, based tellingly on how the artist or his work made them feel.
Chiurai may not think of himself as a ringmaster, but the man has the flair and sense of timing to coax personality out of the most mundane and taciturn of faces, mine included. Though silent to the point of rudeness, you get the sense that in eerie stillness is a chaos best expressed in his art.
Twelve years ago in his first major interview with Bongani Madondo, presenting his first exhibition as an I'm-about-to-be-huge-first-black-graduate of the University of Pretoria's fine arts programme (as Madondo was so helpful in pointing out), Chiurai is quoted as having said: "I might sound brave, but I am very disturbed."
Since 2005, the artist has explored pertinent issues related to mainstream media, gentrification, xenophobia and the illusion of black empowerment. How can he not be? For the first time in his career, it appears, Chiurai has seemingly been provoked.
Before this Chiurai was grabbing at low-hanging fruit. Gentrification and xenophobia, though pertinent, are easy targets. His latest work, We Live in Silence, seems more personal, unavoidable, in his face and thus more sincere. He has looked around his high-flying circle of associates and revolted against the post-colonial Christian God, country, tradition and the missing women in his art.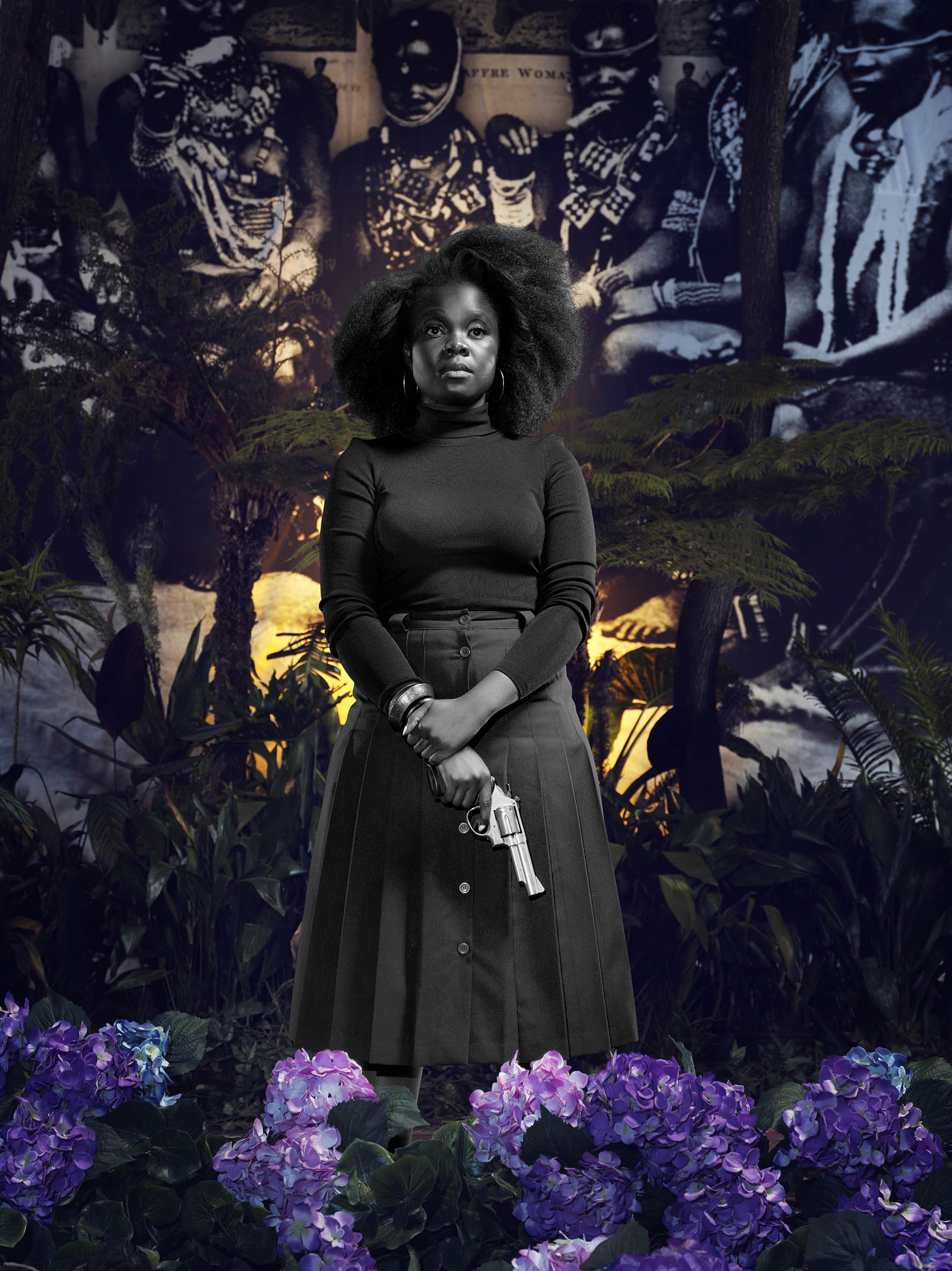 [Ready for war: Writer Kiri Rupiah as the female Black Panther (We live in Silence)]
He happens to have landed in a time and place in which art — like the economy that supports it — is tearing up and replacing what came before.
Against my better judgment, I was roped into being a subject in We Live in Silence. In a foul mood from getting there early, I and others gathered in the Church of Chiurai being directed into genuflection and direction by the low-voiced artist and his adoring collaborators. I was to embody the role of a female Black Panther, armed and ready for war.
The final result was emotionally taxing. Through my face, I saw the tired, dejected faces of my mother, my grandmothers, the women who reside in me, who realised very early on there's no space for us here, but shit needs to get done nonetheless.
On set, it was odd to watch men and women alike falling into Chiurai's thrall, falling into rapt, reverent attention to do his bidding. In low, almost inaudible tones, he gets the cool kids, the crew and hangers-on to make his vision crystallise. As with previous work, Chiurai teamed up with an award-winning production team: photographer Jurie Potgieter, art director Dylan Lloyd, stylist Bee Diamondhead, set designer Johann Krynauw, director of photography Adam Benton, sound producer João Orecchia and performance director Lindiwe Matshikiza.
We Live in Silence marks the final instalment in a three-part series that began with Revelations (2011) and continued with Genesis [Je n'isi isi] in 2016, which explored the early role of Christian missionaries and the Church in paving the way for colonialism in Africa, as well as the lingering effects of syncretic religions on the postcolony.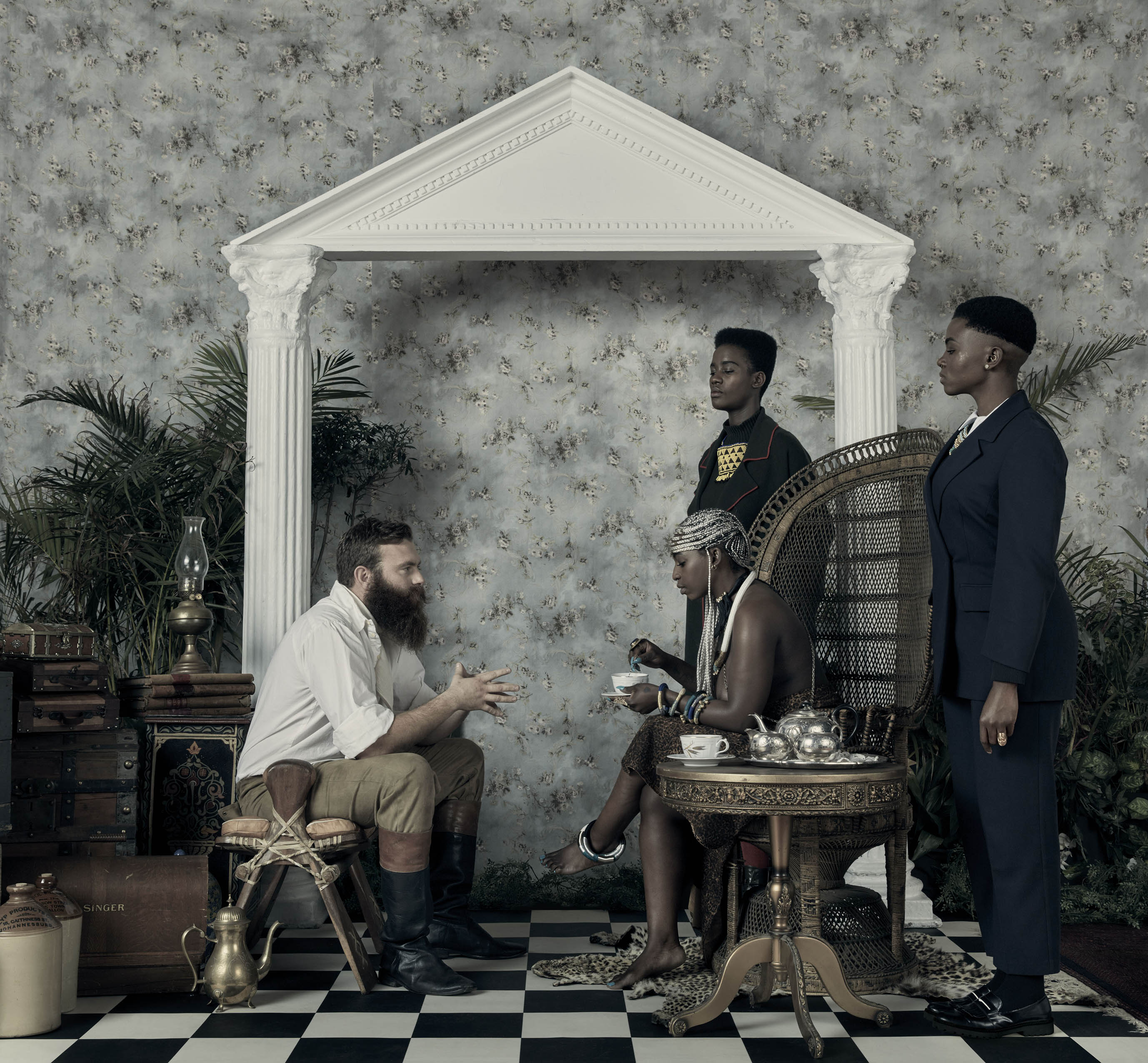 [Genesis is a work from one instalment of Kudzanai Chiuria's three part series]
The origin of Genesis [Je n'isi isi] is a set of stone reliefs housed at the David Livingstone Centre in Blantyre, Scotland. Titled Truth, Expounding the Gospel, Mercy, Freeing a Slave Gang and Faith, Conflict with Superstition, the reliefs commemorate Livingstone's paternalistic and parochially redemptive expeditions into Southern and Central Africa.
Revelations (2011) is a photographic series that explored the relationship between the nation and the state, how the state fosters nationhood, identity and patriotism and how the nation state is the outcome of conflict resolution. The exhibition took as its starting point the political revolutions that led to social evolution, in turn shaping the postcolony and revealing the new African state. The nation state is viewed as a neocolonial instrument.
True independence and self-reliance was not achieved, and today the same tactics of colonial violence continue to be employed by liberation governments.
We Live in Silence uses Mauritanian filmmaker Med Hondo's critically acclaimed 1967 drama Soleil Ô as its starting point, responding, in particular, to the colonial mindset encapsulated in the following line from the film: "It's crucial to be able to select individuals capable of speaking as we do, capable of thinking as we do, capable of retaining, of absorbing, yes absorbing words as we do and above all giving them the same meaning, and so there'll soon be millions of white-washed blacks, white-washed and economically enslaved."
In this body of work, Chiurai dissects the film by recreating scenes, interspersing them with visual references from pop culture and art history sources to stage alternative colonial histories and futures that reject this notion that model Africans are to think, speak and understand language like their colonisers.
Mixing the mediums of photo-graphy, film, historical documents and paintings, Chiurai's overarching theme in We Live in Silence is the erasure of black women in the fight against colonialism, how memory is a crucial component to history, the role of the Church in Africa's capture and the role of our native commissioners; how the liberation governments keep the colonialists' vision alive.
The exhibition repositions black women's role in recent struggles — recasting the lead character as 
a woman in the black liberation narrative to challenge the inherent gender bias, which tends to pitch black 
men as the sole victim of colonisation and, hence, the solitary liberator. Black women are centralised, allowing them to reveal themselves, 
as opposed to being historically denuded of agency and literally stripped for consumption through a violent gaze. In most artistic renderings of black women, from fine art to pop culture, black women are a prop, an afterthought, not the vehicle of the narrative.
Artemisia Gentileschi's Judith Slaying Holofernes is reimagined as a black woman slaying Holofernes, a white man. Jesus is a black woman ascending to heaven, leaving her female Panthers to spread the Gospel.
In a work titled State of the Nation (2011), camp, gun-toting female subjects are highly sexualised; their intense, sweaty, blood-smeared effect mirroring their male counterparts is equally disturbing. Potgieter's fashion photography background shines through the images, creating a feeling of detachment between the viewer and subject, like watching a weather report for another town.
We Live in Silence shows multifaceted women. Between expressions of power and influence lie sorrow, stifled rage and resignation. The colonial project is working, the Church is an accessory, masking itself as salvation from savagery, violently bending African femininity to its will.
Writer Percy Zvomuya once called Chiurai's work unrelentingly pessimistic. Though he appears to be continuing in that same vein, I get the sense that Chiurai has created the kind of work Europeans can quaff their wine to, safe and happy they know and support African art. Sure, his work has a place in the African art world, but is it for Africans that he creates?
There was a moment during filming when a semi-nude woman was being forced into a crate as black altar servers looked on. It was a particularly emotional moment, considering how black men understand racism but misogynoir barely seems to register.
As much as Chiurai wants to or believes he is advancing black women, it's disconcerting to note most of the people who put We Live in Silence together are neither black nor female. That's not entirely his fault. There are still industries in South Africa where white people dominate, from the menial to the crucial.
Outside of that, however, it's interesting that the people who seemingly have important roles in the commission of his art are white. I get it, but surely we've come far enough to comprehend that the lipstick will come off during lip service? Black women are the bulk of his creativity, yet the acclaim goes to Chiurai and ultimately his almost all-white, all-male team.
The main redeeming quality was how I remembered who I am when I saw those images. Black women are not powerless despite their erasure. It was cathartic to see my own female ancestors stamped so resolutely across my face, allowing me a sense of healing.
I remembered how my father calls me "amai vangu [my mother]" because there's something he recognises in me that I inherited from his own mother. It's hard to articulate the reassurance of knowing the dead don't disappear with their last breath.
When I asked Chiurai about using popular cool kids like Bee Diamondhead, her stylish friends and, previously, TV presenter Siyabonga "Scoop" Ngwekazi, he said he is aware of the effect celebrity has on who consumes his work. South Africa worships at the altar of celebrity and if that's the entry point through which young people access his work, then so be it. He's fine with it appearing dated by their addition as long as someone, anyone, sees it.
Chiurai has dazzled and disappointed before. This time he may well be on his way to creating something bigger than hot-button issues and stylish but forgettable art.
Kudzanai Chiurai's We Live in Silence VII will open on August  31 at the Goodman Gallery, with part two of the show opening at Constitution Hill on September 9, where the artist will screen four new films from which the works at Goodman Gallery are derived