ANALYSIS
Two of the ANC's national substructures, the women's league and the Umkhonto weSizwe Military Veterans' Association this week abandoned any pretence at discipline and came out swinging at the perceived enemies of Nkosazana Dlamini-Zuma, their choice for leader.
At the same time, high-profile critics of the leadership of President Jacob Zuma, including ANC MP Pravin Gordhan, almost simultaneously found themselves targeted in new actions by everyone from the Hawks to the ANC. A serious contender for the ANC presidency (Zweli Mkhize) also came out swinging, hard, against a powerful ANC fixer (Anda Bici); and the chair of the party's disciplinary committee (Derek Hanekom) indicated he will not be silenced.
Welcome to the unprecedented everyone vs everyone open war that only promises to grow worse as spring turns into summer, and Zuma's term as ANC president comes to a close.
In 2012 the ANC expelled its youth league leader Julius Malema for "bringing the ANC into disrepute and sowing division within its ranks" for speaking out against Zuma, an action that ultimately saw the league entirely reconstituted.
In the past week insiders in several of the youth league's regions and Gauteng province predicted that their own conferences, due in September, would be blocked by dirty tricks to prevent any sign that the league is not 
united behind Dlamini-Zuma — even as league leader Collen Maine said he would not allow an endorsement of deputy president Cyril Ramaphosa.
The women's league this week launched a broadside against its former president Angie Motshekga, accusing her of ill discipline and sowing disunity, and claimed she was "trying to rule the ANCWL from the grave".
"She has the right to canvass for her preferred ANC presidential candidate but organising events around the country under the banner of ANCWL whilst not leading in any ANCWL structure is high level of ill-discipline and a sign of not accepting to be led," the women's league said in a statement with pointed references to its current leader and fierce Zuma loyalist Bathabile Dlamini.
Motshekga, in turn, slammed the women's league for getting its facts wrong and said she would "encourage the leadership of the ANCWL to remain steadfast in their endeavours to emancipate the women of this country rather than take up the petty political battles as they seem to be focused on of late".
Stan Mathabatha, former Um-khonto weSizwe fighter and now Limpopo government and ANC leader, this week also found himself attacked — in eerily similar terms to those used against Motshekga — by the military veterans' association.
"MKMVA has no problem if comrade Mathabatha supports comrade Ramaphosa because that is his democratic right," the military vets said in a statement on Monday.
"We are, however, seriously concerned when he articulates that support in regional and ethnic terms. We ask ourselves if comrade Mathabata found it so difficult to come up with arguments of substance in terms of character and ability to support his candidate of choice, that he was actually forced to resort to arguments that are entirely alien to the political culture and history of the ANC?"
Mathabatha had introduced Ramaphosa at a Cosatu rally the previous day. He had argued that the ANC was falling prey to tribalism and that it was time the party elected a leader from Limpopo.
Some of those most vocal in their opposition to Zuma, and therefore Dlamini-Zuma, also found themselves on the sharp end this week, albeit in less direct fashion. Former finance minister Trevor Manuel and his deputy Jabu Moleketi received subpoenas from the Hawks to provide information on the alleged bugging of the offices of the National Prosecuting Authority (NPA) by the South African Revenue Service (Sars) in 2007, in a project supposedly named "Sunday Evenings".
The Hawks said the action had been directed by the NPA, which is pushing for rapid movement on the 10-year-old matter.
The Hawks also said the move did not mean it was close to moving against former finance minister Gordhan, who oversaw Sars at the time and has previously been targeted in the matter.
In the past two weeks Gordhan, who has come to be seen as Zuma's most prominent and direct critic in the ANC, has been fiercely attacked by two of Zuma's sons, Duduzane and Edward.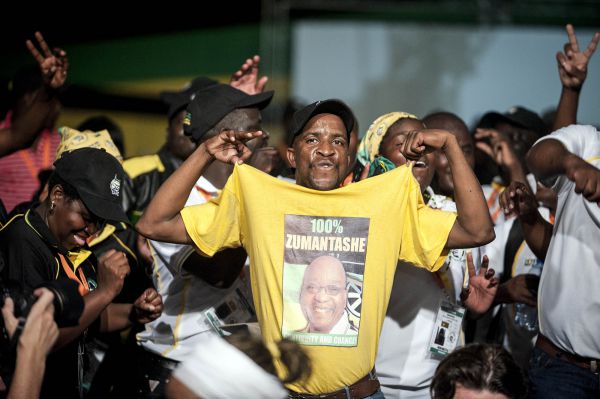 [It's everyone vs everyone in the battle for the ANC presidency. (Madelene Cronjé/M&G)]
But the week also saw a strong push-back by individual ANC leaders considered to be opposed to Dlamini-Zuma, if not necessarily supporters of Zuma.
On Monday former tourism minister Derek Hanekom said he had submitted to the ANC the reasons he should not be removed as the chairperson of its disciplinary committee — a position from which he oversaw Malema's expulsion. He had been asked to give such reasons in light of his apparent lobbying for ANC MPs to vote against Zuma in the August motion of no confidence in the president.
Hanekom would speak about the contents of the letter, describing it as an internal matter, but had earlier vowed not to be intimidated into silence.
Also this week, ANC treasurer general and serious presidential contender Zweli Mkhize threatened dire consequences to those who had supposedly linked him to corruption allegations regarding a R4.6-billion PetroSA deal.
William Steenkamp, in an affidavit that forms part of a fight against his removal as a PetroSA board member, said he had been lobbied by prominent ANC fixer Anda Bici to support a key bid by a company favoured by Zuma rather than backing a Nigerian company associated with Mkhize.
In a furious letter first reported by the Daily Maverick on Thursday, Mkhize insisted on answers. "Where did these allegations come from?" he wrote to Bici. "Who else did you discuss my alleged links to a Nigerian company with? Please state their names, the content of the discussion and provide me with their contact details."
Bici, who heads communications for the Central Energy Fund under which PetroSA operates, on Thursday said the allegations made about him are baseless and that he never had the opportunity to make the remarks Steenkamp attributed to him.