Shareholders have for years been under the spell of stock exchange darling Naspers, enamoured by its good fortune and astronomical returns as it transformed from an apartheid-era publishing group into one of the largest internet companies in the world.
But the magic is wearing off.
This has been prompted by a record penalty or "discount" — some R400‑billion in value — that the market has imposed on Tencent shares held by Naspers, compared with those that are held directly.
This large discount has prompted at least one offshore investor to decry the value destruction under Naspers's command publicly. At the company's recent annual general meeting, most ordinary shareholders voted against a controversial remuneration policy —with one concern being that the company chief executive is rewarded handsomely for the share performance of Tencent, whereas the rest of Naspers is a laggard running at an operating loss.
Naspers's 2001 investment in the then little-known Chinese company Tencent has since seen it holding the majority stake one of the largest internet companies in the world. But Naspers's other businesses are dragging down the value of the stake it holds.
Tencent's market capitalisation —as valued on the Hong Kong stock exchange this week — is R4.9‑trillion. Theoretically, Naspers's 34% stake should then be worth R1.66‑trillion. But Naspers's entire market capitalisation was only R1.26-trillion this week — implying a drag or a "discount" of R400‑billion, or 24% lower than the value of the Tencent share.
If Naspers were to unbundle this stake, proponents argue, it could potentially release that R400‑billion into the hands of shareholders.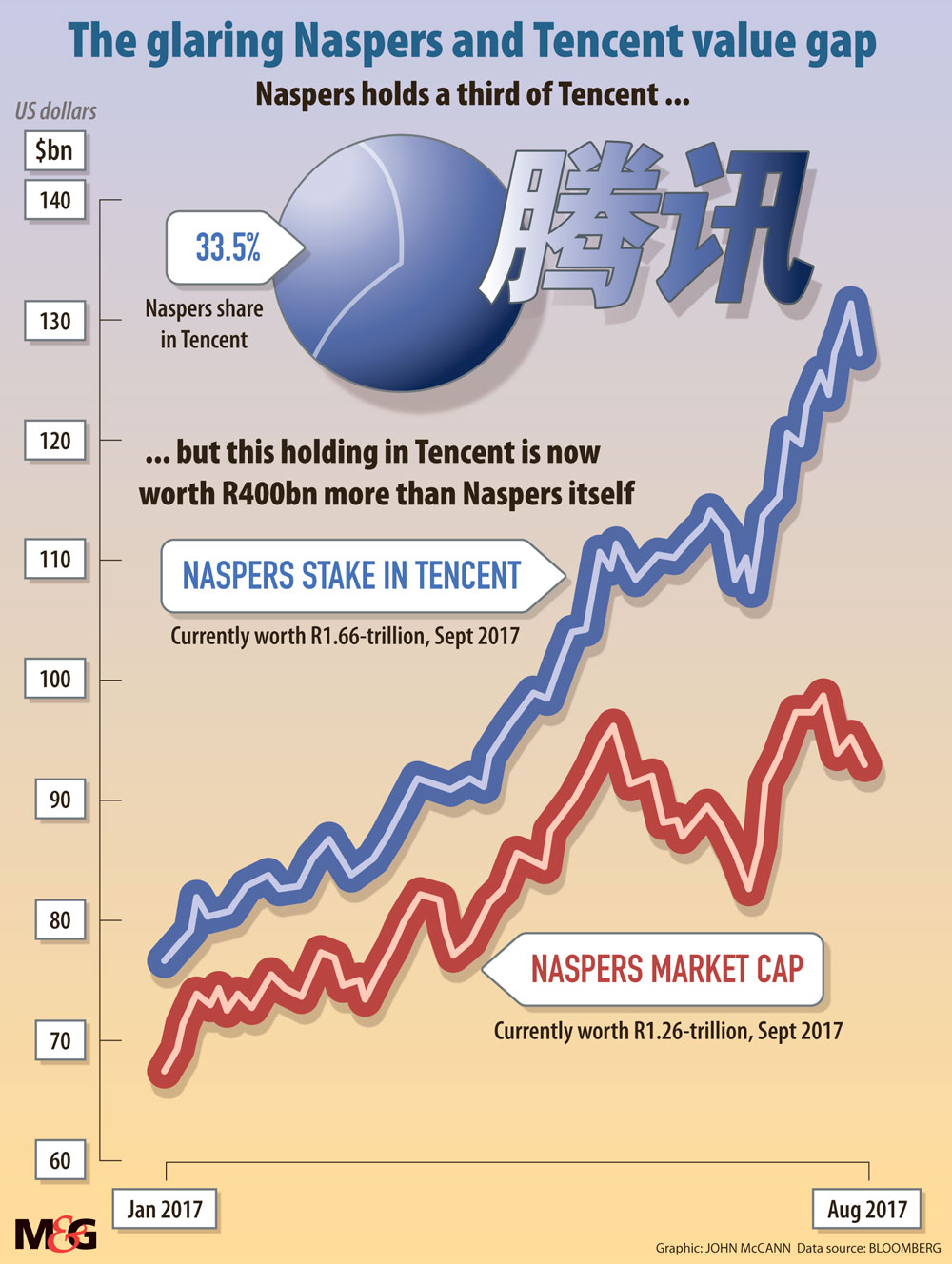 As one analyst, Albert Saporta, pointed out in an open letter to Naspers chief executive Bob van Dijk in June, since the beginning of this year, investing directly in Tencent would have produced a 35% return in rands compared with a 24% return in Naspers.
Investors previously saw Naspers as a cheaper way into Tencent, with the view that the discount would ultimately disappear, Saporta told the Mail & Guardian. Years later, this has not happened. The gap has only widened, reaching record levels in mid-August this year.
Saporta said although South African investors are delighted with the increase in the Naspers share price —trading at R2 880 a share on the JSE this week — "the fact of the matter is there is a high discount and the company is not doing anything to address it".
But investors are growing increasingly vocal in demands for Naspers to take steps to unlock this value. However, a tight control structure is a major barrier for ordinary shareholders hoping to influence how the company is run. Just 0.2% of the shareholders hold 68% of the vote.
This complex shareholding structure was devised by the then pro-apartheid Naspers when it listed on the JSE to ensure that ultimate control of the listing remained firmly in Afrikaner hands.
As it stands, some 480‑million ordinary "N" shares trade on the JSE. Not traded on the market are just 970 000 "A" shares. These receive a fraction of the dividends, but they have 1 000 times the voting rights of the ordinary shares. As such, the holders of the A shares decide how the company is run — from appointing the board to remuneration. These shareholders are not publicly disclosed but it is known that Naspers chairperson Koos Bekker (the former chief executive who took the initial Tencent gamble), veteran Naspers director Cobus Stofberg and Sanlam are among those who hold A shares.
As a result, a majority of ordinary shareholder votes against a remuneration policy (one particular bone of contention being that the chief executive receives handsome bonuses even though Naspers runs at a loss if Tencent is excluded) was passed despite more than half the ordinary shareholders voting against it. The ordinary shareholders had also voted against a resolution to place unissued shares under the control of directors.
Naspers has long argued that it would not have had such success if it did not have this control structure. For one, the company and its supporters claim it has helped to keep China happy in a situation where a South African company holds the largest stake in a Chinese internet company.
Naspers's head of investor relations, Meloy Horn, said the control structure ensures Naspers is tolerated in several markets it invests in, where the certainty of who sits behind the investment is important. Horn also noted that a Naspers memorandum of incorporation, approved by the shareholders in 2012, requires Naspers to maintain this control structure.
Furthermore, "many companies in the media and technology sectors have similar structures", she said.
Jean Pierre Verster, portfolio manager at Fairtree Capital, agreed, noting that Tencent's global information technology peers — such as Facebook and Google — were held in companies with structures that ensure the founders have control.
But shareholder activist Theo Botha argued that there is no reason this structure — intended for stability in ownership — should be used to push through a remuneration package that ordinary shareholders voted against.
Botha became a shareholder in Naspers in 2015 and he said the discussion about remuneration at the Naspers AGM this year was largely perfunctory. "He [Bekker] knew he was going to vote in favour of it."
Botha said it was also problematic that shareholders were expected to take resolutions with such inadequate levels of disclosure — he said he was only permitted to ask three questions and no more.
"I don't think I'm being obstructive; I'm helping the company," said Botha. "It's very strange [that] asset owners and asset managers are not asking more questions … they are supposed to be driving transparency. They are not doing enough."
A spokesperson for Allan Gray, which reportedly voted against the remuneration policy at the Naspers AGM, said the asset manager did not wish to comment. A Naspers analyst at Anchor Capital, also with a shareholding in the company, did not respond to a request for input.
Said Saporta: "It is certainly not fair these guys get paid a fortune for essentially doing nothing. Particularly the [chief executive]."
But Horn said there are diverse views on the matter of remuneration and that Naspers would continue to discuss it with its shareholders and take on board their input to evolve its disclosure policy. "The notion that the Naspers [chief executive's] incentives are primarily driven by Tencent's performance is incorrect," she said.
But if ordinary shareholders can't even vote down a remuneration package at a time when excessive executive pay has come under the spotlight globally, it's unlikely they have much to say about other burning issues such as the proposed unbundling of Tencent.
In her letter to Van Dijk, Saporta urged him to take steps to unlock the trapped value. "I believe the situation for Naspers's investors is not fair and, as [chief executive], you have a fiduciary duty to increase shareholder value. I think a number of measures can be taken in order to remedy the above issue," he wrote.
The most radical among Saporta's suggestions is to spin out the Tencent stake to free it from the R400‑billion discount.
Horn said various factors influence the discount, but of late it is driven by some $16‑billion of capital leaving South Africa. "As the largest company on the JSE, we suffer the impact of this more than others," she said.
"It's hard for us to course-correct what is clearly a broader market phenomenon and trying to do so is likely to destroy long-term shareholder value. Tencent is one of our best-performing assets and is our play into the sizeable Chinese internet and e-commerce market," said Horn.
She said Naspers is confident Tencent will grow further and, by remaining invested, it offered South Africans an opportunity — one "they may not otherwise have" — to benefit from this "phenomenal story".
Fairtree's Verster believed an unbundling would only unlock value for shareholders in the short term, but would have a negative effect in that the block shareholding would dissolve and Naspers would lose the power to influence decisions taken by Tencent. Concerns about ownership of the South African stake may then become an issue for China.
Verster said the large discount was a result of losses in Naspers's other units, such as their e-commerce business. "But these are largely because of research and development, which are seen as expenses, and on aggregate there is a loss, but you could make an argument that these are investments for the future," he said.
Shareholders continue to hope that when Naspers's other assets start making a positive earning, not only will it unlock the discount but could even provide a premium. For the time being, Verster said it was good that Naspers management was under pressure to narrow the discount.
Despite its control structure, Naspers could be swayed by pressure from ordinary shareholders, Saporta said. "Naspers controls the company with its super-voting shares but it doesn't own the majority of capital," he said, noting that these investors needed to apply more pressure.
Botha said Bekker needed to "move on. We need a seriously independent nonexecutive chairman and a rotation of directors," Botha said.