Businesses that want to get in on the ground floor of South Africa's great medical marijuana revolution, or at least the legal one, are bound to find it a frustrating process. Whether you want to legally grow, beneficiate, import or simply consume cannabis for medical use, be warned: there is still a great deal of paperwork and patience required.
But for many, the process has been exasperatingly slow.
Interested parties are now waiting on the imminent release of redrafted guidelines on the cultivation of cannabis for medicinal and research purposes from the Medicines Control Council (MCC). First published in February this year, the document has been modified to take some 400 inputs into consideration and its approval and publication is anticipated within days.
The Medicines and Related Substances Amendment Act of 2005 came into force on June 1 this year. Its promulgation means that, once the guidelines for growing marijuana for medical use are finalised, members of the public will be able to apply for a growing permit.
Verve Dynamics, a local manufacturer of highly purified botanical extracts, was forced to look beyond South Africa's borders to catch the medical marijuana wave.
"For four years we tried to get approval in South Africa. We went to Parliament and spoke to policy decision-makers," said managing director Richard Davies.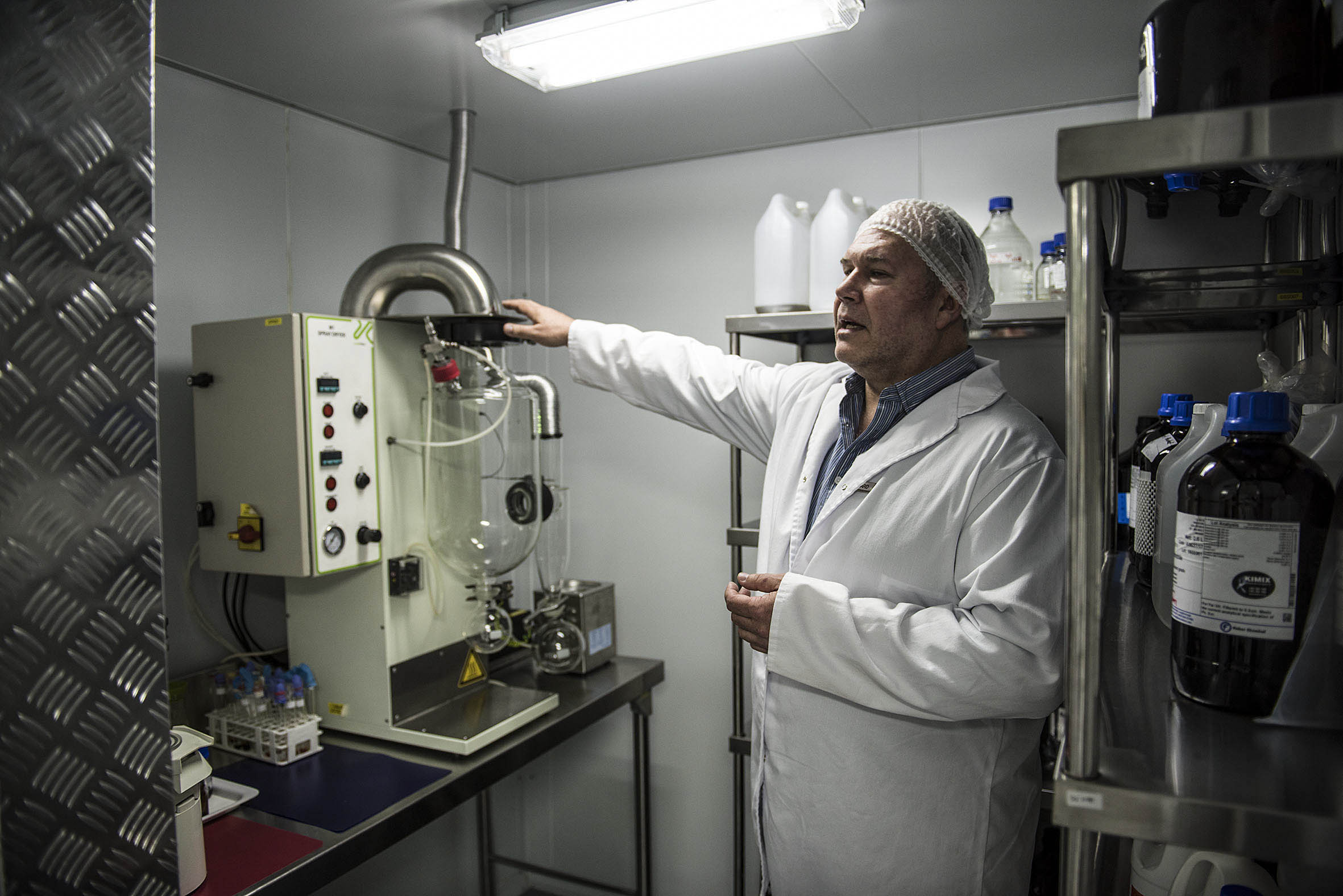 [Richard Davies of Verve Dynamics. (Photo: Delwyn Verasamy/M&G)]
Having had no joy, the company turned to neighbouring countries and this year Verve Dynamics became the first company in Africa to be granted regulatory approval to begin growing and processing high-quality cannabis extracts commercially in Lesotho.
The product is not aimed at the South African market, but rather at territories where there is regulatory approval such as parts of North America and Europe, said Davies.
"We would love to roll it out here [in South Africa]. But the MCC has their hands full."
Although there has recently been regime change in Lesotho, Davies says the government remains positive — "they see the potential". Verve Dynamics intends to offer its equipment and services, for a fee, to its partners in Africa, saying this will empower poor countries to compete in this arena in the global market.
While the state continues with its measured processes for cannabis to be made freely available to South Africans for medical use, the black market is established — and growing.
Basic online searches will yield a great many suppliers of medicinal cannabis in South Africa.
"There is a mess in the market," said Ralph Higgo, who founded Medicalcannabis.co.za, the first online supplier of its kind in South Africa, in 2013.
"The Medicines Control Council and the department of health, they dragged their feet and allowed the black market to grow … Government won't recognise it, [but] the only thing that can take on the black market now is the black market."
Higgo's company supplies cannabis oils as well as plant material, so that customers can make their own edibles or oils themselves.
A landmark judgement by the Western Cape High Court, ruling that cannabis can be grown for personal use in one's home, has been appealed by the state. But "a lot of South Africans are under the impression that it is legal for personal use", said Higgo. "There is no way to stop that now."
It's important, though, to regulate quality. He noted that it had often happened overseas that a newly legalised market was unable to compete with an established black market that offered good quality and a better price with dedicated customer service.
One supplier of cannabis for medical use got into the business when his former girlfriend began medicating with THC oil (tetrahydrocannabinol, a type of cannabinoid) to treat her breast cancer.
"All my products are lab tested and manufactured indoors. It's not like I'm preparing it in a garage," he said. "Obviously my supplier is very cautious. It takes me two-and-a-half days to get there and back; it is completely off-grid … but there is a pharmacist that works in the lab there."
The source described his operation as a proper business with no intention of conning anyone. It's also a feel-good thing: "Your product is actually helping people. We even donate our product — there is a hostel where we give the product to people suffering with cancer," he said.
"The licences aren't going to be cheap and they are definitely not going to come to me … but I still want to meet the cop who arrests me … knowing I am helping people."
The source said he would rather be out of the limelight, but was confident his clients would stick around because he is supplying them with a quality product at an affordable price.
"Eventually, the cream rises to the top," he said. "At the end of the day, don't think government cares about the public. If they did, they would want this to be readily available and accessible to people in need."
The growing black market presents a dangerous situation, said the registrar of medicines at the MCC, Dr Joey Gouws. "We don't know what the quality of that oil on the market is," she said, noting that the general rule is the darker the oil, the less pure it is. "Current oils on the market are of poor quality. The purpose of the council's work is to ensure better quality."
Gouws said the council would release a statement to warn the public of inferior-quality medicinal marijuana products.
The government has recognised the benefits of cannabis for medicinal use but doesn't know how to get started, said Krithi Thaver, a founding member of the fledgling Cannabis Development Council of South Africa, which hopes to be officially formalised by December.
The draft regulations released earlier in the year were a failure, he said. "They were copied off a Dutch model, which failed. But [in any case] you can't take a First World model and copy and paste it on to a Third World country; it doesn't work.
"We are adamant: we don't want the industry to be monopolised by capitalists," said Thaver, noting that one concern is the power of Big Pharma and that a handful of growing licences will be dished out only to the elite few who can afford them.
Gouws denied this was the likely scenario. "Our experience has taught us it's better to be widespread than have one or two big suppliers. If there is only one producer in Cape Town or Rustenburg and then there is a drought and it affects the yield, then we will have missed the harvest period in the country."
Higgo said business opportunities are being lost as the industry awaits the legal go-ahead. "I've had investors wanting to invest money, but at the end of the day they want a number — how much is it going to cost? How can you draw up a business plan without those variables?"
How the licences will be handled will also depend on the International Narcotics Control Board, which directs and advises on the quantity of narcotics that can be used in a member state. This, Gouws said, is based on the extent of the country's internal use and must be motivated for.
Gouws said it was however unlikely that licences would be prohibitively expensive, noting that all fees must be approved by the treasury. "We already have fees for licencing of manufacturers. It's R13 000 for the licence application to manufacture an active pharmaceutical ingredient [an API]. Growing of cannabis will give you an API; I don't think we will increase it [the fee] just because it's cannabis."
Once the guidelines are approved, the MCC will develop the licence application for growing cannabis for medicinal use, said Gouws. The MCC will work closely with the department of agriculture, she added, noting this is because cannabis is a foreign plant and the impact of growing the crop in South Africa needs to be understood.
Julian Stobbs, one half of the so-called "Dagga Couple" who are fighting for the full legalisation of cannabis in court, said he didn't believe marijuana should require a licence at all, because it is a plant.
"Not one person who applied for a licence gives a shit about legalisation," he said, noting that fully legalising cannabis did not suit businesses' commercial aims. "In the three years since legalisation in Colorado, marijuana prices have dropped 48%," Stobbs said.
Said Higgo: "People forget this is not about the health of South Africa; this is about money."
Davies of Verve Dynamics, however, said the complete legalisation of the plant would not hinder the company's commercial aims because its offering is very specialised — it isolates active ingredients that can be used in more than a million combinations to treat specific ailments. "It's a pharmacy in a bush," Davies said.
"If we just grasped this opportunity, it could be the first time the First World and Third World were on a level playing field. Thirty states in the United States have legalised it for medicinal use," he said. "I don't know why South Africa is not coming up to speed. We could be world leaders."