NEWS ANALYSIS
The crowd packed into the Osizweni Community Hall is oblivious to the bitter Tuesday night cold as ANC presidential hopeful Dr Nkosazana Dlamini-Zuma wraps up her address to a party cadres' forum in the township in Newcastle, KwaZulu-Natal.
The crowd – predominantly women and young people from the ANC's Emalahleni region – breaks into Dlamini-Zuma's unofficial campaign anthem, On Your Marks, Get Set, We Are Ready for Nkosazana.
They're joined by Bheki Sibiya, the ANC provincial executive committee (PEC) deployee for the Emalahleni region – whose leadership was suspended by the province ahead of last year's local government elections – and PEC member Mdumiseni Ntuli. They have put the forum together.
It's the latest in a series put on by the ANC in KwaZulu-Natal and its regions and leagues to give Dlamini-Zuma platforms from which to punt her campaign for the party presidency.
Dlamini-Zuma claps softly as the rest of the provincial leaders on the stage prepare to leave the hall. She looks satisfied. She should. The former African Union Commission chairperson has just presented the most detailed breakdown yet of what she sees radical economic transformation, the programme to which her presidential campaign has been hitched, to be.
Addressing the audience in isiZulu, Dlamini-Zuma outlined the need for radical economic transformation, which she defines as "a fundamental change in the structure, systems, institutions, patterns of ownership, management and control of the South African economy in favour of the South African people, especially the poor, the majority of whom are African and female".
Central to this, Dlamini-Zuma said, was the "redistribution of our land which was taken from us through the barrel of the gun".
"We need to return our land to our people. We need land for residential purposes, to build businesses, schools and universities, recreational purposes and, of course, agricultural purposes," she said.
The ownership of the Reserve Bank needed to change to create an "enabling environment for the establishment of state and other banks", she said. This would "counter monopolies in the financial sector" and help the state to ensure that black people had access to finance.
"We cannot have a majority portion of the population unable to access finance and thus [be] excluded from the productive and job-creating sections of our economy," she said.
Dlamini-Zuma also outlined how the state would use its buying power to change who benefited from its expenditure, saying it would create and support new, young, black and female-owned businesses rather than supporting the status quo.
The policy would apply across all sectors of the economy, but areas such as the developing ocean economy identified by the National Planning Commission would be targeted for amplifying black ownership.
The beneficiation of mineral resources would also change, with a focus on boosting manufacturing to stop the current situation, in which minerals were exported at low prices and finished goods imported at great expense.
During her speech Dlamini-Zuma, in an apparent response to ANC national executive committee member Bheki Cele's recent criticism of her failure to address corruption, also took a position on graft, saying that "we need a transparent government, corruption-free, that is responsive to the needs of our people".
"We need to make sure that cadres that are deployed in the state internalise the fact that they have an enormous responsibility to change the lives of our people. They should not see their deployment as power but rather as responsibility," she said.
The singing winds down. We move towards the stage and a prearranged interview with Dlamini-Zuma.
It's taken several weeks of hustling Dlamini-Zuma's minders to nail it down. Getting access is a weird process. The usual ANC channels don't apply in her case. The provinces only act as hosts. Ditto the leagues and regions. There's no route via Luthuli House. All roads lead to Carl Niehaus, who has reappeared to act as her spokesperson, seemingly rehabilitated after his messy personal life and financial issues made headlines a few years ago.
Earlier attempts made through Comrade Carl haven't ended well. They've included a seven-hour round trip to Umzimkhulu and a five-hour wait at an undertakers' conference at Durban's International Convention Centre for interviews that didn't materialise, so we're on edge, despite assurances that this time it's for real.
For a presidential candidate with fewer than 100 days to go to D-day, Dlamini-Zuma has been pretty shy of the mainstream media, which she described in her address on Tuesday as being one of the "tentacles of white monopoly capitalism".
The other major contenders, ANC deputy president Cyril Ramaphosa and treasurer general Zweli Mkhize, have taken the opposite approach, with doorstep interviews possible at almost every event and sit-downs taking place every few weeks.
There are soundbites aplenty in the Dlamini-Zuma campaign, with lashings of images and video clips going out on social media. Recently sworn in as an MP but still to receive her anticipated Cabinet appointment, she moves with an audiovideo unit that provides footage to fuel the social media campaign. The invites to cover forums are flying, from the ANC, the youth league, the women's league and the regions in KwaZulu-Natal, but there's no engagement beyond this, no opportunity to assess who the candidate is herself.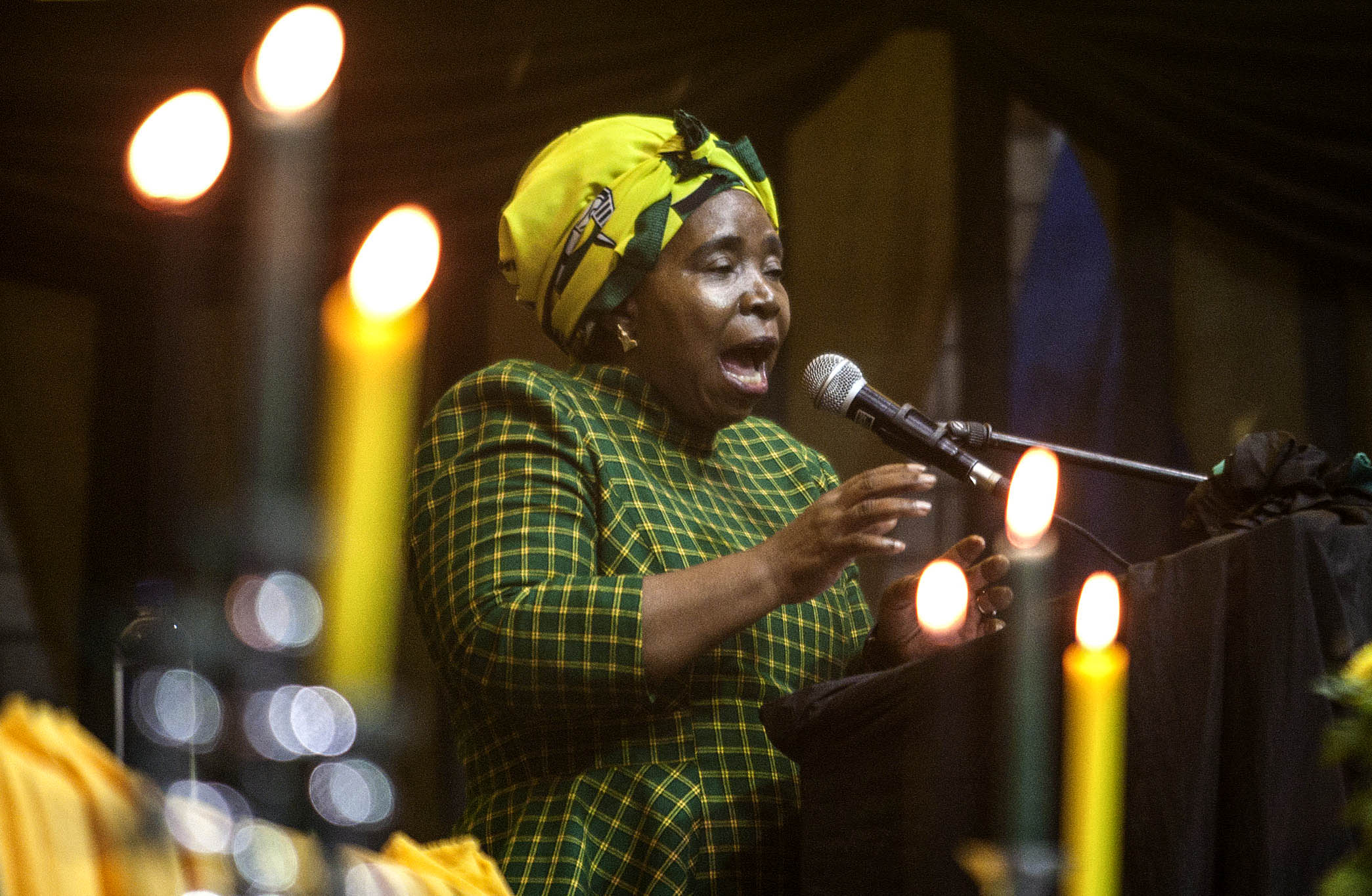 Nkosazana Dlamini-Zuma: Soundbites, but no engagement.
It's a strategy that aims to give the candidate access to the media while denying them access to her, getting her message across while ensuring that there is no challenge to its content. It aims to dominate and manipulate the conversation by reducing it to a barrage of positive soundbites that cannot be placed under scrutiny by a potentially hostile media.
We're almost at the foot of the stage. Dlamini-Zuma goes into a huddle with minder-in-chief Niehaus and Ntuli, the ANC's provincial spokesperson. Both are talking to her and looking our way. The discussion appears heated, and she shakes her head at least once.
They get to their feet and head our way. Niehaus peels off and draws me away from Dlamini-Zuma. He is all headshakes and "sorrys" in that over-proper English of his. Lots of "nos" and "it's no longer possibles".
Dlamini-Zuma breezes past us, eyes front and centre. The crowd swallows her up. There's plenty of time for selfies with the comrades who have gathered at the hall exit. Hugs and chats with potential conference delegates. Interview, nada.
Niehaus mumbles more apologies and promises a telephonic interview in the morning. He straightens his military veterans cap and rushes off after Dlamini-Zuma and the next soundbite.