The Sandton Convention Centre is a buzzing labyrinth of glass, its escalators laden with revellers hungry for jazz.
We're lost, and more than a little late, glancing down at our programmes to try to find the right stage somewhere on one of the centre's many floors. The final evening of the 20th Standard Bank Joy of Jazz, a festival highlight, is as packed as you might expect, attracting jazz lovers from all over the country.
After a struggle, cramped cries of "excuse me" and two airless escalator shuffles, we finally make it to the Mbira Stage, to be greeted by Zoë Modiga's transcendent, gravity-defying voice. The South African vocalist, who released her debut album, Yellow: The Novel, earlier this year, has filled the massive hall with admirers.
It's easy to see why.
In a dazzling, glittering mustard-yellow Nao Serati gown, paired with cedar-green velvet boots, Modiga is an empress in total command of a spellbound audience. She is supported by some of the most exciting and talented musicians in South African jazz, with Bokani Dyer weaving a particular kind of magic on piano and Keenan Ahrends adding colour on guitar in a beautifully balanced set.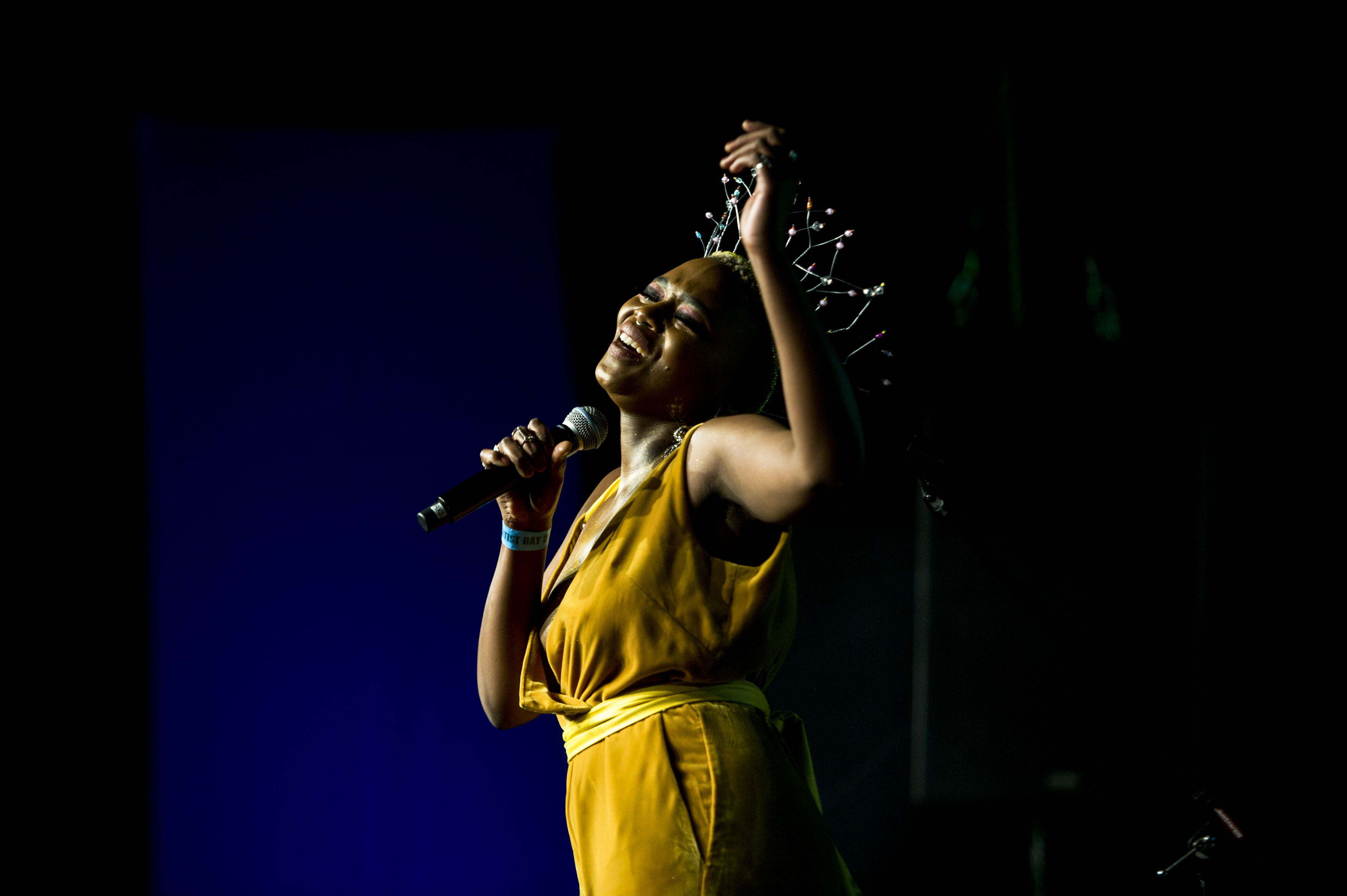 [Zoë Modiga captures the audience in a Nao Seratio gown (Delwyn Verasamy/M&G)]
When Modiga launches into her final song, the joyous Love (Yahweh), it no longer makes any sense to stay seated. Modiga herself bristles against the restrictions imposed by the space, decisively strutting off the stage, past the barricades, to sashay between the aisles. She is jazz embodied — disruptive, unbounded and free — challenging us to find the same unconstrained energy that she so effortlessly personifies.
But the space locks its jaws around us again when we struggle to leave after Modiga's performance.
As a venue, the centre constrained the fluidity of movement required for a multigenre and multiartist jazz festival. Many of us experienced extreme difficulty in moving from floor to floor, and from stage to stage. Snaking queues at the elevators and escalators made the centre seem cramped, lacking the kind of expansiveness of Newtown, where the festival was previously held.
But jazz, like joy, always finds an outlet and, once we fell into the festival's slightly chaotic rhythm, the night opened up to us.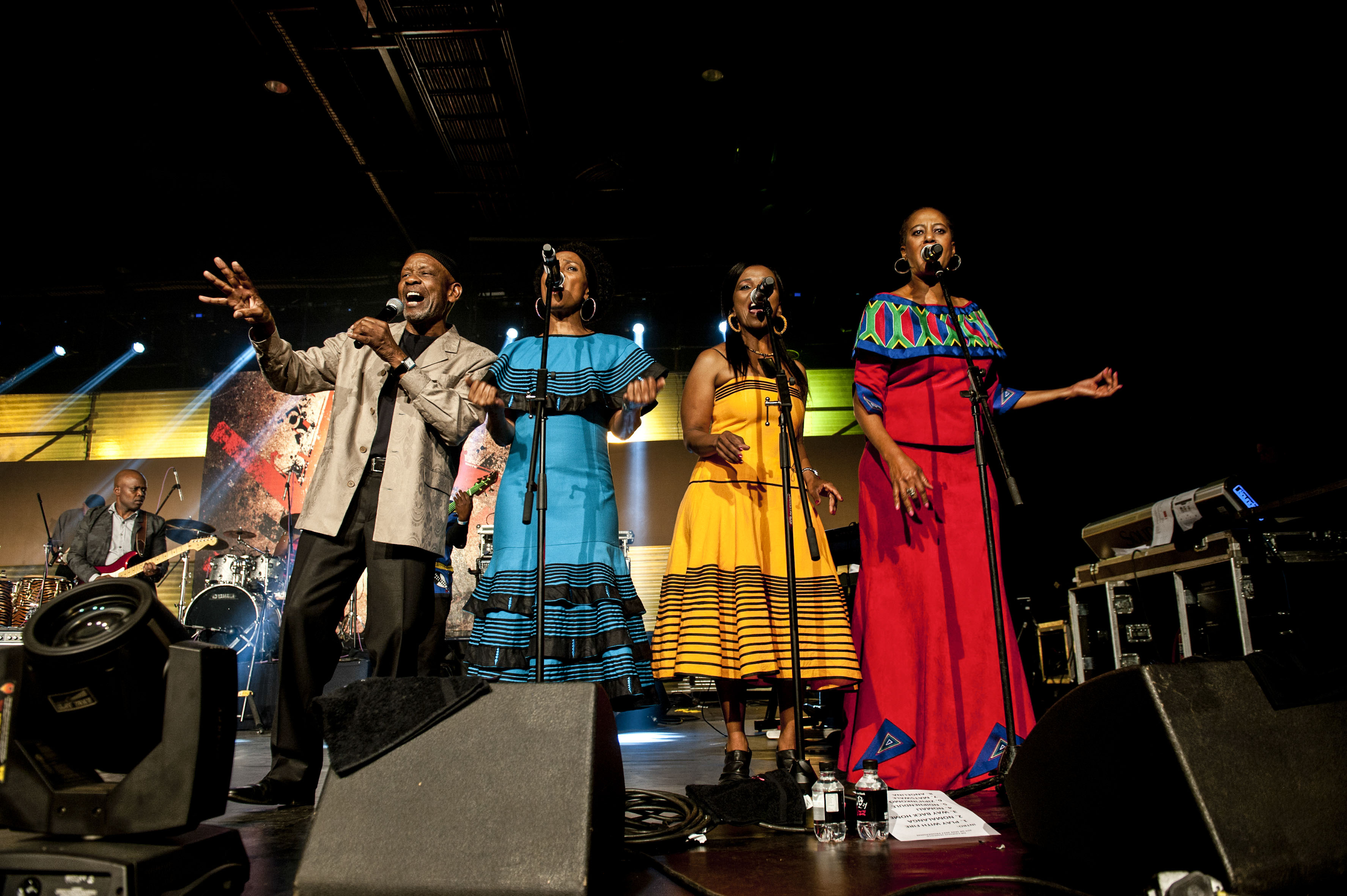 [Legendary Caiphus Semenya graced the stage (Delwyn Verasamy/M&G)]
One of the evening's undeniable highlights took place on the famed Dinaledi Stage, where ntate Abdullah Ibrahim performed with the dapperly dressed Ekhaya Ensemble.
Seated at the piano, Ibrahim opened the performance alone, with a medley that meandered through some of his dearly loved compositions. Then, joined by the Ekhaya instrumentalists, he balanced his nostalgia, control and musical intimacy with the ensemble's inventiveness with a master's touch.
Belgium-based South African vocalist Tutu Puoane also delivered a stirring performance with songs from her album The Joni Mitchell Project, in which the two-time South African Music Association award- winner covers a selection of her favourite Mitchell songs. Puoane's rendition of Mitchell's seminal song Both Sides Now was hushed, uncluttered and eloquent, delivered with the vocalist's nimble phrasing and honeyed tones.
Joy of Jazz's line-up provided a compelling array of regional and international acts. Legendary favourites such as Bra Jonas Gwangwa and ntate Caiphus Semenya filled up their respective venues with loyal followers. The international saxophonists, among them Branford Marsalis and Joshua Redman, dazzled the crowds.
Emerging and prodigious artists also represented Africa's jazz offerings: Uganda's Somi impressed audiences with her Nigerian-infused take on song; Lesotho's ntate Bhudaza Mapefane made his third appearance at the festival to welcome praise, and Mali's Salif Keita closed off the festival with his unique West African kora- and djembe-infused sound.
At the end of the night, stepping back on to Sandton's roads still glimmering with rain, I was again struck by an ambivalence about the venue. It was coloured by the tension between the festival's space and its music.
Jazz, at its core and in its most lucid manifestations, is uncontainable, thriving on the delicate interplay between structure and improvisation. The artists and the music at Joy of Jazz seemed at many times to be at odds with the "container" and "convention" of the centre, bursting at its seams with sound, with its audience also struggling to be contained.
I was reminded of mam' Sibongile Khumalo's words in her foreword to Christopher Ballentine's jazz history, Marabi Nights. She cites jazz as the music that defied "a political and social order that aimed to oppress and suppress people whose psyche could not — indeed would not — be contained".
Perhaps the lesson of the night was that jazz will always find a way to mesmerise, despite the restrictions, conventions and gloss you might place on its framework.
Perhaps the night's gift was the reassurance that jazz will always thrive, even in the tightest of spaces.