NEWS ANALYSIS
The nation's beleaguered airline has breathing room until October 31 — Halloween, after which its debt demons may return to haunt it with a vengeance.
It is understood that most of SAA's lenders have agreed to roll over the outstanding debt that came due at the end of September for one more month while negotiations for a longer-term extension to 2018 are under way.
On September 30, R6.8-billion in loans to the airline became due, including R1.8-billion from Citibank, which refused to extend the deadline and necessitated an emergency R3-billion bailout by the treasury. This covered Citibank's loan and provided some funds to meet the airline's working capital requirements.
This suggests about R5-billion in debt could still hang in the balance while the airline tries to convince its other lenders, which include Investec, Nedbank and Standard Bank, to cut it more slack.
But the lenders have said the continued controversial presence of SAA's board chairperson, Dudu Myeni, who is close to President Jacob Zuma, has to be addressed. This was confirmed in Parliament this week by the treasury's director general, Dondo Mogajane.
Myeni has been in the position since she became acting chairperson in 2012. Since then, the airline has accumulated more than R15-billion in losses.
How exactly the balance of the most recent bailout — or the R1.2-billion for working capital — will be spent is not clear and SAA would not say.
According to the Free Market Foundation, the money should tide SAA over until December, though this is unlikely. The airline owes suppliers about R750-million, which will leave it with R450-million.
The foundation calculated that, if SAA is losing R370-million each month, as has been widely reported, then, after its suppliers have been paid, the rest will last little more than a month.
The treasury has promised that a full rescue package will be outlined in the medium-term adjustments budget on October 25, when more money will be provided for the airline.
Mogajane has said the government will recapitalise SAA with R10-billion, which is expected to include the R2.2-billion paid to SAA in July and the most recent R3-billion bailout, with the balance to be announced in the medium-term budget.
Cost increases
But questions remain over what lies at the heart of SAA's continued financial crisis.
The Democratic Alliance's Alf Lees said there is "no one area of concern" but the company's rising interest burden, because of loans it has taken out to fund these losses, is an important factor.
The airline has again failed to table its latest annual financial results in time but its previous report for the 2015-2016 year hints at the extent of the problem. SAA's financing costs increased by almost 76% from the previous year, from R490-million in 2015 to R861-million in 2016.
The airline's biggest costs were fuel and salaries, which reached R7.3-billion and R5.8-billion respectively.
Also problematic is procurement and supply chain management. In a draft report by auditing firm EY, completed in 2015, it flagged a wide range of concerns relating to major procurement contracts.
It highlighted that SAA's inability to negotiate long-term fuel supply contracts — driven in part by cumbersome board approval processes — meant it was paying more for jet fuel than it needed to.
According to Lees, the issue has been aggravated by SAA's efforts, in the name of transformation, to interpose empowerment suppliers between the airline and fuel companies. But this has never been finalised and the airline continues to buy fuel on a month-to-month basis.
The carrier has been trying to implement a long-term turnaround strategy and, in line with this, last week it announced it was further rationalising some of its international and local flights.
From October 29, flights to Brazzaville, Pointe-Noire and Libreville, with connections to Cotonou and Douala, are under review, it said in a statement. In addition, flights to Luanda will be reduced from seven to four a week, and flights to Kinshasa from five to four a week.
But one industry expert pointed out that cutting costs by reducing flights does little for productivity if this means there are surplus staff numbers.
The airline's cost structures are "tricky and difficult to unpick" and require "quite innovative thinking" to get around them, the expert said.
In total, the SAA group, including SAA, Mango and SAA Technical, has 9 398 employees, according to information it supplied to Parliament.
Lees said the situation is going to get worse now that routes have been dropped, adding that SAA had an "over complement" of at least 3 000 employees.
This week the airline narrowly avoided a strike at SAA Technical by the South African Transport and Allied Workers' Union (Satawu).
According to Satawu's national aviation co-ordinator, Matthew Ramosie, the union agreed to a 6% wage increase, which the airline had increased from an original offer of 3%. The union believed the increase was justified because SAA Technical is the only business unit that has been profitable, according to the union's information. Satawu did not accept the idea of a bloated staff complement, he said, and ordinary employees were being made the "scapegoats" for mismanagement.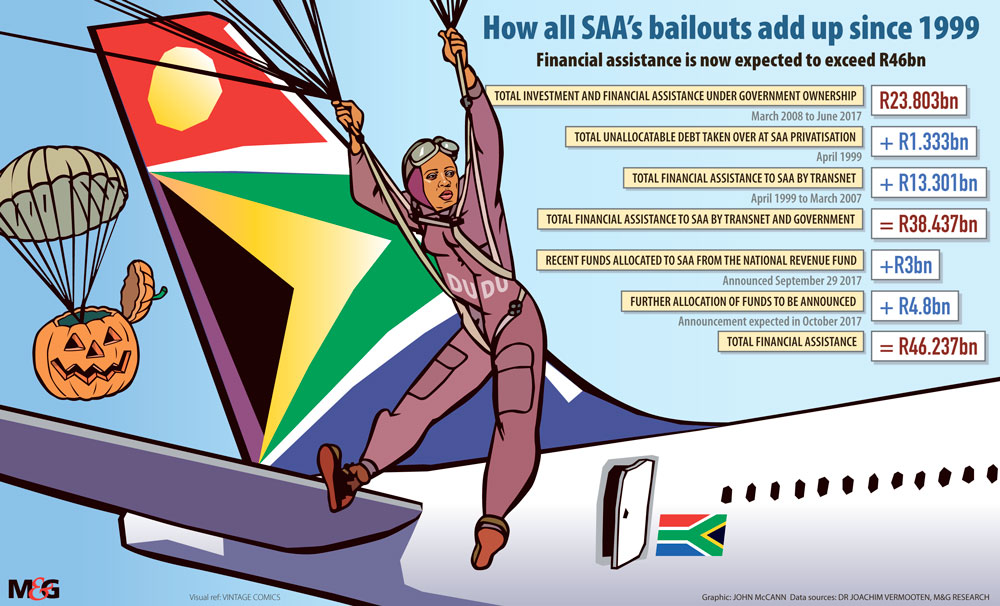 (John McCann/M&G)
Controversial figure
Myeni's continued position at the helm remains controversial. For her part, Myeni has said continued criticism directed at her is because of her efforts to speed up transformation at SAA and to combat corruption.
But the Organisation Undoing Tax Abuse and the SAA Pilots' Association have applied to the courts to have her declared a delinquent director.
Their case lays out some of the more controversial decisions she has made, which they argue have been detrimental to the airline.
Among them are her alleged efforts to scupper a carefully negotiated swap transaction with France's Airbus, which would ultimately have saved SAA a small fortune. Although the deal was ultimately concluded, the plaintiffs claim she misled Airbus by informing it that SAA wanted to amend the terms of the deal to include an African leasing company. Neither the board, nor the finance minister at the time, Nhlanhla Nene, had approved the changes.
But her contract was nevertheless extended after it expired at the end of August. Despite a public outcry, the treasury and Parliament's legal advisers have deemed the extension lawful for at least six months, or until SAA can hold its annual general meeting, proposed for November 4.
Speaking on radio last week, Myeni said her term is supposed to end in September next year.
SAA did not respond to questions for Myeni, but the treasury said Finance Minister Malusi Gigaba "is dealing with the current situation of the board, and an announcement will be made soon".
Gigaba said at a recent press briefing that he has commissioned an audit of the boards' skills and, despite SAA's delays to finalise its financial results, he has issued a directive for the annual general meeting to be held earlier.