After 46 years, Ahmed Timol's family will sit in the Pretoria high court and listen today, with great anticipation, as presiding Judge Billy Mothle delivers his findings. It will be an emotionally charged moment, but more than that, Mothle will have the power to turn the pages of history so that deceit may be unravelled and truth might finally prevail.
That is, of course, if the judge agrees with the arguments the Timol family and their witnesses have made in court.
The apartheid Security Branch police testified in the first Timol inquest in 1972 that the 29-year-old had jumped to his death from the 10th floor of John Vorster Square (now known as Johannesburg police station) on October 27 1971. They said it was a suicide.
Timol's family has spent the past four decades building a case to prove that the security police tortured him and killed him for his anti-apartheid activities as a member of the ANC and the South African Communist Party (SACP). They argue he was murdered.
There have been three former Security Branch policemen who have have raised concerns of dishonesty in their testimony during the inquest. Seth Sons and Neville Els claimed they did not know of any torture or assault during their time at John Vorster Square.
Joao Rodrigues, a former Security Branch clerk and the man who was allegedly alone in Room 1026 with Timol in his final moments, stuck to the story he gave in 1972 that Timol plunged to his death. However, evidence from expert pathologists Shakeera Holland and Steve Naidoo said the young activist was likely too weak or in a coma before his body fell.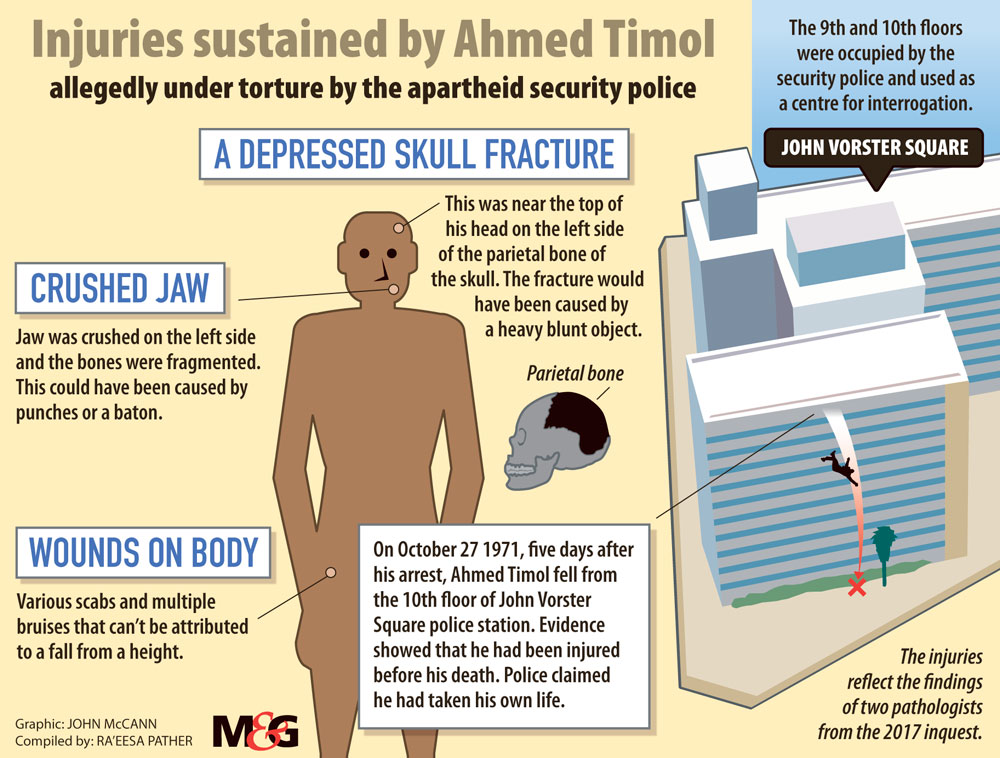 On the day of final arguments in the reopened Timol inquest, Mothle made it clear what his requirements are in terms of the Inquest Act: he will have to determine the circumstances surrounding Timol's death and if there is anyone who can be held responsible for the young activist's final moments.
Advocate Howard Varney, representing the Timol family, has asked the judge to make the following findings:
1. That Rodrigues be charged with murder and accessory to murder after the fact for covering-up the truth of Timol's death
2. that Sons, Els, and Rodrigues be charged with perjury for giving dishonest testimony under oath at the inquest
There have also been recommendations made by Imtiaz Cajee, Timol's nephew, that a structure honouring anti-apartheid activists who died in detention should be erected at the Johannesburg police station.
But in order to make his judgement, Mothle will have to decide what evidence he considers reliable and what evidence he finds untrustworthy.
READ MORE: The decisions Judge Billy Mothle will grapple with
If he were to accept Rodrigues' version of events, Mothle noted on the final day of arguments, he will have to reject the evidence from the forensic pathologists and vice versa.
Advocate Stephanus Coetzee, representing the former security police, said that the evidence from the pathologists was "speculative" because the two did not study the injuries on Timol's body. They relied on the pathology reports from 1971, he argued.
Mothle said in court that he believed Rodrigues to be an unreliable witness. Coetzee responded that Rodrigues was aware of his options when he came to court.
"And he chose to lie," Mothle replied.
Coetzee conceded in court that he could not deny that Timol had been assaulted while he was in custody. It was the first moment that a representative for the former security police admitted that Timol was harmed in detention – the first inquest denied any claim of torture against Timol. Mothle commented that with regard to assault and torture, he would not speculate in his judgement, because the evidence "is clear".
If the judge agrees with Varney's requests, then all eyes will be on the National Prosecuting Authority (NPA) as they will be responsible for prosecuting the former security cops. If Mothle's judgement is that there should be no prosecution, then perhaps there will be public outrage, because public support for the Timol family has swelled in these past months.
READ MORE: Jessie Duarte reminds apartheid cop of torture he couldn't recall
Mothle will read his judgement in the Pretoria high court at 10am this morning.The Timol family have said they will respond to the judgement in a press conference 30 minutes after it is delivered.