Emile Kalekuzi is the archetype and the reality of boxing. His father's name is Commando Kalekuzi, the former African super-middleweight champion who gifted his son a model's body and a fighter's mind. Genetics honed to a cutting edge. Eyebrows shaved with Adidas stripes.
Emile moves serenely in the ring, landing successive left hooks on his opponent, sticking his tongue out at the cameras. This is an undercard, but the crowd in Khayelitsha hang on to it as if it's the headline fight.
Even the judges are in Emile's thrall; all eight of his paying fights so far have been won by knockout, so he doesn't give them much to do anyway. Instead, they take pictures of him as he is carried from the ring, victorious, on a makeshift sedan chair perched on the shoulders of his entourage.
Here, the classic aesthetics of victory: raised arms in front of baying crowds in community halls, bathed generously in hired spotlight. "I feel fucking amazing," he says, in the backroom after the knockout blow. "What I've done is what my dad taught me. What my dad taught me, that's what I do."
The bond between father and son. There's another formula for a story.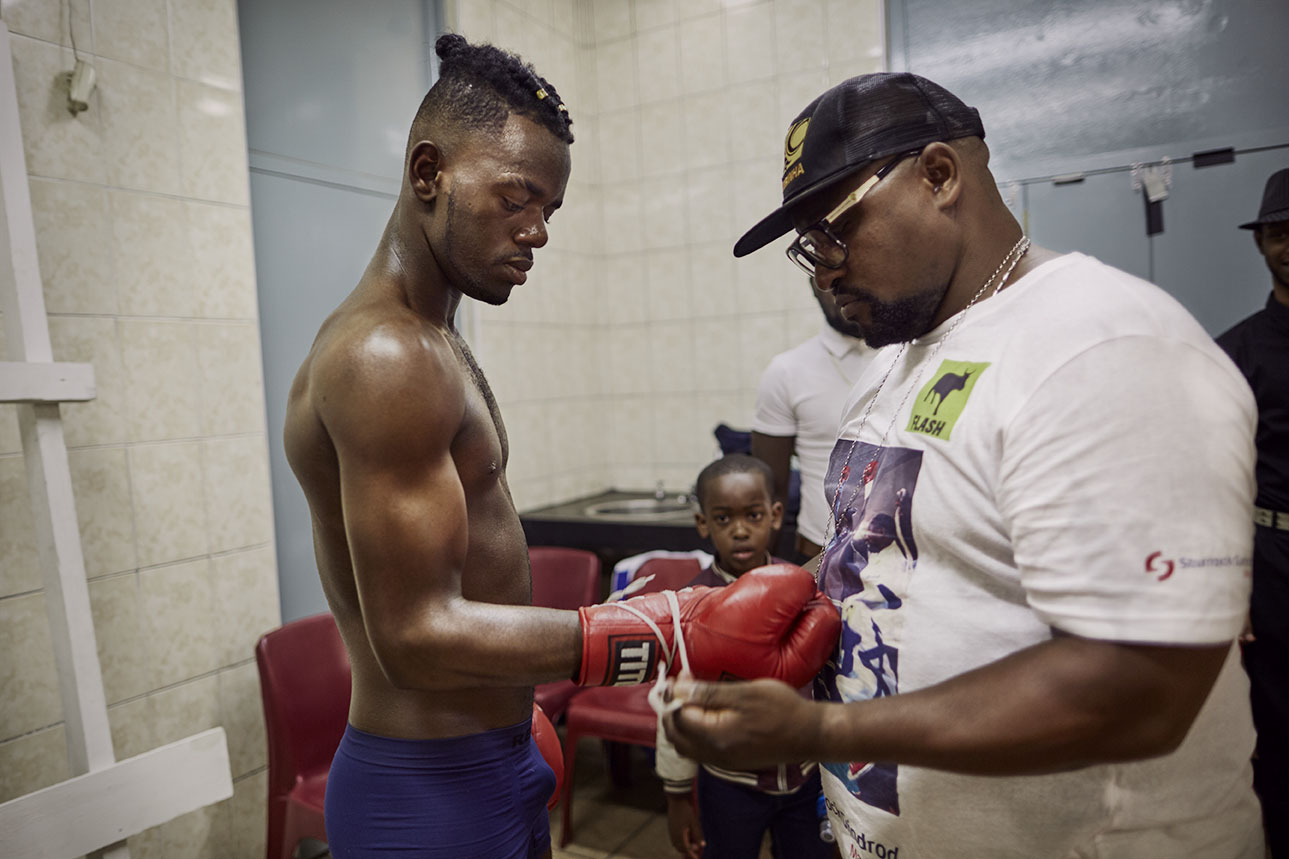 [Emile's father and coach, Commando, also once had a promising boxing career (Chris de Beer)]
Emile was born in 1998 in Bukavu, a small city on the Democratic Republic of Congo's border with Rwanda. He and his mother Francine moved to South Africa when he was young, while his father's professional career was still trundling along. Things had been looking good for Commando back then: 16 bouts, 12 wins and a draw, a title to his name. But in a fight in Prague against Michal Bilak, one of his retinas became detached. Commando had been defeated — for good.
Even though he was never fighting for generous purses, life out of the ring was much tighter than it was in it. Commando began coaching amateurs and, along with Francine, started to promote his own professional tournaments. They got by. Their children got educations better than they might have had in the DRC. Things could have been worse, but they might have been better.
Then came Emile.
"I didn't think he could do it," Commando says after a typical morning's training with his son, at Pound4Pound gym in Cape Town's CBD. "It was a big surprise for me. He was weak as a small kid."
And then he wasn't. At nine, he started boxing. At 11, he started competing. Forty-five amateur fights, undefeated, a potential Olympian.
"Everyone wants to be an Olympian," Emile says. "But when I got to the age of 15, I thought, can I really make it as a boxer? My pops told me, 'Look, you'll only make it in this if you think you can.' "
He did, and he does. He subjects himself to training twice a day most days. His and his father's routine is orchestrated, Commando ordering in monosyllables, Emile light-footed to gangster rap. Commando is tender when he puts on his son's strapping. Then Emile goes in for a few rounds with his sparring partner, Clint. The two draw blood from each other, and then they're made to sprint up the cobblestoned hills outside the gym.
It works so cleanly. This story has to work.
In South Africa there is a tendency to read sportspeople as a kind of metaphor for the country. Take Luvo Manyonga, the long jumper who recovered from a crystal meth addiction to become the world champion in London this year. Or the swimmer Natalie du Toit, a Paralympic multi-medallist and only the third-ever amputee to qualify for the Olympics.
South Africans like to read them as a parable: disadvantage can be overcome. These are tempting narratives to cling to — even when, as in the case of Oscar Pistorius, that narrative shows the horror that seethes through this place.
In Emile, there's another tempting story. An immigrant, schooled here, seemingly approaching success. Over the past decade, xenophobia toward people from other African countries has developed into a physical violence as well as a psychic one. In Emile, South African sport might have one thing it tends to lack: a positive story about an immigrant.
Commando might have been one, but throughout his career in Cape Town he had been — and still sometimes is — marked as an outsider.
Take February 2000, for example, when he was unbeaten in his first eight contests — at the exact stage of his career as his son is now — Commando got his break: a fight in Cape Town against Johannesburg-born William Gare for the vacant World Boxing Council international middleweight title. But after dominating Gare, Commando was on the wrong side of a hometown judge's decision; a verdict one broadcaster judged to be "incompetent".
Then, a few years into his career as a promoter, Boxing SA, the sport's national organising body, decided not to renew his licence to promote, and then took to the press to label his work "illegal". (To be clear, the chairperson of Boxing SA and former minister of sport, Ngconde Balfour, said at the time that this was because Commando was a "foreigner".)
"It doesn't matter if I fight as someone from Congo, or from South Africa," Emile retorts. "That was with my dad — I have nothing else to say about that."
Commando explains: "This is not the thing that will happen to Emile. We've made a plan already."
A programme for progress. Win another two fights and Emile will be ten-and-O. "Then I'll go for a title … a big title," Emile says. "I'll get someone from overseas, get them to fight in South Africa," He laughs. "Then I'll be hometown, baby! Truth is, I'm capable of doing anything, of taking anything," Emile boasts.
And the plan — as it is for most big boxers — is to take the United States.
Because of Commando's aborted career, the Kalekuzis aren't exactly flush. Emile has a sponsor, the shipping magnate Andrew Sturrock, whom his father has coached for a few years. But getting to the US takes more than cash.
Mentally, Emile already lives in the US — some imagined version of it, at least. He's all Rick Ross, MTV, snapbacks. He even lives in Brooklyn — one of the liminal suburbs between the city and Cape Town's comfy northern settlements — and mumbles in a New York twang that belies a typically South African multilingualism. He speaks English, isiXhosa, Afrikaans and "a bit of Sesotho". (To his chagrin, he cannot speak Swahili, his mother tongue.)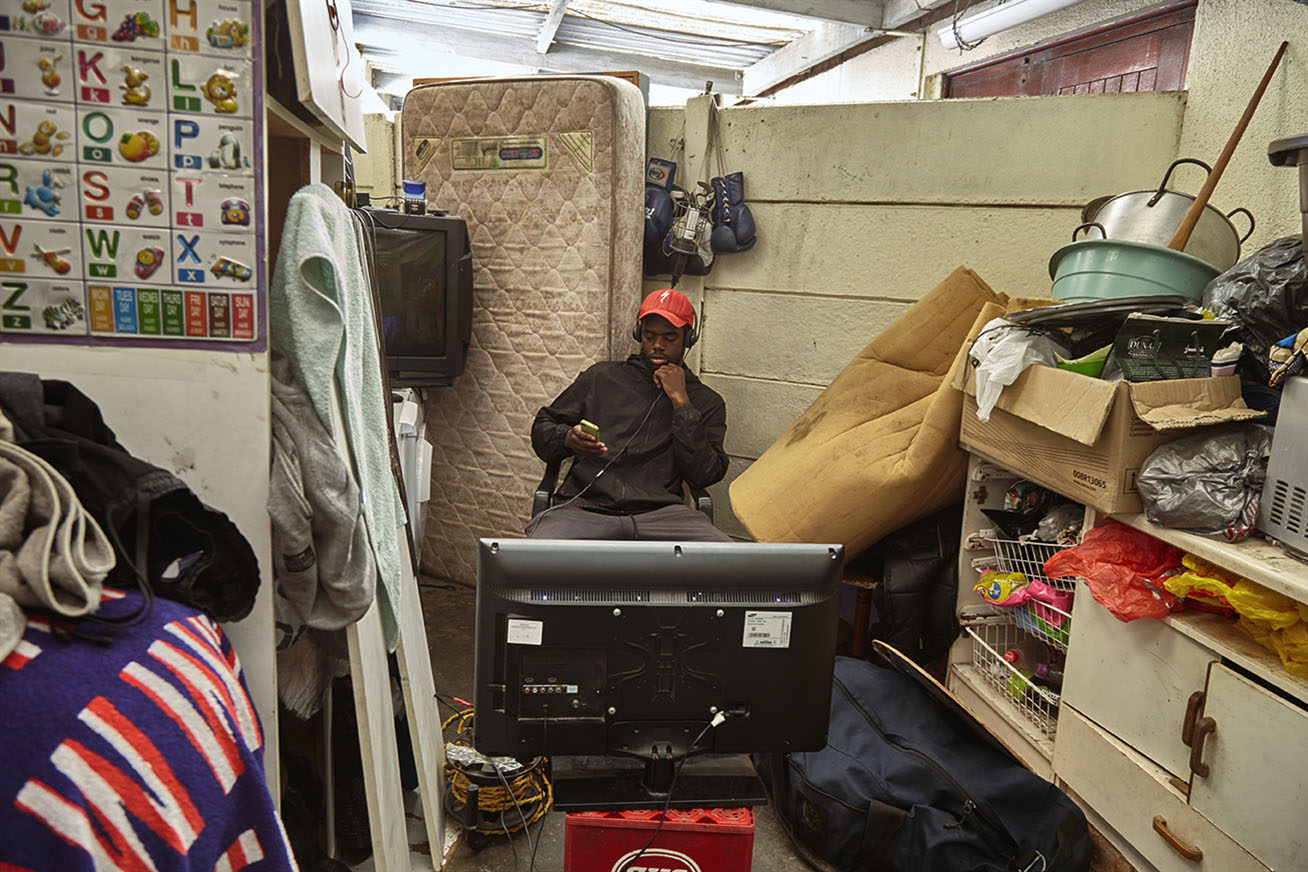 [Emile relaxing in his makeshift porch room at his Congolese parents' modest home (Chris de Beer)]
On the 320 days a year that don't end in a fight night, there isn't much for Emile to gloat about. He shares a tired two-room house with his parents, his youngest brother and sometimes Clint. It's a cramped house come bedtime, so Emile sleeps outside on the semi-enclosed porch.
"A fighter never comes from luxury," his father theorises. "Anyway, we'll find a bigger house one day. Me, I could not make it, but my son can prosper."
The promise of prosperity — a payoff for furious training, sandwiching hours at home surveying a backyard of wet training shirts, a kitchen full of defrosting lamb chops.
"Boxing is a very boring life," Emile says, slumped on the couch and watching a rerun of 16 and Pregnant. "People don't understand what it's all about. I train and I come home, I train and I come home."
Emile has no real hobbies, only distractions to avoid. He hones a dedication to boredom, a most untraditional teenage pursuit. "It's like I'm married to boxing," he concludes.
But as in a marriage, Emile carries more than his own hopes.
"My dad wants me to become a world champ," Emile says softly, while Commando is out the house. "Soon. My first title, I'll do it for my dad. For everything, my dad cried. I do this to wipe his tears."
This is the hidden side of ambition, nothing quite fitting in place yet, the eschewing of conditional tense a shield for the unspoken possibility that things don't work out as they should. Maybe that's the better story, the one that isn't simple, the one with all the complications of assimilation, the burden of hereditary dreams.
In more than one sense, he's the champion in waiting.