Capitec boasted the ultimate David and Goliath moment this year when it officially overtook Nedbank as the country's fourth-largest bank by value.
Its more than nine million customers make it the country's second-largest bank by retail, having overtaken Absa (which tallied its customers at 8.65-million in June, down from 8.8-million in December), and is now second only to Standard Bank (which reported having 11.8-million customers in December).
Since its launch, Capitec has firmly established itself as the disrupter of the industry — providing cheap, simple banking solutions often at lower cost than its competitors. "Our approach to innovation has always been to question the norm and to develop solutions that are simpler and more client-centric," Francois Viviers, the executive of marketing and communications at Capitec Bank, told the Mail & Guardian.
"We were the first in the industry to offer a paperless banking experience," said Viviers. The bank has also innovated in other "client-centric" ways, such as "using biometrics to secure and verify our client detail, issuing cards and credit in real-time with no waiting period, using machine-learning techniques in our risk-based credit models and much more. These innovations still set Capitec apart from the competition today."
But this banking success story has competition on the horizon, with TymeDigital having recently received a full licence to operate from the South African Reserve Bank. And Postbank and Discovery are both waiting in the wings. In the next few years, the South African banking landscape could be quite thoroughly altered.
Capitec says it welcomes the entrance of the new banks. "We welcome competition to the category as we firmly believe that it benefits the industry and the consumer," said Viviers. "We believe that one of the reasons for Capitec's success is the fact that we developed our offering with the consumer in mind and not in response to our competitors. In fact, we deliberately approach banking from a retail perspective and even favour staff with non-banking experience so as to not fall into the same habits as the other banks."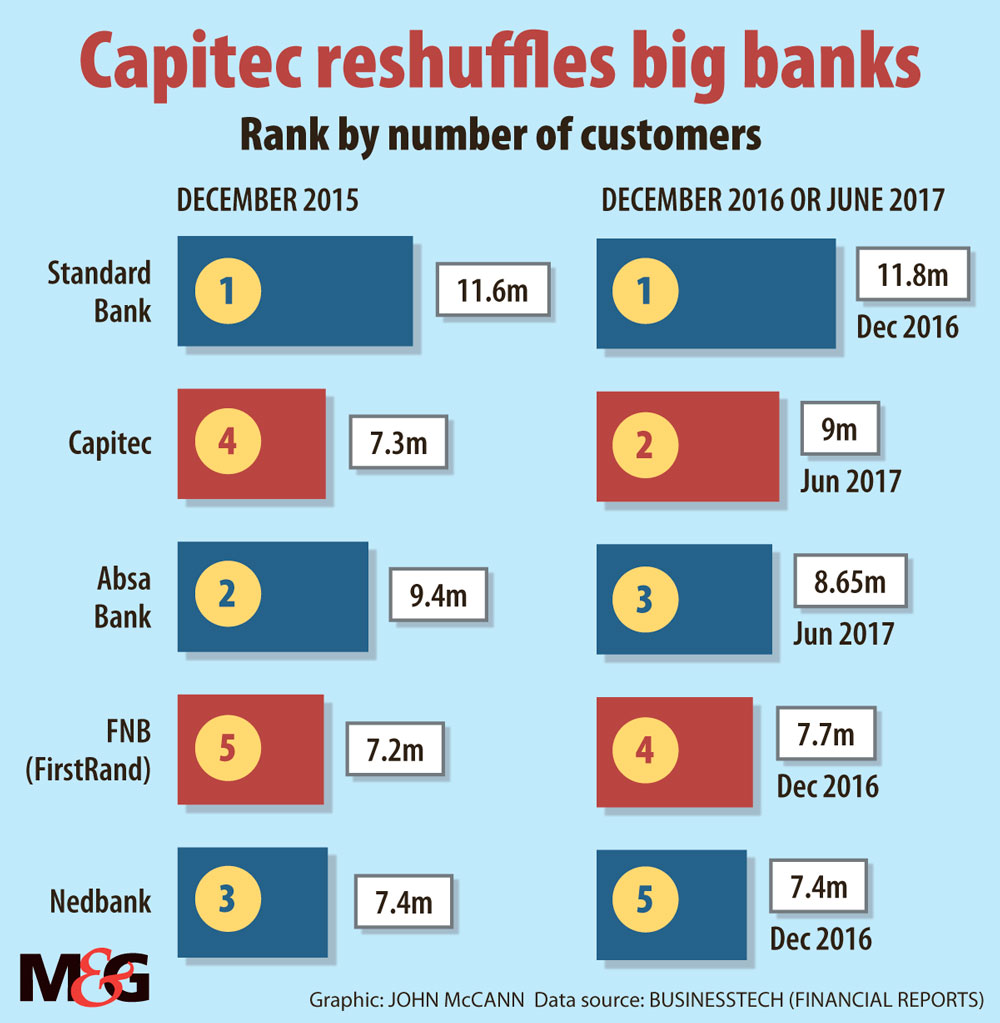 TymeDigital
Its closest competitor in years to come could prove to be TymeDigital, with its similar aim of providing simple, transparent products and easing bureaucracy for its customers. TymeDigital is the first fledgling bank to have secured its licence from the Reserve Bank since 1999. Chief executive Sandile Shabalala is vocal about the company's intentions to "disrupt".
"We want to transform banking and how the pubic consume banking products," he told the M&G. "The big drive of our market is to look at the underserved market in South Africa."
Official banking statistics in the country are comparatively high — the 2016 FinScope Survey found that 89% of South Africans had some type of financial account, either formal or informal. But, Shabalala said, "people are using banking at a very basic, transactional level, usually just to access and draw cash. We want to deepen and widen the number of people who can experience a variety of banking products."
The company, owned by Commonwealth Bank SA, is 10% owned by billionaire Patrice Motsepe's investment firm African Rainbow Capital. It is affiliated with the Australian-owned Commonwealth Bank, which provides retail, business and institutional banking in several countries and regions, including Australasia, the United Kingdom and the United States. It has been operating in South Africa for about a year, from kiosks placed in Pick n Pay stores that provide a money transfer function.
TymeDigital hasn't embarked on any big advertising campaigns and, according to Shabalala, the customer base has grown mainly through word of mouth. Since its launch, "it's done very well. We've registered approximately 200 000 customers," he said.
The company has a paperless onboarding process, which allows a new customer to sign up and comply with Financial Intelligence Centre Amendment Act (Fica) requirements within four minutes, "and you only have to register once", said Shabalala. "That's very different to the existing money transfer systems." The Tyme system interfaces with the department of home affairs to streamline the Fica process. A new user provides their digital fingerprint at the kiosk, and the fingerprint matches up with all the relevant information stored at home affairs.
TymeDigital will use the same systems. "As we launch the bank, you will be able to open a fully functional and compliant account within 10 minutes, paperlessly," he said.
Personal finance expert Warren Ingram at Galileo Capital said the bank's biggest hope for getting market penetration will be to provide a completely digital platform. "If they can find ways to meet legal requirements without obliging people to deliver physical documents — and if they can do everything electronically — they will do well. I think their big thing is going to be seamless transactions and cost-effectiveness."
Another similarity between TymeDigital and Capitec is the absence of physical branches. Tyme (an acronym for Take Your Money Everywhere) has signed a 10-year contract with Pick n Pay and is planning to form other partnerships.
"Traditional banks … rely on brick and mortar, [whereas] we are going to leverage the footprint of our partners to bring physical access to our clients," said Shabalala. "We are using a cost-effective digital model, so we can give some of that cost-effectiveness back to our consumers."
Postbank
The South African Post Office's Postbank will also build on a strong existing footprint, with the plan to turn post offices throughout the country into bank branches.
Postbank already provides savings accounts and allows for fixed-term deposits and simple transactions. It intends to extend these offerings to include banking cards and other products.
The bank plans to play a developmental role. In July, Minister of Telecommunications and Postal Service Siyabonga Cwele said: "It should be clear that this bank is not in competition with commercial banks."
Because the Post Office has been plagued by ongoing strikes, disputes over workers' contracts and mail delivery delays, some say the public might be reticent to trust their cash with the organisation.
But Ingram said consumers may put their concerns aside if Postbank's offerings are good. "It'll come down to what they are going to offer their customers," he said. "I think people forget and forgive and move on if the product is compelling enough."
Postbank did not respond to the M&G's questions about these possible concerns or its plans.
The Reserve Bank awarded Postbank its first-level banking application in June. Officials reportedly expect the final licence to be awarded within the next year.
Discovery
Although the traditional banks might gloss over Postbank as a potential threat, they should certainly pay close attention to the intentions of Discovery.
Discovery Health has more than 40% market share of the overall medical scheme market in South Africa, and already offers health insurance, short-term insurance, life cover and credit card facilities. It was only a matter of time before it branched out into full-blown banking.
The company, which anticipates launching its product next year, would not give details, but told the M&G: "Significant progress has been made in developing the system infrastructure, operating processes, regulatory engagement and the customer value proposition, with a number of key milestones having already been met."
About its target market, Ingram said: "I don't see them going for the mass unbanked; I see them going for existing bank clients. Discovery has already penetrated those banks' client bases in one way or another. I would think the existing retail banks should realise that Discovery is here to eat their lunch."