Kenyans were supposed to choose their president on Thursday — again. But there was a distinct lack of enthusiasm for the process, and a large cross-section of Kenya's voters' roll boycotted the process.
The last presidential vote, on August 8, was annulled by the Supreme Court, which found serious irregularities in the electoral process.
Opposition leader Raila Odinga of the National Super Alliance (Nasa) urged supporters not to participate in the poll, citing credibility issues with the electoral board.
President Uhuru Kenyatta and Chief Justice David Maraga, however, insist that it is the right of any Kenyan to choose whether to participate in the elections.
But for Kenyans weighing up whether to cast their ballots, it's not just about party politics. The credibility, or lack thereof, of the electoral commission is another major factor.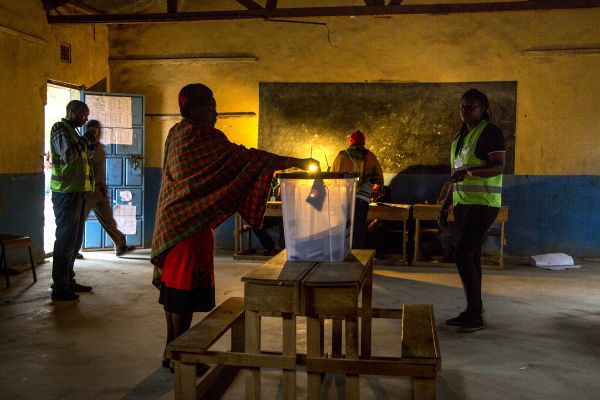 [A woman casts her vote as voting in Kenya's second election this year gets under way. (Georgina Goodwin/AFP)]
Kimani Nyoike, a human rights activist, said: "I need not just any president but the one who is elected in a clear, clean, transparent and credible manner. We can never tire [in our efforts] to have a clean electoral institution if we are to guarantee ourselves peace and tranquillity. I know what a sham election means. We have been there before."
He said that Kenya needed to implement wide-ranging electoral reforms before choosing its next president.
"If we proceed with this election, we literally won't have a country. Not literally war, but deep divisions that we cannot avoid. We cannot afford a political crisis arising from balkanising half of Kenya."
Renowned journalist Nzau ya Musau decided to withhold his vote after witnessing children being caught up in the brutal police response to the recent protests.
"Negligence or otherwise, as a parent I cannot stand that kind of thing. Our contests as adults should steer clear of our children's growth, hopes and wishes. I am standing out for the children and I want to encourage others to do the same," he said.
Nzau insists it has nothing to do with the opposition party and its protests demanding the resignation of electoral commission officials including the chairperson, Wafula Chebukati.
Aisha Ahmed, a humanitarian worker, was deterred by logistical reasons — it was simply too expensive for her to travel home to Mandera in northeastern Kenya to vote. It cost her $60 to cast her ballot in the August 8 election, money she is not ready to part with again.
"It's not worth spending the cash all over again. The political atmosphere has also made money very scarce and sacrificing it for someone who I'm not so sure has my interest at heart is not something I'm willing to undertake," she added.
Collins Mwanga, a clinical officer in Migori County, pointed out that the Constitution gave him the freedom to choose not to vote.
"I don't believe [the] Independent Electoral and Boundaries Commission has the mandate to conduct a free, fair and credible election," he added.
Hildah Chao, a social researcher, is tired of the fight between the opposition alliance and the ruling Jubilee Party — and their respective leaders, Odinga and Kenyatta.
"Both party leaders are careless about Kenyans and are more interested in power and solving long- term family issues," she said.
Haddasah Mwangi said that too many people have been killed in the past few months by trigger-happy police during protests.
"Dead people don't vote. The fact that they are ready to sacrifice human beings in their greed for power shows that they do not have an ounce of humanity in them," she said.