November 5 at Tafelkop Stadium in the Sekhukhune district, Limpopo. The sun is brutal and relentless. African clichés swirl with the red dust being churned up by the wind. People are singing and dancing. They are poor, most are unemployed — desperate for jobs and a chance to make something of their lives.
About 3 000 to 4 000 people are gathered in this broken-down stadium for a rally to be addressed by ANC presidential hopeful Cyril Ramaphosa. For many, their journey from the surrounding areas started early in the morning; walking, in their #Siyavuma CR17 T-shirts, along regional roads to pick-up points, then hopping on to buses and the backs of vans for the drive to what used to be the home of Masters FC.
Some have been here since 11am. It is now after 3pm and the wait for the deputy president of the ANC, and the country, continues. The mood is relaxed. The CR17 campaign's theme song, We Are Ready for Ramaphosa, is on heavy rotation and animates the crowd.
Minutes before the cavalcade is about to enter the stadium, there is a blast of wind and a tent collapses. Panic is quickly controlled. Health Minister Aaron Motsoaledi is running around demanding answers, checking on the injured and exclaiming loudly that the tent, and its erection, "was passed by the police and [department of] public works".
Motsoaledi, a trained medical doctor, is soon triaging the injured — about 15 people — who have minor flesh wounds. The security heavies won't let the media take photographs because this is "bad publicity". They are unconvinced that a hands-on minister getting stuck in is good publicity for an ANC government usually perceived as captured, inept and callous about the condition of citizens.
Ramaphosa waits in his car for more than 20 minutes until order is restored. He takes to the stage. It is Guy Fawkes Day in England and Ramaphosa sets off his own fireworks when he proposes his slate to the crowd: Science and Technology Minister Naledi Pandor for the ANC's deputy president position, former KwaZulu-Natal premier Senzo Mchunu for secretary general, the ANC's current secretary general Gwede Mantashe for chairperson of the party and Gauteng's Paul Mashatile for treasurer general.
For a party in which campaigning for leadership positions has, until now, remained subterranean, this is an unprecedented move. In the week to follow, the proclamation will draw criticism from various quarters in the ANC, especially those supporting Ramaphosa's main rival, Nkosazana Dlamini-Zuma.
But, in the afterglow of a weekend of rallies, meetings with traditional leaders, attending the prize-giving of a traditional dance competition, addressing a cadres forum and behind-the-scene deal-brokering with regional and branch leaders, which is all part of the ANC campaigning process, Ramaphosa appears buoyant.
Speaking to the Mail & Guardian at the Groblersdal Hospital, where he visited the injured after the rally, Ramaphosa described the responses he had received as "fantastic, more than fantastic, more than what we really bargained for".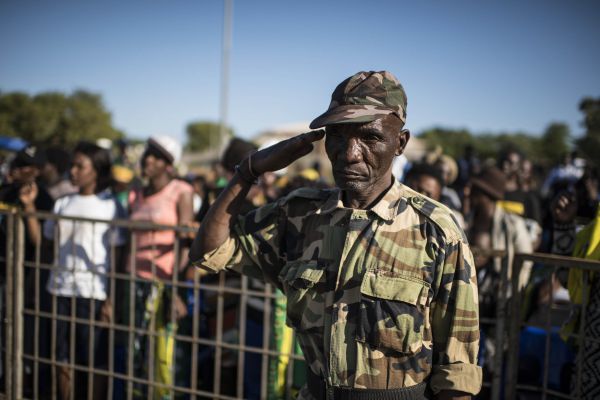 [Everyone offered a helping hand at a rally in Sekhukhune district including old-timers who've more than paid their dues. (Paul Botes/M&G)]
"It shows that people are supporting our campaign and the delegates are being selected, nominated or chosen and they have been given a clear mandate by their branches."
Ramaphosa is reported to already have the support of four of the five regions in Limpopo. But, in the ANC, allegiance is never guaranteed until votes have been tallied.
In all his speeches over the weekend, Ramaphosa has warned conference delegates about "tsotsis" who will try to bribe members to vote against their branch mandates.
At Malamulele in the Vhembe region, far to the north of the country, close to Kruger Park and the Zimbabwe border, Ramaphosa addressed delegates bound for the December conference after a rally on Saturday. Describing the problems besetting the ANC, he said "only success is an option" and that his election is what will ensure the ANC self-corrects and survives. He urged delegates to ignore the "many distractions when you go to conference".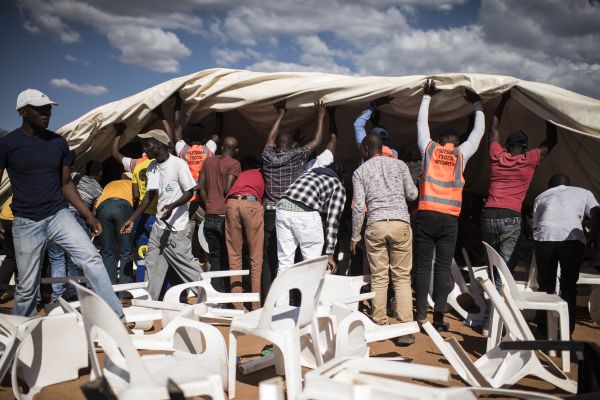 [Campaign trail: There were helping hands at a rally in Sekhukhune district when a tent collapsed. Everyone was fed at both rallies – pap en vleis and hope (Paul Botes/M&G)]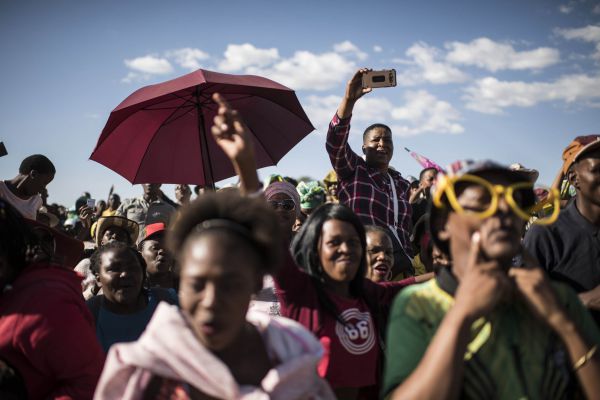 "Say: 'I have my mandate and my mandate is a secret,' " he told delegates.
A few hours before Ramaphosa took to the stage at Tafelkop Stadium the business of numbers was evident at Rammupudu Primary School, a few kilometres away. Bussed-in supporters lined up for a lump of pap and some greasy meat — they practised singing for their lunch by chanting "On your marks! Get set! We are ready for Ramaphosa!" Dance routines are synchronised and the food eaten.
There are gogos and children, youth and dyed-in-the-wool ANC supporters. Some have come for the lunch, others with hope.
Ramaphosa's campaign has financial muscle. The Siyavuma T-shirts are better designed, printed and produced than the ANC T-shirts of recent times — usually with blurry images and fraying from too many kickbacks along the production line.
A local in an ANC T-shirt — one of seven he has collected over the years — looks on. He is only here because he is unemployed and "bored". "There is nothing to do here on a Sunday, or any other day. They are giving us lunch today, but don't talk about how we will eat tomorrow," he says.
His remark goes to the heart of public cynicism about the ANC: Is it too far down the road of kleptocracy to change the lives of ordinary South Africans?
Ramaphosa has based his campaign on cleaning up a party that has experienced corruption, violence and murder as careerist comrades jostle for positions in the organisation and government.
This is an ANC in which anti-democratic behaviour has blossomed to the point at which security guards and police have allegedly stopped members from attending branch meetings to voice their opinion on policy and leadership choices; an organisation in which membership numbers have allegedly been manipulated to ensure voting keeps individuals in power — a phenomenon Ramaphosa consistently described as members who were "kept in the deep freezer" and brought out to be "microwaved" before a party election.
But it is unclear whether Ramaphosa — for all the slick CR17 merchandising, campaign CDs extolling his virtues and high-quality flyers — is building a movement in the ANC that is focused on cleaning up.
The flyers say a clean-up is essential if the ANC is to continue governing South Africa, but his campaign has attracted all sorts. There are those who were marginalised as far back as 2007 for supporting Thabo Mbeki's unsuccessful attempt at a third term as ANC president and those, especially from the South African Communist Party and labour federation Cosatu, who believe that, after 10 years of president Jacob Zuma's leadership, the party needs rebuilding from branch level upwards.
But there are also leaders, already in power at regional and local level, who, having tested the political wind, have nailed their colours to the CR17 mast in the hope that it will further their career aspirations. Their commitment to cleaning-up is unclear but deals with some devils appear essential to attain power in the ANC.
At times during Ramaphosa's weekend of campaigning, the urgency for an ANC clean-up is expressed more palpably by those supporters who are not in leadership positions or going to the December conference. Those closer to power speak with less conviction about changing the party to change society. The grass-roots supporters articulate an indignation that goes to the very core of the ANC's original values.
"Zuma the criminal must go," says Professor Neluvhumbu in Vhembe.
At Tafelkop Stadium a marshal who works as a labourer for the Elias Motsoaledi Local Municipality alleges vulgar corruption by those running it. The municipal leaders are pro-Zuma.
"The IDP [integrated development plan] is there but nothing happens. Within two months the budget is finished," says the municipal worker.
He is hopeful that a new ANC can emerge with Ramaphosa, one in which "the workers" have more say in creating a responsive party that can build responsible and clean government.
Neluvhumbu supports Ramaphosa's campaign because "we want change and we want jobs and Ramaphosa can deliver these". It is a sentiment echoed by so many people at the different rallies over the weekend. It is also an echo of what ANC supporters at rallies in the build-up to the ANC's 2007 Polokwane conference were saying about Zuma.