COMMENT
A Johannesburg restaurant called Misohawni had to change its name and apologise after it was accused of "cultural appropriation, racism and misogyny" in a public outcry on social media. But the restaurant's apology sparked further backlash, begging the question asked of all those accused of cultural appropriation: do the owners truly understand the issue – and do they care?
Last week Taiwanese-South African Ming-Cheau Lin – a food and culture writer at butterfingers.co.za – tweeted her disdain at the discovery of "a new 'Asian' restaurant opening in Joburg, owned by non-Asians".
"As an Asian woman," she continued, "I really hate the name. It might seem funny but when men say it while they sexually harass you it's not."
A new 'Asian' restaurant opening in Joburg, owned by non Asians. It covers 3 different cultures: 1.ramen (Japanese), 2.poke (Hawaiian) & 3.Korean BBQ. As an Asian woman, I really hate the name. It might seem funny but when men say it while they sexually harass you it's not. pic.twitter.com/gAVDiSKFah

— Ming Chows 林明巧 (@mingcheau) November 14, 2017
Lin's outcry quickly went viral, garnering support mainly from Asian diaspora worldwide who share her experiences of "Yellow Fever" – as she later put it in conversation with the Mail & Guardian. Lin said the use of the phase "misohawni" was debilitating: "Every single time that this has happened to me before it has been … sexual harassment … or catcalling. In reacting to it, I get laughed at and it triggers an anxiety inside that I cannot control."
What's so wrong with this – and what does it have to do with the name of a restaurant?
Writer Dakota Kim – an Asian-American – tweeted a thread in support of Lin's campaign that laid out the specific problems with Misohawni's choice of name and its brand's positioning.
.@Twitter world: HERE'S WHY NAMING YOUR RESTAURANT @misohawni IS WRONG. (hana<– since you're Korean bbq, you know what that means, right #misohawni?)

— Dakota Kim (@dakotakim1) November 14, 2017
Compounding the issue of the racialised sexual reference of the restaurant's branding is that of cultural appropriation, critics said.
"The problem with cultural appropriation – in this case – is that it is not appreciation. If it was appreciation they would have learnt more about the cultures that they're profiting off of – and they would know that 'Misohawni' is offensive to Asian women – the very people that cook the food that they're going to be profiting off of," says Lin.
"Then, the phrase is related to Vietnamese women," continues Lin. "[Some] of the food they are planning to serve is ramen. That's Japanese. Poke is also on the menu – that's Hawaiian. And then there's Korean BBQ. That's three different Asian cultures and one American culture. Now. I'm Taiwanese. But there were Korean and Japanese diaspora who got in touch saying it's all incorrect – that there were words like 'chicken-chicken' on the menu, which is just incorrect."
The power of social media
A day after the social media storm, the restaurant issued a public statement through its aptly-named PR agency, Tonedef, apologising for its naming "mishap". The apology also stated that the restaurant would keep its existing social media open "until the rebrand has taken effect".
The phrasing of the apology was met with further backlash on social media, distilled by Lin as a "very hard mistake to make [so soon after Harry Weinstein and the #MeToo campaign]."
Why was that name chosen in the first place?
Owners Ryan Vermaak and Fabio Di Cosmo claimed in a Jacaranda FM interview that there was "no inspiration" behind the name and it was a "clever play on words". Vermaak is also quoted saying, in defence of the name, that "you can't please everyone".
In a follow-up interview with the M&G, the owners elaborated on the inspiration behind the restaurant itself. "The inspiration behind the restaurant is simple: we had a vision to bring simple, delicious and affordable Asian fusion food to give people an opportunity to experience something slightly different … and fun," said di Cosmo.
They also clarified their statements from their radio interview by saying that they "were never advised by Jacaranda FM that [it] was an interview and [that] the information divulged would be made public. Mr Vermaak was caught at an inopportune time, the signal was poor and he was not able to give the questions the proper attention for a public statement to be made from this."
Whatever the circumstances, the global backlash generated by the restaurant name and its subsequent apology calls into question the hypersexualised nature of said "fun".
The Melville-based restaurant does not appear shy about its sexual innuendo. Further examples of sexual innuendo include the restaurant's window that reads: "Eat me" and social media promoting the opening that read: "Cumming soon" and "Wesohawni."
"That [Eat me] reference was certainly not intended as sexual innuendo," di Cosmo told the M&G. "It's a speech-bubble from a fish saying 'Eat me'…The rest of the references and imagery were not intended to relate to Asian women in particular, or women in general, [or to] make them uncomfortable or objectified. We … acknowledge the issue with the name and really want to correct things."
The owners confirmed that they had consulted with two Asian friends and fellow foodies in the planning of their restaurant's. "In the initial phase of the project we discussed a partnership with friends of ours – a couple – both are restaurateurs and one of whom is an Asian woman. They did the initial draft of the menu and, when brainstorming names, thought the name would work," says Di Cosmo.
We reached to their Asian friends, Julian Sun and Hayley Junkin, for their comment. While Junkin is yet to respond, Sun's feedback exhibits a failure of intersectionality, to put it mildly.
"So a bit of background: My name is Julian Sun and I am a 3rd-generation Chinese South African. I…have lived in South Africa all my life. I've known Ryan and Fabio for over 20 years and I consider them to be good friends of mine.
"A couple months [ago] Ryan called me to talk about a new restaurant he was opening in Melville. He asked me if I found the name 'Miso Horny' offensive. I did not find the name offensive at all. I strongly believe that the ability to laugh at oneself is important. I did query why they were going with horny and not' Miso Hungry' but I thought it was a clever pun…
"…My advice to Ryan was to go ahead with it. [A]fter all, people take themselves far too seriously these days and I believed that public reaction may be that it was a bit cheeky, but at no stage did I anticipate the public outcry it would cause.
"…I remember phoning Ryan to tell him that I'd driven past a shop in Linden called "Frock Me Up". If you can get away with a wry pun like that, surely they'd be able to use the name Miso Horny. I even told Ryan to try spelling it phonetically, hence it becoming "MisoHawni".
"Looking back on the past week, I've been shocked at the public outrage the name has generated. People all around the world have jumped onto a social media soapbox to castigate these guys as racist and misogynists and that characterisation could not be further from the truth."
Ming-Cheau Lin's social media campaign may have won the Misohawni name battle, but can it win the war?
In conversation with Ming-Cheau, she stated that the bigger war, in her view, is a will to understand. "From [Misohawni's] so-called apology," says Lin, "you can clearly see that they don't understand what went wrong. And from their audience's support – [their supporters] also don't understand. There are so many comments under their Facebook apology that say things like 'you guys are so sensitive' and 'take a joke'."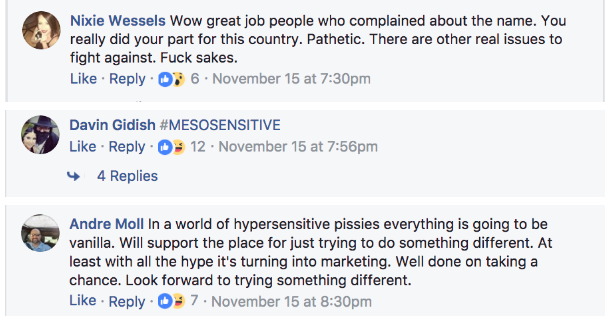 In the bid to build a more just, socially aware society founded on the principles of dignity and redress, Misohawni's name-choice and subsequent efforts at redress pose questions that go beyond the restaurant itself:
Does reputation-management count for more than redress?
Is there such a thing as being "too sensitive" when it comes to calling out historically embedded cases of discrimination?
Who ultimately bears the burden of the white man's sense of humour?
Correction: The first version of this article quoted slogans from what is reportedly a fake Twitter account linked to the restaurant. We have retracted these slogans. The article also incorrectly reported that "Tonedef" is the restaurant's PR firm. It is the name of a separate production company started by the restaurant owners. A Tonedef email account had been used by the restaurant to manage communications following the social media backlash.
We apologise for these errors.