If we are being honest, the festive season brings out the worst in many of our children.
Every year, regardless of religious affiliation or none, fake snow and the ho-ho-hoing of jolly bellied Santas induces a terrifying form of seasonal juvenile lunacy. It is still only November but already greedy-eyed, insatiable child-resembling monsters (many of whom have been perfectly pleasant little people throughout the last 10 months) are preparing to torment all the exhausted adults they know.
Even those who are not even nominally Christian get dragged under by the wave of consumerist Christmas. Last year I swear I saw a sign in a Cape Town supermarket stating: "All Christmas turkeys are strictly Halaal".
For those parents lucky enough to have the means to give in to their petulant offspring, a wave of dissatisfaction crosses their children's faces when the gifts are deemed disappointing. Poorer parents face the heartbreaking spectacle of watching their children experience the unfairness of life, the universe and everything.
Unless something drastic is done, an orgy of greed and displeasure awaits us in December. Grown-ups need tools with which to remind their children what really matters.
An inspirational and seasonally appropriate book seems like a sensible place to start. Except that many of the children's books that have been traditionally read at this time of year make modern parents uncomfortable. Many of us are searching for ways to instil our values in our children in a way that is spiritual but not necessarily religious.
Enter Swaady Martin's Malaika and the Angel series.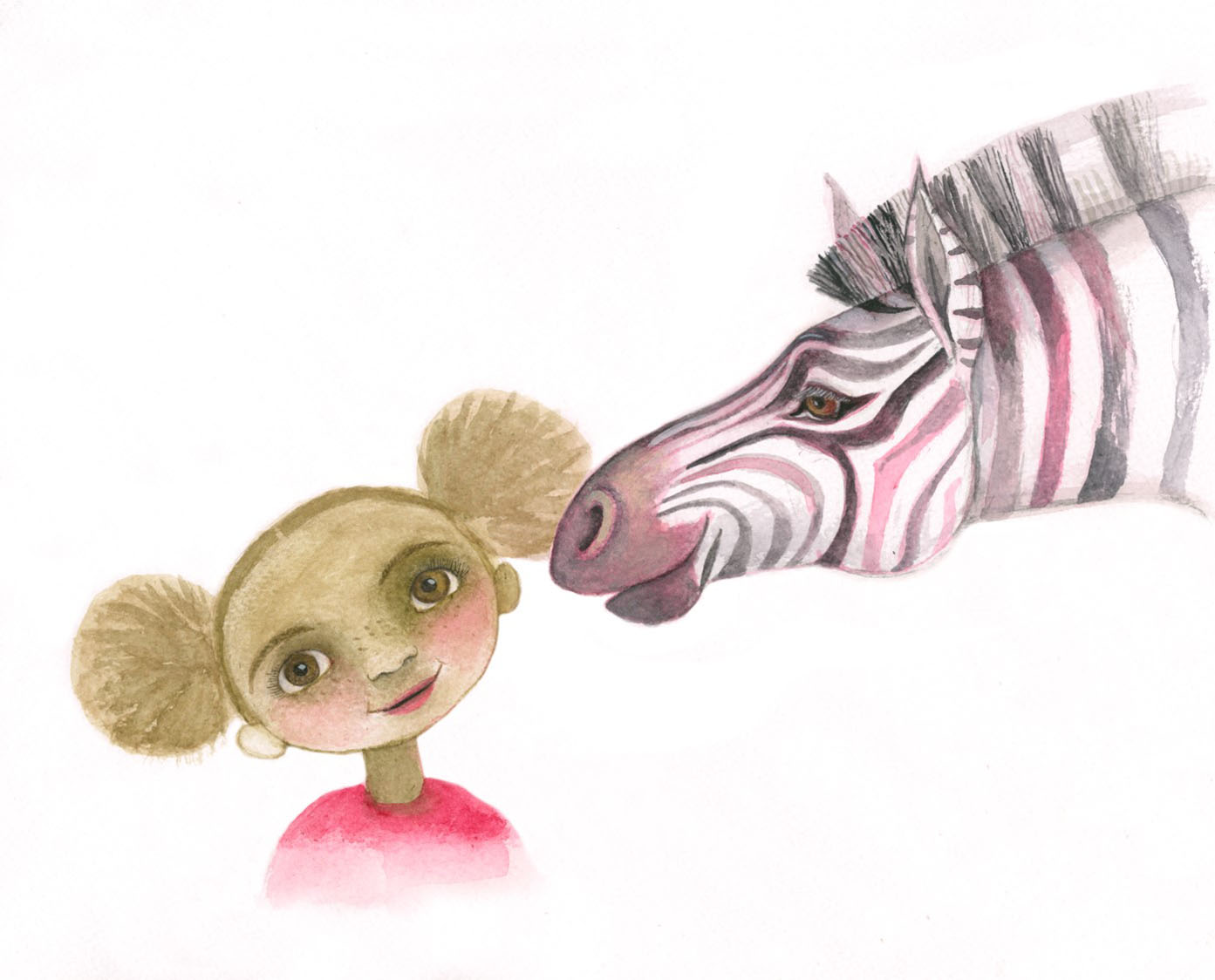 [Malaika and her spirit guide in one of its many ever-changing forms (Maria Baumann)]
This charming set of stories joins an adventurous little girl and her ever-changing spirit guide on a series of all-embracing adventures. Readers are encouraged to join the quest and, in so doing, to discover the essence of the divine in the every day.
Together our heroine and her guardian angel, Rafiki, journey into an ethereal yet exciting universe in which spiritual and material spaces overlap.
Ancestors and elders meld with the here and now on magical staircases. There are messages hidden in glittering boxes. Each quest has a universal life lesson. The first book, Malaika and the Angel: Intuition, offers insight into intuition while the second, Malaika and the Angel: Being, takes our leading lady into an exploration of being. More topics are to come next year.
Ivorian-born, Johannesburg-based Martin offers charming, contemplative tales that resonate worldwide. With an overflowing sense of generosity, they are served with wit and warmth.
She says the books "reflect my own spiritual journey, so my target audience is children of all ages and those of us who are still children inside; whether they are five or 95".
Spiritual books run the risk of seeming soppy or judgmental but Martin's heroine is reassuringly fallible but still admirable. She makes mistakes. She faces challenges. Her inquisitive nature leads her into and out of danger. She has foibles — her fondness for dressing up and constantly changing into ever more fanciful costumes is apparent on every page.
Guardian angel Rafiki is also an intriguingly fluid form. Today Rafiki is a zebra but tomorrow who knows where the spirit will land — because Rafiki likes to switch outfits almost as much as Malaika does.
Maria Baumann's exquisite watercolour illustrations enhance the text's dreamlike quality.
Book lovers are left longing for more and wondering whether Rafiki is real or if we're travelling through the land where the best guardian angels are to be found — deep within our own minds.
As an antidote to the aforementioned seasonal stress, there is no better cure. If your children are not nicer after meeting Malaika and her angel, I wish you well.
Malaika and the Angel: Intuition (48 pages), Being (51 pages). Price: R155. Shift Within (Pty) Ltd. Email orders at [email protected]; malaikaandtheangel.com / @malaikaandtheangel (Instagram)