We're at that sweet spot now — where ambition has been tempered by reality but intrigue still blooms bright.
Manchester City have the title on lock. Their imperious form has them so superior to the rest of the league that the only pressing question is whether they can replicate the Invincibles or not. Unless someone figures out how to outsmart Pep Guardiola, we can all settle in for a one-horse show.
Raheem Sterling has sparkled and Kevin de Bruyne has pulled the strings, but City's success is derived predominantly from a common perspective and the fluid play it breeds.
In an effort to keep apace, other teams have relied much on individual performers, and particularly new arrivals. With this in mind, we rank the top three new signings of the season in the Premier League … so far.
Mohamed Salah
Chelsea have a disconcertingly long list of players they're constantly derided for "letting go". Despite it including Romelu Lukaku and De Bruyne, the biggest regret — based on the evidence of this season — must surely be Mohamed Salah. The Egyptian never really took off at the Bridge and was summarily shipped off to Italy after a single year, first on loan and eventually for good.
All that seems like ancient history in his second spell in England. Signed for a relatively paltry £36.9-million, Salah has sowed chaos and unpredictability in the back lines of the league. Equipped with scorching pace, there has perhaps been no player more dangerous when squared up against a defender. Any space afforded, any momentary lapses of concentration are punished with the velocity of an apex predator.
Playing off Sadio Mane and Roberto Firmino, the 26-year-old has exploited the spaces they have created behind the league's back lines and punished the opposition to deadly effect.
A few questions were raised about the efficacy of his shooting at the beginning of the season, but such concerns are surely dead and buried now. The stats spell it out: Salah sits top of the scoring charts with 13 goals. Only perpetual grafter Harry Kane sits within four of that total. On top of the fact that Salah's sliding them in on average every 92 minutes, he has a bonus three assists to his name.
It's the type of impact that would have us talking up Liverpool as legitimate title contenders — if not for the dominance of Manchester City. At the very least, the Scousers can worry a little less about the touted sale of erstwhile most-prized possession Philippe Coutinho to Barcelona.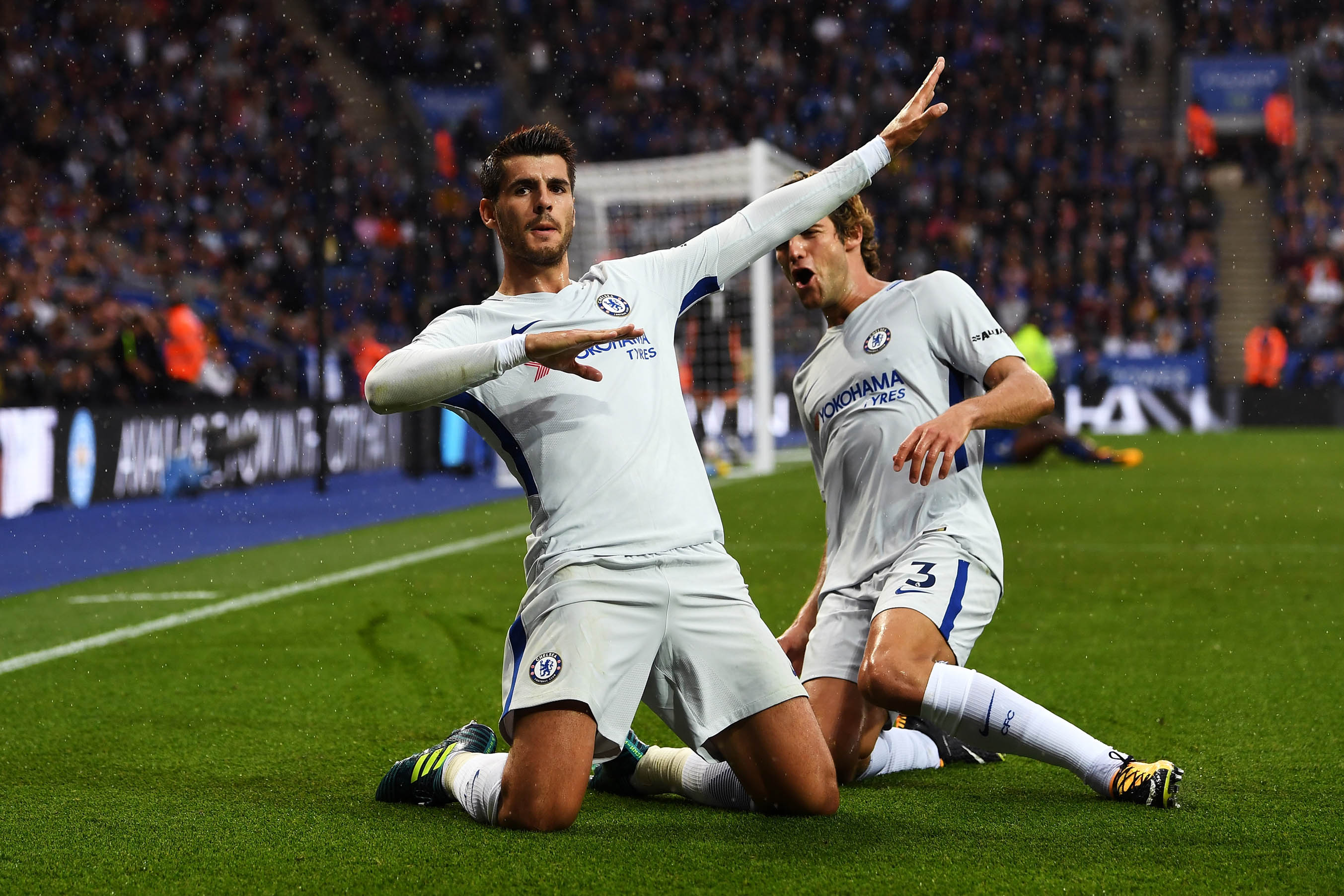 [Alvaro Morata (right) set Chelsea back £70-million but it was money well spent. (Michael Regan, Getty Images)]
Alvaro Morata
Replacing Diego Costa was never going to be an easy task for Chelsea. The scowling hustler had been instrumental in dragging the team to two Premier League crowns with his grit, passion and questionable interpretation of the rules. Fortunately for the Blues, Alvaro Morata has done more than just step up to the plate.
Teetering on the precipice of greatness, but unfortunately also stuck outside the starting line-up at Real Madrid, the former Juventus prodigy moved on for a startling £70-million. It looks like money well spent, though, as the Spaniard has already netted himself nine league goals and grabbed four assists along the way. Given regular time in a first team week in and week out, the smart money is on that number inflating substantially.
Of particular interest has been his deployment as the lead striker in Antonio Conte's preferred 3-5-2 in recent weeks. The Italian dominated in his home league with the formation while at Juve and now seems to have the tools to make it work in England.
Eden Hazard, in the secondary forward role, has been allowed to flitter around the box, sucking defenders out of position before setting Morata through into the vacated space with a smart flick or back heel. The tall No 9 is regularly able to repay the favour — floaters from Cesc Fàbregas are relayed into the path of the rampaging Belgian. The Hazard-Morata partnership is one that has the potential to blossom dangerously.
Another unlikely pairing has also been formed with César Azpilicueta. The right-back-cum-left-back-cum-centre back has laid on an astonishing five assists for Morata from deep. His aerial prowess no doubt is bringing an extra dimension to Chelsea's play this season.
Alexandre Lacazette
For Arsenal fans, Alexandre Lacazette is the embodiment of something that was lost along the way. He's a complete forward that a future team could be built around. Since the departure of Thierry Henry to Barcelona in 2007, the Gooner faithful have endured an injury-plagued and "disloyal" Robin van Persie, an eternally raw Theo Walcott and a ponderous Olivier Giroud. Should we mention Emmanuel Adebayor or Marouane Chamakh?
In Lacazette, the front line now has a player who can lead it with authority, a player capable of both holding the ball up and playing on the shoulder. Add to the mix a powerful finish and you have a complete striker on your hands.
It has been fascinating to watch him operate this season. His control in tight spaces has been impeccable and he's regularly able to manipulate openings in the box. An uncanny ability to release an authoritative shot with very little backlift is the perfect complement to such build-up play.
The jury remains out on the potency and penetration of the Lacazette trident with Mesut Özil and Alexis Sanchez, but there have been enough glimpses to suggest that consistent danger could boil to the surface. A 5-2 mauling of Everton at Goodison Park, in which all three scored, springs to mind.
Unfortunately for those hoping to make the "Three Musketeers" a thing, they will more than likely be split up sooner rather than later. Supreme leader Arsène Wenger must decide whether he wants to sell Özil and Sanchez in January or risk losing them on a free a few months later. Sanchez in particular has sulked his way through the last few games, putting in lazy and tepid displays against Manchester United and Southampton.
With the team destined for a facelift one way or another, Lacazette is likely to become the fulcrum of the next generation. Despite Wenger's dogmatic insistence on occasionally leaving him on the bench in favour of the brooding Sanchez, we will probably look back at this as one of the most pivotal signings of the last window.