In mid-December, Zweli Martin Dlamini received a tip-off. As a professional private investigator and editor of the independent business newspaper Swaziland Shopping, he receives plenty of them — usually about politicians taking bribes, shady tender deals or the hidden hand of the monarchy in Swazi affairs.
But this tip-off was a little closer to home. According to his anonymous informant, Dlamini was about to be arrested. His reporting had upset the powers that be and they were coming for him.
He panicked. He left his home and drove from Mbabane to Manzini, Swaziland's second city, where his face wasn't quite so recognisable. He spent the night in his car but he was too worried to sleep much.
"It was painful. When you sleep in a car for doing your job, it tells you something. I received first-hand experience of how we journalists are treated in Swaziland."
In the morning, when the border post opened, he crossed into South Africa. To safety. To exile.
"It's not safe for me to go home. I can't just go back without knowing what will happen to me."
Final deadline
Dlamini's problems began in June last year, when he published a scathing investigation into the affairs of an influential local businessperson, Victor Gamedze. According to Dlamini, Gamedze was involved in dodgy business with King Mswati III — the improper acquisition of an operating licence for a new mobile company, Swazi Mobile.
Dlamini said Gamedze phoned him immediately after the story was run, threatening to use his connections to shut down his publication.
Swaziland Shopping was Dlamini's baby, which he founded in January 2015. The publication began life as one of those advertising rags that get distributed for coins at supermarkets, but Dlamini realised that he could do so much more with his platform.
"When I established Swaziland Shopping, I realised that the Swazi media is captured," he said. "The media is linked to certain corrupt people that are controlling the information about what appears in the paper."
By his account, although not everyone is convinced that his motives are as pure as he describes them, he was determined to do things differently.
"Our country is a country where there are no freedoms. Human rights are being abused … So I decided to contribute to the development of my country by providing information to the public."
The Swazi government, and especially the royal family, has a long, troubled relationship with its media. "A web of repressive laws, combined with governmental intimidation and harassment of journalists, severely constrains Swaziland's media environment," according to the international research institute Freedom House.
Most Swazi publications are owned by the state, and journalists who step over the line risk serious consequences. In 2014, Bheki Makhubu, one of the kingdom's most respected editors (of The Nation), who also wrote for the Mail & Guardian, spent 15 months in jail after exposing misconduct in the judiciary. These were risks that Dlamini was willing to take. The Swaziland Shopping began to publish investigations and Dlamini penned hard-hitting editorials. Gamedze was a frequent target, even after the alleged threats made in June last year. "This man was mafia," said Dlamini.
But the Swaziland Shopping was operating on shaky foundations. It didn't have a licence to print news, as required by the country's archaic and restrictive media laws, and the government ordered the publication to shut down in December.
A furious Dlamini claims this was a technicality, used by his enemies to censor him. But some journalists suggest the situation is a little more complicated.
"He's not really what I would call a journalist," said an editor, speaking on condition of anonymity. "He's an investigator who works for clients. And he had some kind of vendetta against Victor Gamedze."
In a statement, the Swaziland Editors' Forum echoed this criticism. "We had cause to be very concerned that some of the articles as published in Swaziland Shopping failed to meet our ethics standards," it said, adding that disciplinary action had been initiated.
Nonetheless, the forum condemned the closure of the newspaper, describing it as "a violation of press freedom and a collective punishment to the media fraternity that sends a chilling message to all journalists and media investors".
Dlamini responded to the criticism of him with a few bullets of his own.
"The editors' forum was captured by Victor Gamedze. Almost all the editors were on his payroll. You know the Guptas in South Africa? It was like that. The reason they were saying they are unhappy is that I was writing about somebody they regarded as untouchable. So when I exposed the guy, he would go back to them to complain."
The Swaziland Shopping published its last edition in December. Dlamini never got to publish his last major scoop: a sensational story detailing how Gamedze was plotting to assassinate Mswati, which was distributed instead on social media. The story was long on speculation but short on evidence and, just days after it was made public, Dlamini was warned to get out of dodge.
Dark shadows
A month after Dlamini fled the country, Gamedze was shot dead in broad daylight, at a petrol station, where he had stopped to grab a cup of coffee.
The murder rocked Swaziland's political elite to its core. Gamedze was no ordinary businessperson. His connections went all the way to the top, to the king, and he used these to build himself a business empire. He ran the controversial Swazi Mobile and presided over Mbabane Swallows, Swaziland's biggest football club. His wealth and his social status should have made him untouchable, but also made him plenty of powerful enemies.
"You can count on all 10 fingers of your hand who might have wanted to kill Gamedze. And your toes," said one commentator, again speaking anonymously. Gamedze's murder has made high-profile Swazis nervous of publicly commenting, even more so than usual. If he wasn't safe, no one is.
For journalists, however, Gamedze was especially controversial.
"Victor had captured the media," said another senior editor. "He had a very low opinion of the media, believed it was too powerful, and he wanted everyone to write what he said. He had the ability to call and stop stories from being published."
One example: in 2014, Gamedze assaulted Baphelele Kunene, a journalist with the Swazi Observer, in front of the paper's managing editor. Although Kunene reported the assault to the police, they took no action. Another newspaper, which reported on the assault, had its distribution of that edition disrupted.
With Gamedze gone, the Swazi media may have a chance to reassert its independence. But the system is still against them. As the editors' forum pleaded: "We appeal to the government to expeditiously institute law reforms in the media sector to bring our legislative framework in line with the letter and spirit of the Constitution. Aligning our laws with the supreme law will help remove the dark shadow of abuse of power by those with an axe to grind against the media or anxious to prevent exposure of corruption."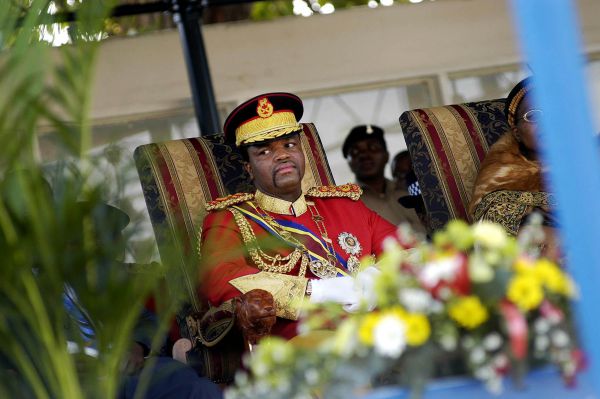 [A story was published alleging powerful Swazi businessman, Victor Gamedze, was plotting to assassinate King Mswati III (above). (Gianluigi Guercia/AFP)]
For Dlamini, the demise of the man he blames for his exile has not made him feel much safer.
"The situation changes a bit for me now but not much. It was never just about Victor Gamedze. It's the system that doesn't want press freedom. But I would love to return and I will continue as a journalist. That's my calling."