Being a teacher is not an easy job in the first place, but nothing you learn at university prepares you for teaching in rural areas. Having to forgo the luxuries and conveniences of city-living is one thing but fearing for your life in overcrowded, multigrade classrooms is quite another.
Nomsa Mateyisi* has been a teacher for four years and now works at a high school in rural Mount Fletcher in the Eastern Cape, where she teaches physical science to pupils in grades 8 to 12.
She was not prepared for the difficulties she faces, foremost among them the lack of basic service delivery — and that's before even stepping into the classroom.
"We don't have water, electricity and roads," she says. "It's not nice staying here. Your safety is compromised. If something were to happen to you, you can't even make a phone call — there is no network coverage."
In the classroom, too, Nomsa has felt her life to be in danger after receiving threats from pupils she has reprimanded.
"I teach in Mt Fletcher but for the past year I've been staying in Maclear — 65km away — spending about R1  600 every month travelling back and forth because I feared for my life," she says. "The only places I could find in Mt Fletcher weren't safe. Some didn't even have burglar bars."
And when older pupils you're teaching tell you they will "meet you outside the school premises" after you have reprimanded them in class, you do worry about your safety, says Nomsa.
"As a rural teacher you can't just leave work behind when you go home and live your life freely, if the child who has threatened you stays in the same village."
Teachers in rural areas should have better incentives, she muses. Better pay. The hurdles they face inside and outside the classroom are greater than they would be in towns and cities.
Inside the classroom the problems are equally significant and can be overwhelming.
First among them is overcrowding. Nomsa says that, on average, she teaches classes of 86 pupils at a time, and never fewer than 65. "With such a big class you can't give any of the learners individual attention," she says. "There are just too many."
Then there are the textbooks — or, rather, the lack thereof. Without them, effective teaching and learning becomes a pipe dream. Here, Nomsa argues, access to better technology could help. Tablets, like they have at schools in Gauteng, she says. Or overhead projectors at the very least. "Sometimes we have five learners to a textbook. If the pupils don't have textbooks, then you need to write more on the chalkboard. And that consumes valuable time, which we have little enough of if we are to cover the syllabus."
The syllabus does not escape Nomsa's criticism either. A curriculum that speaks to pupils in rural areas should be developed, she argues.
In most cases, when a pupil fails it is not because they are stupid but because they do not have the context to understand what they are being asked.
"In their question papers they are asked about people they cannot relate to," Nomsa explains. "For example, if you ask a rural child who has never even seen a train to write an essay about the Gautrain, they're not going to be able give you an answer."
Farmed out
Sipho Mbhele* was fresh out of university 10 years ago when he arrived at a farm near Warden in the Free State to take up a job as a teacher.
He had grown up in Qwa-Qwa, surrounded by the modern amenities that, he realises with hindsight, made life easy.
But then he found himself living on a farm just outside a small town that only had one bank, one supermarket and a Pep store.
"It was a big change for someone who had spent their whole life in a township to stay on a farm with no electricity or water," he says.
He lived with a family that worked on the farm. Their home was close to the school so he could walk to work. A small mercy.
But simple things he had taken for granted became luxuries. "Just to listen to a radio or watch TV meant I had to buy a car battery to connect them to."
There was electricity at the school, so he could at least charge his phone there.
Sipho lived at the farm for five years before moving to Ezenzeleni, a township in Warden itself, where he rents a room for R400 a month. Every day he travels about 17km to get to school.
University, says Sipho, did not prepare him for teaching at a farm school. The culture shocks were many.
"I had pupils who started grade 1 when they were eight or 10, without having gone to creche at all," he says. "So you had to start from scratch, teaching this older child how to write their name and trying to get them used to being in a school environment."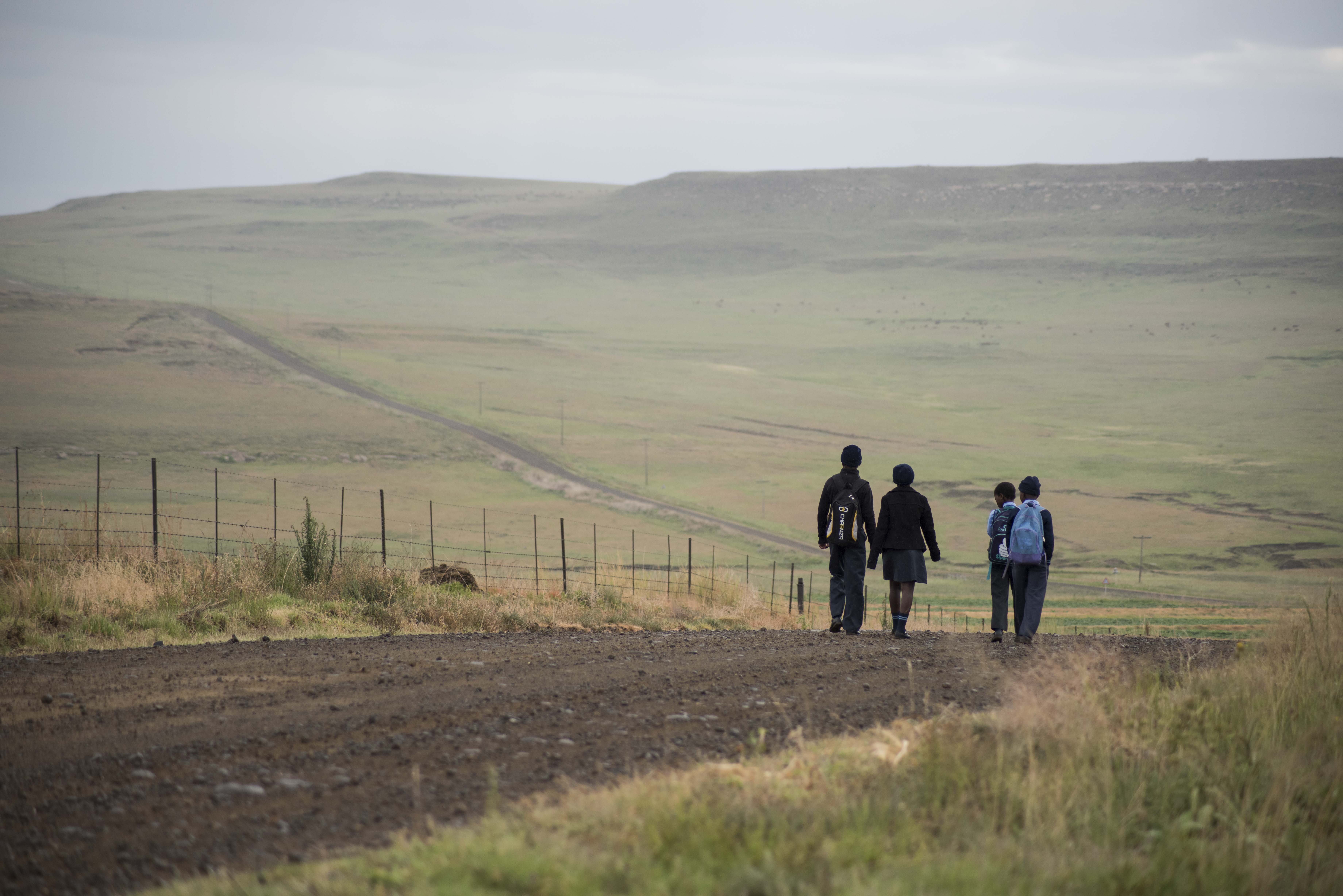 [Children at schools in rural areas often have to walk long distances. (Madelene Cronjé)]
The biggest hurdle continues to be teaching in a multigrade classroom.
"Yoh, yoh! It was a big challenge coming from university and teaching a multigrade class. Having to teach grades 4, 5, and 6 in one class is no walk in the park — and they don't teach you these things in university."
There are three teachers at his school for 60 pupils in grades 1 to 9.
But the number of pupils in farm schools is dwindling, he says. Other schools have just one teacher teaching grades 1 to 6 – but only about 20 pupils, he said.
This trend prevails across the country. The Mpumalanga department of education shut down 40 multigrade farm schools in recent years and built five boarding schools instead.
But Sipho must still deal with the challenges of multigrade schools, and of pupils who never finish the syllabus.
"Yes, the department gives you guidelines on what work you should cover for each the grades," he says. "But there is only so much that you can do in an hour. Some kids are quick to grasp the lessons and others are slow but you can't leave them behind just because you want to finish up."
It becomes even trickier when pupils have to write external assessments without having covered the syllabus, he says, bemoaning how schools on farms and in rural areas are treated the same as other schools despite their unique problems, and are expected to produce the same results as other schools.
"There is no rural external assessment; it's the same for all schools," Sipho says. "But you can't cover everything you need to in a multigrade setting, and the authorities know that."
"They come and tell you you must target an 80% pass rate, and that always shocks me. You can't compare me to someone who teaches one subject and one grade when I'm teaching three grades and multiple subjects.
"There are days when I think to myself, ek is genoeg," he says, quickly adding: "But when they do well they motivate me — I can see that they are trying."
Adapt or fail
For retired principal Sarina Vogel, working at a farm school requires dedication and a talent for improvisation. Sarina taught at Verkykerskop Primary Farm School in Phumelela between Harrismith and Warden for 21 years before retiring in 2014.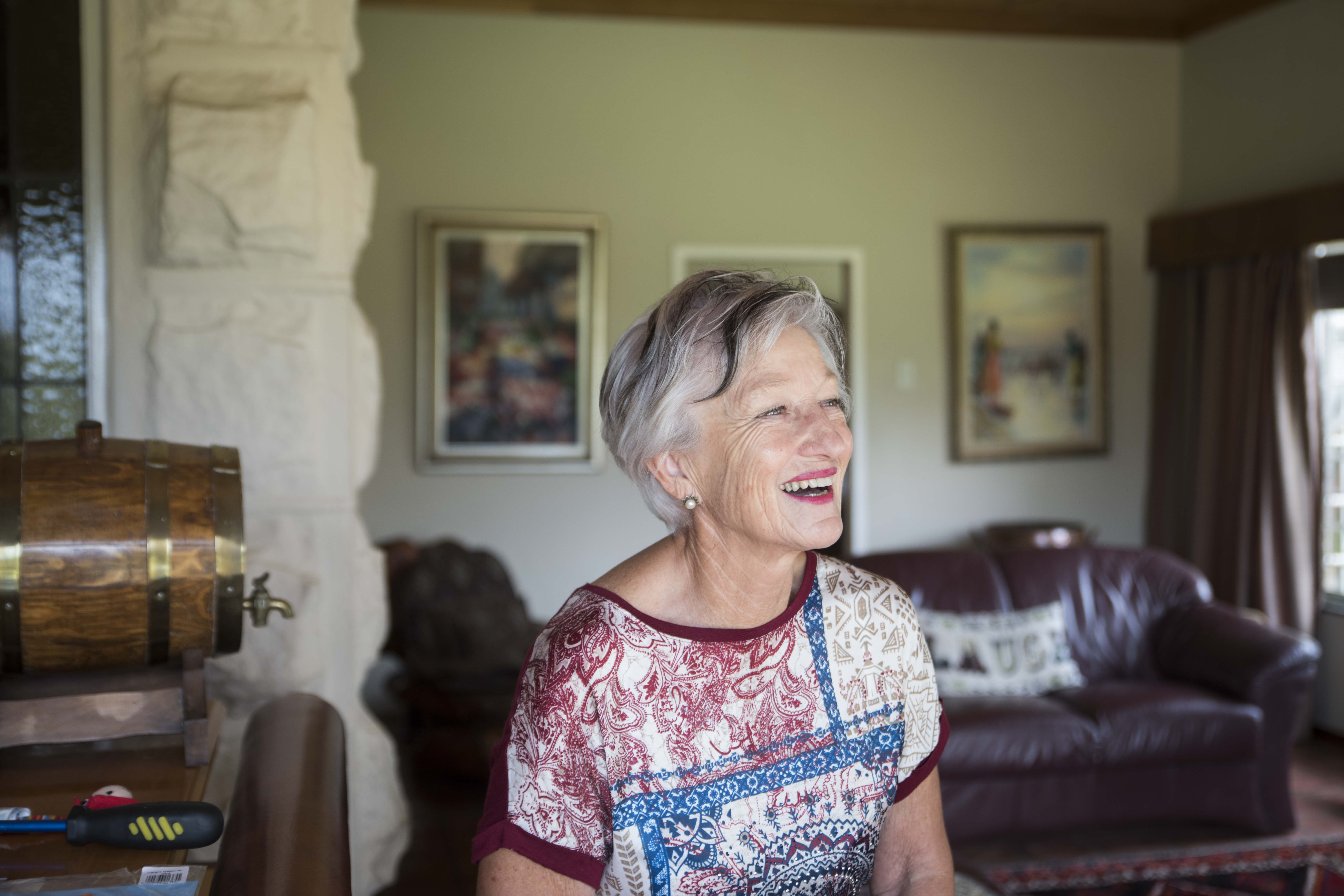 [Sarina Vogel loved the challenge of teaching at a farm school, unlike many other teachers. (Madelene Cronje)]
There were three teachers, including herself, at the school, where multiple grades were taught in one classroom.
"In my class I would have a separate blackboard for each of the three classes I taught.
"The grade 4s looked to the front, the grade 5s looked to the back and grade 6s faced the corner. Everybody was looking a different direction. I didn't say this year I'm doing grade 4 work and next year grade 5 work", she says. "You can't do that, it's stupid."
Sarina says she did not find it difficult to teach many grades at once. Quite the opposite: she found it challenging and exciting.
"You must be prepared, my sweetheart!" Sarina laughs. "For example, I used to give a speed test to the grade 4 class, and give grade 5 class work while I taught the grade 6 class."
"You rotate," she says. "You do your bloody work!"
Sarina says working at a farm school means a teacher must also come up with different teaching methods to accommodate the pupils.
"For example, you can't give children a task and say they must go research it. Where will they get the research? They have no resources. When your father is a doctor, a lawyer or an educated man you are going to get good marks, but if your parents work on a farm you are not going to get the same results.
"So, instead, you bring the resource material to class and give the children a chance to prepare and go through it," she says. "And then the next period you make them do the task."
Educate to escape
Vusi Mthembu has been working for Sarina for 21 years as a gardener at Vaalkop farm.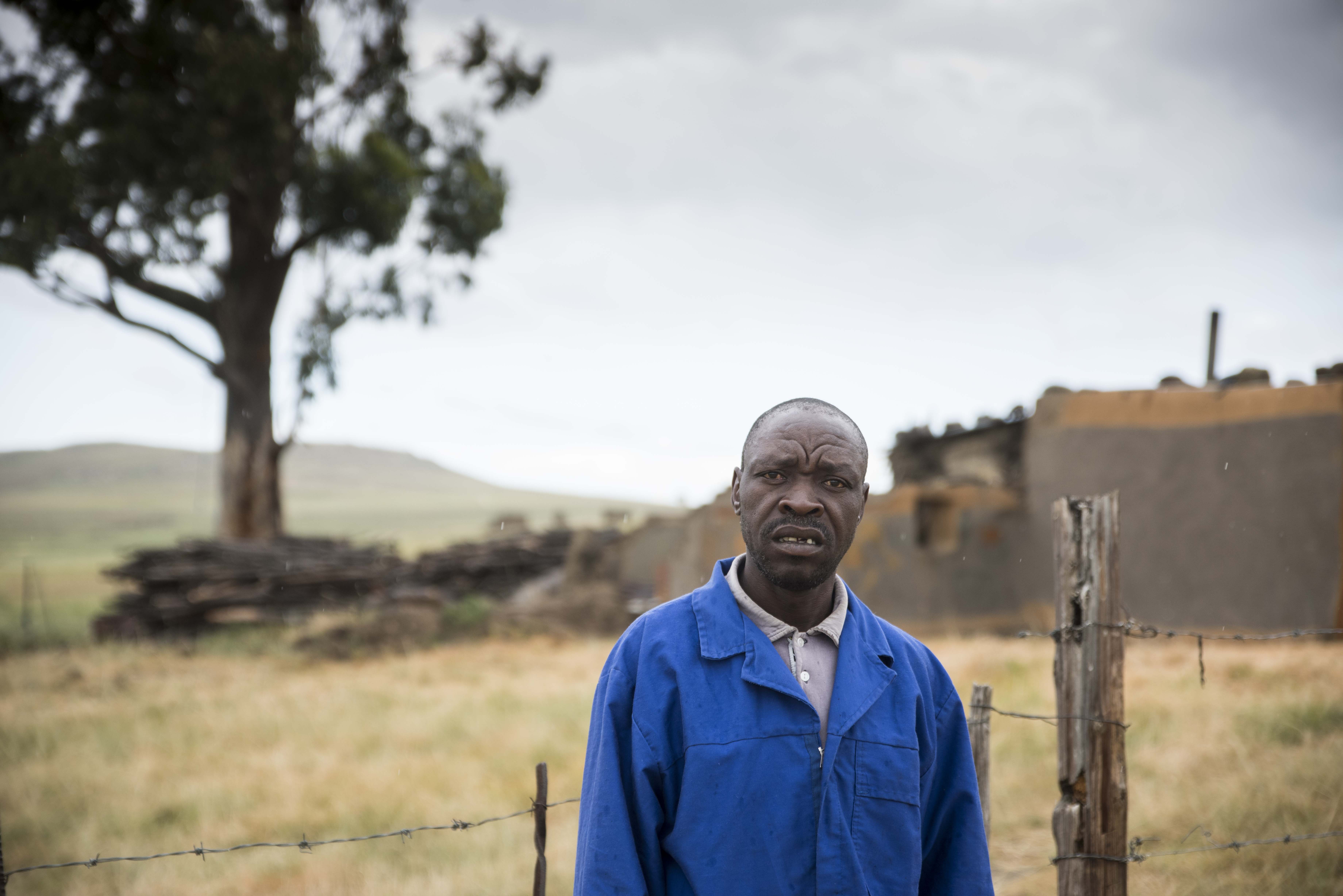 [Vusi Mthembu lives and works on a farm in the Free State. He didn't finish school but is determined that his son and daughter will do so. (Madelene Cronje)]
He earns R2 100 a month and is the breadwinner for his family. But his hopes are pinned on his children getting an education so that they can escape the harsh life on the farms.
Vusi is 47. He dropped out of school in grade 7 in 1985 and started working on the farms.
It was not out of choice but his elderly parents who had retired as farm workers no longer had the money to keep him in school.
Now, his 15-year-old daughter and 11-year-old son must travel to Hopedale Farm School just outside Warden. Vusi can just about afford the R200 a month needed to transport his son to school each day, but his older daughter has to walk.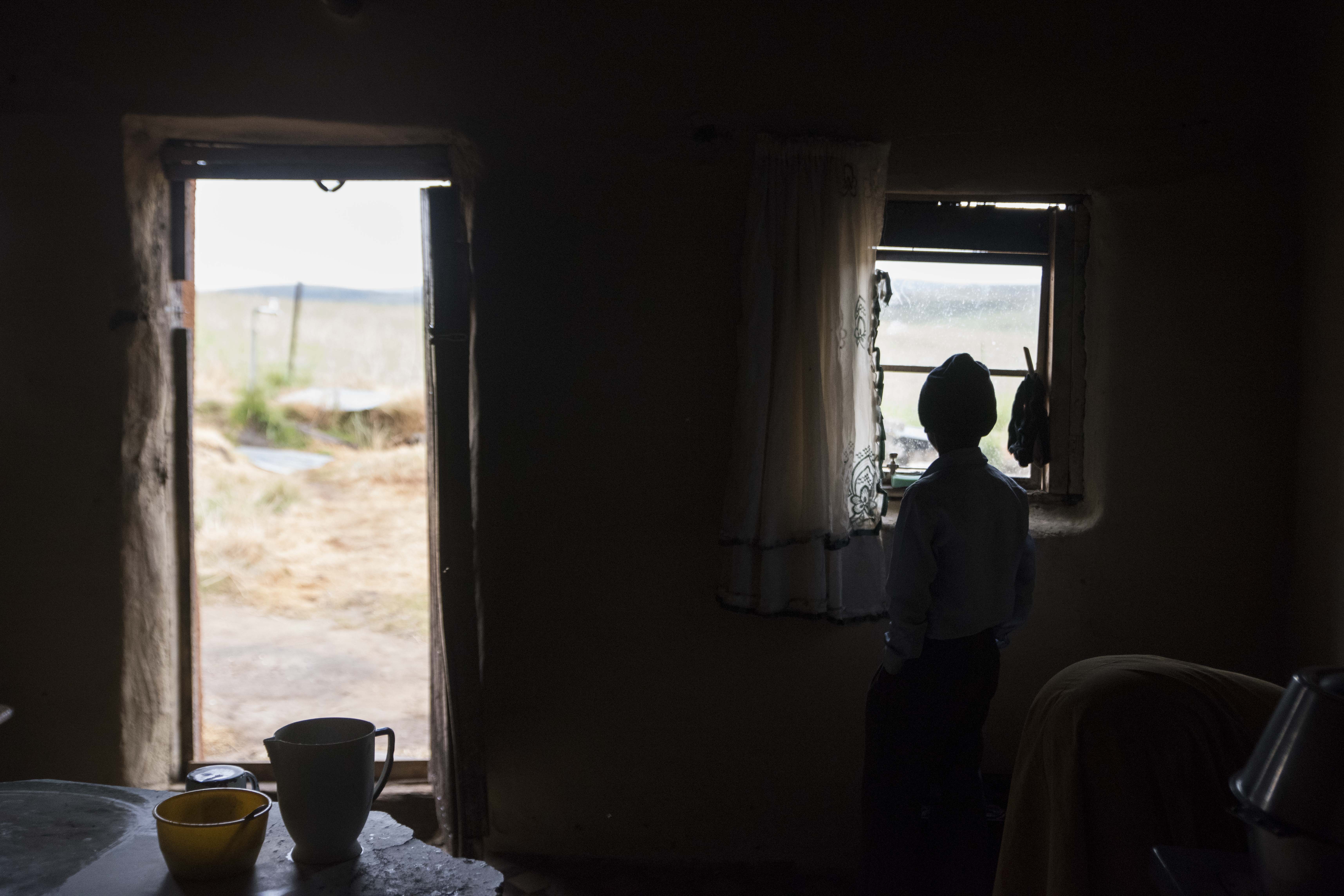 [Vusi Mthembu's son. (Madelene Cronje)]
It breaks his heart, he says, to see children from the farm walking so far to school.
"I do not wish for this life for my children. We can't all end up being farm workers, he says. "They must be the generation that does something better with their lives."
* Not their real names.
---
---
Education department has a plan to improve rural schools
Rural schools have always been synonymous with resource shortages, inadequate infrastructure and poor education compared with urban schools. But the department of basic education wants to change this.
It has outlined ways of improving education in rural schools in a draft policy document published for public comment last month.
In addition, one of the resolutions at the ANC national conference last month, announced by the subcommittee on education, health and science, was to pay particular attention to education in rural areas.
The proposed policy aims to improve access to education as well as to improve the quality of education in rural schools.
In 2015, there were 11 252 such schools across the country, making up nearly half of South Africa's roughly 25 000 schools.
Most rural schools are in the Eastern Cape, KwaZulu-Natal and Limpopo.
The Mail & Guardian has asked the department for exact figures but these had not been made available at the time of going to print.
Some of the issues addressed in the document include:
Reviewing and aligning curriculum policy;
Language of teaching and learning in rural schools; and
The recruitment and retention of teachers.
"A number of pro-poor initiatives aimed at promoting equity and improving the quality of education in previously disadvantaged schools, including rural schools, have been implemented since 1994," the draft document says. "In spite of these significant interventions, a large number of rural schools are still characterised by inadequate resources, teacher shortages, absenteeism and learners that dropout from school, and above all, poor educational outcomes."
According to the document, there needs to be a review in the curriculum offered in rural schools to ensure that it is aligned with the context of rural settings. A curriculum that will, for example, put more emphasis on the environment and agriculture which are the lived experiences of rural communities. And a curriculum that will respond to the well-being and development needs of people living in rural areas.
The proposed policy also touches on the language of teaching and learning and suggests that rural schools should use multilingualism instead of English, because English is not widely spoken in many rural areas and has led to schools producing poor results.
The draft policy raises the issue of the development of skills needed to make multilingual teaching possible, as well as the need for learner-teacher support material (textbooks, workbooks and teacher guides) in home languages that also reflect rural contexts.
A study by University of Johannesburg academic Pierre du Plessis, published in the Mediterranean Journal of Social Science and titled Problems and Complexities in Rural Schools: Challenges of Education and Social Development, says that rural schools find it difficult to attract good, suitable teachers.
"The lack of qualified teachers in many rural schools is simply because teachers do not want to stay in rural areas due to social, professional and cultural isolation," the study says.
The policy also acknowledges that it is difficult to recruit and retain qualified teachers in rural schools because of the distance from schools to towns, poor infrastructure and limited service delivery.
To address this problem, the draft policy suggests establishing teacher villages that would not only serve as teacher development centres but would also provide transport, accommodation and recreation for teachers working in rural schools.
Offering incentives to teachers on the basis of the rural schools in which they teach is also proposed.