With a history dating back over three centuries, South Africa's world-renowned wine industry has long been the domain of generations of just a few elite white families.
But the emergence of a crop of new black players such as winemaker and owner of Aslina Wines, Ntsiki Biyela, is changing the makeup of the industry that is among the world's top 10 wine producers.
Biyela, 39, shot to fame in 2004 as South Africa's first black female winemaker, shattering stereotypes about black people's affinity for wine, and she now exports around the world.
After 13 years in the wine scene, Biyela believes that the capital-intensive industry is "big enough" for new entrants, but admits it is "not easy to crack".
"Apart from the financial aspect of it, the wine-making process demands dedication, from dealing with the vine-growers, buyers and the consumers," she said.
"You have to understand the whole value chain."
Her export-focused company, Aslina Wines, established three years ago, produces sauvignon blanc, cabernet sauvignon, chardonnay and a bordeaux blend sourced from around Stellenbosch outside Cape Town.
"I produce the wine myself and oversee the process from the beginning to end," she told AFP.
Global market
In a wine-bottling facility in Stellenbosch, hundreds of Aslina wines snake through a conveyor belt, ready to be packaged and shipped to destinations as various as the US, Germany, Ghana and Taiwan.
"I started my wine brand as a way of giving back to my community through mentorship in the wine industry," she said.
The wine is not yet available locally, but plans are afoot to take it to many more global markets.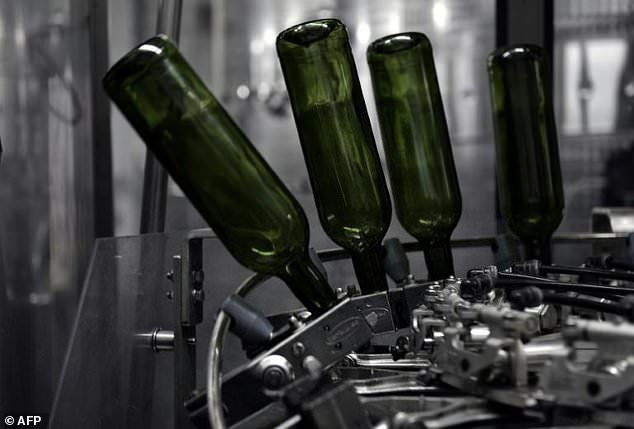 Biyela entered the industry after studying viticulture studies at Stellenbosch University, and worked as a resident winemaker at Stellekaya Winery, a family-owned producer.
Her cabernet sauvignon earned her South Africa's Woman Winemaker of the Year award in 2009, affirming her place among the country's top vintners in a sector still dominated by white men.
But the accolade is not something that Biyela likes to trade on, stressing instead the need to continuously improve in a notoriously picky industry that relies on reputation and quality.
"When you get outside the country it's not about you, it is about the South African brand. You compete with other big wine-making countries," she added.
Aslina, named after Biyela's late grandmother, has grown from producing 2,400 bottles of wine three years ago to 12,000 units this year.
She wants to increase output to 18,000 bottles in 2018.
Growing up in Mahlabathini, a far-flung rural village north of the eastern KwaZulu-Natal province, Biyela never dreamt of being a winemaker, and only tasted it for the first time at the age of 20.
"I really did not like the taste, I thought it was horrible," she said with an embarrassed grin.
A life-changing scholarship
As a teenager she was set on studying chemical engineering, but that dream was dashed by lack of funds.
Her fortunes changed when she was awarded a scholarship to study oenology and viticulture at Stellenbosch University in 1999, plucking her out of the village to the wine-making heartland, over 1,600 kilometres away from home.
She still chuckles at the memory of seeing vineyards for the first time.
"I kept wondering what were those short trees. I didn't know what a vineyard looked like," she said.
"I feel like the journey of wine making chose me and I have embraced it."
Before the birth of Aslina, Biyela in 2012 partnered with American winemaker Helen Keplinger from Napa Valley, California.
The wine was produced for Wine for the World, a company that brings together top American winemakers and emerging producers.
Now she wants to use Aslina to inspire other winemakers, in a country where black people's participation has long been that as labourers on farms, sometimes paid through the notorious "dop" when salaries were partially paid in cheap wine.
According to producers' group Wines of South Africa (WOSA), black people only have a two percent share in the industry.
"The recent years have seen a remarkable number of black female entrepreneurs entering the wine industry," said Alan Winde, the Western Cape minister of economic opportunities.
But he said the next step must be black ownership of actual vineyards.
"So far many of them only own wine labels and are not involved in the production business," he told AFP.
Aslina Wines joins other black-owned labels that have mushroomed over the last decade, tapping into the growing export market and a new sector of black middle-class drinkers.
"It's been a very interesting journey coming into the industry that I had absolutely no idea what it was about and finding myself enjoying it," she said.
"When the product is finished and you have the wine in a glass, it's just fulfilling. It's like having a child."
© Agence France-Presse