When the M&G speaks to Kenyan reporter Larry Madowo on Thursday morning, he's at his office in the Nation Centre in Nairobi. He slept there on Wednesday night, along with his Nation Media Group colleagues Linus Kaikai and Ken Mijungu – although none of them got much sleep.
Outside the building, plainclothes policeman waited. Earlier on Wednesday, the three journalists had independently received information from high-level sources in government and the security apparatus that they were about to be arrested. Their crime? Doing their job.
Nation Media Group, along with most other independent media houses, had covered Tuesday's 'inauguration' of opposition leader Raila Odinga as 'people's president'. The government said the opposition stunt was treason, and that publicising it is likely to incite violence. Authorities suspended broadcasting from Nation TV, Citizen TV, Inooro TV and KTN. The channels, among Kenya's most prominent, remain off air.
K24, a TV station owned by the family of President Uhuru Kenyatta, is still broadcasting.
"By covering that inauguration we were not breaking any laws, we were doing our job as journalists to chronicle history. They cannot switch off TV stations and harass journalists for that," said Madowo.
Lawyers for the three journalists went to court Thursday to argue for an anticipatory bail order. Such an order would prevent police from arresting them, in return for a pledge to appear in court if charged with a crime.
"I'm embarrassed that we are in this situation where our government has slid down to the level of a dictatorship, which in Kenya we had forgotten about. One of the freest media environments in Africa is now being harassed and intimidated by this administration," said Madowo.
The suspension of TV channels and the harassment of journalists has been strongly condemned by civil society groups.
"The Kenya Editors' Guild is gravely alarmed over a developing trend by the government to gag or threaten the media over coverage of the current political events in the country," said the guild in a statement.
"Kenya should be a beacon on the continent for media freedom and the public's right to access information, yet government censorship continues to erode Kenya's status as a leader on African press freedom," said Angela Quintal, Africa coordinator for the Committee for the Protection of Journalists (and former M&G editor). "Kenyans deserve diverse media and these stations should be allowed back on air immediately."
Interior Cabinet Secretary Fred Matiang'i said that the suspended TV stations will remain off air until an investigation has been concluded into the "role of some elements in the media fraternity who participated in the furtherance of an attempt to subvert or overthrow the government".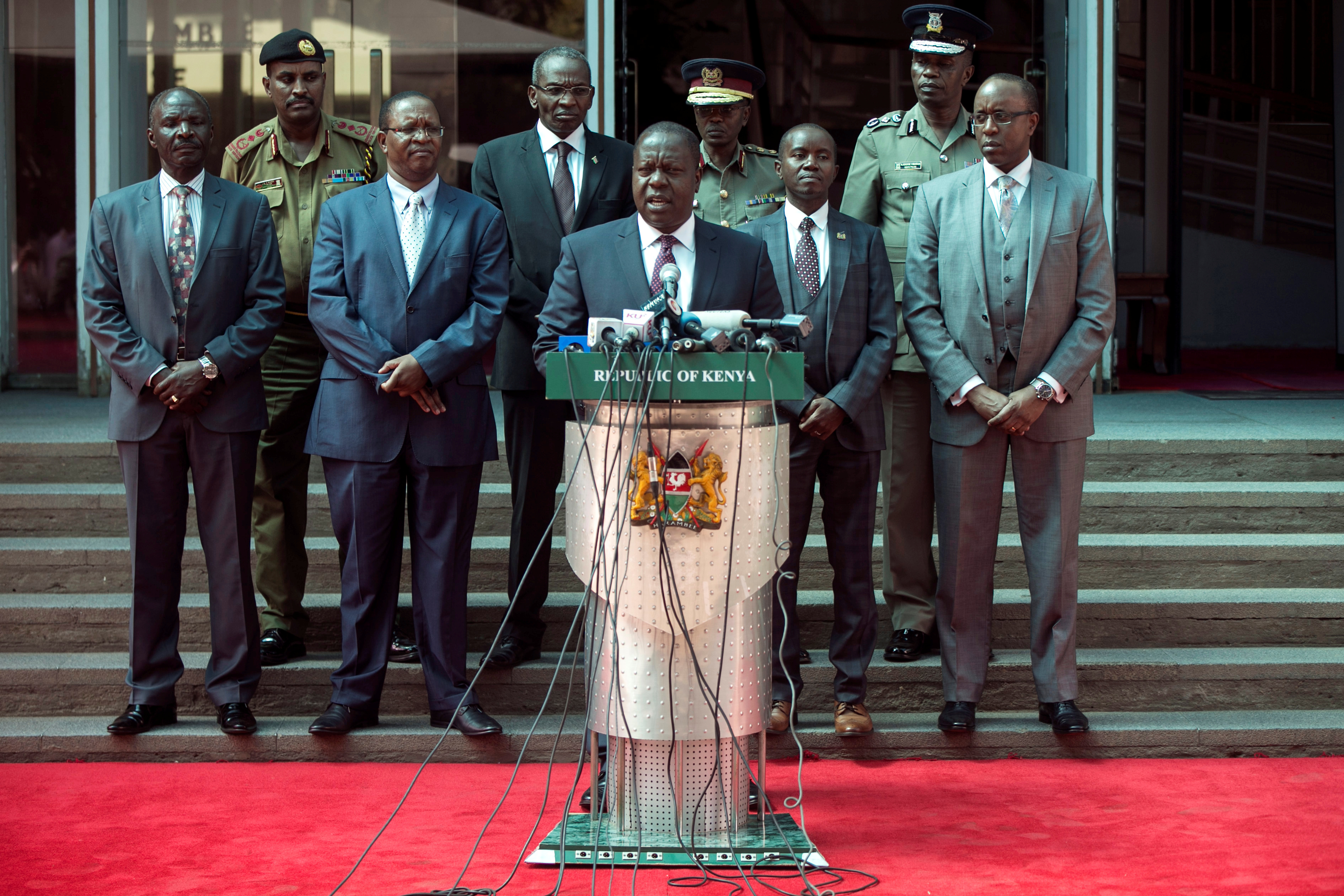 [Kenya's interior minister Fred Matiang'i speaking during a press conference in Nairobi (Baz Ratner/Reuters)]
"The country's security agencies will take action against some individuals who include but are not limited to certain media houses," said Matiang'i."Their complicity would have led to thousands of deaths of innocent Kenyans due to the buildup of the incitement that was witnessed in the early hours of the morning [of the opposition 'inauguration']."