Every three days, at 3.30 in the morning, Salie Jacobs fills his 25-litre containers from the Newlands spring near Table Mountain.
"I have got 27 chickens and 12 ducks and three dogs; they all need water. Ja, it's full here now but I come at 3.30 and there's no one. I can pull my bakkie on to this pavement here and fill up 400 litres of water," he says with a grin.
Collecting free water that runs from Table Mountain down to the collection point in Spring Way, off Kildare Road in the suburb of Newlands, has so far been the perfect solution for Jacobs's extra water needs.
The spring has flowed uninterrupted since record keeping started in South Africa and South African Breweries (SAB) uses its supply to make its beer. The SAB site is another collection point for water from the Newlands spring.
As the water crisis deepens, the queues have been getting longer and now there is a rumour that the amount people can collect will be limited.
Cape Town is gripped by water panic, with residents stocking up in case of severe shortages.
The impending crisis will "exceed anything a major city has had to face anywhere in the world since the Second World War or 9/11", Western Cape Premier Helen Zille warned last week, which stoked the level of panic.
But Democratic Alliance leader Mmusi Maimane has since tried to calm the waters. "We need to guard against causing this panic that's led to people stocking up on water because that places additional strain on the supply," he said on Cape Talk radio on Wednesday.
The city has placed a daily restriction of 50 litres of piped water per person from February 1. This has driven more people to the Newlands spring.
On Monday morning, Jacobs arrived to find out whether the city will place a limit on how much people can collect for free. At 7am, the queues are packed with working class people and pensioners making a pre-work stop to fill up 15 litres in the express queue before heading into the office.
"I heard we must stop after 50 litres, is that true?" Jacobs asks a traffic officer at the site. "Yoh, I don't know about that; I haven't heard anything," the officer responds.
Jacobs' question is met by turning heads in the queue. "Please don't tell me that," a young woman says. "I have been coming here for a year now and I need this water. They really can't do that."
Soon most of the queue is talking about possible limitations. An argument about jumping the queue and filling up more than three containers follows not long after.
Tensions are rising, a sign of what life could be like if the taps run dry and the collection of water from 180 points around the city becomes a reality.
Mayoral committee member JP Smith said police arrested a man who got into a fist fight with another person waiting to collect water, and this, as well as the increased number of people collecting water, promoted the city's decision to move the Spring Way collection point 700m down the road to the site of a swimming pool.
The pit stop at the Newlands spring has been part of 42-year-old Randall Stevens's routine since the water restrictions were announced by the city last year.
"When Day Zero comes, the bosses must understand we need to collect water before going to work so we will be late," he says.
Athlone pensioner Jeffery Hendricks, 66, joins Stevens in the queue and says he arrived early after experiencing a two-hour wait the day before.
"In Athlone and Wynberg, there's no collection points [for water]. They just announce, but we don't see it being created or anything. The people [municipality staff] there all said we must come to Newlands if we want fresh water," Hendricks says.
By 11am, the line has swelled to fill the yard and snakes around the corner onto the pavement. The queue is dominated by pensioners and unemployed people.
"We're helping another elderly couple in our street with drinking water," Hendricks says. "At least we have cars and can stand in line all day. So we don't mind. Yes, the taps are still on but coming here means we can use more water for washing laundry and cleaning."
Claremont resident Kelly Rose shares similar concerns. She is accompanied by her domestic helper, hoping to reach her target of having 72 five-litre bottles in her home by the day the taps run dry.
"That will ensure that I have two litres of drinking water per person in my house for 30 days. And then at least, if it's like Armageddon, I can get on an airplane and fly to England," Rose says. "Or at least I can drive to Hermanus where there is some water.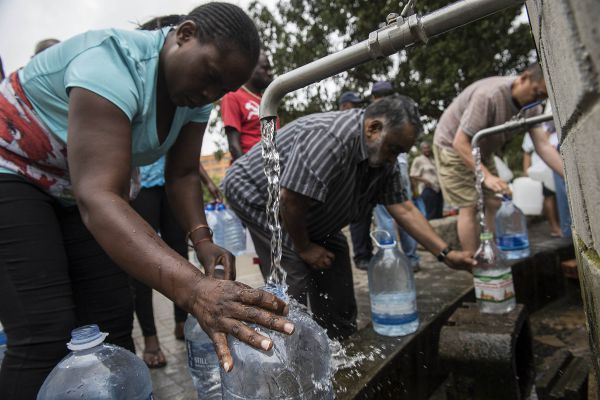 [Queues are getting longer at the Newlands spring in Cape Town as people collect free water to supplement the 50 litres per person per day limit and others, fearing Day Zero, to stockpile. Car guards have switched to pushing trolleys filled with water to collectors' cars. (David Harrison/M&G)]
"It's desperate measures but, I mean, people are talking about 10km queues and that it is up to us to get our own water."
While Hendricks is collecting water for his neighbours out of goodwill, other people profit from the demand for water from the spring.
A man stands over his bakkie, which is filled with 25-litre and five-litre containers. A resident of the Grassy Park suburb for 30 years, the 55-year-old does not want to be identified because he sneaked out of work to fill up the containers for his neighbours.
"I charge them R50 each for the transport and because I must carry it back to the bakkie," he says. He is frustrated because the lines are now much longer, and he's not able to collect water as he used to — for two hours at a time.
"Now they stop me after I fill three containers and tell me to go to the back of the line. This is going to take all day. I can make R500 or even R1 000 with each trip. But this line is fucking it up for me," the man says, taking a long pull on his cigarette, then flicking the butt onto the pavement.
He lives on the fourth floor of a building in Grassy Park and since the city reduced the water pressure, his taps have been dry.
"It's Day Zero on that fourth floor. I'm washing in a skottel and the taps are just rattling and dripping dirty water. Every day before work people ask me if I can't bring them fresh water."
The announcement of Cape Town's water restrictions last year sent 30-year-old Khanyile Siziba's life into a spin. He had worked at a carwash in the city centre for three years and was suddenly left unemployed when it was closed in May last year.
"I was making like R150 or R200 a day, which is not bad. Immediately I came here to the spring to do this job," he says, as he pushes Rose's trolley packed with containers filled with water back to her car.
Dozens of car guards around Newlands now each have a trolley and a reflector vest, and help people to carry the heavy containers when they're done with collecting water.
"I was the first one to come and do this job here. I tell them [his customers] to just give what they can, anything. Some give R5, others can give R20 or even R50, if it's a lot … I make about R200 or R300 [a day] here," Siziba says.
By 11pm, the traffic officers are preparing to close the gates at the SAB headquarters but some people still loiter around outside. One traffic officer estimates that about 2 000 people have started coming to the spring every day since last year.
"This is just a sign of how things are going to be with the queues. You can see the people are in a rush and don't have patience. It's going to be chaos," the officer says.