From the outside the building looks like a warehouse. The rusted steel door and high windows reveal nothing of the activities inside.
Just inside the door a makeshift bookshelf is packed with files, broken crayons, toilet paper, wet wipes and tiny school bags.
Small bodies lie on the floor. Some are asleep while others, lying side by side, continue their play in hushed delight. It's 1pm and it's time for "indoor free play". Fifty-six square metres for 60 toddlers.
The walls are bare except for an A3 page stuck on one wall with the days of the week handwritten in blue and red crayons. On another wall, another A3 page outlines the daily programme, from 7.30am to 2pm.
The Turning Point daycare centre in Thembelihle informal settlement, near Lenasia, south of Johannesburg, was started by Soweto-based pastor Johannes Mabunda, who also helped set up a centre in the Waterworks informal settlement in Westonaria, west of Johannesburg.
His is a journey borne of a need that Mabunda spotted nearly a decade ago. "I was driving around the squatter camp when I saw children at a dumping site, some by themselves, others with their mothers looking for food. My heart was touched and I asked myself: 'What can we do?'
"I spoke to the mothers and they told me that was the only life they knew because they did not have money to take their children to crèche. Other parents said they could not take their children to crèche because they did not have proper documentation such as IDs because they are from outside the country."
In Dlamini, Soweto, he was offered a piece of land by one of the residents and he erected a shack that became a daycare centre for the children who ordinarily spent their day at the dump. Women from Dlamini volunteered to help teach the children.
Mabunda then opened three more crèches. Two of them, in informal settlements in Randfontein, west of Johannesburg, were closed down after the residents were moved to formal houses. The centre in Dlamini operated for eight years until 2007 when the residents moved to houses in Lehae, near Lenasia.
Mabunda said that when he opened the centre in Waterworks in 2002, it was after he had seen two boys playing with a balloon but turned out to be a used condom.
Initially the children were taught under a tree once a week because there was no building to accommodate them. Then Mabunda's brother came across an abandoned building. The brothers found the owner who gave them permission to use the building. Using donations Mabunda replaced the roof and opened it as a daycare centre. The 105m2 building provides shelter for 80 children.
"My family was discouraging me from opening a second centre because they saw how I was struggling in Dlamini, but those children had touched my heart. They would say: 'You can't work without finances. You are struggling.' And I would say: 'Let's just move by faith, if we fail, we fail'," said Mabunda.
Early childhood centres get funding from provincial departments of social development for food, educational resources and teachers' stipends. Mabunda said he has not asked for assistance because he believes the childcare centres do not meet funding requirements — the teachers are not qualified and the buildings are run down.
"We've had a number of problems with social services because they have told us that we do not qualify to care for the children, but I tell them: 'Is it better if we leave the children in the dumping sites where they can be raped or abducted?' These premises are not in good condition, we do not have luxury accommodation but at least they are safe and they get a basic meal and the mothers can go look for jobs," said Mabunda.
By his count, the daycare initiative has prepared at least 500 
children for primary school.
Mabunda runs the centres under his ministry, Jesus is the Answer Ministries, and relies on donations and tithing because the parents cannot pay fees.
"It might be a stupid thing to others but we are doing this by faith. So let's just work. I don't want to go and beg. Our God will provide … if he doesn't we will close down this thing," said Mabunda.
Nomthandazo Mbatha has been with Mabunda since the first centre was opened and is now the principal of two centres. She considers this her "calling".
"Everyone I started with left because they were not patient and they did not see the value in assisting the kids. Sometimes I get paid, sometimes I don't. Sometimes there is food for the kids, sometimes there is not food but we continue," said Mbatha.
She said that even though the centres don't have the necessary resources to teach the children they still come. "We don't have stationery or toys. The kids even sleep on the floor because we don't have mattresses for them. But by the grace of God we do what we can do for them, and they are not on the streets playing in dumping sites."
She said the centres provide a service because parents do not have the money to pay for daycare centres.
"Some of the cases we were dealing with were of parents of kids between the ages of four or five who work as domestic workers. They would lock the child inside the house with food and go to work," Mbatha said.
The centres provide breakfast and lunch. "Some of them tell us when they arrive in the morning that: 'Teacher, I only eat here because there is no food at home.' When there is enough food we give them some to take home," she said.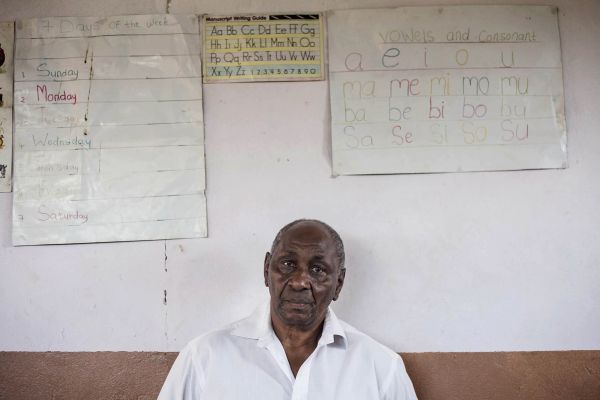 [Pastor Johannes Mabunda (Oupa Nkosi/M&G)]
In some homes the situation is dire: both parents are not working, they do not have IDs and because the children don't have birth certificate they cannot get social grants. In some instances the parents are addicted to drugs and alcohol and use whatever money they have to feed their addiction.
"Today one of our four-year-olds is not here, and I know that his parents, who are both addicted to nyaope, have taken him to go beg at the robots."
Mbatha said sometimes she feels like giving up but then she thinks about how the children's lives are improved and she carries on.
"Just the other day I came across one of the kids I taught in Dlamini. He told me that he passed matric with distinctions last year. When he saw me he said: 'My first teacher'. That warmed my heart."
---
Informal child development centres play crucial role – study
A study by the Housing Development Agency found informal centres had an important role to be played in early childhood development (ECD).
The 2014 study, titled A New Approach for Supporting Informal Early Childhood Development Centres, said that children in informal settlements who did not attend ECD centres were disadvantaged at a critical point in their development and that continued the cycle of poverty and exclusion.
"Though poorly capacitated and under-resourced, most informal ECD centres play an important role in informal settlements by providing basic care to young children and enabling parents or primary caregivers to work or pursue other livelihood strategies. Large numbers of young children in South Africa attend such centres," the study said.
South Africa recognises early childhood development as one of its priorities.
In a country with nearly six million children under the age of four, only about 1.5-million children up to the age of five attend registered early childhood development centres, said Minister of Social Development Bathabile Dlamini at a symposium at the University of Fort Hare in 2016.
The National Development Plan has committed to increasing that number: four million children up to the age of three and two million aged four and five must get developmental activities by 2030.
But the Housing Development Agency said the informal centres have no relationship with government and cannot access its support and funding.
They can't formally register with the social development department because they do not meet prescribed standards.
"There should be a willingness to work with informal ECD centres and recognise that many are able to provide 'acceptable informal ECD services' even though they might not be able to achieve formal registration standards," according to the Housing Development Agency.
ECD centres get R15 a child a day and the total conditional grant for the 2017-2018 and 2018-2019 financial years is R812-million.
The requirements for an ECD centre to be registered include: One toilet for every 20 children; an outdoor play area of at least one square metre per child for the first 30 children;trained teachers; a safe structure with suitably covered floors; and a sick bay away from other children.
The social development department had not responded to a request for comment at the time the article was uploaded. — Bongekile Macupe