Suppliers of school uniforms are painted as the bad guys yet, in most cases, they are treated unfairly by parents and schools. This is the view of two suppliers who spoke to the Mail & Guardian, following a complaint by 20 parents to the Competition Commission.
The parents approached the Competition Commission about collusion and uncompetitiveness in the school uniform sector, saying prices were too high and that they were restricted to buying from specific suppliers.
The complaints led to the Competition Commission instituting an investigation into the sector last year and is still to publish the findings. But, before embarking on the investigation, it conducted a survey and found that:
• Schools appoint a single supplier for uniforms;
• Agreements between schools and uniform suppliers are exclusive and of indefinite period; and
• Most suppliers were not appointed through a competitive process.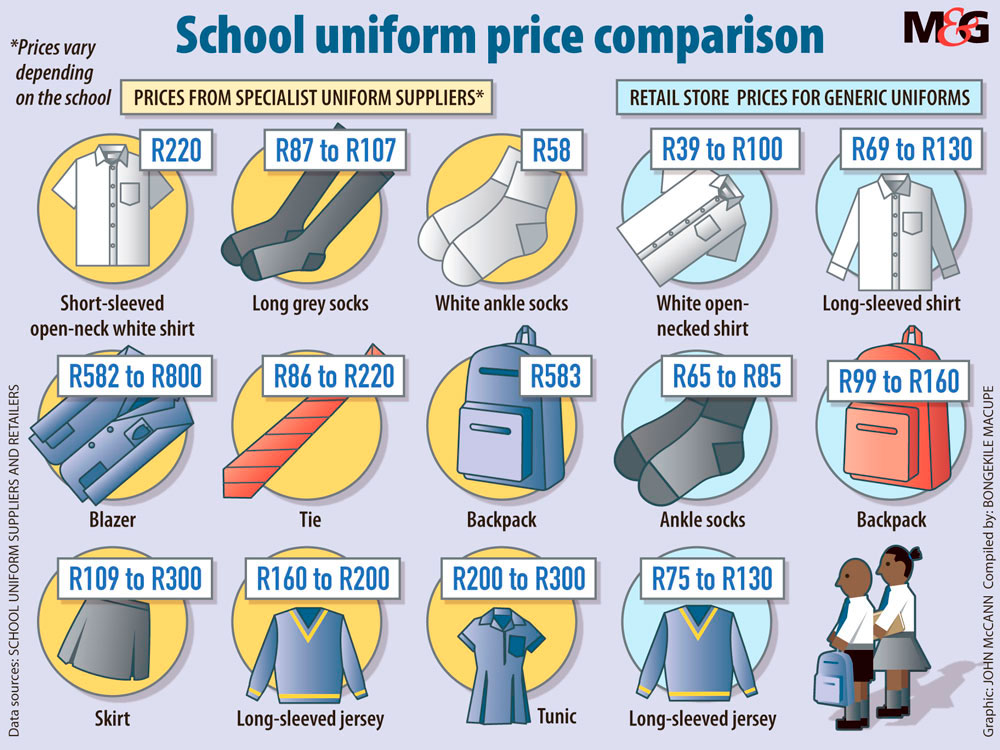 The commission said some suppliers complained that these exclusive agreements prevent them from competing for business.
The survey of 1 595 schools found that 32% of private schools and 33% of former model C schools have exclusive agreements with school uniform suppliers.
Two suppliers spoke to the M&G last week at a dialogue in Centurion about school uniforms organised by the National Education Collaboration Trust.
Linda Evans, who runs Student's Schoolwear in Randpark Ridge, Johannesburg, has been supplying uniforms to schools in the Randburg area for just over 37 years.
Evans said she had never entered into an agreement with any school. But, she said, if a supplier offers a good quality uniform and its service is good, it is inevitable that schools will refer parents to that supplier.
"I started as a little shop and I had schools approaching me to ask if I would keep their school uniform and that's how we started. There are schools that I started supplying when they only had 30 to 40 kids. When those schools grew and were still happy with my service I stayed with them.
"For example, I have been working with one school in my area for 35 years and I have no agreement with them; it's just that they keep sending parents to us. They don't send only to me because there are four other stockists in my area but I have been with that school for a long time — it is one of my main schools."
Evans said parents complain about the price of uniforms because they do not understand how the business works.
"We are only busy in December and January … the other 10 months of the year we sit and we wait. So you can imagine the amount of stock we have to hold.
"So it's not a monopoly. It's the amount of finance we put into that uniform to sell for basically six weeks of the year," she said. "We are opened throughout December and January and that adds to the cost of your uniform. If I was open like some of the places that are only there to supply school uniforms for a few weeks and then close up, I would have a wonderful business. But we are there and we have staff that we have to pay throughout the year, so that adds to the cost of the uniform."
Evans said stock sits without being bought in October, November and December and it is when parents come in January to buy uniforms that they complain about them being expensive.
"We try to educate the schools every year and say, 'Please tell your parents to come in October, November and even the first two weeks of December.' But it is amazing that every single year for the last 35 that I have been supplying school uniforms — and all school uniform suppliers say the same thing — there are hardly any parents that come in December.
"But those that do come are so pleasant and so sweet and they are prepared and have uniform money put aside. The ones that come in January have been on holiday and now have no money for school uniforms and they say we are ripping them off. I have actually been in tears the way some parents have spoken to me and that's only in January, never in December," she said.
Faraaz Mohammed, who works at his father's E'tem School Wear in Hammanskraal, Pretoria, said suppliers are seen as the "black sheep" of the industry, when often they are the ones who are short-changed by schools. His father has been running the business for 25 years.
"We have never had a government official coming to us as suppliers and asking: 'Why are uniforms so pricey? Show us the cost so that we understand and figure out what we can do to assist and make sure that your prices are not high'," said Mohammed.
He said schools approach suppliers and ask for uniforms to be made and then, without any notice, decide to change the uniform after the supplier has already made the order.
"That is a challenge because it leaves us as suppliers with nothing else to do with the uniforms that have already been made. Those schools have over 1 000 pupils. If they come to us for a specialised skirt we have to make more than a 1 000 pieces because some parents buy more than one and, if the school comes overnight and changes the colour or the style without notifying us, it's not fair on us. Do we get compensated by the government? Do we get compensated by the school? No. We are doing this as a service. The profit mark-up is ridiculous. There is no profit at all," he said.
He said warehouses are full of uniforms that had been manufactured but went to waste because the school now had a new uniform.
Mohammed also alleged that in some cases suppliers bribe principals and school governing body chairpersons to agree to change the uniform so that they can supply it.
He added: "There is no [written] contract; schools come to you and ask that we make their uniform and we agree verbally. Competitors come and convince the schools to change the school uniform, without notifying us, just to get the business. But if there was a contract that would not happen," he said.
Speaking at the dialogue, commissioner Tembinkosi Bonakele said that during the investigation he had come across a principal whose primary school had the same contract with the same supplier since he was a pupil at the school.
"Some relationships are historic relationships between people who know each other and I'm not even alleging corruption; sometimes it's people who are familiar with each other. We picked that up.
"We also picked up that sometimes the schools become dependent on the suppliers, so there are all sorts of sponsorships — the sponsorship of a shuttle service and that sort of thing. We are not saying you should not have a sponsorship; what we are saying is that whenever you have a conflict of interest, or potential conflict of interest, there should be rules about how you manage that and competitive bidding helps you in that regard," he said.
Mugwena Maluleke, general secretary of the South African Democratic Teachers' Union, said: "Anything that impacts on [children's] access [to schools] is unlawful in terms of the Constitution of our country, so we need to address it."
Enoch Rabotapi, the acting chief director of teacher development in the department of basic education, said it was clear from the commission's survey that the laws and guidelines for schools on how to deal with the issue of uniforms were not enforceable and that this should be addressed.