Percy Zvomuya in Humanikwa
In Morgan Tsvangirai's final journeys and last orders, there's something quintessentially Zimbabwean.
He went to Johannesburg, the city with the largest concentration of Zimbabweans living abroad, for treatment for cancer of the colon. He lost that battle and his body was returned to Harare, the city he had left the hinterland for and made his home in the 1980s. From there, his body was taken by military helicopter to Humanikwa village in the Buhera district of Manicaland, his rural home in southeast Zimbabwe, a boulder-strewn, semiarid rural enclave similar to the one millions of blacks were shunted to by oppressive Rhodesian land laws.
Although Tsvangirai had not lived and worked abroad, his body came back as cargo covered in jute bags, like countless others who died elsewhere after fleeing Robert Mugabe's ruinous policies.
On Tuesday, as I joined the red army — thousands upon thousands of Movement for Democratic Change (MDC) supporters clad in red T-shirts, red overalls and red berets, who had trekked from just about everywhere in Zimbabwe to Buhera — I reflected on the man and his life, and on what it was that for a long time made him the man whom Mugabe most feared.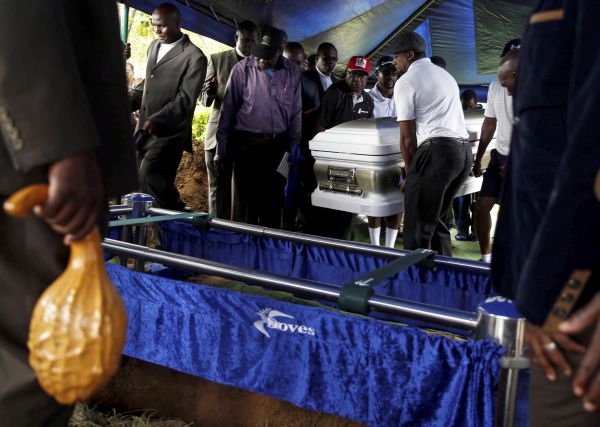 [Thousands gathered in the village of Humanikwa, Buhera, to bid farewell to Tsvangirai, who died of colon cancer but lived long enough to see the fall of his political nemesis Mugabe. (Philimon Bulawayo/Reuters)]
I couldn't find the answer in the faces of those who were in attendance — their visages showed that they were here to celebrate a life of struggle.
The land, loam soil on which maize and groundnuts are grown and on which Tsvangirai first trod as a toddler, then as an adolescent, teenager, young adult and finally as father, husband, unionist and opposition leader, didn't provide any clues either.
Mharadzano, Shona for crossroads (or intersections in its modern incarnation), is a concept from folklore and can be used to describe Tsvangirai's journey.
Mharadzano is also the point where winds converge. The crossroads, for that reason, is a place of happenstance, where one can alter one's fate and destiny. The crossroads, in other words, is a place of history.
In Shona traditional medicine, a healer may instruct a patient dogged by bad luck to wash ritually at the crossroads. It is thought a wind will come and blow the bad luck away.
It's no coincidence that bad luck is also known by the same word for wind, mhepo.
Recalling Tsvangirai's life, you might say the wind of history directed him three times, although he answered its susurrations twice.
The first call, his first encounter at the crossroads, happened when he was working as a textile worker in Umtali (now Mutare), a small city in the east, near Mozambique, then the rear base of Zanu-PF and its armed wing Zanla.
By then the war against white minority rule had stretched the Rhodesian security establishment and many people Tsvangirai knew had joined the liberation movement.
"My first priority was my responsibility to the family … I never even considered leaving [to join the war], except for a few wistful moments," he told Sarah Hudleston, who wrote Face of Courage: Morgan Tsvangirai.
It was a decision that came back to haunt him when, with other players in civil society and the Zimbabwe Congress of Trades Unions (ZCTU), in answering the third call he co-founded the MDC, the party that, in 2000, ate away Mugabe's parliamentary majority, turning Parliament from a huge slumber house into a vibrant place where the autocrat's misrule was constantly under examination and challenge.
"We wish to make it very clear to all Zimbabwean citizens that the security organisations will only stand in support of those political leaders that will pursue Zimbabwean values, traditions and beliefs for which thousands of lives were lost in the pursuit of Zimbabwe's hard-won independence. We will therefore not accept, let alone support, or support anyone with a different agenda," a general declared before the 2002 elections.
In 2008, Mugabe lost the election but he, Emmerson Mnangagwa and the generals delayed releasing the results and manipulated them to force a rerun. Another poll was held but Tsvangirai, balking at the slaughter of his supporters, withdrew.
It's ironic that Mnangagwa Zimbabwe's new president, whose sudden coming to the realisation that Mugabe was the problem — a fact millions of other Zimbabweans deduced decades ago — spoke at Tsvangirai's funeral, lauding his fight for democracy.
When I arrived in Buhera in the early hours of Tuesday, the place was teeming with buses, mini bus taxis and cars (even sex workers were out standing on the side of the road, ready to commiserate with mourners- for a fee, of course) which had brought people from all over the country.
It's difficult to believe, when you look at the party now, that the early MDC drew most of its leaders from the ZCTU. There were some representatives from the unions at the funeral but only a few.
In 1985, Tsvangirai had joined the Associated Mine Workers' Union as vice-president and, then, in 1988 had become the ZCTU's secretary general, heeding his second call.
In 1991, Mugabe, whom many mistook for a Marxist-Leninist, introduced World Bank prescriptions that exposed workers to the ill wind of the free market (no price controls, flexible worker contracts and the removal of government subsidies on basic goods).
In the words of socialist and lawyer Munyaradzi Gwisai at a memorial in Harare, Tsvangirai, as the "general of the army of workers and the poor", led the resistance to taxes and price hikes, gaining a following beyond that of the shop stewards and workers.
As I listened to speakers, including Moeletsi Mbeki, at the funeral, I wondered whether Tsvangirai's greatest contribution to his motherland was his role in breaking the cycle of violence in Zimbabwe. Maybe, in the final account, the brave man's greatest endowment to us was the gift of democracy.
In 2008, he could have concluded that a democratic attempt to unseat Mugabe was futile and it might be the time — as Mugabe, Herbert Chitepo and other nationalists decided in the 1960s when faced with the intransigent Ian Smith regime — to take up arms.
"I suppose the main focus and main objective, the goal of this whole broad democratic movement, is to cross the hurdle of transition from the nationalist phase to a more democratic phase," Tsvangirai told the British scholar Stephen Chan in Citizen of Africa: Conversations with Morgan Tsvangirai.
But if he is the progenitor of post-independence democracy, then how do we account for MDC vice-president Thokozani Khupe having to be led away under police escort because of threats by party youths who would prefer Nelson Chamisa, the youthful leader, to be Tsvangirai's heir? How to describe the near mutinous atmosphere when Oppah Muchinguri-Kashiri, a Zanu-PF minister, stood up to speak? Or the reports of violence meted out at the funeral to anyone opposed to Chamisa? How to account for Tsvangirai's last orders that Chamisa, without due democratic processes, should be his heir?
The British, Zimbabwe's former colonial power, bequeathed us a proverb: don't look a gift horse in the mouth. But maybe this is the time, when Mugabe is spending his last days shut up in his palace and when his biggest rival, Tsvangirai, is six feet under, to begin examining the gifts these two have given to Zimbabwe.