In the Northern Cape, former mineworkers and their families live with lung-destroying diseases and barely survive financially. Lucas Ledwaba explores the reality of their poverty and untimely deaths
Christinah Kedisaletse Kolwane is distressed and emotionally drained. Only last month she buried her husband, a former asbestos mineworker.
"He was sick for many years. He had garang, this disease from the mines," says Christinah from her home in Magwagwe, a desolate, barren village near the Northern Cape dorp of Kuruman.
Her husband Jackson Sekwakwalala Kolwane died on January 15 in a Bloemfontein hospital, aged 74. His medical records show he had mesothelioma, an incurable lung cancer that is the final stage of an asbestos-related disease (ARD).
In Kuruman and surrounds, where asbestos was mined for more than a century between 1891 and 2001, ARD is known as garang. It is a dreaded word, evoking fear and despair among those who have witnessed its devastation.
About 200 mesothelioma cases are reported a year in South Africa, according to the National Institute for Occupational Health.
But the institute warns that "this is most likely an underestimate considering the magnitude of mining and processing that took place in a country that was a leading global supplier of all types of asbestos".
The World Health Organisation estimates that worldwide there are more than 100 000 asbestos-related deaths a year.
Inhaling asbestos fibres causes a range of serious lung diseases, including asbestosis, lung cancer and mesothelioma. It mainly affects those who worked on asbestos mines or were exposed to asbestos dust by having lived in the vicinity of mines.
ARD sufferers like Kolwane endure a long, painful journey, which begins with chest pain and shortness of breath and results in respiratory failure, cardiac arrest and death.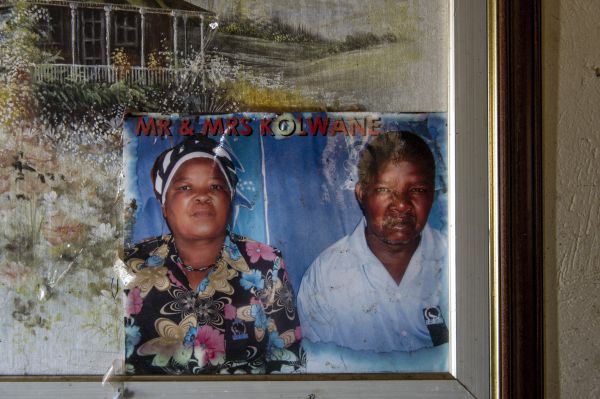 [Garang: Christinah Kolwane lost her husband to asbestos poisoning, after he had worked for year on various mines in the Northern Cape. (Delwyn Verasamy/M&G)]
Garang is a Setswana word for asbestos. It is borrowed from the Afrikaans word garing, which means thread; asbestos flakes look like a threads when broken apart.
"Garang is destroying us here. We are burying people every week. They are dying poor. They have nothing. Their families have nothing to show for all the years they worked on the mines. Yet we have R400-million sitting in an account somewhere," says Thabang Selo, organiser of the Kgatelopele Asbestos Community (KAC).
Kgatelopele is a co-operative set up by destitute former mineworkers and their beneficiaries who are unhappy with how the process of compensation has been handled by the Asbestos Relief Trust (ART).
The trust was established in 2003 after asbestos mining companies Gencor, Griqualand Exploration and Finance Company (Gefco) and African Chrysotile Asbestos, which had done business in the area for many years, agreed to an out-of-court settlement following a class action in 2001. An amount of R460-million was reportedly paid into the trust account set up to compensate the former mineworkers and people living near specific mines who contracted ARD. The money was to be paid out to different categories of people who contracted ARD as an occupational disease while employed between 1965 and 1988, beneficiaries of those who had died from ARD and related diseases and people who contracted a lung disease related to exposure to asbestos.
Ten years later, in 2013, the trust announced it had paid out more than R250-million to 3 639 claimants and had processed some 14 500 applications. At its annual general meeting in Johannesburg in November 2017, the trust announced that it had paid a total of R318 845 072 to 4 565 qualifying claimants.
But Selo and his comrades at Kgatelopele accuse the trust of withholding benefits from former mineworkers and their beneficiaries. Selo says they are now preparing to take legal action to force the trust to release the funds to the organisation so it can speed up payments to its members, who are destitute and sickly. They also plan to petition the office of President Cyril Ramaphosa.
Like many men of his generation, Kolwane was a mineworker on various mines in the Northern Cape between the 1960s and 1980s. When his health began to fail he found work at a transport company in Kuruman. But it was too late.
Asbestos had claimed another of its thousands of victims. He died poor without having received payment from the trust. His family had not lodged a claim.
Kgatelopele blames the trust, saying it failed to make it convenient for former mineworkers such as Kolwane to lodge claims. He also says the trust failed to speed up payment once they have done so.
"He complained of pain in his chest," says Christinah, holding up an X-ray film of her husband's chest cavity and lungs.
She says he spent most of his retirement in doctor's rooms and hospital wards. Christinah used their only source of income, their government pension grants, to pay for medical bills and to transport him to hospital.
As his visits to the doctor became more frequent she was forced to borrow money from loan sharks. This left her in huge debt.
On a Wednesday morning earlier this month, a group of men and some women, grey-haired, withdrawn, with sombre faces and wearing ragged overalls over neatly ironed but faded shirts, gathered in a tiny hall in Maruping, a rural village on the outskirts of Kuruman.
They had come from different villages near the town. They were former asbestos mineworkers and the widows of mineworkers. They have been meeting every Wednesday for the past nine years in a desperate bid to resolve their problems with the trust.
They used to meet at the local community hall until they were stopped. In 2013 they clubbed together and built this hall, which can fit about 25 people, on tribal trust land.
They opened the gathering with a sombre hymn and a prayer in remembrance of Kolwane. Then Selo, who chaired the meeting, made a few announcements. One of the issues was efforts being made to find a lawyer.
Some of the gathered moved quietly forward and handed over wads of carefully folded cash to a woman who wrote down details in a notebook.
Selo says one of their main gripes is that when the trust was established they were told all they needed to do to get paid out was to submit documents proving they had worked on the mines.
But once the trust was established they were expected to undergo medical tests, which required them to be tested every two years to monitor their ARD.
"We have gone to every office. We have marched to the Union Buildings. No one wants to help us. No one wants to tell us what happened to our money. Maybe now Ramaphosa can help us," says Selo.
But they face a long, difficult battle. In 2013 Kgatelopele asked Northern Cape Premier Sylvia Lucas to intervene. She lodged a case in the high court in Pretoria for the release of confidential information about claimants who had already been paid out. This was an attempt to prove Kgatelopele's allegation that money had been paid out to undeserving people.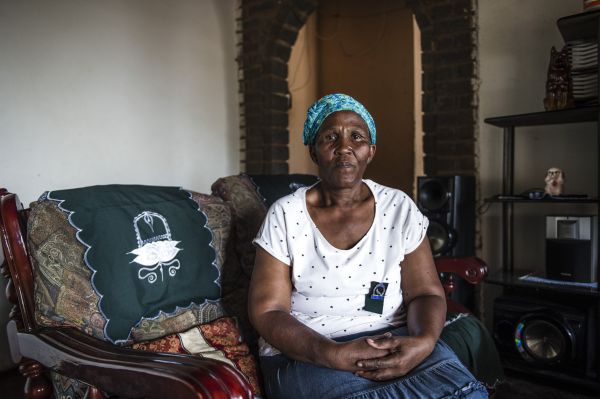 [Sylvia Mereeotlhe (above) is another abandoned asbestos widow. Gordon Pule (below) is testament to the damage labour in an asbestos mine can inflict. He walks with a stick and has an asbestos-related disease, pneumoconiosis. (Delwyn Verasamy/M&G)]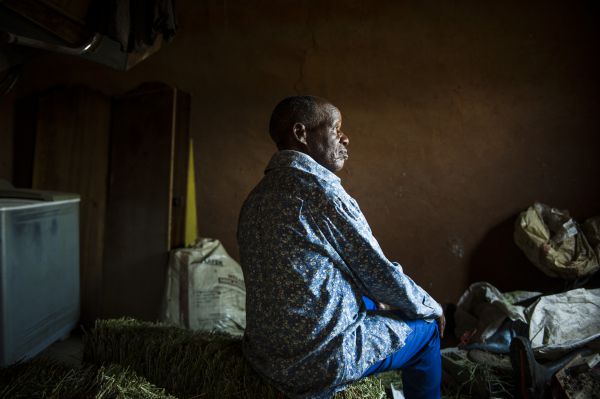 In July 2015, the court threw out the application but Kgatelopele is not giving up the fight.
"We want a lawyer to go find our money and ensure that we get paid. That is why we are using the last money we have to do this," he says.
Sumaya Moosa of the Asbestos Relief Trust says they had met with Kgatelo-pele representatives "since at least 2009 to address their concerns".
Moosa says he has failed to substantiate allegations that the trust has failed to compensate qualifying claimants and instead compensated those who do not qualify.
"They have also requested an amount of R30-million to be paid to the [KAC] as payment for, as we understand it, participating in and giving their names to the litigation that led to the creation of the ART. The trust deed does not allow for such recognition," says Moosa.
She says the trust pays for a medical examination to determine whether the claimant has a compensable ARD, provided the claimant worked at one of the qualifying mines.
"The results are reviewed by an independent specialist occupational medical panel that determines the degree of the disease, if any. Should the potential claimant have an ARD, the administrators determine the benefits based on the age and work history of the claimant and the nature and severity of the ARD," says Moosa.
She says: "Authorised officials will help potential claimants to lodge an application for compensation with the trust and guide them through the claims process.
"The purpose of the trust is to compensate employees who worked for specific mines and individuals living in the vicinity of those mines, who contract compensable asbestos-related lung diseases as a result of the mining activities of those companies, whilst the founders owned or were associated with these companies."
Such people, says Moosa, are eligible to lodge a claim as soon as they are able to and there is no waiting period or "stage of disease".
She says the trust, which reported it had an amount of R283 293 871 available for distribution as of February 2017, compensates for four types of ARDs.
These are ARD1 — pneumoconiosis with moderate lung function impairment; ARD2 — pneumoconiosis with severe lung function impairment; ARD3 — asbestos-related lung cancer; and ARD4 — mesothelioma.
Although the trust's statements tell a story of efficiency in compensating those who qualify, on the ground life continues to be a struggle for asbestos widows like Sylvia Mereeotlhe.
Her husband died in her arms on their marital bed in their home in Batlharos, a sprawling cluster of villages near Kuruman. He had been bedridden from October 2005 until his death in January 2006.
He had been afflicted by ARD for many years, spending long spells in hospital until doctors told his family there was nothing more they could do for him.
Mereeotlhe says: "I have no income. I have looked for work. But there is no work in Kuruman. Life is hard. Even government is not helping us. We voted for the ANC because we trusted them. But they are not helping. The chiefs are not helping us. No one cares about our suffering."
"We are suffering. Those of us who have lost their husbands to garang, life is hard. We wonder every day what it is we are going to eat. What happened to the millions?" she says.
In Maruping, 73-year-old ex-asbestos mineworker Gordon Dicwalemang Pule lives alone in a dilapidated two-room structure. It is bare, except for a coal stove, a single bed and a crumbling old wooden cupboard. In another room he stores two bales of fresh grass for his goats among old, disused items.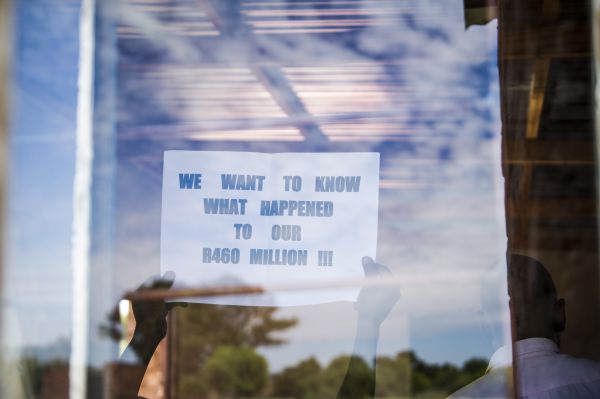 [Ex-mineworkers meet to discuss the claims they made against the mines they worked for. Kgatelopele Asbestos Community is a co-operative set up by former mineworkers who are disputing how their compensation has been handled by the Asbestos Relief Trust (Delwyn Verasamy/M&G)]
Pule walks with the aid of a crutch. He suffered injuries to his left knee in a mining accident at Gefco, where he worked in the 1980s. He was never compensated for his injury. Pule started working on the mines in 1965 in Kuruman as a prospector. His medical records show he has ARD1.
"I worked there for many years on the mines. I have garang. We want our money. Life is hard now. It's painful. Not good at all. I survive on pension grant," he says.
As Selo and his comrades prepare for another legal battle, they wait in fear for news of another death from the silicate mineral that is a curse to the people of Kuruman. —Mukurukuru Media