Songs about Hollywood are seemingly mandatory in American black artists' oeuvres. "Holly wants to go California," crooned George Clinton in 1979, his voice breaking. "Holly would, if only Holly could."
Then there's this: "Painted faces, sunburned skin. Mixed expressions, smile whore thin," by The Roots with Erykah Badu, a song, again called Hollywood, off the Bamboozled soundtrack. The imagery seems to get progressively worse: "Get lost and turned out, get tossed and burned out," drawl Sa-Ra Creative Partners on Hollywood (Redux) from their 2007 debut The Hollywood Recordings.
At their heart, they are songs about exclusion and shattered expectations. The Sa-Ra lyric, for example, sounds like a two-stage mapping of what happens when one runs into Harvey Weinstein, who got kicked out of the Academy and was made an example of at this year's Oscars, the 90th edition.
First to take a bite was host Jimmy Kimmel. "As you know, last year, the Academy made moves to dispel Harvey Weinstein from their ranks," he said. "There were a lot of great nominees, but Harvey Weinstein deserved it the most."
The first Oscars to be broadcast since the Weinstein scandal broke and the first Oscars under the full might of the Donald Trump era, it was a moment of self-reflection for the Academy, tempered by the contradictory imagery offered up by the statue.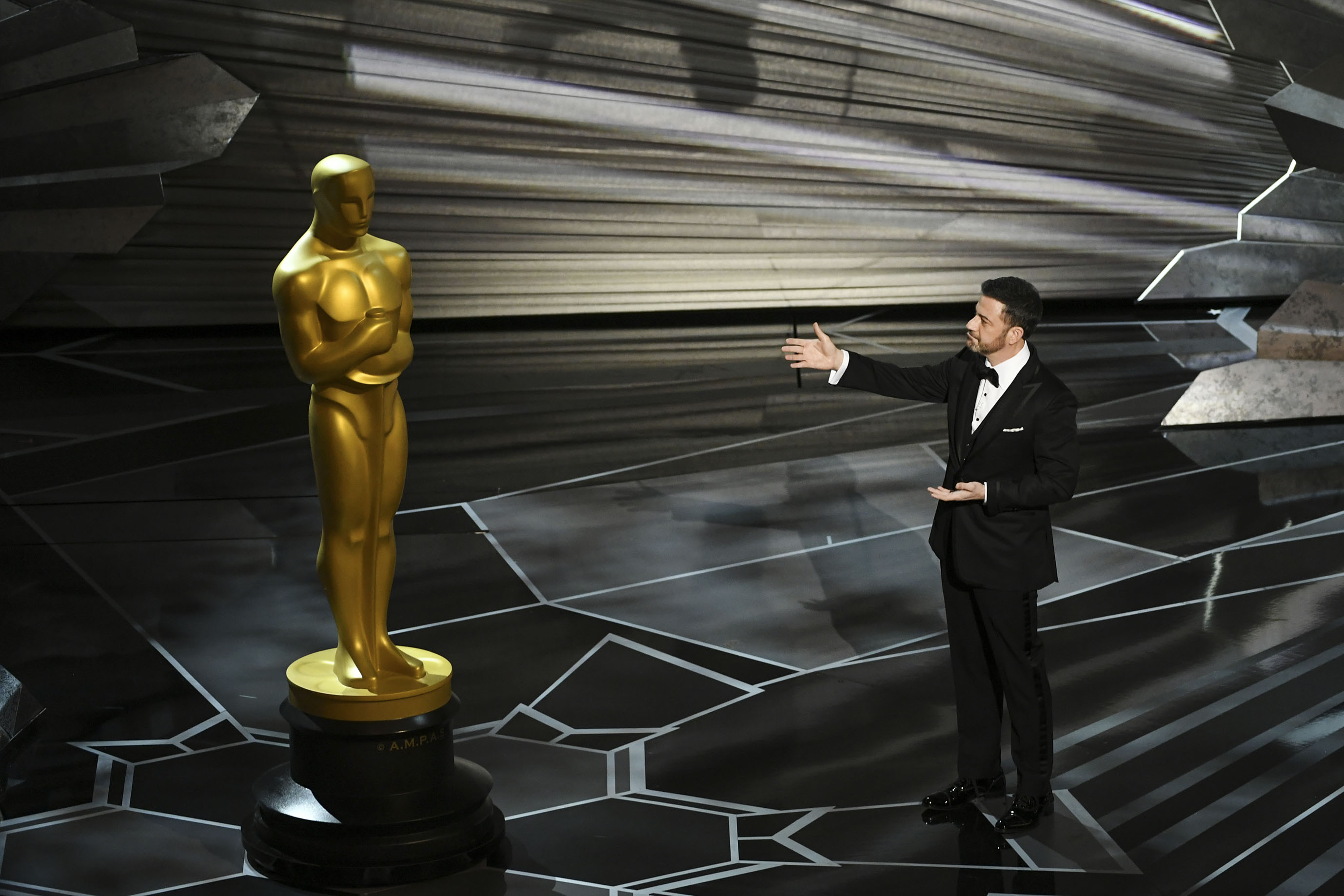 [Host Jimmy Kimmel speaks onstage during the 90th Annual Academy Awards at the Dolby Theatre (Kevin Winter/ Getty Images/ AFP)]
"Oscar is 90 years old, which means he is probably at home right now watching Fox News," said Kimmel in one breath. And in another: "Oscar is the most beloved man in Hollywood. He keeps his hands where you can see them. And most importantly, he has no penis at all."
Actresses Salma Hayek, Ashley Judd and Annabella Sciorra — all of whom had been assaulted by Weinstein — sparked off one of the award ceremony's major talking points: inclusion. Sciorra, speaking first, said: "This year, many spoke their truth and the journey ahead is long but, slowly, a new path has emerged."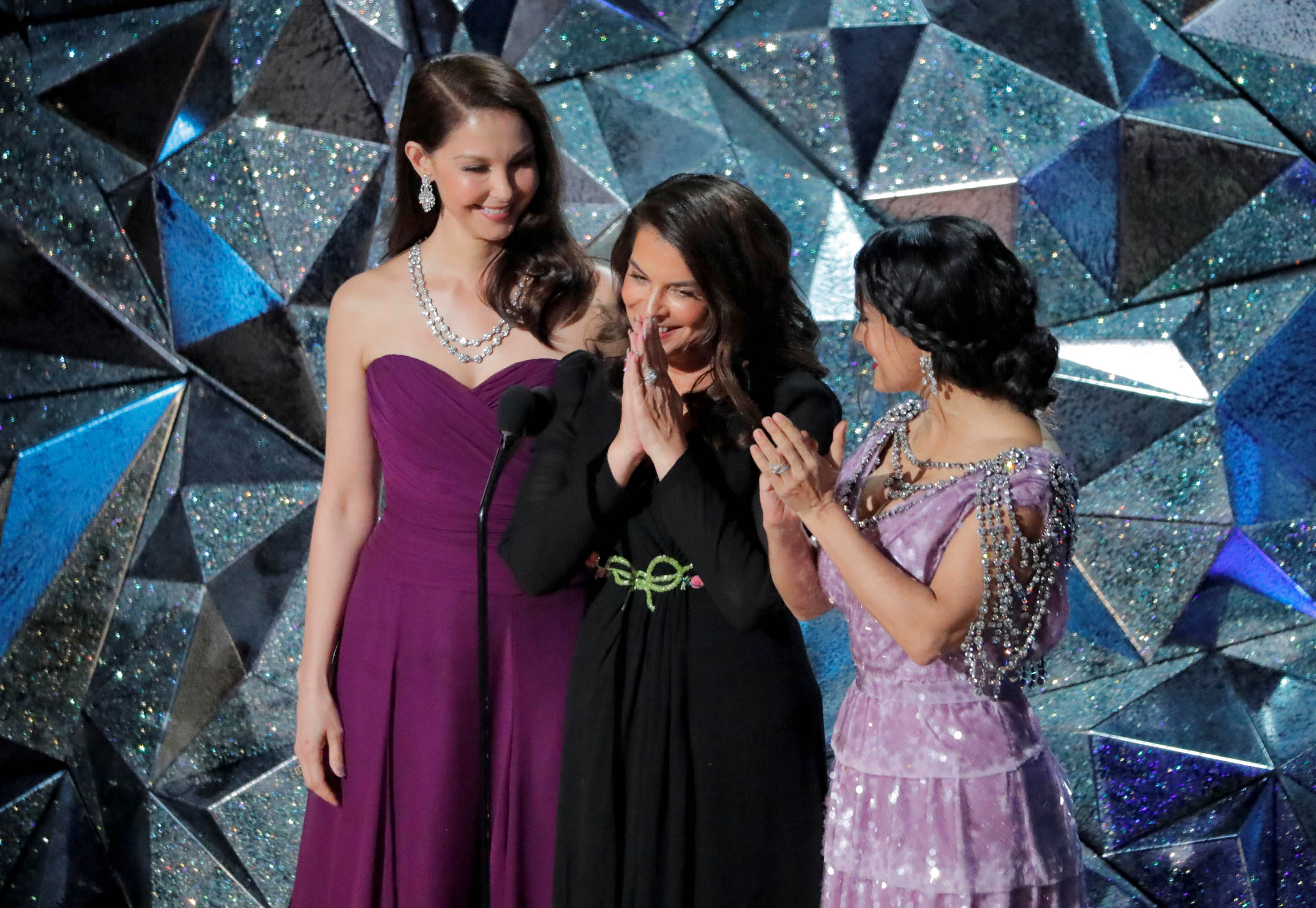 [Ashley Judd, Annabella Sciorra and Salma Hayek on stage at the 90th Academy Awards. (REUTERS/ Lucas Jackson)]
It was the lead-up to a clip celebrating the effect of the #MeToo and #TimesUp movements.
Dee Rees, director of Mudbound, spoke of a denialism surrounding some of the things that have been at work. Director Ava DuVernay asked: "What will we be remembered for?" And Kumail Nanjiani, co-writer of The Big Sick, to applause, called it time for straight white dudes to try to relate to other stories, as we have been relating to theirs all our lives.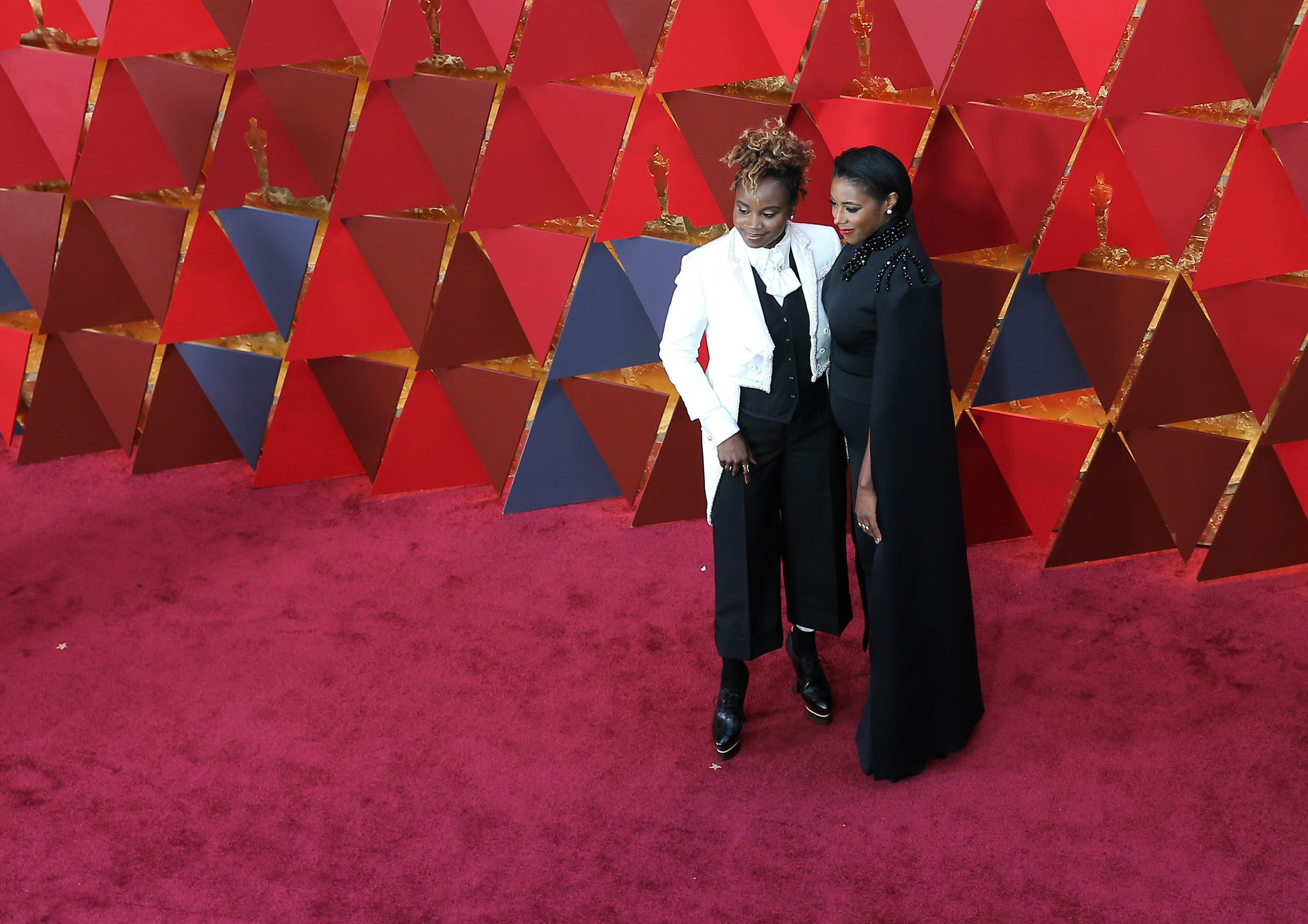 [Dee Rees (left) and Sarah M. Broom attend the 90th Annual Academy Award (Neilson Barnard/ Getty Images/ AFP)]
He also said: "There are so many movies from different points of view that are making a ton of money. Don't do it because it is better for society and representation, even though it is; do it because you can get rich, you can get that promotion."
Spliced in, director Barry Jenkins spoke of hearing women cry while watching Wonder Woman. "This big action extravaganza and something clicked, 'This is what white men feel all the time. And all these women are experiencing this for the first time.' I imagine this is what is going to happen when people watch Black Panther."
We have to guard against speaking past each other. Representation is important, yes, but there seems to be a certain need to pander to the moment here, especially for those who have worked tirelessly to break those walls of exclusion and have now been let in.
We cannot afford to be overwhelmed by the moment and not take a second to reflect on where black people fit in the matrix of Hollywood. This is where Nanjiani's quote rings true. Representation is often conditional, and a compendium of sociopolitical and socioeconomic factors, a search for new stories to populate the coffers, if you will.
For example, what is the 1970s blaxploitation film industry if not a fuse lit by the Black Power movement and the changing financial dynamics of Hollywood's tried and tested genres of the time? To quote Separate Cinema, an archive of black cinematic history: "By the 1960s, Hollywood studios were still reeling from the profound effects of a two-decades-old justice department lawsuit that involved their profitable theatre monopolies. Combined with the insurgence of television, and a drop in audience popularity for 'the musical', the film industry was losing millions of dollars, forcing many to face the distinct prospect of bankruptcy."
Melvin van Peebles' Sweet Sweetback's Baadasssss Song was self-financed by the auteur. He wrote, directed, acted, starred and soundtracked the damned thing, eventually grossing $10-million at the time, opening the floodgates for Hollywood, which had happened on a new "genre" and the dormant buying power of black people.
Since the 80s, Spike Lee rode the wave of black stories until he couldn't ride it any longer, edging towards a mainstream sensibility until he was on the edges again. Let's not even start on Ethiopian filmmaker Haile Gerima and the effectiveness of the outsider position in terms of autonomy.
Hollywood's fascination with "'hood stories" had a golden age of a mere six years, producing talking points such as House Party, Boyz n the Hood, Juice, Menace II Society, Above the Rim and Set It Off.
To quote Jordan Fergusson writing in Bonafide magazine: "By 1991, hip-hop had graduated from 'fad' to 'niche'. It had an audience, but was still somewhat invisible to the cultural mainstream. It wasn't until Soundscan began to accurately track music sales and these movies started making back their budgets and then some on opening weekend that people with clout began paying attention.
"By the time Keenan Ivory Wayans and his brothers Shawn and Marlon tore down the conventions established by these movies in [the parody] Don't Be a Menace to South Central While Drinking Your Juice in the Hood, the page had fully turned."
Jordan Peele, who won Best Original Screenplay for his movie Get Out, said in his acceptance speech: "I thought no one would ever make this movie. But I kept coming back to it because I knew that if someone let me make this movie, that people would hear it and people would see it."
For some reason, the "let" didn't sit well with me.
Get Out was made with a budget of $4.5-million and has grossed $250-million worldwide. But the "let" is what they call "real talk" nowadays and just the nature of the filmmaking industry. Watching clips of the Oscars, Malcolm Gladwell's podcast episode The Lady Vanishes (from his Revisionist History series) sprang to mind.
In it, he speaks about "what it means for the first outsiders to enter a closed world". Nineteenth-century painter Elizabeth Thompson's painting Roll Call was afforded top billing status by the Royal Academy in a fit of what Gladwell calls "moral licensing", when a few good deeds garner you currency to go about your merry way as before.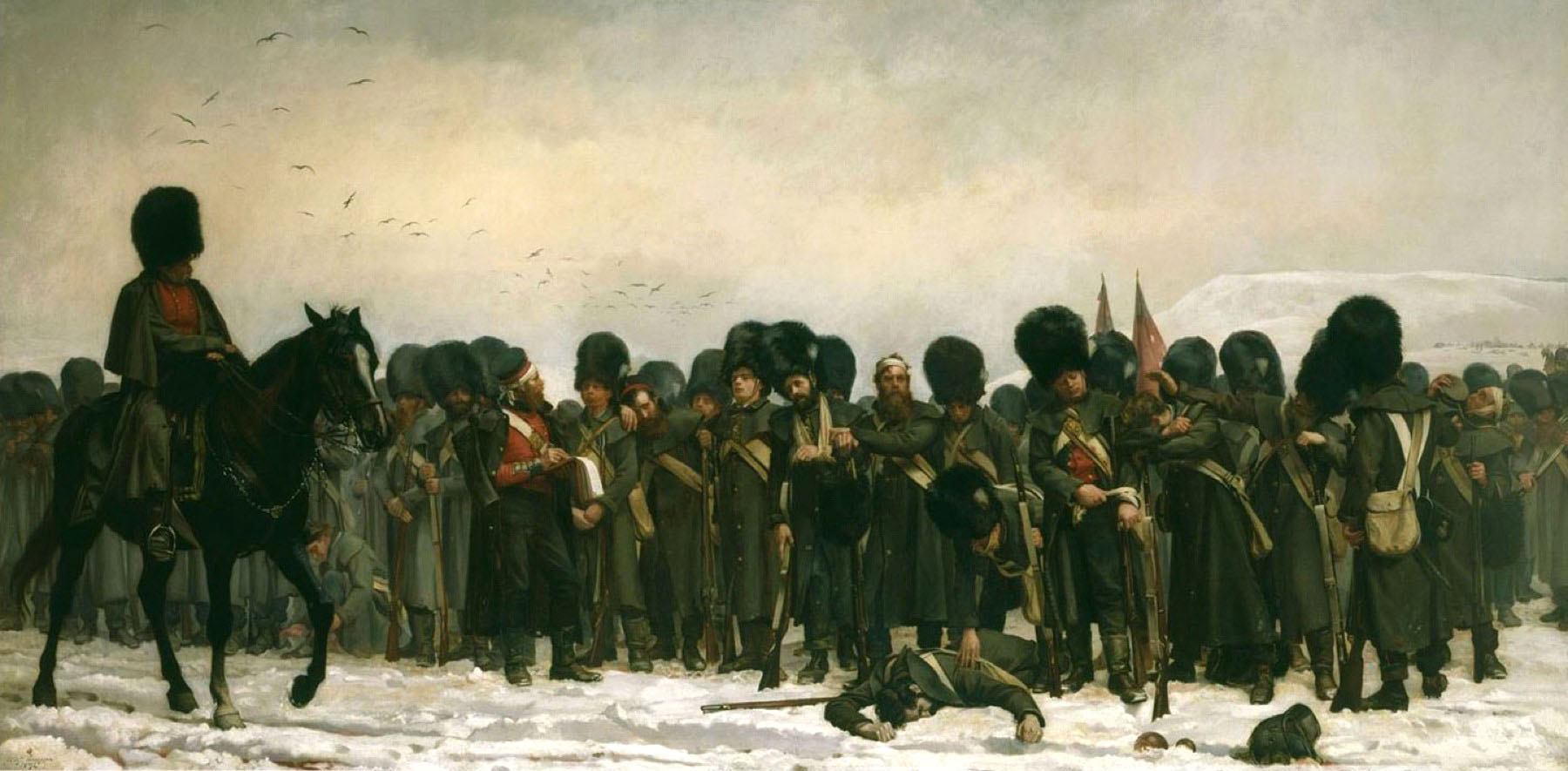 [Nineteenth-century painting Roll Call afforded its painter top billing status (Elizabeth Thompson ]
The promise of Thompson's career soon faded as the Royal Academy later restricted her visibility while debating the terms of her inclusion as a woman. She settled into a life of domesticity and supported her husband's career. The debacle hardly makes the paragraphs of her autobiography, as she "wisely" let it go. It would take more than 50 years for a woman to be elected into the Royal Academy.
As for the Oscars, it was still very much a festival of firsts. For instance, did you know that Kobe Bryant was the first professional athlete and the first black person ever to win an Oscar for best animated short film? Whatever man. Mamba doesn't need to be first anything. And for now, Oscar, go on your merry way until the next season of inclusion. There's more to life than Holllywood.