Thobile Mabena (27) was unemployed for seven years after matriculating in 2008, but she remained positive and continued looking for employment opportunities. She now runs her own daycare centre called Hopes and Dreams, where she teaches and cares for children aged between two and four years old.
Mabena's success story is no happy accident, nor is it a single story. Her success can be attributed to the programmes implemented by the Gauteng provincial government (GPG), which is making big strides in tackling youth unemployment with its Tshepo 1 million initiative.
Tshepo 1 Million is a youth skills empowerment initiative designed to demolish the barriers that young people encounter when looking for work opportunities. It provides youths with skills development, employment creation and entrepreneurship development to provide them with hope for the future.
The initiative was originally launched in 2014 under the name Tshepo 500 000. It was then restructured and unveiled as Tshepo 1 million in January 2017, after it created over 300 000 opportunities in just two years.
"To us nothing is as urgent as giving hope to our young people, many of whom bear the brunt of poverty and unemployment," Gauteng premier David Makhura said about the programme.
Youth, education and youth unemployment were some of the key elements of focus in Makhura's State of the Province Address (Sopa) on February 28.
The Tshepo 1 Million initiative is proposed as a solution to address youth unemployment. Aimed at unemployed Gauteng residents between the ages of 18-34 years with at least a grade 10, the campaign is specifically for first-time job seekers with limited work experience.
The campaign is a partnership between the GPG, the Harambee Youth Employment Accelerator and more than 40 major private sector corporations. It hopes to lead to demand-led skills development, job placement and entrepreneurship for the youth of Gauteng.
The Harambee Youth Employment Accelerator is an independent, non-profit social enterprise. It works with various partners to provides its beneficiaries with work-related opportunities and training. The Tshepo 1 Million programme is in line with President Cyril Ramaphosa's suggestion that more unemployed young people be placed in paid internships.
Since its implementation, nearly 460 000 young people have benefitted from the Tshepo 1 million programme, many of whom have found sustainable employment in the private and public sectors; others of whom have been provided with skills development opportunities. The programme has also assisted some young people with entrepreneurial skills and support to start businesses of their own. Mabena is one of them.
"One day I was browsing the internet and I found the Tshepo 500 000 initiative, as it was called at the time," Mabena said. That was two years ago. Last year she got a call from Smart Start and trained with the GPG's partner, the Harambee Youth Employment Accelerator. "They trained me on how to start and operate a daycare, and after that I opened my own daycare," she said.
Mabena said the initiative has made a huge difference in her life, because she is now independent. "I'm only thankful for them to give me the opportunity; if it wasn't for them, I wouldn't have been here now," she said.
Lucy Mnguni (25) also started her own company — a promoting and eventing company called Mbaliyolwandle Promotions — through Tshepo 1 Million. Mnguni was unemployed for two years before she got an opportunity in the Sasol I-AM-PRENEUR incubator programme through Tshepo 1 Million.
"Tshepo 1 Million presented an opportunity of me becoming an entrepreneur. My life has changed a lot; I've learnt a lot about both business and myself," Mnguni said.
She said it is a successful initiative for the unemployed youth in South Africa: "Because of Tshepo 1 Million I'm now a businesswoman, I'm the founder of a promotions company we just started operating, and I'm forever thankful to Tshepo 1 Million for the opportunity it gave me."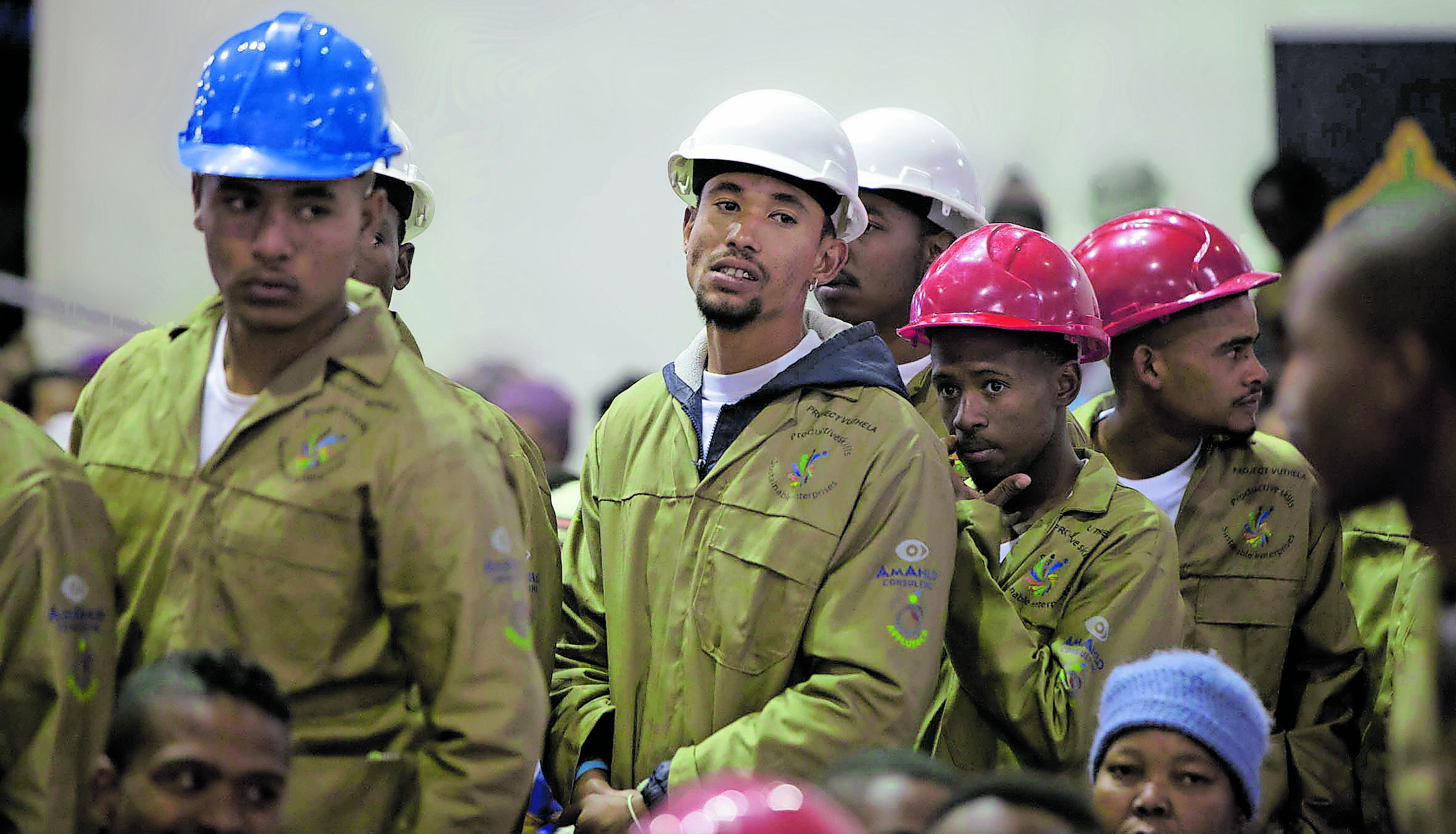 The Gauteng Enterprise Propeller houses a number of projects aimed to create jobs and alleviate poverty in the Gauteng City Region. Pictured are graduates of the Vuthela Accelerated Youth Placement and Absorption Plan
Not everyone who was part of the programme gained entrepreneurial skills: some had access to skills development.
Fortunate Mashoto (25) was placed into an apprenticeship as part of the skills development component of the programme. Mashoto was one of 70 female mechanics placed in a heavy earth-moving equipment apprenticeship at Barloworld. Motivated by a desire to have a career, to be financially independent, and of entering a male-dominated industry and finding success in it, Mashoto thrived in the apprenticeship.
"I had been looking for work for a while without success, but through them [Tshepo 1 Million] my hope was restored," Mashoto said. She said the skills she gained through the apprenticeship helped her in her current job, and that the programme is doing a great job in closing the gap between employers and job seekers.
"I am really thankful to them and I hope they keep doing the great job of changing the lives of youth in our country," she said.
Partnerships between big business and other stakeholders have ensured the success of the programme beyond its expectations. Some of the other companies that have been involved in ensuring the success of the programme are Microsoft SA, Hollard Insurance, Safana Panel Beaters, Coca-Cola Beverages South Africa, Shanduka Black Umbrellas, SekelaXabiso, Confederation of Employers in South Africa, Gijima, Broll, Barclays Africa/ABSA and Bluefields Investment Company.
Addressing youth unemployment — what Makhura calls "the most acute and primary economic problem of our time" — is a key priority on the premier's agenda. Close to two million young people in Gauteng are without employment and are not enrolled in training or educational programmes.
"The new dawn must also inspire the young people of our province to dream big and aspire to live in a province, a country and a world where there is equality, economic freedom, prosperity for all [and] social and environmental justice," Makhura said in his Sopa.
"It is only through adapting attitudes towards youth and education that young people will be given access to the ability to prosper. We urge young people to seize the opportunities made available to them by their government," Makhura said.
There are opportunities available for those who are unemployed and looking for a way to access the learning and skills to prepare for the world of work. Unemployed youth graduates or matriculants can register their CVs online on the Tshepo 1 Million website.
Applicants can log on to Tshepo.mobi using any device with internet connectivity on any mobile network. Once on the site, applicants are to complete the five-step registration process using current, valid details. Once the application is submitted, applicants will receive a confirmation SMS and be contacted by the Harambee Youth Employment Accelerator within two to three weeks.
"Tshepo 1 Million has completely changed my life," Mashoto said. "I was unemployed and basically a statistic in the huge number of unemployed youth in the country, but they came through and made it possible for me to find a job and be financially independent. I don't know how else I would have been able to get in touch with my employers if it wasn't through Tshepo 1 Million."