Ingrid Gercama & Nathalie Bertrams in Sava region, Madagascar
'It is big business," says Dominique Rakotoson, a vanilla trader from Sambava, the sprawling "vanilla capital" of Madagascar's northeast. Heavy traffic is whirling up dust and thin plastic bags: flashy, brand-new SUVs are rushing by, loud Malagasy pop music booming from the speakers. No whiff of vanilla in this tropical town, however — instead it smells of trash and money.
"These 'quatre-quatre' (four-wheel drives) are all paid for by the great miracle called vanilla," Dominique says with a half-smile.
Many people in town have made their fortune in vanilla in recent years: "My brother, the farmer who has not even finished elementary school, has become a billionaire [in Malagasy ariary] in no time. I've wasted years studying in the capital whilst others got rich here."
Thanks to rapidly growing Chinese demand, and snobby Western consumers shunning artificial flavourings, the world seems to have developed an insatiable appetite for the fragrant spice grown in this corner of the world. Every year, Madagascar exports up to 2 000 tonnes of vanilla, which is used in baking, ice cream and perfumes. It is even said to be one of the secret ingredients in Coca-Cola.
Prices have skyrocketed: the pods of last year's harvest were sold to international food companies for $600 dollars a kilogram — a ten-fold increase on the $60 a kilo price in 2013. With more than 80% of the Malagasy population living in poverty, this "vanilla fever" is a blessing for those cultivating the sweet-scented crop. Or is it?
Where the vanilla grows
"This is my husband." Moira, a 70-year-old widow from Anjiamangotroka village, rams her machete into the soil where she recently started cultivating vanilla.
She hopes that by her first harvest — it takes three to four years until a freshly planted vine bears fruit — she will "get enough money to build a proper house".
She does not believe that it will be easy money: "Growing vanilla needs a lot of work."
Vanilla growing is all about handcraft. The fragile orchid flowers only bloom for a single day in a year and need to be pollinated by hand. The plant is from the central America region and is pollinated by a species of the Melipona bee, which does not occur in Madagascar.
After pollination, it takes nine months until the green vanilla beans have fully matured. The pods will then be fermented and processed into cured black vanilla. It takes weeks of drying them in the sun before they develop their full aroma and value.
Sun-drenched and humid, with abundant rain, Sava has the perfect climate for the fragile and valuable orchid. So much so that around three-quarters of global vanilla production comes from the region, mostly from small family-owned farms much like Moira's.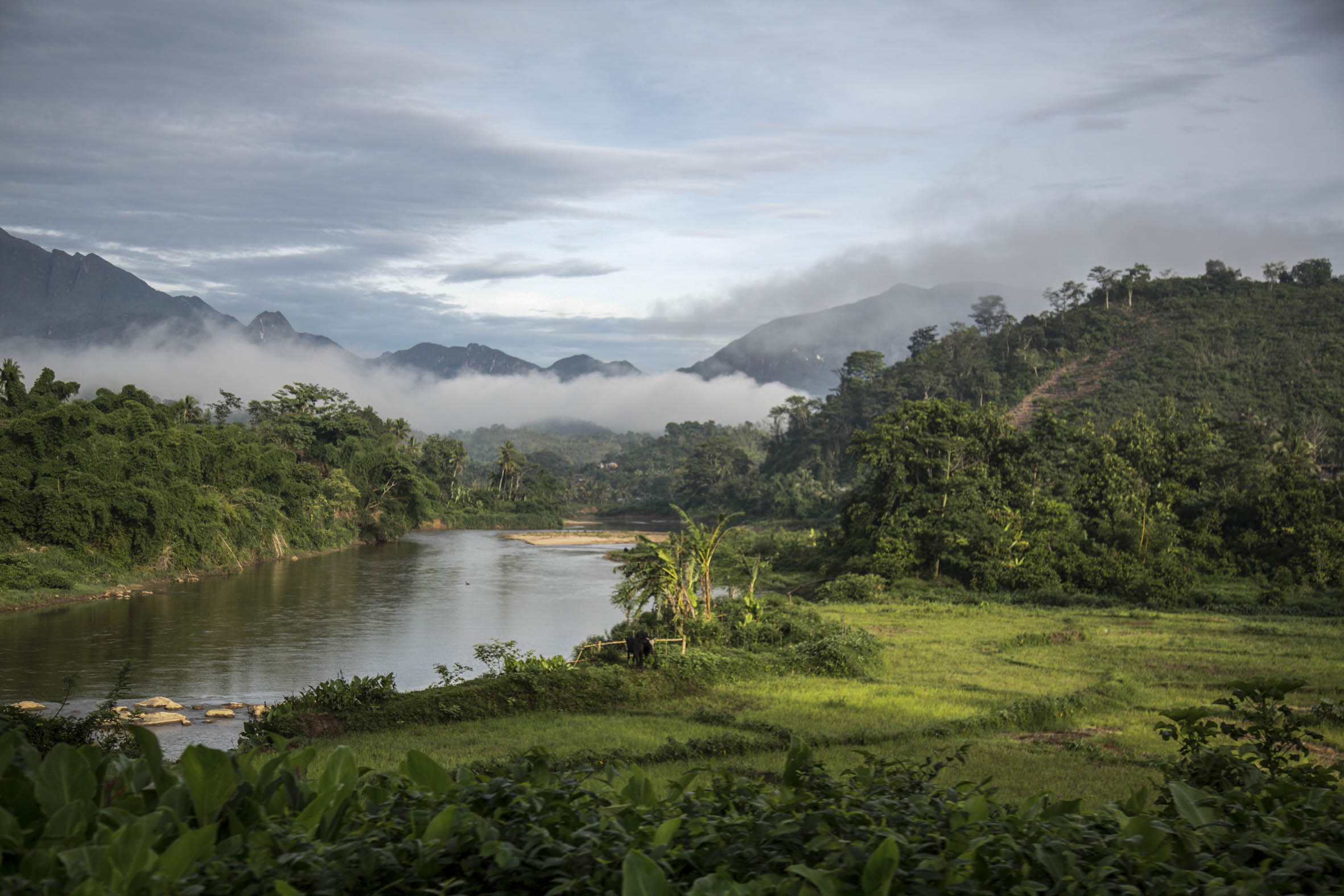 [The Sava region is also the source of hardwoods, which are logged illegally and the proceeds laundered through the vanilla trade. (Natalie Bertrams)]
But over the past 10 years or so farming has become more risky.
"It rains less and the crops don't grow as good anymore," Moira explains. But even worse are the cyclones that rage over the island during the summer months.
Storms and scarcity
Last year the most deadly storm in more than a decade hit the Sava region. Cyclone Enawo triggered landslides and floods, left 81 people dead and demolished 250 000 homes. The cyclone destroyed a fifth of all food crops and wiped out a third of the vanilla harvest, making the spice more scarce.
Charles Rambolarson, executive secretary of the National Bureau of Risk and Disaster Management, says: "Enawo made vanilla extremely expensive. And everything else too: food prices are crazy up there. Many already vulnerable people had to go hungry."
It is not the first time this has happened; in 2004 another cyclone drove the prices up from $25 a kilogram to more than $500. After the initial hike, the prices fell back to about $50.
It won't be the last time that a cyclone will destroy the land either, Rambolarson explains. Changing weather patterns have made "the power of the tropical storms much, much stronger".
Flowering crime
As the price of vanilla has skyrocketed, so has vanilla theft.
Emmanuel Zafihavama, a 55-year-old farmer who manages a small vanilla plantation on the road to Andapa, explains: "It happens to all of us here. The higher the price of vanilla, the earlier in the year the robbers come to tear the pods off the vine." Farmers, he says, are terrified of losing their hard work in robberies and fear being killed in a "vanilla murder".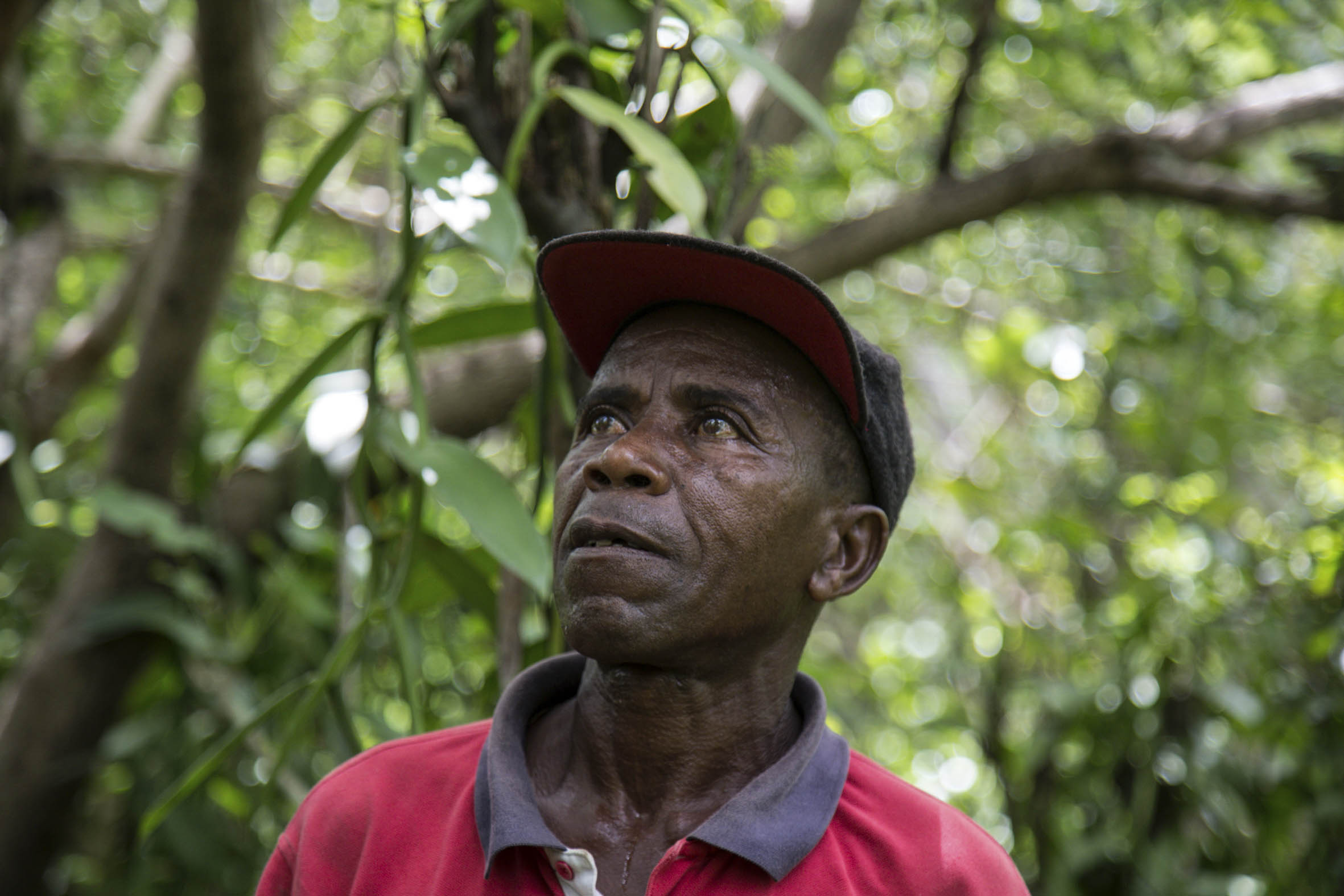 [Emmanuel Zafihavama fears losing his vanilla crop to robbers. (Nathalie Bertrams)]
In his shaded garden, where hundreds of bright green vanilla vines grow, Zafihavama explains how the farmers in his village have organised themselves.
"We've formed a vigilante group to guard our fields day and night for the four months until harvest. We patrol, we sleep with our vanilla at night. It is dangerous, and it is very tiring," he says. "Going to the police to report a theft is of no use. They are all under one roof."
Farmers complain that, even when they catch the thieves and hand them over to police, they will be released for a bribe. In recent years, unripe, stolen vanilla has flooded the market, so that, although prices have skyrocketed, the overall quality of Malagasy vanilla has deteriorated.
To prevent farmers from picking their crop early out of fear of theft, the government has imposed a fixed harvest date for each village that grows vanilla. Those who do not follow the rules risk having their precious beans seized or even burned.
Hustling the back roads
But for many the gain is worth the risk. On the notorious Rue Ambudimanga loiter the "vanilla hustlers" — young men with mirrored sunglasses, gold chains and colourful T-shirts. The little kingpins of this grubby backstreet seem to enjoy the fame and money they earn in the trade.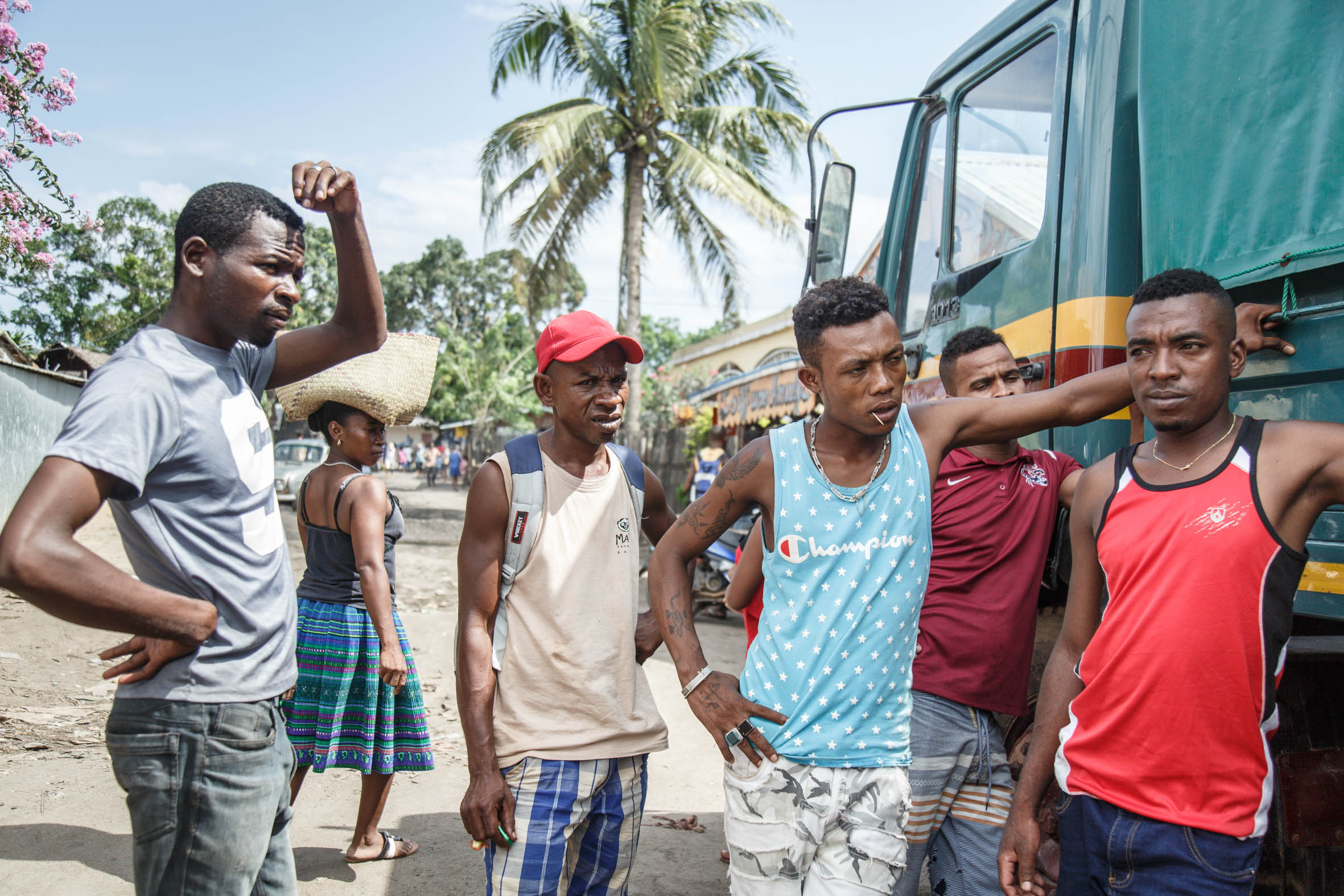 [Vanilla hustlers look cool but it can be a dangerous job because the pricey spice exposes them to thieves. (Nathalie Bertrams)]
One of them, a man in his late 20s called Prisco à l'Appareil (on the phone), jumps up and conjures a bunch of sweet-smelling vanilla out of his jeans pocket. "First quality, only 1.5-million ariary per kilo [about $460]."
Other vanilla "dealers" have professionally sealed pouches in their saddlebags or openly carry small quantities in plastic bags.
Selling vanilla is not as laidback as the boys make it seem, says Julio, a father of four: "You have to watch out for thieves when you sell … the boss weighs your bag with pods when you come back from the day. If you lose some, you pay."
But in Sambava, where unemployment is high, the price explosion presents an interesting opportunity. If they were not selling vanilla, Prisco says, "it would be hard. There is no work for men." The only other jobs available are in construction and paid so low it doesn't earn the gold watches they wear to impress.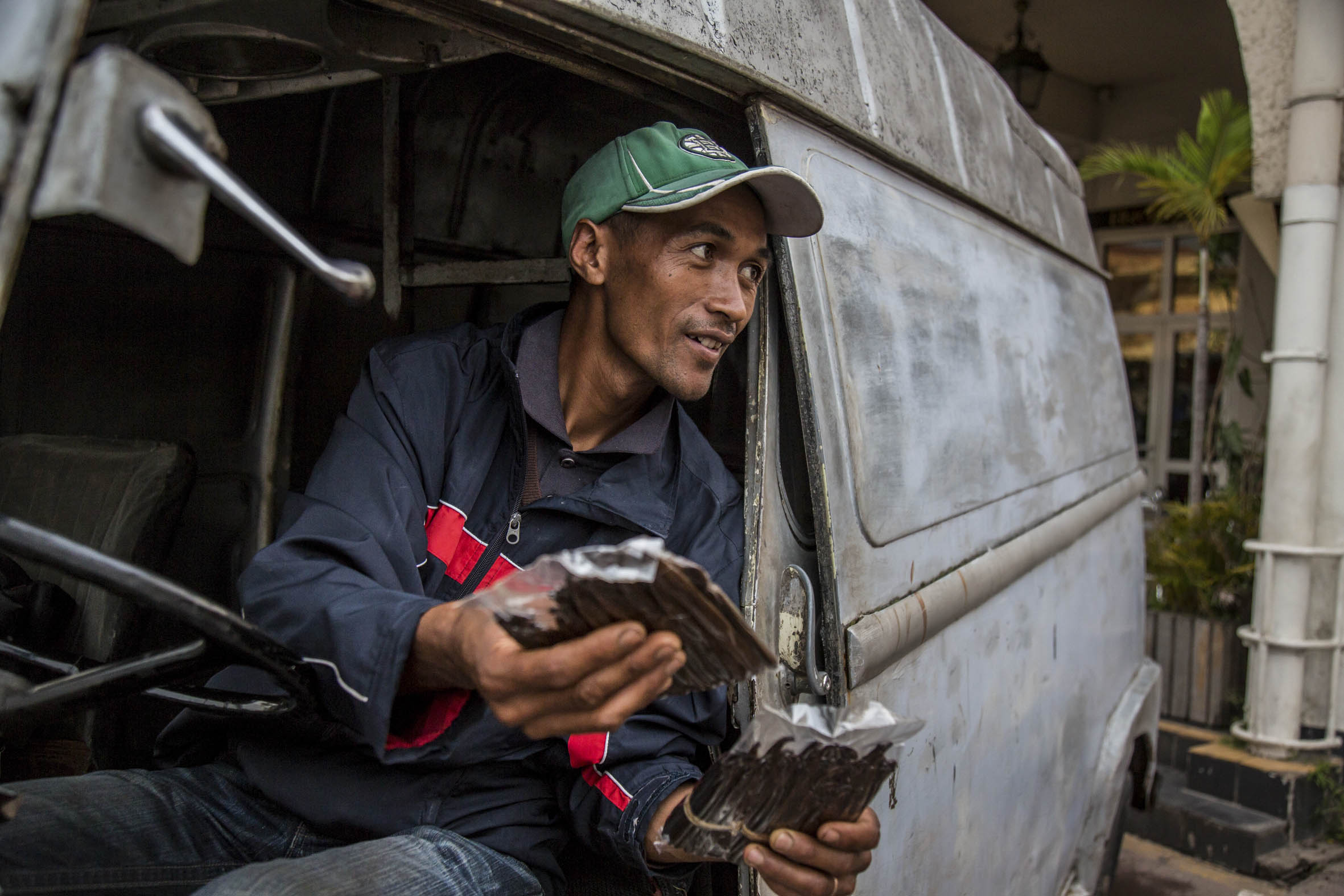 [But with everyone trying to claim their cut, even dealing out of their trucks, quality controls are often bypassed. (Nathalie Bertrams)]
"You have to be fit for the trade," said a group of vanilla hustlers.
The 'patron' and his pods
Max, a 21-year-old driver from Sambava, knows the ins and outs of the trade: "To get into business, you have to know the right people." But, he says, he feels too young. "It is too risky for me right now."
He looks over his shoulder and leads us to a "magasin de vanilla", a vanilla warehouse. From the outside, the house looks like many others in the city: a pink villa with white ornamental balconies rising two-storeys between otherwise modest wooden houses.
Because the "patron" is out, we are allowed in to take a brief look. About 60 young women in light-green aprons and hair nets are sitting at long tables in the warehouse, grading, sorting and bundling sundried black vanilla pods into small packets. The bundles — worth tens of thousands of dollars — are placed in large boxes in the hall.
Max is visibly nervous and ushers us quickly out of the door. "The people are afraid," he says.
It is clear that something shady is going on behind those pink walls. It is January now, and the last harvest was in June. If this mass of vanilla hasn't been processed, prepared and sold right after harvest time, does it mean that this is stolen vanilla? Or has the boss illegally "vacuumed" the pods for speculation?
Vacuum cleaners, stolen spice
Dominique Rakotoson, the passionate old-school trader, speaks with anger about the "vanilla speculators" who hoard large amounts of unripe, often stolen, beans in vacuum-packs to preserve the spice.
"They put the beans into Chinese plastic bags and then just suck the air with a household vacuum cleaner," Dominique says, raising his voice. "Then these guys wait for prices to rise."
The "vacuuming" and speculation with unripe vanilla is harmful for the Sava region's reputation as producer of the world's highest- quality "bourbon" vanilla — praised for its sweetness and intense taste. The practice of vacuum-packaging green beans delivers a product with a lower vanillin content or even a mouldy flavour.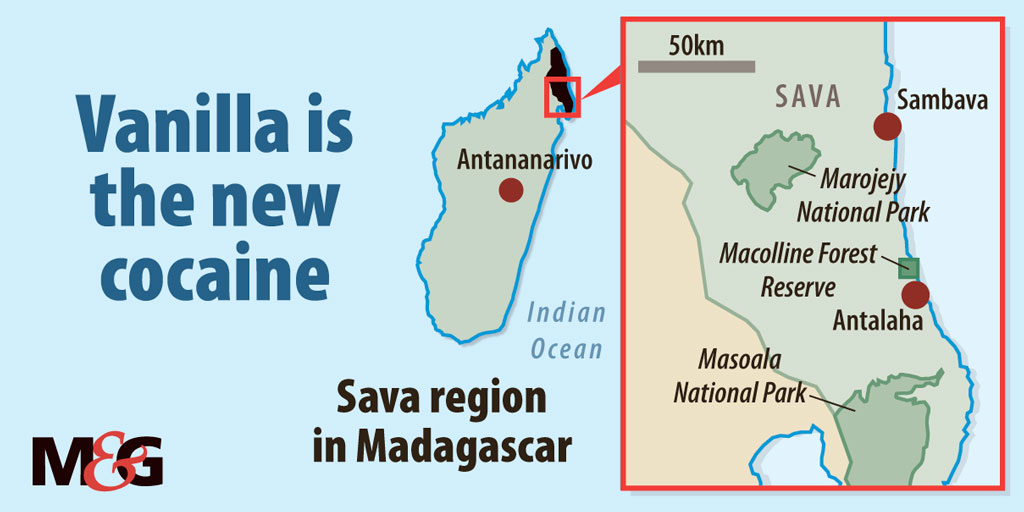 With limited government control and high levels of corruption, Dominique finds "the climate here just perfect for speculators". And, he says, it is not only the little criminals in Sava who earn "vola mafana [fast money]" in trade. There is a much bigger crime behind the speculation. "Just go to Antalaha," he says, "and you'll see for yourself."
White city, dark secret
With its palm-lined avenues, white beaches and grand houses overlooking the Indian Ocean, Antalaha — the second "vanilla city" in the Sava region — has a colonial feel to it. Big vanilla business giants like Henri Fraise and Ramandriabe have been here seemingly forever. The long-established exporters are fighting for market share with the influx of new competition, especially from China, India and Pakistan.
The city is clean, posh and very quiet. Yet we have been strongly cautioned not to stay here overnight. The beautiful and sunny facade of the city is hiding a dark secret: it is known to be the "heart of the rosewood trade".
Three-quarters of Madagascar's remaining rainforests are located in this region, in three national parks: Marojejy, Macolline and Masoala. These forests are being plundered for threatened "bola bola" hardwoods: palisander, ebony and rosewood.
The trees are illegally exported to China and made into traditional "hongmu" furniture, an age-old style that is becoming increasingly popular with the growing Chinese middle class.
A recent report estimates that illegal rosewood operators have collectively made more than $1-billion over the past 20 years. To launder these enormous sums of dirty money from environmental crime, the so-called "timber barons" invested heavily in vanilla — buying up pods at any rate, further distorting prices.
Trader Dominique recounts that "cash wasn't counted in value any longer, but in weight — in stashes of 500kg bills. They bought at any price. Crazy. So the price went up and up, they didn't care. The farmers profited. The local speculators profited. They raised the prices, every day a bit more."
When we ask Solfi, the young president of Ambohimanarina, a small village next to Marojejy National Park, about the rosewood trade, he abruptly gets up from his chair, his eyes suddenly no longer friendly.
"That does not happen here anymore," he says — a reaction similar to those of so many others who uncomfortably smirk and look away or silently shake their heads.
A villager, who asked for anonymity, paints a different picture when he explains that the rosewood trade is one of the best-known "secrets" of the region: "Everyone in the village knows, but since everyone benefits, nobody says anything."
Big trucks are frequently heard starting at about three o'clock in the morning. "What other reason than rosewood would there be for people to be driving trucks around here in the middle of the night?"
The Rosewood Mob
Last year, the Environmental Investigation Agency and Global Witness, United Kingdom-based nongovernmental organisations, published evidence that illegal logging is still ongoing. Despite numerous declarations of intent from the Malagasy government to combat the illegal trade, they say that "no 'timber baron' has ever been convicted within the national judicial system".
Instead, environmental activists who challenge the rosewood mafia have found themselves in jail or silenced with death threats.
When asked who the illustrious "timber barons" are behind the organised criminality and vanilla investments, a representative from the ministry of environment, ecology and forests in the capital shifts uncomfortably in his chair.
"You see, it is a political problem," he says and points us to the prime minister's office.
The government, plus private owners, are believed to sit on between $600-million and $5-billion worth of rosewood stockpile. But given that exporting rosewood is illegal under the Convention on International Trade in Endangered Species, the elite can't do much with their "savings".
Recently the Malagasy government has requested a special export permission, which will be re-assessed this year. The fact that this request is timed to be just before upcoming presidential elections is "just coincidence", said one nervous bureaucrat.
New money, new dreams
For farmers, vanilla cultivation has in recent years finally paid off.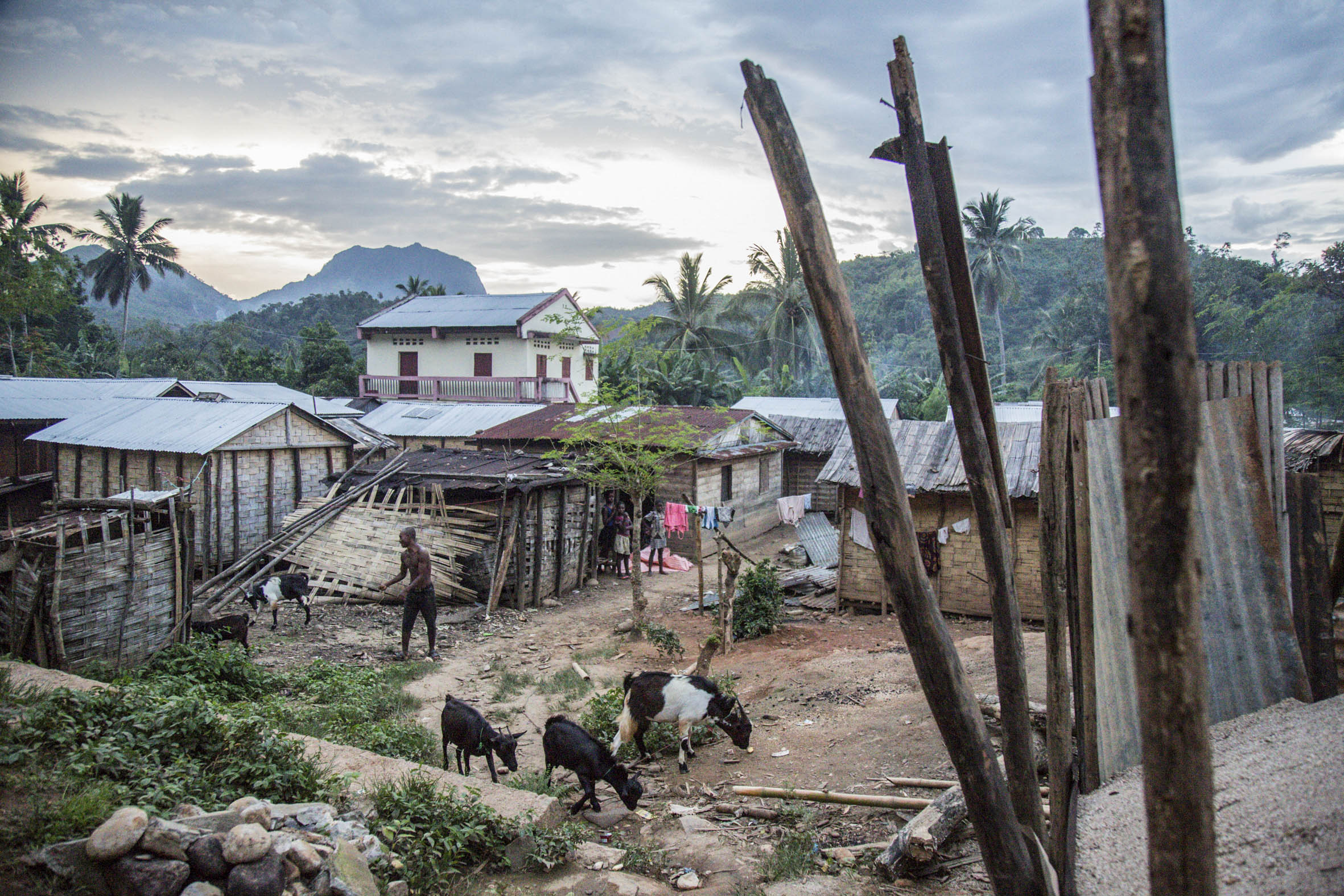 [Unemployment is high in Ambohimanarina and people eke out a living but vanilla dealers have done well during the boom. (Nathalie Bertrams)]
"Last year was very good for me. All my children can go to school now. And if I'm not robbed, it will be even better," says Zafihavama.
He proudly shows us his house, a tiny wooden hut with one bed. The modest space displays his new prosperity: five shiny plastic chairs, two glass cabinets and a computer with a substantial DVD collection — almost all the Kung Fu movies that are so popular in Sambava.
But the trade flourishes at the expense of one of the world's most precious rainforests. Madagascar's unique, geographically isolated location makes the island home to a large number of indigenous animal and plant species that don't exist elsewhere.
According to Dasy Ibrahim, programme manager of CARE, an international NGO that is training farmers in climate change mitigation, this is a toxic combination.
Laundering large amounts of illegal "hardwood money" combined with high unemployment and poverty is causing the situation in the vanilla sector to spiral out of control.
He says, with a bitter expression: "The trade here — it is worse than cocaine."
Travel for this article was supported by Postcode Loterij Fonds/ Free Press Unlimited