As the afternoon sun broke through the clouds over Soweto, a crowd of hundreds gathered to pay their respects to the late Winnie Madikizela-Mandela. An emotional guard of honour stood along the roadway as her casket was walked from Kupane Funeral Parlour to her home in Orlando West.
Those gathered, many decked out in ANC regalia, had been waiting outside the funeral parlour, among them a group of Economic Freedom Fighters.
The restless though celebratory crowd sang at the entrance, led by members of Madikizela-Mandela's Meadowlands Methodist Church.
#WinnieMandelaFuneral The hearse seems to be flanked by members of Mam'Winnie's church – the Methodist Church in Zone 9, Meadowlands – where the icon spent Good Friday. They lead the crowd in song.@mailandguardian pic.twitter.com/GtsrK8ZY09

— tiny tempeh (@SJohannaSmit) April 13, 2018
In the wait for the procession to begin, there were many false starts – the crowd moving between boisterous song to solemn silence as a number of hearses came and went from the funeral parlour.
When the moment finally arrived, the complete stillness gripped the congregants, mothers shushing small children.
When the casket – shrouded in an ANC flag – emerged, it was carried by Madikizela-Mandela's male grandchildren and followed by the men from the Mandela and Madikizela family.
Amid the procession of friends and family, the presence of EFF leader Julius Malema stood out as many onlookers chanted his name.
#WinnieMandelaFuneral A procession family and friends emerge from the funeral parlour. The crowd is especially happy to see @Julius_S_Malema@mailandguardian pic.twitter.com/SEwzotTyvS

— tiny tempeh (@SJohannaSmit) April 13, 2018
Ululation followed the bus of politicians and family members, with youngsters in the crowd clamouring to get a picture of ANC Elections Head Fikile Mbalula, who rode behind the driver.
#WinnieMandelaFuneral Ululations as the hearse moves through the street @mailandguardian pic.twitter.com/zmo1U3Rsui

— tiny tempeh (@SJohannaSmit) April 13, 2018
The long race to the Madikizela-Mandela house saw hundreds, young and old, running to keep up with the procession.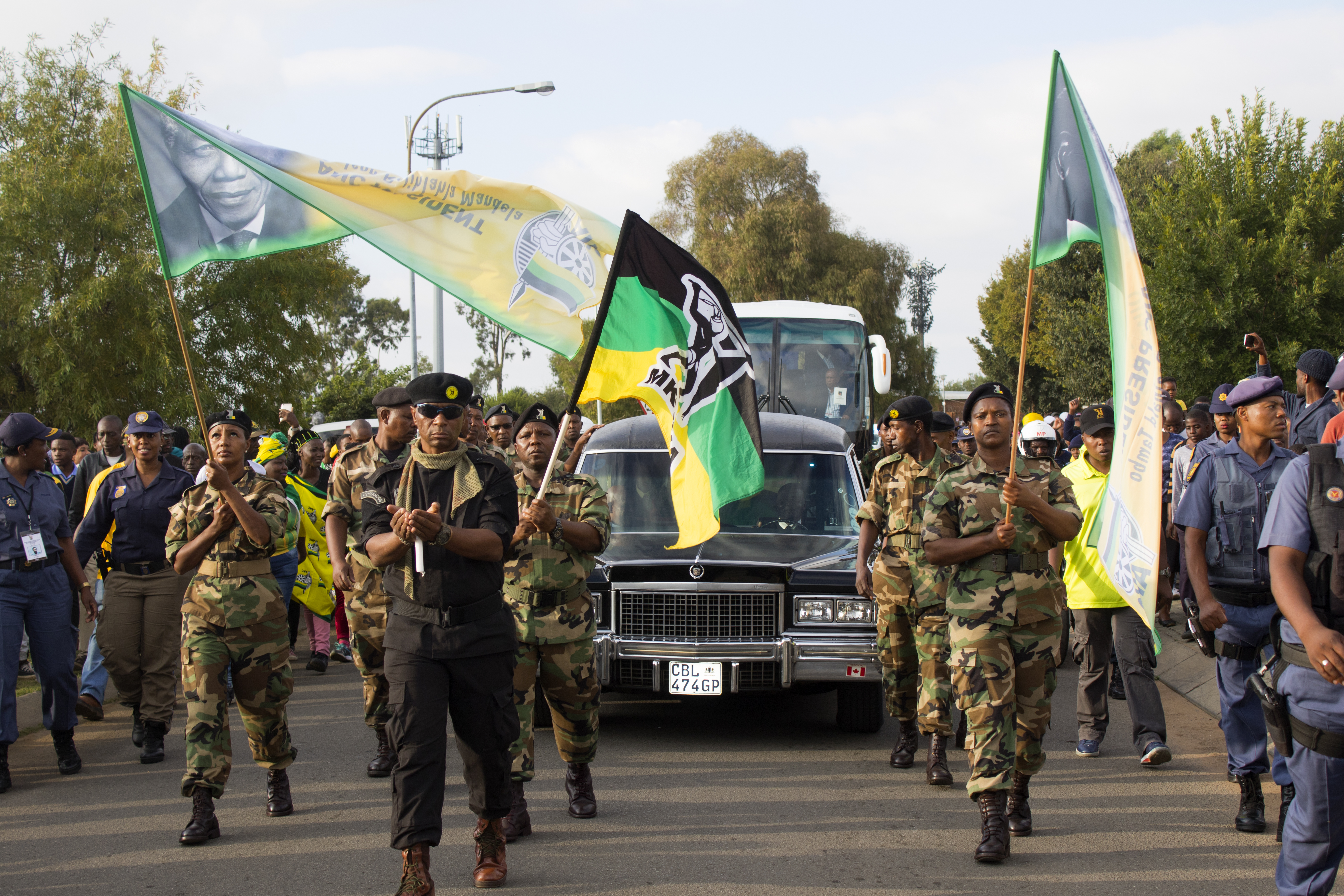 (Katlego Sekgothe/M&G)
Though the procession ended abruptly as the crowd reached the house in Orlando West, songs of celebration and mourning hung in the balmy air.
The procession took place at the end of two weeks of celebrations of the struggle icon's life. The official memorial took place at Orlando Stadium on Wednesday this week. On Saturday, thousands are expected to gather at the same venue for a special official funeral, where tributes from family members, close friends and international leaders will be delivered.
President Cyril Ramaphosa will be delivering the eulogy at the event.
The stalwart will be laid to rest at Fourways Memorial Park where her great-granddaughter, Zenani Zanethemba Nomasonto Mandela is interred.
Winnie (left) was a young teacher during the 1976 Soweto uprisings. She worked with Winnie and said the stalwart told her to never send the children to Baragwanath because they'd be arrested. They were told to send them to Dr Asvat instead. Luck Mokotla was only four in 1976. pic.twitter.com/szHSDcDfmm

— Mail & Guardian (@mailandguardian) April 13, 2018