Messages widely disseminated through messaging platform Whatsapp claiming all manner of hell will descend on the country on Wednesday are fake.
In the lead up to the national strike called by the South African Federation of Trade Unions (Saftu) and its affiliates, a number of social media posts and WhatsApp messages — warning that the strike will inspire "land grabs"' "riots" and "plunder" — have been doing the rounds.
On Wednesday last week, TimesLive reported that a letter purporting to be from the South African Police Service has been widely shared on WhatsApp, claiming the "main focus of this terror" would be Johannesburg' Pretoria and "all major cities in SA".
The letter reads: "Land Grabs and riots/plunder will commence from tomorrow the 18th and escalate all the way to the 25th whereby all major unions will strike. People are being intimidated and threatened that in case the do not participate they will be sorry/hurt or killed."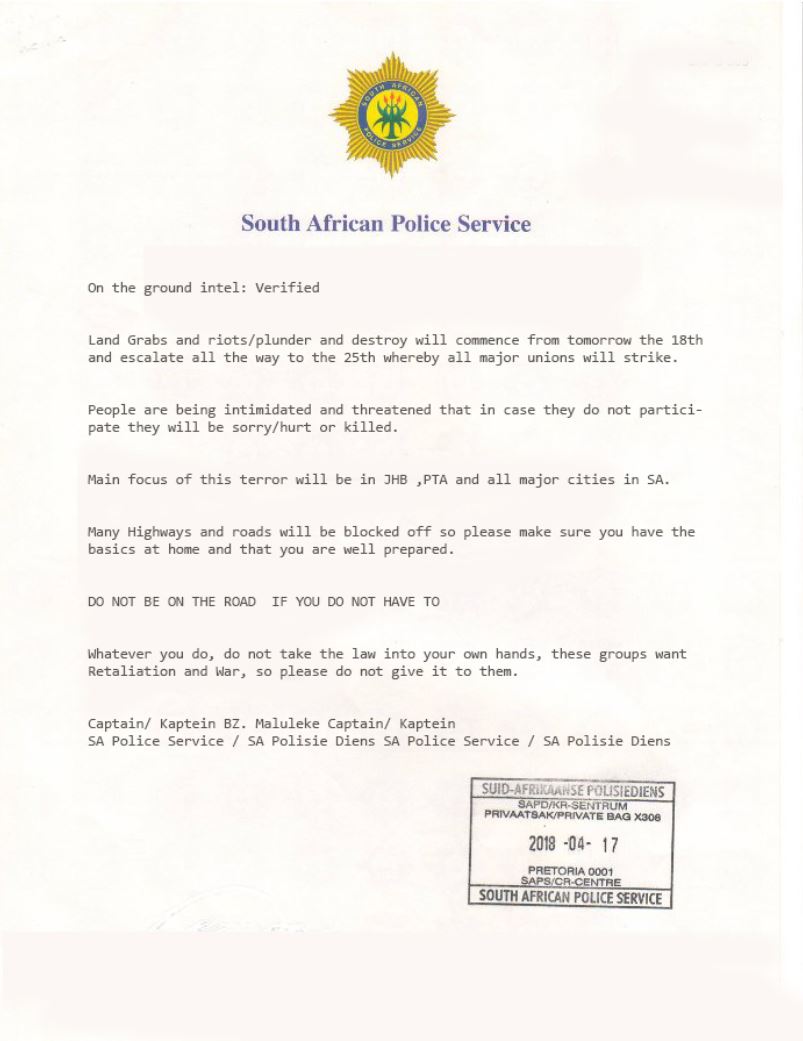 In a statement SAPS has confirmed the document was a fake."SAPS has learnt with concern of a fake news story based on a document purporting to emanate from the SAPS … The SAPS can state categorically that this is not an authentic SAPS document and the allegations made in the said letter are false and misleading'" the police statement read.SAPS spokesperson Lieutenant Katlego Mogale told TimesLive that this misinformation is "reckless' irresponsible and unacceptable".
"These utterances are clearly aimed at causing alarm and fear and should be condemned in the strongest possible way. It is utter disregard for the law," he said. "Social media is a helpful platform for both community and the police. However' hoaxes' fake news and dissemination of false information not only sows panic amongst our communities but also wastes the police's time and resources."
On Tuesday, worried readers of the Mail & Guardian reported another spurious WhatsApp message.
The message advises recipients that, for the safety of their friends and family, those who are not striking should rather stay indoors, not go to work, not drive or take public transport and to stay away from business premises.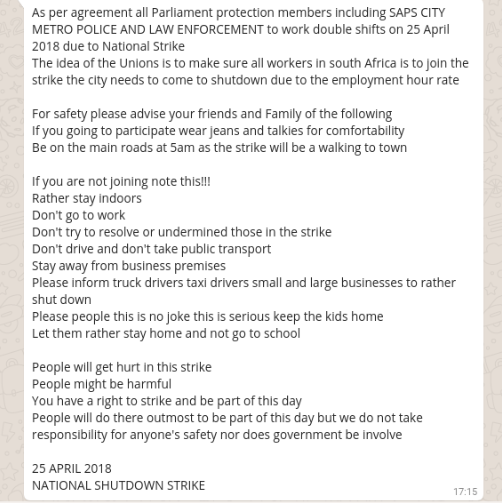 It also asks recipients to inform truck and taxi drivers, small and large businesses to shut down and to keep children indoors."People will get hurt in this strike. People might be harmful. You have a right to strike and be part of this day. People will do their utmost to be part of this day, but we do not take responsibility for anyone's safety nor does government," the message reads.
The message is presented as a formal statement from strikers.
The acting spokesperson of the National Union of Metalworkers of South Africa (Numsa), Phakamile Hlubi-Majola, said the union condemns the inflammatory messages, saying that they "portray black Africans as savages who cannot picket peacefully" and that they have been concocted to "undermine a just and peaceful strike".
She said there is no reason for the public to be concerned and that community organisations, including the United Front and the South African Informal Traders Association, will be protesting alongside unions and workers.
"We call on those participating in the strike to ignore messages that portray the strike as anything other than peaceful," Hlubi-Majola said.
Wednesday's strike will take place in Johannesburg, Cape Town, Port Elizabeth, Bloemfontein, Polokwane and Durban, with each march starting at 10am.