A mob of journalists crammed into the Premier Soccer League's (PSL) Parktown offices on Monday, eager to hear Irvin Khoza's plan to restore our collective footballing pride. The violence at Moses Mabhida last Saturday has left a stain on our game — a stain that does not solely belong to Kaizer Chiefs — and it needs removing.
But turns out the PSL chairperson didn't really have a plan. At least, not a plan that he could reveal at that time.
Khoza remarked towards the end of the press conference that he was not blaming the police for the unseemly show — except that's exactly what he had spent the past 30 minutes doing. Responsibility was the word of the day. And that responsibility did not belong primarily to the league when it came to ensuring stadiums are adequately prepared for security breaches or disruptions, he said.
"An increasing and incorrect expectation on the part of [the] SAPS [South African Police Service] and commanders is that the private security and safety stewards must carry out the constitutional responsibilities of the SAPS," Khoza told the media gathering.
"From the league's perspective, [regarding] crimes or acts of unlawful public violence committed in their presence, the SAPS are required to be properly prepared for [these]and [should be] ready to act."
The Iron Duke walked everyone through the prematch organisational processes made mandatory by the Safety at Sports and Recreational Events Act, the "inconsistent practical implementation" of which he had reported to the sports minister.
In particular, he claimed the venue operations centre commander deployed by the SAPS, whose task it is to arrange adequate policing, had failed in his duties. He reportedly didn't attend meetings days before the game, and first surveyed the situation on the day itself.
Whether you call it finger-pointing, dodging responsibility or the truth, there's a distinct feeling that we have to look beyond policing to understand the root of the issue and stamp out what is a blight on our nation's favourite sport.
"It's not a reflection of the entire football fraternity," Farouk Khan, a former youth coach at Amakhosi, told the Mail & Guardian. "It's just a small percentage. But it is a taint on the South African football fraternity."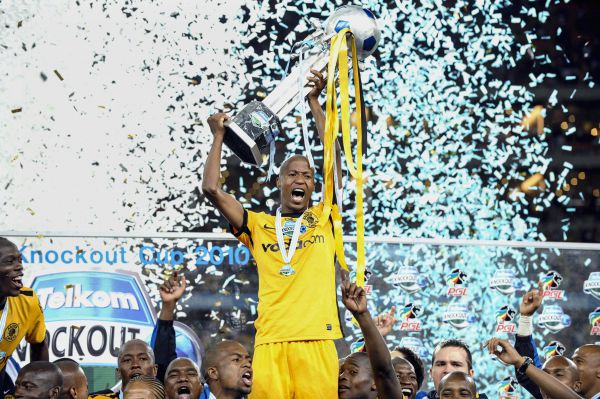 [Former Amakhosi defender Jimmy Tau believes that hooliganism is 'barbaric'. (Lefty Shivambu/Gallo)]
That blunt sentiment is widely shared. The Moses Mabhida incident happened only days after Chiefs were fined for supporter misbehaviour earlier this month; the R200 000 that was suspended will now surely have to be coughed up.
Orlando Pirates had, in that same week, also faced repercussions for the Loftus pitch invasion last year.
Questions are suddenly being asked about the safety of attending games and the type of supporters attending them. All stakeholders in South African football, from the media to fans and players, have an interest in fixing the problem.
"The PSL is a very solid league and so is the way they run it," said Khan, who has personally experienced fan disruptions while at the club. "But after this incident I think even you and your family would be reluctant to go to the stadium."
South Africa's long tradition of peaceful club rivalries is at risk. "If you look at the derby, it's the only derby in the world where you'll see Chiefs and Pirates fans sitting together, having a chat, supporting their clubs together; there's absolutely no violence," Khan said. "If you go to any country in the world you'll never see that happening. The fans of opposition sides have to be escorted in and out of the stadium with a police guard. Those fans hate each other with a passion, which is not the case in South Africa. This is a small percentage of thugs."
It is that small minority, however, that has left us scrambling for answers — desperate to explain how we allowed this to happen. Khan, perhaps more than most, understands the culture of the club and the expectations that come with it.
"Chiefs have always been a team of love and peace. That's their motto, that's their mantra. Normally the biggest clubs have the biggest fan bases and when there's no results forthcoming and no silverware, the fans believe it is their right to win those cups," he said.
"And I can understand that when you're a club as big as Kaizer Chiefs and haven't won anything for three years there will be a lot of disappointment. But you can't justify that disappointment with the violent acts that we've seen. I can say this categorically, when you speak to any Kaizer Chiefs fan, they are very proactive when it comes to love and peace."
Former defender Jimmy Tau made a combined 238 appearances for the two Soweto giants. Since his retirement in 2013, he has watched as his former sides have failed to retain their dominance in South Africa. In many ways, the semifinal on Saturday was a microcosm of the direction of the sport in the country — the unfancied side rising above its station, conquering that with more resources and support.
"Historically, Chiefs and Pirates have always done well," Tau said. "Now, your so-called smaller teams are doing well and the bigger teams are struggling. That frustration, having to deal with reality, people then tend to be emotional about it. They then become irrational. The only way to vent their frustration is what they did the other day. I'm not justifying it; I think it's barbaric that you can have such a reaction from sport.
"Any punishment will have to be to the benefit of the sport. To make it friendly and welcoming, and so that you are also able to take your family to the stadium. Incidents like this are contributing to why people are not coming to the stadium."
Which brings us to where we are today; left to pick up the debris of Saturday's hooliganism. It will be fascinating to see the next step the league will take in this fiasco. It will probably be pivotal.
South African football has already been punished. What consequences will its abusers face?