Khaya Cekeshe badly wanted to study law at the University of the Witwatersrand but his parents couldn't afford the fees.
After doing one year of law at Unisa, where the fees were cheaper, he dropped out. In 2016, he was a first-year media studies student at Foot Print Media in Auckland Park, Johannesburg.
The 24-year-old had ambitions of studying media law when he completed his media studies course.
At the height of the #FeesMustFall protest, he joined a protest by Wits students in Braamfontein in October 2016, even though he attended a private college. It didn't end well for him. He was arrested.
"He had been wanting to go to Wits for a very long time. So when the #FeesMustFall protest started I think it triggered something in him that led him to join and support the students from Wits in their cause," Khaya's father, Ntanda Cekeshe, told the Mail & Guardian this week at the family home in Haddon, in the south of Johannesburg.
Cekeshe is serving a five-year jail term in Leeuwkop prison. On December 4 last year the Johannesburg magistrate's court sentenced him to eight years, with three years suspended, for his involvement in the protest, a sentence described as unduly harsh.
Advocate Motebang Ramaili, who represented Cekeshe, told the M&G he was charged with public violence and malicious damage to property.
Ramaili said Cekeshe was caught on CCTV footage bending down next to a police car trying to light a match — seemingly to burn the car. But it didn't catch fire. The video footage was shown in court.
A probation officer testified that he should not get direct imprisonment because he was still a student, a first-time offender and that the car didn't burn. But the magistrate believed that it was a serious offence, said Ramaili.
The magistrate also questioned why Cekeshe was part of the protest, because he was not a Wits student and it was not his fight. Cekeshe was denied leave to appeal the sentence.
Nongovernmental organisation the South African Native Forum has taken up Cekeshe's fight and will go to the Johannesburg magistrate's court on Tuesday to apply for a review of Cekeshe's sentence, said the NGO's director, Khathi Dikopo.
Dikopo said they would argue for the sentence to be reduced to a year of house arrest or community service.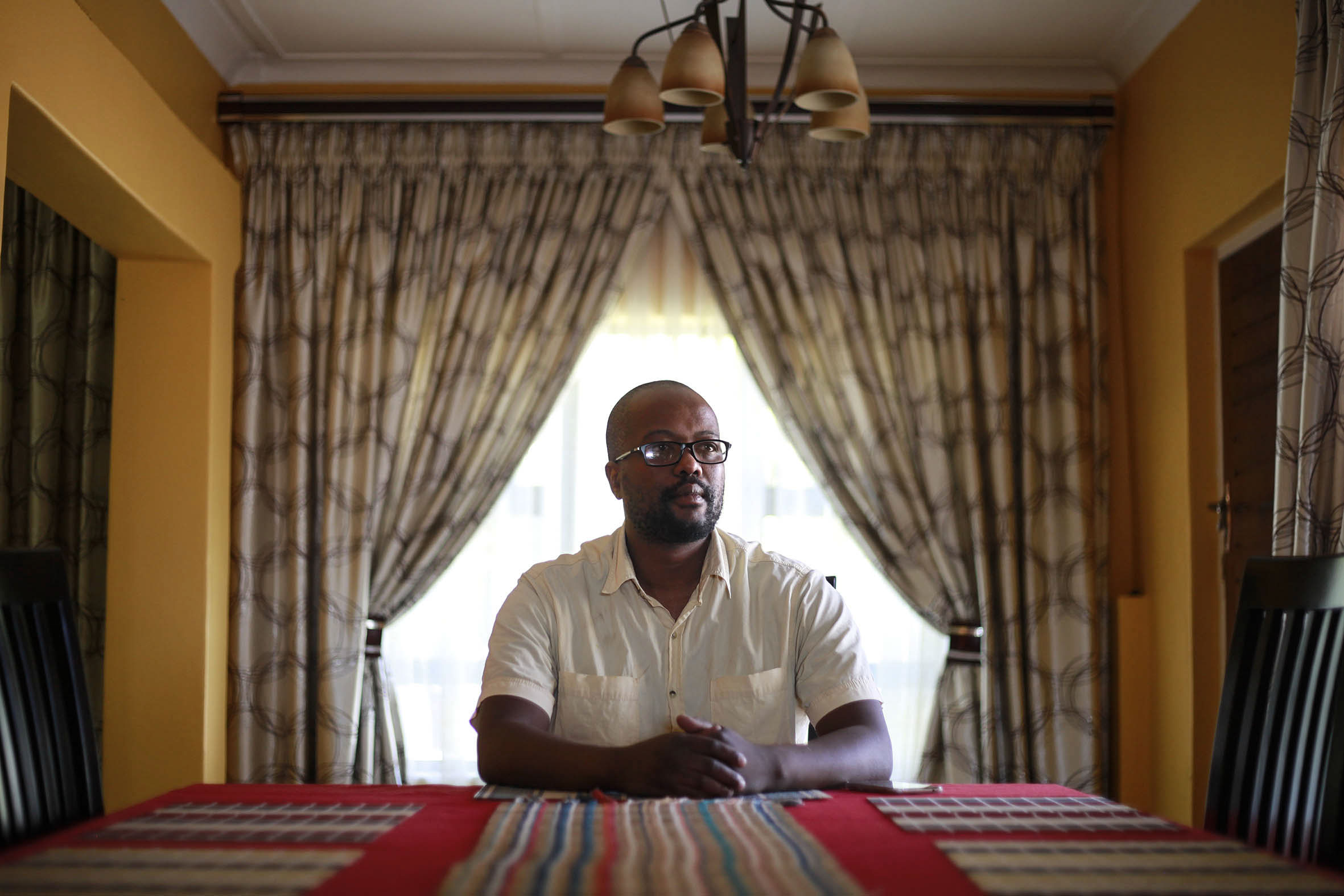 [Ntanda Cekeshe (Oupa Nkosi)]
"He fought for free higher education and the former president [Jacob Zuma] last year passed it as law that students will get free higher education," said Dikopo. "So because it was passed into law it shows that he was fighting for something right. He should not be punished for what is right. He was a first-time offender, the court should have shown leniency.
"We have already started with the process; we have been looking at what the previous legal team had done. On the 15th [of May] we are going to go and ask for a postponement and then we are going to come back with our strategy after that."
Ntanda said that, since police came to his house in October 2016 with his son handcuffed, life has been "hell" for the family.
He said the police came to get the clothes Cekeshe had been wearing on the day of the protest. The police tried to force Ntanda to open Cekeshe's room but he refused to do so because they did not have a search warrant.
An argument between Ntanda, his wife and the police ensued, and his wife filmed it. Later, said Ntanda, about 15 police stormed his yard and started assaulting him and his wife. His wife was arrested for obstruction of justice. She spent three days at the Hillbrow police station and had to attend court for about six months until the matter was thrown out. At the same time Cekeshe was appearing in court.
"On a Tuesday we would be attending my wife's court case and two days later we would go to Khaya's case. It was just chaotic," said Ntanda.
Cekeshe was released on R5 000 bail after spending six days in the Johannesburg prison, also known as Sun City.
Ntanda said that when Khaya was sentenced to eight years' jail it was a blow for the family, because they had not anticipated such a harsh sentence.
"We were certain that this thing would not turn this bad — there was no indication that he would get eight years. The social worker working on the case wrote a report that he was a first-time offender and had no criminal record, and there was no basis that he was a violent person.
"We were not in court on the day of the sentencing, because it was not even the day of the sentencing, it was a normal court appearance. The lawyer called and told us what happened in court," he said.
The family visits Cekeshe twice a month.
Asked how he is faring in prison, Ntanda lets out a faint laugh before saying: "It is so funny because we were there on Sunday and he was asking us how we are holding up."
His voice cracks and he begins to cry. In between sobs he says: "He is strong, he is surviving."
He pauses, takes off his glasses, and wipes away the tears.
Five months after Christmas, the Cekeshe family has still not removed the Christmas tree in their living room.
"My kids don't want us to move it. They say it will stay there until Khaya comes back," he says.
Cekeshe's bond with his siblings "was great, because they could relate to him. Especially the little boy, they had a very special bond," Ntanda says, and starts crying again.
"There are a lot of kids who were in the protest who have done even worse than what he did but he had to take the fall — maybe for all of them who were not caught. He is in jail because he made a mistake."
Ntanda says the family is focusing on getting Cekeshe out of jail and back home so that he can start his life afresh.
---
#FeesMustFall activists waiting for their day in court
While Khaya Cekeshe — featured in the story above — is serving time in jail for participating in a #FeesMustFall protest, other students still have charges pending.
Mcebo Dlamini
The former Wits University student representative council president faces charges of public violence, theft, assault with intent to cause grievous bodily harm and malicious damage to property. He spent weeks in jail before being released on R2 000 bail. He was represented by advocates Dali Mpofu and Tembeka Ngcukaitobi. His trial date is set down for July 30 and 31.
Masixole Mlandu
The University of Cape Town student faces charges of public violence, intimidation and malicious damage to property. News24 reported that his trial, which was supposed to have started in the Wynberg regional court last week Thursday, was postponed to next month.
Amla Monageng
The former University of Pretoria student was sentenced to a year's house arrest in February after being found guilty of malicious damage to property, incitement of violence and assault.
Bonginkosi Khanyile
The Durban University of Technology student is out on bail after he was arrested on charges that include inciting violence, participating in an illegal gathering and public violence. He spent five months in the Westville Prison and was refused bail until his case was taken to the Constitutional Court, which ordered that he be released on bail. His trial date has yet to be set. — Bongekile Macupe