That catchy radio ad of the 1990s drifts to mind as we traverse the Mapungubwe heritage trail, weaving together the ancient and modern in the rolling hills of eastern Vhembe (known as Venda to some), South Africa's northernmost district.
This Eden-like corner, speaking in at least five official tongues, is a melting pot bristling with painters, carvers, sculptors, poets and musicians whose works range from dza sialala traditional forms to VenRap.
Somehow, local music barely "crosses the tollgate", as Phalaphala FM's DJ Shh says, in a banter with Vrrr Phaa hitmaker Homiecide over sundowners at Nandoni Dam. Despite churning good music, rapper Mizo Phyll is scarcely known south of the Capricorn tollgate, on the N1 highway, to the rest of South Africa.
In addition to art, Vhembe is rich in biodiversity and hence its Unesco status as a biodiversity reserve. Seamed by the west-east Soutpansberg and the Limpopo River, this district includes northern Kruger and, to the west, a world heritage site that pays homage to an ancient kingdom —symbolised by a mascot known as the Golden Rhinoceros of Mapungubwe.
"[During] the 13th century, gold increasingly became the most important trade export," noted University of Pretoria Museums chief curator Sian Tiley-Nel on the eve of the figurine's first-ever trip outside Africa, for a British Museum exhibition, in 2016.
"The gold rhinoceros was buried with a member of Mapungubwe's ruling royal elite, which further enhanced its symbolic power."
It represented one of the region's most powerful animals and one of its most enduring tokens of power: gold. Despite its existence, that polity and that of the subsequent Kingdom of Zimbabwe — in keeping with the colonial "empty land" and "uncivilised Africa" propaganda — was airbrushed over by racist histographers.
Back to the scorching Saturday, in April, the lush-cloaked Soutpansberg basalt, shyly materialising in the distance, is shrouded in mist. Limpopo might be landlocked yet water is one of its tourist attractions.
Our trail — extending for some 100km, a distance that involves many pit stops and the whole day to negotiate — includes a lake, two dams, three waterfalls and many rivers, some of which can be heard gurgling from afar. Grazing herds of cattle, parched maize fields, deep-green tea estates, a touch of baobab trees and towering plantations spool past.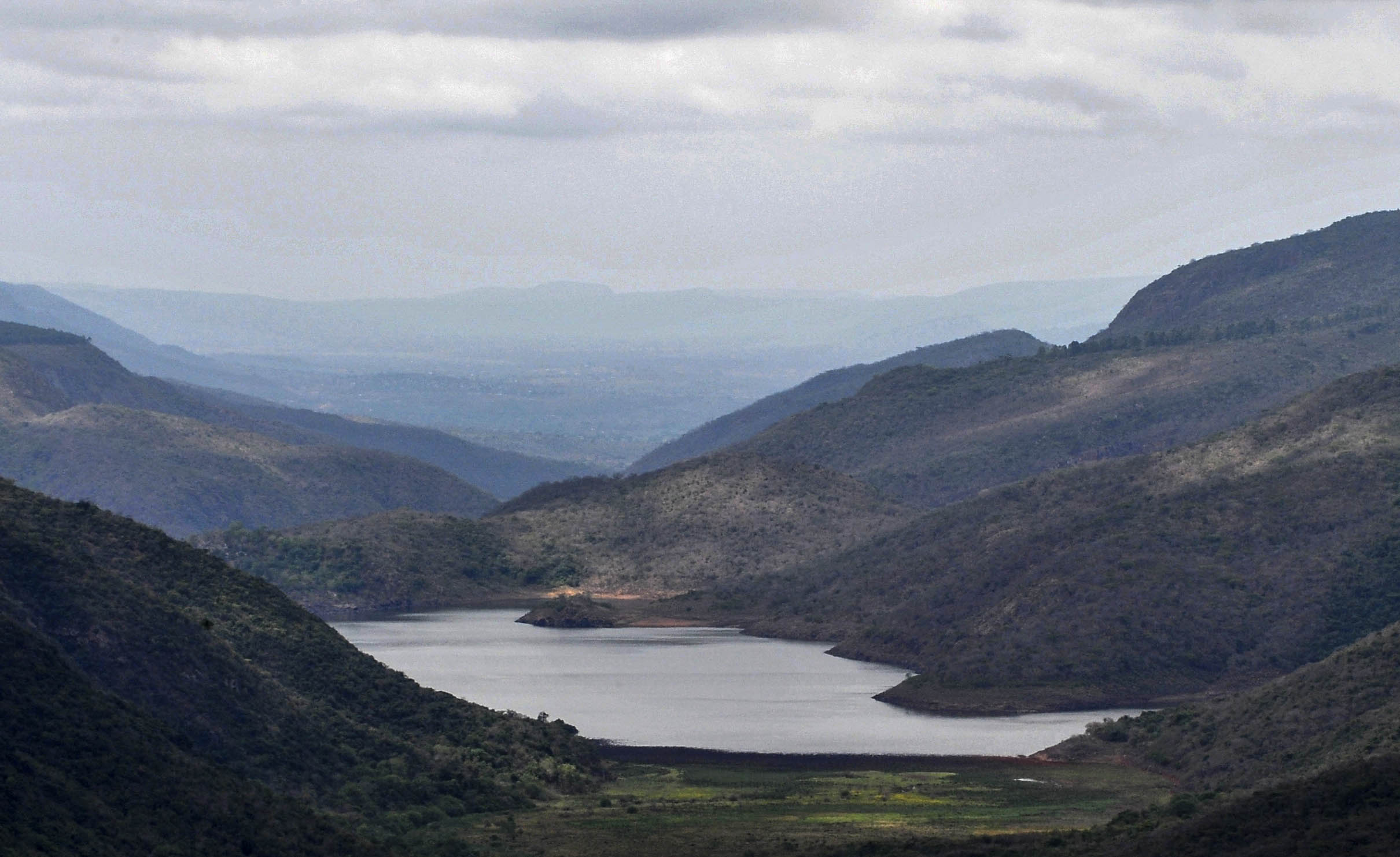 [Awesome: The sacred Lake Fundudzi in a corner of Limpopo province. (Alexander Joe/AFP)]
Long before we set off, from Thohoyandou, the Vhembe capital, at 9am, the mercury has shot into the mid-20s. It's blazing. That remark elicits an instant grin from Richard Sinthumule, a farmer and one of the brains behind Jeep Revolution — a platform for "jeepers" to play with their toys while giving back. The event can do with better organisation.
"It is not hot yet," this tall man says coolly. Oblivious that we are in autumn, trans-Capricorn temperature soars, as if fleeing gravity, to top 30° before 11am.
Villagers find respite at rivers, such as the Mutshindudi River at the Phiphidi waterfall. The forest, rocks and pool are sacred to the Venda.
Picnic spots abound near waterfalls. Thankfully, these sites are accessible to folk from villages where billowing smoke is common, thatched huts rare and mansions plenty. Many others are under construction. A huge two-storey church building, peeping behind bushes in Phiphidi, fits in but its organist's attack on the keys ruins peace on a Sunday.
Given thriving farming, mostly subsistence, locals don't know food insecurity or hunger. One of the many people pushing this line is Tshilidzi Madzivhandila, a scion of one of the local royal families who works in Tshwane as a legal officer.
After two hours of scything through greenery, as the road winds and curves, our first stop comes into view: the Tshatshingo potholes. Its holes suck in water nonstop. Watching this is hypnotising and our tour guide Makeda Khoza cautions: "Don't go there if you're tipsy." Flanking the dirt road is the Thathe Vondo sacred forest, where a plaque warns visitors to keep on the road.
As far as folklore goes, the forest is patrolled by Nethathe, a white lion. But, hey, it's all probably a "legend", offers a Limpopo lad. In response, Khoza cites a defiant visitor who ventured there only to get lost for days on end.
It gets scarier. Outsiders who have gone swimming or who have done water sports at Lake Fundudzi — a sacred site wedged between commercial interests and old-world purities — have reportedly all drowned. Clearly, this is one site where the ancients stand firm.
The absence of cellphone coverage amid road signs warning of livestock crossing add to the remoteness of this area.
A mix of dusty, bumpy, roads and pristine views makes the expedition a delight for adventure-seeking jeepers — locals and out-of-towners from as far as Gauteng where tarred and well-maintained roads are, by their off-road standards, boring. Madzivhandila agrees, before turning to the healing effect the area offers: "This felt like a spiritual excursion." It's hard to dispute.
"Most visitors are happily surprised when they come here and see the real Vhembe … some think this is a backward place because of what they see on TV. We are so poorly portrayed," chuckles Sinthumule.
Commissioning editors and fellow filmmakers would do well to take note.
"Others think you need to get a passport to come here." Zimbabwe's border is 90km away, as the crow flies, and so is Mozambique's.
Throughout the expedition the "beautiful scenery wherever you look", as Sinthumule says, will strike you into dead silence. Though short on mountains, horizon-to-horizon emerald landscape, sprinkled with expansive bodies of water, make for awesome sights.
For me, Mukumbani Bridge, a dam actually, takes the cup. This is one of those moments I wish I could savour a bit longer. And, trying to put in words this picture of serenity and pre-sunset mood, is hopeless.
Zamajobe's sublime Ndawo Yami, which could well be an ode to sites like Mukumbani, seems a natural soundtrack. On that note, as if paying homage to the rest of Limpopo, she sings of a place where the "grass is green all year [where] even winter is warm".
While watching the slowly reddening sun take a bow down there, aloft Thathe Vondo hills — with faraway Thohoyandou seeming like a green bush and Nandoni a sliver — I settle to key business: rumination.
Can anyone leave this place without sneaking into the past? It comes naturally with this canvas that, at this hour, has transformed to include a sun-bathed sky.
Taking it in, I imagine members of Mapungubwe society watching sunset from these very hills. In-between that, and childlike delight of touching the past, Zakes Mda's well-researched The Sculptors of Mapungubwe comes to mind. Leaning on archeology, he refers to a robust social and political life, a setup where economics featured agriculture and mining.
As the erudite book yanks us to the Year of the Mirror (circa 1223 CE), the tail end of this African kingdom, thriving trade and commerce have been a way of life here for centuries.
That said, the word Venda means trader, Khoza says, adding that this community was known to southerners as traders and so the name stuck. The 24-hour market my party of three encounters in the small hours underscores that spirit.
As a traditional healer and cultural worker, Khoza is not a typical tour guide. She is steeped in the history of both sides of the Limpopo, rich with facts and wont to scratch behind etymologies.
Names such as Sibasa, a town — deriving from royal family Tshivhase (18th-century Chief Thohoyandou wa Dimbanyika is the eponym of the main town in these parts) — codify centuries-old tales and traditions that continue to be celebrated.