In 2014, as a part of the Joburg Photo Umbrella at the Market Photo Workshop, taxis were covered with works from photographer Jerry Gaegane's series Marang a Letsatsi, which documents the living conditions of informal miners on the West Rand and around Johannesburg.
Six taxis on the Bree Street taxi rank's Dobsonville to Soweto route were selected. The mobile exhibition, which ran from October 24 to December 24, was an exploration of ways to create interaction between commuters and art.
This initiative became a catalyst for the taxi industry's involvement in the art world on a national level. In 2015, SA Taxi — a company that provides credit to entrepreneurs in the minibus taxi industry — initiated the SA Taxi Foundation Art award, which gives finalists an opportunity to display their artwork on 60 minibus taxis.
In 2017, the prize was awarded to Banele Khoza, a fine arts graduate from Tshwane University of Technology, for his body of work, Untitled. Khoza's work comments on what he refers to as the complexities of the African identity.
In an earlier interview with SABC News, Khoza spoke about being an African. "When I entered the competition the question I had to answer was: What does it mean to be an African? I can't answer that for everyone. Being called African or identifying as African is a problematic identity, as Africans don't share the same reality — there's a vast difference between the countries within Africa. The internet has blanketed the world and offers one a global perspective. So, identifying as anything has become a choice."
To put this message across, the taxi wrap sees Khoza using pastel blues, pinks and purples to paint crowds paying homage to commuters at congested ranks. The text lets us in on Khoza's thinking. Along the back window of the taxi is written: "Being African is an individualistic experience. Your experience is valid."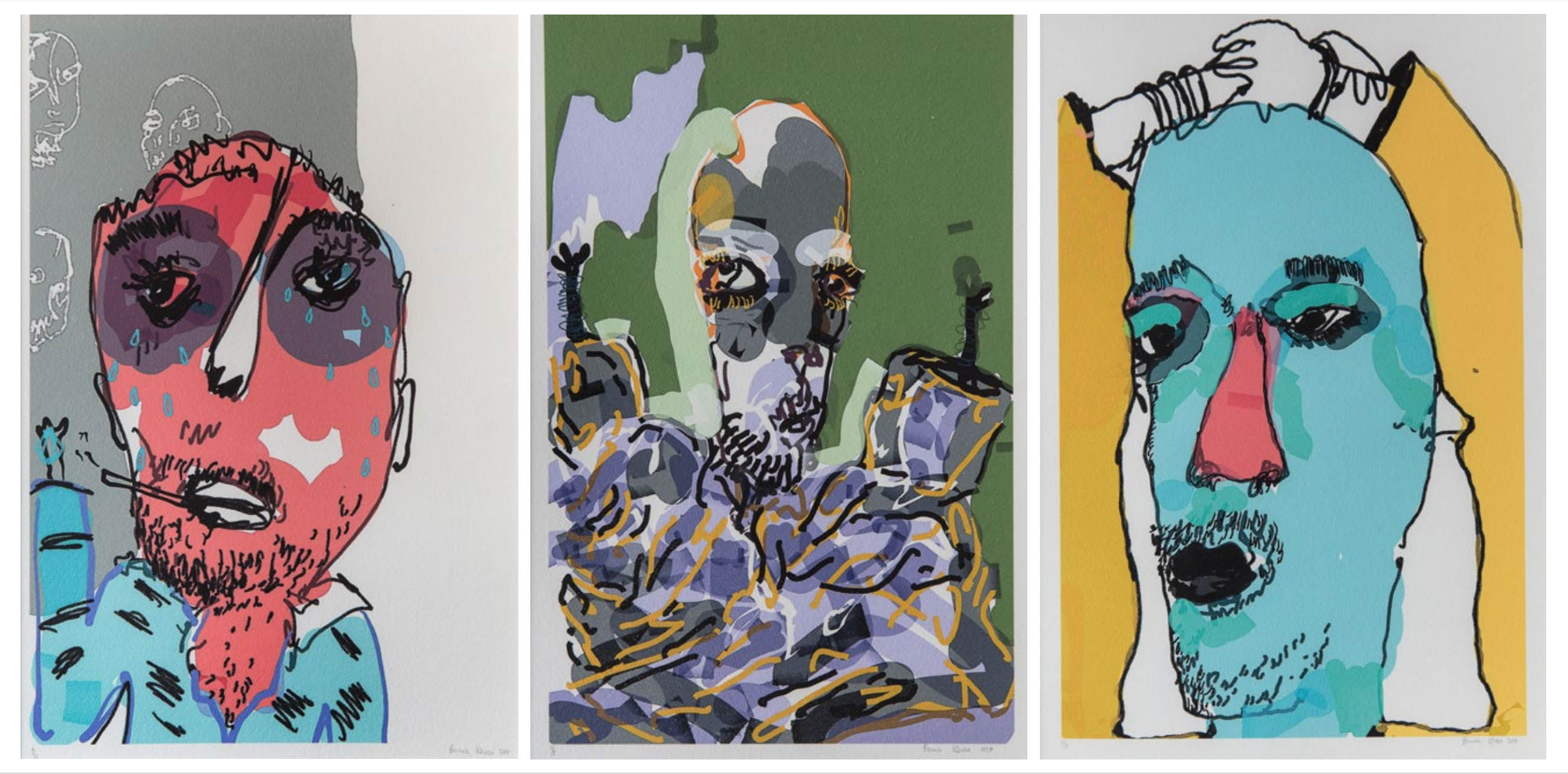 [Identity journey: Banele Khoza, winner of the SA Taxi Foundation Art award in 2017, wanted his works to explore the complexities of African identities and realities.]
In addition to winning a cash prize, his artwork was featured for six months on 10 taxis that travel national routes.
"We felt that it was important for the finalists' pieces to be constantly on view in areas such as Maboneng and the Market precinct [in Johannesburg], where people are proactively looking for fresh, innovative products," says Queeneth Brown, the co-ordinator of SA Taxi's social investment strategy.
"At the same time, the taxis running on conventional routes will promote the finalists' work to people who would not otherwise have the time or funds to go to a creative hub or to an art gallery. As they do every year, these taxis will do a crucial job in terms of giving the broader public access to art of a globally high standard."
Art continues to spread in spaces the taxi industry occupies, not only through fine art but dance too.
On busy Charlotte Maxeke Street in central Durban, the eThekwini Metropolitan Municipality christened the born-again Cartwright taxi rank in October last year. The rank was revived as part of the resuscitation of the area, which eThekwini metro mayor Zandile Gumede said would bring back the dignity of vendors, the taxi industry and the valued commuters.
The Cartwright taxi rank boasts a modern design that includes lavatories for people with disabilities, nappy-changing facilities, vehicle washing bays and stalls for small business vendors.
To prepare for the christening, the metro put out a call for graphic artists to pitch ideas for murals that would adorn the exterior walls of taxi rank. One such artist was Wesley van Eeden, who prefers to go by his street art name, Resoborg.
"We all met on site, and we were asked to propose a concept and a mock-up for the taxi rank," says Resoborg.
His relationship with taxis began in his teens when his father encouraged him to make use of public transport. "As a white boy coming from the suburbs I grew up around the culture of taxis. If I wanted to go to the beach or somewhere, I had to make my own way. So I used to catch taxis to get around for about five years, before I was able to buy my own car. Through that I developed a direct relationship with taxis," he says.
This connection is reflected in the strokes of his brush in various murals around the world. In 2014, when the Boiler Room Café in Durban commissioned him, Resoborg painted a mural of a woman carrying a load on her head and hailing a taxi. Using quiet hues of blue, grey, charcoal, white and orange, the mural glorifies uMama and the taxi.
Resoborg continued his celebration of the taxi industry in 2015 when he was commissioned by Queens College in New York. Every year, the college focuses on a country to study and 2015 was the year of South Africa. Resoborg was asked to paint a mural that would show a part of the country's culture. He created the Taxi Dance mural.
"South Africa is so diverse. There are so many different cultures; we can't really incorporate all of them. I was aware of an artist who was performing what they called the taxi dance, a dance that mimics a taxi driver. I thought it would be cool to emulate the taxi driver in the dance when I did the mural because I think that the taxi has played such a major role in mobilising the majority of South Africa."
Although the origin of the dance is contested, the dance was made popular in 2014 by the Boyz N Bucks collective and was seen in Cassper Nyovest's music video for Gusheshe. The taxi driver dance mimics the movements of aboMalume or oobhut' driver, who colour the commuters' experience with the industry. It pays homage to the drivers by immortalising the way they slouch back in their seats, the sharp twists of their necks and arms when they reverse, the way their bodies jerk when they take off at speed and the U-turns that have passengers swerving along with the vehicle.
The Taxi Dance mural, in bold oranges, pinks, greens, blacks, browns and yellows, depicts commuters and taxi drivers performing the dance. Resoborg makes use of geometric lines and subtle distortions between the commuting subjects and the shapes around them to create a oneness between the commuters and their surroundings — a sense of community not just with one another but with the space as well. This is a sense the artist says he aimed to create after spending time in the area around the rank.
"It's important for me, when I'm doing a public mural, to be considerate of the environment. I have to be considerate of where the painting goes. Does it add value to the culture? Before I did this mural I went around to interview people in the area. Art adds to an area, especially if it is culturally relevant for local people to be inspired and to have work that reflects their everyday culture, their perspectives," says Resoborg. "I think we get so much international stuff, Americanisation of music, which is fine, but that encourages people to think it's always greener and better on the other side.
"This artwork celebrates local. It celebrates what is happening here because what is happening here is interesting, it is unique and worth our attention. It's special and it's something that no other country has, you know?"
Cartwright taxi rank wears Resoborg's Taxi Dance with pride.