Equal Education's co-founder Doron Isaacs has been repeatedly accused of sexual harassment, and senior figures in the organisation, including prominent activist Zackie Achmat, have been accused of covering his tracks, an investigation by the Mail & Guardian reveals.
This has emerged from interviews with more than a dozen female Equal Education staff members, both current and former, who allege an institutional failure to address sexual harassment allegations, going back nearly a decade, and a concerted effort by the organisation to cover up the scandal. This includes three women who told the M&G they were sexually harassed by Isaacs.
Achmat's name was mentioned as someone who sought to intimidate women against speaking out. Both Isaacs and Achmat deny all the allegations against them.
READ MORE: Equal Education's call for Doron Isaacs' suspension after harassment allegations
The new allegations come at the end of an already difficult week for the civil society organisation, which campaigns for better access to education in South Africa.
On Monday, Equal Education released a statement confirming that its general secretary, Tshepo Motsepe, had resigned in April after several women made allegations of sexual harassment against him — allegations he denies. The statement came in response to questions submitted by the M&G.
The organisation did not disclose at the time — publicly or internally — that another senior official is also being investigated for sexual harassment. On Wednesday, the M&G revealed that Luyolo Mazwembe, the former head of national organising, was accused of offering a "job for sex" to a volunteer. He denies this allegation against him, but admits to "sending notes" and "promising a romantic relationship" to a volunteer.
Threats and harassment allegations
The historical sexual harassment allegations, from multiple women connected with Equal Education or in the activism space, date back to 2009 and centre on Doron Isaacs, the co-founder of the organisation and former deputy general secretary. He is currently Equal Education's treasurer, a nonexecutive role.
Isaacs denies any wrongdoing, saying that the allegations are part of a "malicious smear campaign" against him. He added that the M&G is acting at the behest of someone with a personal agenda.
The most serious allegation came from Jane — not her real name, although her identity is known to the M&G — who alleged that Isaacs "made a lot of untoward remarks to me and sent me sexually suggestive texts, asking what I was wearing and if I touch myself". She was working on a project in the activism space at the time. This behaviour culminated in Isaacs attempting to force himself on her, she claimed. "After dinner one night, he took me to a historical stone house on the top of Kalk Bay where he started to kiss me forcefully and tried to take my pants off. He is not a big guy but I still had to fight him off. He did persist for a bit, then was offended because I rejected him," she said.
Jane said after she confided in someone about the incident, Isaacs came to her house and threatened her. "He said if I dare tell anybody else I would never work in activism again in South Africa. I told him I was not scared of his threats and it seemed like I was the first person to stand up to him," she said.
Isaacs categorically denied forcing himself on Jane, and disputes the details of her account. He says they had a romantic relationship and that "this was not a first date".
"I deny in the strongest possible terms the outrageous claim that I 'attempted to remove her pants and force [myself] on her sexually'. It feels ridiculous to be saying this but I am congenitally cautious in the bedroom to the point where women have often told me to stop asking them if they are okay and just enjoy the experience," he said.
He also denies threatening to derail Jane's career. "I had no 'connections' or power to wield of any kind. I have never, ever made such a threat but if I had made it then it would have been laughable." He said he always "sought to promote a culture of openness and equality in the workplace".
After the alleged Kalk Bay incident, Jane's next step was to call Zackie Achmat, one of South Africa's most prominent activists, who was chair of Equal Education's board at the time. According to her account, Achmat told her she had brought the harassment on herself because she "wore too much make-up".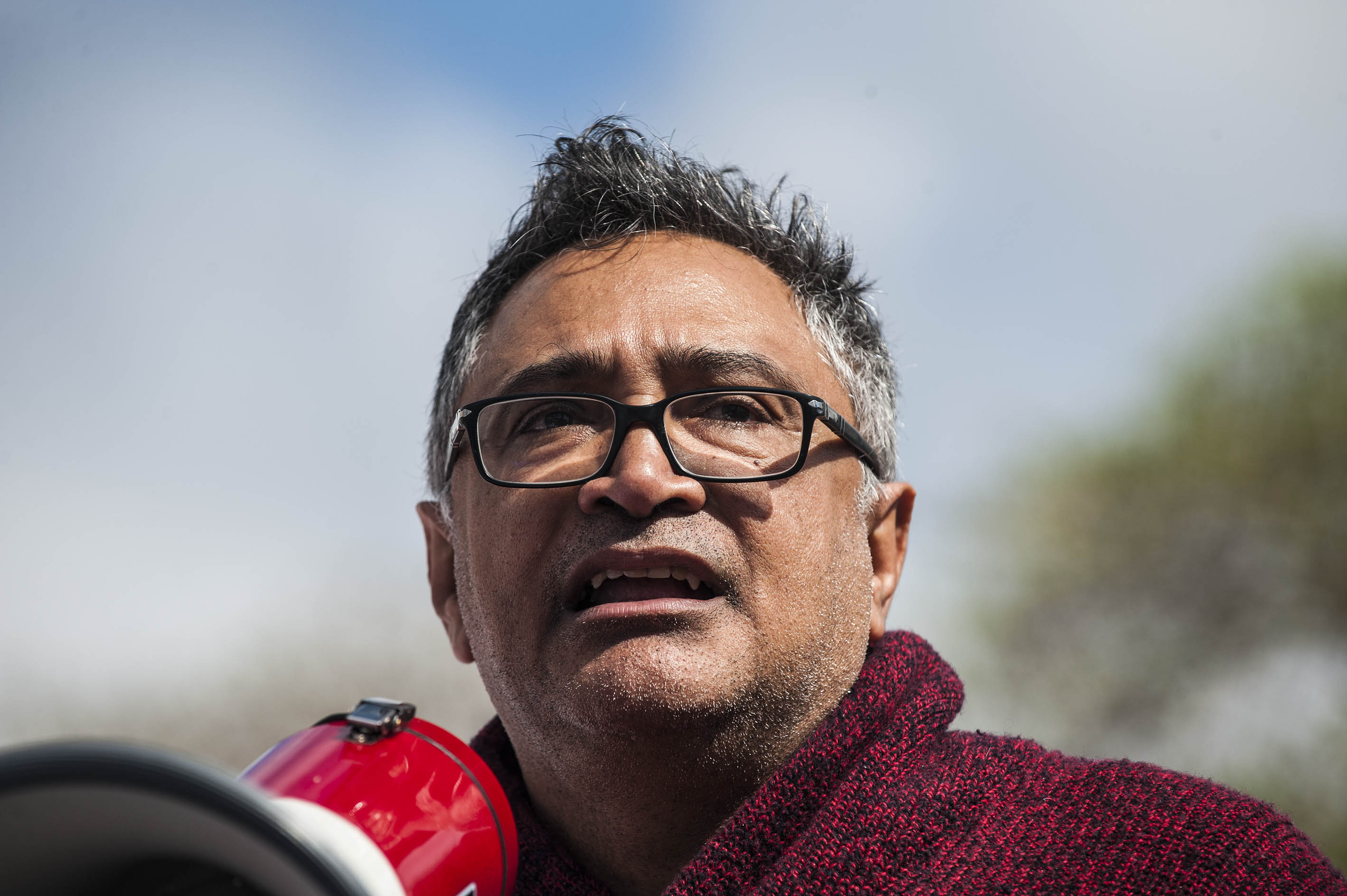 [Activist Zackie Achmat reluctantly asked for an investigation into Isaacs in 2011, in which he was absolved of wrongdoing (David Harrison)]
"He [Achmat] told me that I was a broken person and said I needed to pull myself together," she said.
Achmat denies saying any of this. "I would never tell a person that what they wear or their make-up is responsible for how men should behave towards them."
Sexual harassment at the workplace
Isaacs is also accused of sexual harassment in the workplace. The M&G spoke to current and former Equal Education staffers, volunteers and former "equalisers" — the organisation's term for high school student volunteers — who painted a consistent picture of inappropriate behaviour spanning nearly a decade.
Several women spoke about receiving inappropriate messages from Isaacs; or receiving attention from him that made them feel uncomfortable.
Isaacs said that, although he has participated in consensual online erotic chats in the past, he has never done so with Equal Education staffers, and "if ever a woman had ever expressed the slightest discomfort I would have immediately apologised and ceased."
Isaacs is "widely known as a sexual predator in these [NGO] circles", said a source close to the organisation.
But his stature within the organisation and South Africa's activist community makes it difficult for women to speak out. "It's a big thing. People know who Doron is. Doron is Equal Education. He is celebrated, but also highly feared. So how you respond to him, we all fear how it will affect your job or whatever."
Zackie Achmat's name came up repeatedly in the context of covering up for Isaacs' alleged harassment. Two women, including Jane, claimed that they were contacted and threatened by Achmat directly. There was a perception from the other sources that Achmat would intervene on Doron's behalf. "Zackie does protect Doron. There was a fear of reprisals on Doron's behalf by Zackie," said one woman.
Achmat strongly denies these allegations. "I have never threatened anyone who wished to file a complaint of sexual or other misconduct. Have I spoken firmly to people who have spread rumours or allegations of sexual or other misconduct without evidence as fact or faith? Most definitely."
Achmat added that "in response to these allegations I will ask the organisations I work with to establish an independent inquiry into my conduct to determine whether I have ever covered up sexual or other misconduct or obstructed justice for survivors".
Equal Education senior management is also accused of creating an atmosphere that did not provide support to victims of sexual harassment. "Another reason it has taken so long for people to speak out is because the women in senior management don't give you any impression that it would be safe for you to come forward. They sheltered, praised and worshipped these men. It felt like high school most of the time. If you weren't part of their crew then you would not be protected," said a source.
Controversial investigation
In 2011, rumours that Isaacs was involved in sexual harassment were flying around the organisation. To address them, Isaacs asked management to investigate the rumours.
In an email sent by Achmat to board members requesting that the investigation takes place, he first states his "discomfort with the request to examine rumours that involve adult sexual behaviour where there is no complainant", but says he was persuaded to look into them as they were "damaging to Doron Isaacs and by extension to Equal Education".
In this email he describes Isaacs as "one of the best leaders of the post-apartheid period" and said "the organisation must consider any request he makes for reparation" if claims were proven to be unfounded by the panel.
Equal Education appointed an investigation committee led by Paula Ensor, a board member. At the time she was also the dean of humanities at the University of Cape Town. Also on the four-person panel were Sean Feinberg, Michelle Adler and Nathan Geffen.
The investigation cleared Isaacs' name unconditionally, saying there was "not a shred of evidence to support any claim or suggestion that Doron had an intimate relationship with an EE intern …
"We thank Doron for bringing these concerns first to the attention of the Equal Education management committee, and subsequently for writing to the chairperson of the board to indicate that the matter required his attention," it concluded.
But sources have raised serious questions about the impartiality of the panel, and whether due process was properly followed. Concerns were raised about the closeness of the relationship between the members of the investigating committee and Isaacs.
Another source, who conducted an informal parallel investigation of her own at the time, told the M&G that Ensor had conducted the investigation in a way that "definitely protected Doron".
Ensor says the investigation was conducted fairly and following all due process. "In my view there was not a conflict of interest. I was not close to Doron at that stage … I believe we carried out our mandate. If there are doubts about fairness, I would strongly encourage a re-opening of the investigation [so] that it can be decisively laid to rest."
Equal Education has now constituted an independent panel, "which will examine EE's record of dealing with mistreatment in the workplace, EE's policies and procedures in regard to sexual harassment, and the organisational norms and culture which currently exist at EE".
Note: This article has been updated to reflect the fact that Equal Education is in the process of constituting and independent panel into sexual harassment (the article originally stated that it had already been constituted). It also removed mention of Clare Ballard as leader of this panel — she is in fact a member of a separate panel investigating sexual harassment allegations against Tsepho Motsepe.
Read Equal Education's response below.