Land-related protests in Cape Town continued this week despite a zero-tolerance approach from the city — and racial tensions between coloured and black people were being stoked by disaffected Mitchells Plain residents.
"We've been here since before the arrival of Jan van Riebeeck and these people arrive here from the Eastern Cape," Fadiel Adams proclaims from a piece of vacant land in Woodlands, Mitchells Plain, which residents occupied this week. "They have no claim to this land. They should be happy that we welcome them and have always welcomed them. But they don't wanna share; they want it all."
READ MORE: City of Cape Town pushes for "zero tolerance" on land protests
It's Tuesday and the land is scattered with people hammering in wooden pegs and picking up rubber bullets — remnants of their clashes with the police on Monday afternoon.
A crowd forms around Adams as he speaks about an apparent government conspiracy against coloured people. "Coloured people are being told to shut up and sit down. We refuse to shut up and sit down. This government is waging a housing, employment and economic war on us. They won't give it to us … So we will get as physical as they can, and this government knows nobody can wage a war like the Cape Flats [can]."
Adams is the administrator of the Facebook group Gatvol Capetonian, which has about 6 500 followers. He has been traversing Cape Town during May to advocate for coloured people to seize vacant land illegally.
He has found support for his views on black people since a video of his rant against residents of the nearby Siqalo informal settlement went viral on social media.
Adams helped to organise a protest by Mitchells Plain residents against Siqalo residents in which black and coloured people faced off at the beginning of May. Siqalo residents agitating for better services blocked the M7 highway, but were pelted with stones and shot at by Mitchells Plain residents unhappy that they were being prevented from going to work.
On Monday, shots were fired at the police as the anti-land invasion unit moved in to clear the patch of land. In the chaos that followed, at least five spaza shops, a petrol station and a car parts retailer were looted.
The following day, Adams arrived to give his support to Woodlands residents in a "Gatvol Capetonian" T-shirt, bearing the group's slogan: "The only good politician is a dead politician."
Woodlands is almost entirely made up of flats and semidetached houses, "and it's rare to find a backyard without a wendy [shack]", says resident Latifah Meyer. The area has a mostly coloured population and an unemployment rate of close to 50%.
The Gatvol Capetonian message resonated with many protesters this week, and some have even reached out to Adams's team to secure land.
"I'm in contact with them. I sent a message last night to the admin of Gatvol Capetonian and asked: 'Can I also put up a shack on the land, because we're waiting for years?' And he said yes, but we must protest," says Gabieba Rademeyer.
Woodlands resident Sulaiman Johannes was hit in the leg by rubber bullets during the protests on Monday but the next day he hobbled back to the land to dig a hole to anchor his shack, his crutches lying next to him.
READ MORE: Land hunger spreads across Cape
Johannes says the land occupation is based on legitimate demands and Gatvol Capetonian is merely trying to gain traction during a tense period in the area's coloured suburbs.
"It's not about being told to protest; we are really gatvol, my brother. You can see coloured people in other areas doing the same thing and it's all because of Siqalo. There's no way they can get houses and they are not even Kapenaars," he says.
Rademeyer says the Siqalo situation may have been the tipping point, but the Cape Flats housing crisis has long threatened to ignite a full-scale revolution among coloured people.
Johannes believes the Woodlands protest started because of the perceived success of the Siqalo demonstration, which ignited anger against people from the Eastern Cape who have moved to Cape Town to find houses and jobs.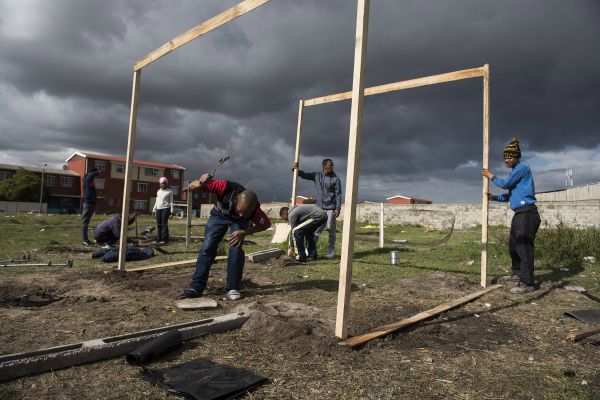 [Race clash: Residents (above) return to the land they occupied in Woodlands, Mitchells Plain, after clashes with the police. (David Harrison/M&G)]
"They came here [Woodlands] to mark off plots for themselves. Then we saw it and said we will take this land, not people from the Eastern Cape," Johannes says.
Adams adds: "The ANC should have industrialised the Eastern Cape and cultivated business there, so people don't have to migrate at the rate of 40 000 every month and … after six months, demand a house," Longtime Woodlands resident Fareed Hendricks says the land occupations have turned racist because of the influx of people from other provinces.
"We've been waiting all these years for houses and then the people from the Eastern Cape arrive and protest, and they are given houses. How fair is this? Is it because they are black? Are we not black enough?" he asks.
About his controversial remarks, Adams says: "Then let it come across as racist. I'm telling you the truth. The fact that these people live like this is because the government is more interested in giving black people jobs and black people housing."
He admits to preaching the same message to residents in Parkwood, Vrygrond and Ocean View — the scenes of violent protests over the past two weeks — and says he will continue to agitate for a "coloured revolution" and land occupation.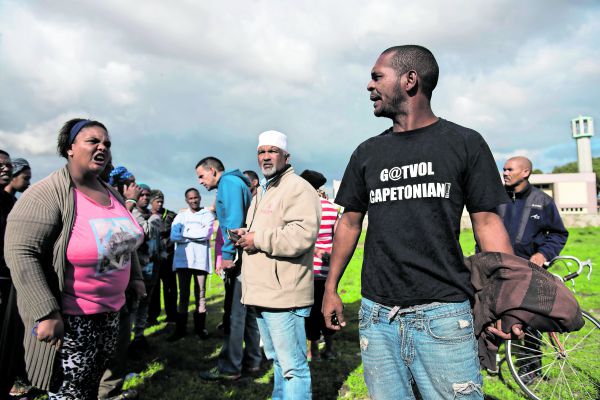 [Fadiel Adams (above), administrator of Gatvol Capetonians, organised the protest against the residents of Siqalo informal settlement who blocked the M7 in protest for better services but they were attacked by the Mitchells Plain residents. (David Harrison/M&G)]
"We are going countrywide to show support. Wherever there is a coloured person not getting a house or a job, Gatvol Capetonian will be there," Adams says.
In Parkwood, residents occupied vacant land next to the highway in protest against overpopulation in the suburb's backyards. In Vrygrond, protests erupted after people living in a cluster of shacks were evicted for building on private property. In Ocean View, people took to the streets after being evicted for not paying rent, despite claiming otherwise.
The Gatvol Capetonian group has also caught the attention of Cape Town officials. This week, JP Smith, the mayoral committee member for safety and security, ignited outrage when he alleged that there was a "third force" involved in the protests.
Smith told the Mail & Guardian the city had "been informed" that cash had been paid to "specific persons" to spur protests. The city is adamant that suspicious activity is behind the protests rather than legitimate concerns for basic housing. Divisive rhetoric has been a common thread in all the protests, Smith said.
"Listen to the hate messages being circulated. They are very similar and are designed to inflame conflict between communities in conflict. We can't prove who is driving it … We are told that specific persons are being paid to drive conflict but there is also a devious social media campaign to spread hate and division."
[Waging war: Residents of Siqalo informal settlement blocked the M7 in protest for better services but they were attacked by backyard dwellers from Mitchells Plain. (David Harrison/M&G)]
He said the city was still investigating who was stoking the protests but accused Adams of sowing conflict and of spreading "continuous misinformation about the respective roles of different spheres of government to try and blame the city for failures of national government".
Although some residents of Woodlands, Parkwood and Vrygrond said they agreed with Gatvol Capetonian's rhetoric, none of them had been paid to occupy land or protest.
Adams also claims his group is not behind the protests: "We simply support them."
But the group is viewed by some as a threat and an anti-Gatvol Capetonian online forum has emerged, started by the Bishop Lavis Action Committee (Blac).
"It was Gatvol Capetonian that made a public call for land occupation by coloured people," Blac's Abdul Matthews says. "It comes from individuals that make outright calls for incitement to violence. And we need to dispel the notion that coloured people agree with them."
Meanwhile in Siqalo, the recent rains have flooded the main gravel road between the shacks and the row of mobile toilets.
Timothy Nkosana (70) says the racism from Mitchells Plain residents caught him off guard.
"They undermined us. And they still do it. But we are also just like them. We suffer just like them. For instance, backyarders, they suffer as we suffer. I don't know what is the difference. Is it because they are mostly white or what? I don't know," Nkosana said.
"Eastern Cape and Western Cape, we are one country … We are South African people, all of us. It's our country."