Struggling state airline SAA is splurging millions on executives and consulting firms in a spending frenzy that has been described as "worrying".
Its recently appointed chief executive, Vuyani Jarana, has said the increased expenditure is necessary to address a severe skills shortage.
The Mail & Guardian has established that SAA, which last week received yet another R5‑billion bailout from the treasury, is paying R25‑million to Deutsche Bank in a deal to analyse its financials and restructure its debt.
The latest bailout, which some insiders say has already been used up, brings to R20‑billion the amount of emergency cash the government has sunk into SAA in the past 12 months.
Some of this cash, the M&G can today reveal, has gone towards seven expensive new executive appointments, upgrading some executive positions, and paying expensive foreign consultants for work that, according to pundits, could be done locally.
This is at a time when the airline, which reported losses of R5.6‑billion in the 2016-2017 financial year, has shed a staggering R3.8‑billion in revenue by cutting several domestic and international routes, and is paying for at least 50 pilots and cabin crew who have no work to do.
Internal documents seen by the M&G show the extent of Jarana's spend since taking the job in November. This includes the fact that:
• SAA has hired a new general manager for legal, risk and compliance, Mpati Qofa, at a salary of R4.2‑million — double that of her predecessor, Ursula Fikelepi;
• SAA is paying chief restructuring officer Peter Davies R6‑million a year as well as three consultants, who each earn €1 000 a day;
• Thabang Motsohi, a regulatory policy officer in Jarana's office, earns R4‑million a year; and
• Robert Newsome, the acting head of risk and compliance, is on a R2.5‑million package. He is being investigated by the South African Institute of Chartered Accountants for allegedly failing to declare a conflict of interest when he chaired an internal disciplinary hearing at SAA.
These appointments are among 13 new ones, some of which have been slotted into new executive positions created by Jarana.
These include acting chief financial officer Robert Head, whose remuneration SAA has declined to confirm. This is despite Head being an executive at a state entity, meaning that his package should be in the public domain.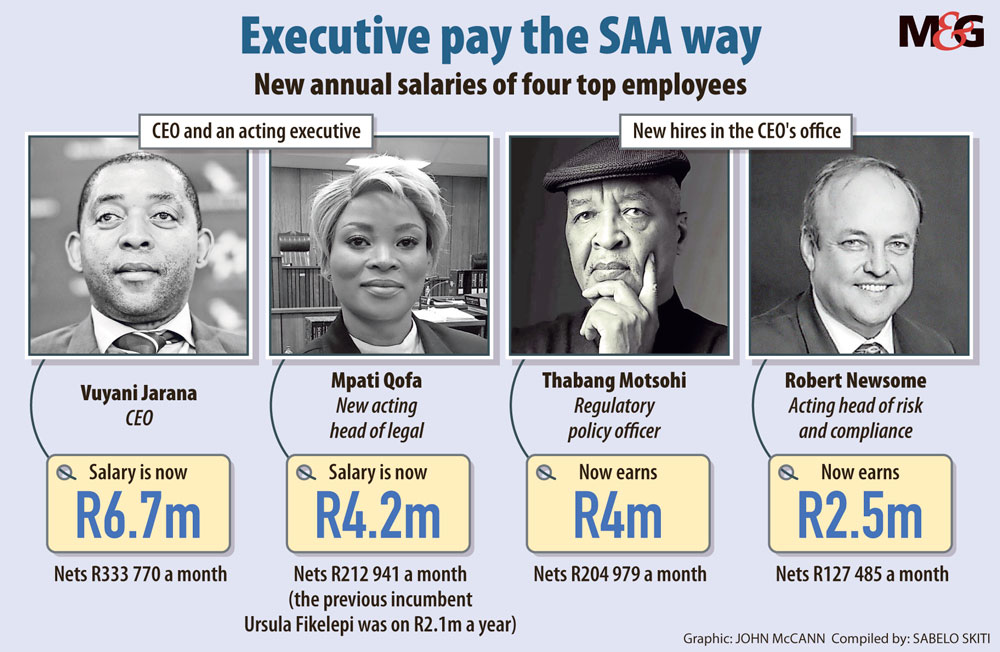 However, two senior insiders at the airline claim that his package is in the region of R1‑million a month.
SAA spokesperson Tlali Tlali said the airline would not comment on "confidential" employees' salaries, adding that SAA was seen by job-seekers as an unattractive prospect.
"To attract skilled people to SAA, we have had to pitch [to prospective employees] a comprehensive proposition of the case to turn SAA around and a commitment to the country, as well as offer competitive remuneration which is in line with the broader market."
The current spending spree at SAA is in direct contradiction with recent moves by state power utility Eskom — another parastatal in the same boat as SAA — to curb staff costs.Public sector unions are in a standoff with Eskom's management over an announcement this week that there would be no salary increases and no bonuses for top management.
The SAA insiders who raised the alarm about Jarana's expenditure have questioned the logic behind the increased costs, including bringing in European consultants and a German bank, when optimising routes and reducing the fleet had trimmed R3‑billion from the airline's revenue.
"What has happened is that artificially you've raised your costs so high that it actually does not make sense any more for your cost-containment measures … So, where is the money coming from?" said one source.
"Even the R5‑billion that they got the other day is gone because they were owing suppliers, and some were not even paid."
The insider continued: "Outside, there are people who will ask these questions and say: 'If you are taking away volume but you are not cutting your costs proportionately, how do you claim you are going to make money?'"
Another said: "Why are you hiring more people at the most expensive levels in the company when you have not concluded the process of reorganising the company structure with a view to shed jobs?"
The source also questioned the wisdom of the Deutsche Bank deal — which the bank declined to comment on. The M&G understands the R25‑million is a 40% discount on Deutsche Bank's usual fee.
"Analysing financials is something any chartered accountant can do. What is it that warrants the payment of R25‑million?" the insider asked.
Tlali said the deal was necessary as SAA did not have the capacity to restructure its R9.2‑billion debt, which matures next March.
He also said the Boeing pilots had been added to the Airbus roster, and were not being paid for doing nothing. "What is real, though, and we have been open about it is that we have excess pilots and we are busy finding ways to address the challenge.
Tlali also insisted SAA's strategy to cut back on routes was bearing fruit, as lost revenues were being made up by subsidiary Mango's expansion into the low-cost segment of the sector.
"The strategy is about balancing revenue and profitability, especially at a gross profit level. The results we are seeing are improving margins, with an increase in load factors in both Mango and SAA, which means the strategy is working," he said.
Aviation expert Dr Joachim Vermooten said one of SAA's biggest issues stemmed from a massive network expansion drive in 2012 that was not based on "real market demand", as well as the unrealistic use of wide-bodied aircraft in the domestic market.
"In order to fix this, you have to reduce your scale of operations overall and you have to cut costs. The two actually go together … You need to have a balance in that," he said.
SAA's focus for many years, he said, had been to fund past losses at the expense of ongoing activities, which were draining money "at an incredible rate".
"There are positive things, but the overall issue is the cost at which they are doing it. There are probably cheaper and more knowledgeable resources in South Africa. You have to remember that SAA was successfully restructured in about 2007 up to 2010, and produced profits."
The high level of spending started in March, when Jarana appointed United Kingdom-based security company Control Risks on a R35‑million, two-year contract to provide security to five senior people at SAA, including himself. SAA later rescinded the award, following media inquiries.
The insider said SAA's board —which had apparently approved the security contract on an emergency basis without any evidence of a credible threat — was failing to hold Jarana to account for his spending.
"What is Remco's [SAA remuneration subcommittee of the board] role in this?" Tlali said the appointments met SAA's governance requirements.
SAA appeared before Parliament's standing committee on finance on Wednesday and asked for part of its submission to be closed to the media.
Democratic Alliance spokesperson on finance David Maynier said it was hard for parliamentarians to "get to grips on what is really going on at South African Airways" because of the airline's insistence on secrecy.
"An outrageous narrative, suggesting that the state-owned national airline is not competitive because it is subjected to higher levels of transparency than its competitors from the private sector, is being driven," he said in Parliament.
"What concerns me is that finance committee meetings, dealing with the crisis at the national airline, will be closed in the future, using a fig leaf marked 'market-sensitive issues'."
In December, the airline was also warned by the treasury when it tried to apply for deviations from procurement requirements.