Food is laid out on a trail of white paper in the street. As the sun sinks lower, the moment for sounding the call to prayer comes closer to relieve hungry Muslims. In Manenberg, Bonteheuwel and the Bo-Kaap, the streets are shutting down as the religious ritual of breaking the Ramadan fast has now become a protest to reclaim their streets.
The ritual is different in each community. In the Bo-Kaap, they block the main road with rocks. In Manenberg, a red-and-white tape is stretched across the road. A police van stands in front of the tape with its blue lights turned on. In Bonteheuwel, cars simply park across the street to block traffic.
Manenberg is at peace. Every Ramadan a truce is called, and the gangs put their guns away because many of the leaders identify as Muslim. As Eid gets nearer, the community starts to feel fear seeping in again, because the end of the holy month marks the end of the peace.
In Bonteheuwel, the shooting goes on for hours each day. When the shooting stops, neighbours gossip about how many rounds were fired the day before.
Bo-Kaap residents believe their houses and heritage are under siege. Private developers and higher rates are putting pressure on families to fight for their homes. A group of youngsters protests every evening, but their battle is not about gangs.
In each of these communities, they come to a mass boeka.
Youngsters sit along the stretch of white paper, the boys with fezzes on their heads and the girls' little faces peeking through their scarves. In the Bo-Kaap and Manenberg, adults dish up warm, meaty curried rice, known as akhni, from pots. In Bonteheuwel, there is soup and boeber, a Cape Malay sweet milk drink. They all have the basics expected when one breaks the fast, dates and water, and they have something else, too: the urge to take back their streets.
Manenberg
There's an avenue that runs through Manenberg known simply as "Die Laan". It's the nucleus of the vast area from which taxis can take you out of Manenberg, a tuckshop can sell you an ice-cold cool drink or, on a bad day, any one of the big gangs can gun you down. Last Friday, a portion of Die Laan — 500m of street that runs from Blue Downs Road to Renoster Walk — was shut down.
The decision to block this stretch had been a considered one: the Hard Livings gang controls the area beyond Blue Downs Road, and the Americans gang dominates the area beyond Renoster Walk. Between the two turfs, where the street was shut down, is a buffer zone of neutral territory so that the two gangs don't live next door to one another. "The boeka started at the Hard Livings and ended at the Americans. We wanted to tell these people they must come together," says Salieg Isaacs, a schoolteacher and youth development co-coordinator at the Muslim Judicial Council.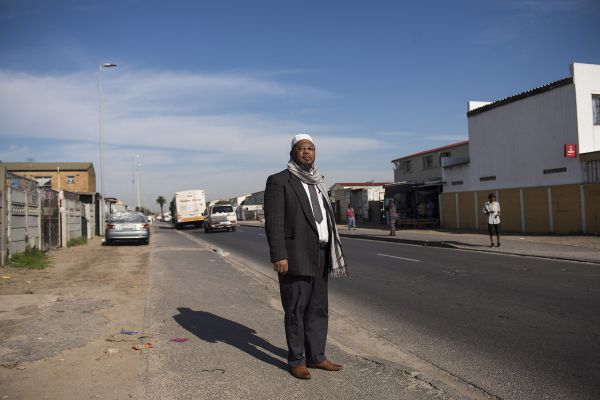 [Meanwhile, Manenberg teacher Salieg Isaacs (above) shows 'Die Laan', where mass boekas were held to break the fast. (David Harrison/M&G)]
Isaacs helped to organise the gathering. He grew up in Manenberg in the 1970s and remains tied to the area. "We wanted to show the people of Manenberg how to take back their streets and the parks also. How can two parks have four gangsters standing and operating there and control the movement [of people]?" he said.
Ebrahim Rossouw knows all about movement being restricted. The 21-year-old is no gangster but in the past, when he's found himself in the streets during a shooting, he's pretended to be one just to escape. When the gang wars rage, he stays inside his house and plays video games.
"If they shoot, we can't even walk in our own street. You can't even look for work. My mother can't sit by the door or look through the window," he says.
It's a sunny afternoon and, although there's a winter chill, Rossouw is enjoying having the freedom to sit outside in the back of a bakkie with his friends. When we speak there's just a few more days left of Ramadan, and he fears the shooting will resume after Eid this week.
A youngster with bleached curls sidles up to us. He stretches a hand out to David Harrison, our photographer, and opens it with his palm facing upward. There's a round tablet there. "Mandrax," he says.
The word "boss" is pressed into the tablet. And the young man, who looks no older than 20, smiles as though he is the boss.
Rossouw looks on from the bakkie. He watched the boeka unfold last Friday and believes efforts to reclaim the streets are necessary. He thinks it will take a different method to deal with the gangs.
READ MORE: Bo-Kaap unites in protest to hold onto heritage
"They must just kill them as a community. Our coloured people don't stand together. If you do a crime by the Africans, they will burn you out. They will put a tyre around you and burn you. The Africans stand as one," he says, as his friends murmur in agreement.
For decades, Isaacs has called for a peaceful solution to the crisis in Manenberg. He tried mass dhikrs (prayers recited in remembrance of Allah) in the parks where gangs fought and he helped to negotiate a truce so schoolkids could write their June exams in 2015 and 2016. Isaacs believes that, if Manenberg residents can occupy their own streets, there will be less for the gangsters to control. The boeka, he says, was a way to unite the community to do that work.
"If you block off the Laan, then that incident will be spoken of and people will mention in it Manenberg for a long time," he says.
Bonteheuwel
They all know Nadia Mayman de Grass. When they shoot or sell drugs, they may remember that she was once their teacher or they may simply know her as the aunty who calls the cops every time she sees a boy with a gun.
In Bonteheuwel, a coloured township, gangs dominate each street. Mayman de Grass, a founding member of the Bonteheuwel Joint Peace Forum, has been trying to stop the violence with marches and calls to the police. But in the past month she joined with other groups to find a different way to bring her community together.
"We decided to take a different approach, where we have the mass boeka where we're going to protest for peace and for unity rather than protest against anything [else]," she says.
The boeka was held last Saturday in neutral territory on Jakkalsvlei Avenue, a main road in Bonteheuwel. It's one of the few roads that is considered safe to drive along.
Although Manenberg obtained a permit from the municipality to host its mass boeka, Mayman de Grass was fed up with city officials. An application for a permit was hand-delivered, but the city denied the request. Mayman de Grass said the city suggested that a field be used instead.
"Nobody is telling the gangsters: 'Hey, don't shoot in the Laan, go shoot in the field.' Yet here's a group of people who want to advocate for peace and unity, and authorities are telling us to find a field somewhere," she says.
She's a single mother of four children. Her youngest is her 16-year-old son. He attends boarding school because his mother fears he will die in gang violence. When he's home for the weekend he stays indoors, but even the gangs know who his mother is. Their street is controlled by the Fancy Boys.
"I chat to them often. These are kids that grew up in front of me. I also taught at school, so these kids were in my class. They're in the rival gangs now but they used to be in the same class. They were in the same athletics teams, on the same soccer teams. I don't know what went wrong and today they're killing each other."
It's hard to tell if any of the boys were at the boeka because residents can't always identify them. But already there have been two other mass boekas in Bonteheuwel, organised by different people. "If they, God forbid, choose to do something to me, I fought the righteous fight," Mayman de Grass says.
Bo-Kaap
It began in the Bo-Kaap in late May. A group of young men, who form part of the Bo-Kaap Youth Movement (BKYM), stood outside the mosque one night after taraweh (an evening prayer) and wondered what they could do to unite their community.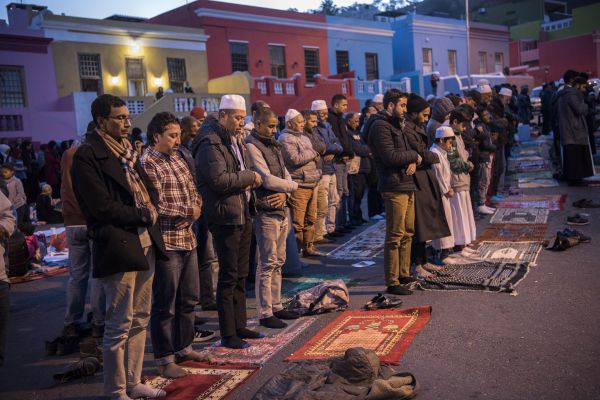 [Our history: Men pray after breaking the fast during the holy month, when Bo-Kaap residents filled the streets to reassert their ownership of the suburb renowned for its colourful houses. (Rodger Bosch/AFP)]
Since almost the beginning of Ramadan, at 5pm every evening the BKYM had been burning tyres to block traffic from accessing Wale Street. But they decided to change tack. The boeka, they figured, was a better way to unite people who disagreed with burning tyres while still blocking the street as a form of protest.
"We had no plan. We just said we were going to go there and block the road. Some guy spotted [sponsored] us white paper, as like a table. It was so cool because we thought people didn't like us because we are the troublemakers. At first we didn't want anyone to know that we were the ones organising it," says Saud Gamiet.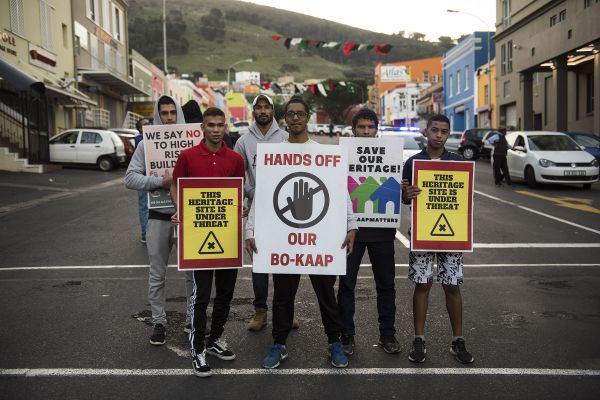 ['No to high-rises': Bo-Kaap protester Saud Gamiet (centre) and others say the area's heritage is being destroyed. (David Harrison/M&G)]
Their protest is to have Bo-Kaap declared a national heritage site and to stop gentrification in the area known for its colourful houses. Ward councillor Brandon Golding appeared at one of the mass boekas in the Bo-Kaap to say that parts of the area are provincial heritage sites and he understood why residents were protesting.
But Gamiet believes Golding and the City of Cape Town are taking them "for a ride". The BKYM refused to apply for a permit from the city because they saw the boeka as an act of reclaiming the streets and believed the city had no place interfering in that. The mass boekas have been held for three consecutive Fridays. The first was a quiet affair, but the second drew people from all over Cape Town who, after seeing pictures of the first boeka, braved the cold to attend the second.
Isaacs watched as people flocked to the Bo-Kaap. He knows that wealthy Capetonians feel safer in pretty Bo-Kaap than in Manenberg.
"I noticed there were a lot of high-profile organisations that attended the Bo-Kaap one, and this one in Manenberg is much more important. The social problems in Manenberg are, like, 5 000 times more. I'm not insensitive to Bo-Kaap; I was born there," he says.
"We want to break that perception that Bo-Kaap is a better place. There's drugs there also … Everywhere, in Sea Point and Llandudno, there's people with drugs there as well. Sometimes the main ou [merchant] lives there."
Eid is expected to be on Friday, and the Bo-Kaap plans to host a mass Eid salaah (prayer). Manenberg is considering one as well. Bonteheuwel may simply hope for a day of peace.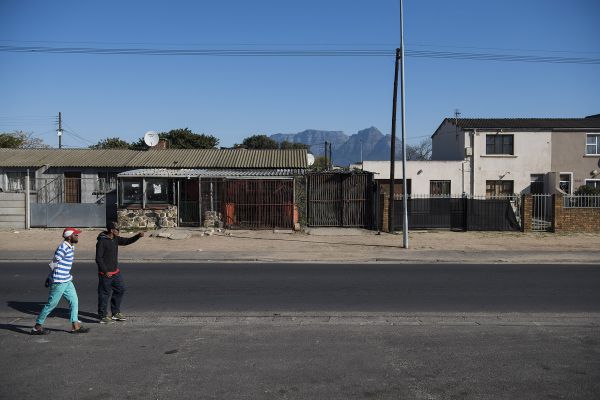 [Protesting for peace: Bonteheuwel has had moments of quiet during the boekas, but gang warfare still continues every day. (David Harrison/M&G)]
Rossouw has lived in Manenberg all his life. He wants an end to the violence so people can move on with their lives.
"They [the gangs are] fighting for a road, but they will die fighting and the road will still be standing," he says.