None of the residents of Barcelona 2, an eThekwini municipality transit camp in Lamontville in South Durban, wants to be there.
Most were moved there eight years ago when their homes in nearby informal settlements were bulldozed by the city. The more than 500 families, most of them originally from the Eastern Cape, were promised RDP houses in Lamontville within six months.
When this failed to materialise — their houses were occupied by a group of ANC and South African National Civic Organisation members who said they were Umkhonto weSizwe veterans — they made the best of the camp and tried to turn it into a home.
The corrugated-iron rooms have been divided into living and cooking areas, and gardens have been planted. There are several spaza shops selling vegetables. A concrete slab next to one of the ablution blocks in the centre of the camp has been turned into a meeting area.
Last Friday, nearly 50 residents were evicted — many while they were at work — by the city's anti-land invasions unit, backed by the South African Police Service and the metro police. They were replaced by residents from another informal settlement from the same ward, whose shacks were demolished by the city last week.
On Monday, lawyers for Abahlali baseMjondolo, the shack residents movement that has been mobilising in Barcelona, secured a spoliation order in the Durban high court, arguing that the residents had been wrongfully deprived of their right of possession. The order, which the city did not oppose, halted the evictions and instructed the city to allow the residents to return to their homes.
READ MORE: Judges can no longer lawfully order evictions that leave people homeless
"We don't want to be here, but we have nowhere else to go," Ellen Jantjies, one of the evicted residents, told Mail & Guardian on Wednesday. "We were moved into these tins by the municipality. They told us we were going to get RDPs. That was during the 2010 World Cup. We're still waiting."
She added: "This place is designed to keep people for six months. We've been here eight years. The conditions are terrible. It's spring now and it will be flooded all over here. We don't mind if the city moves us to the houses they promised us, but they can't just throw us out like that."
Nomonde Nyembezi (29) was shot in the leg with a rubber bullet during Friday's evictions, which were carried out without a court order. "They just came and took my things outside of my room," said Nyembezi.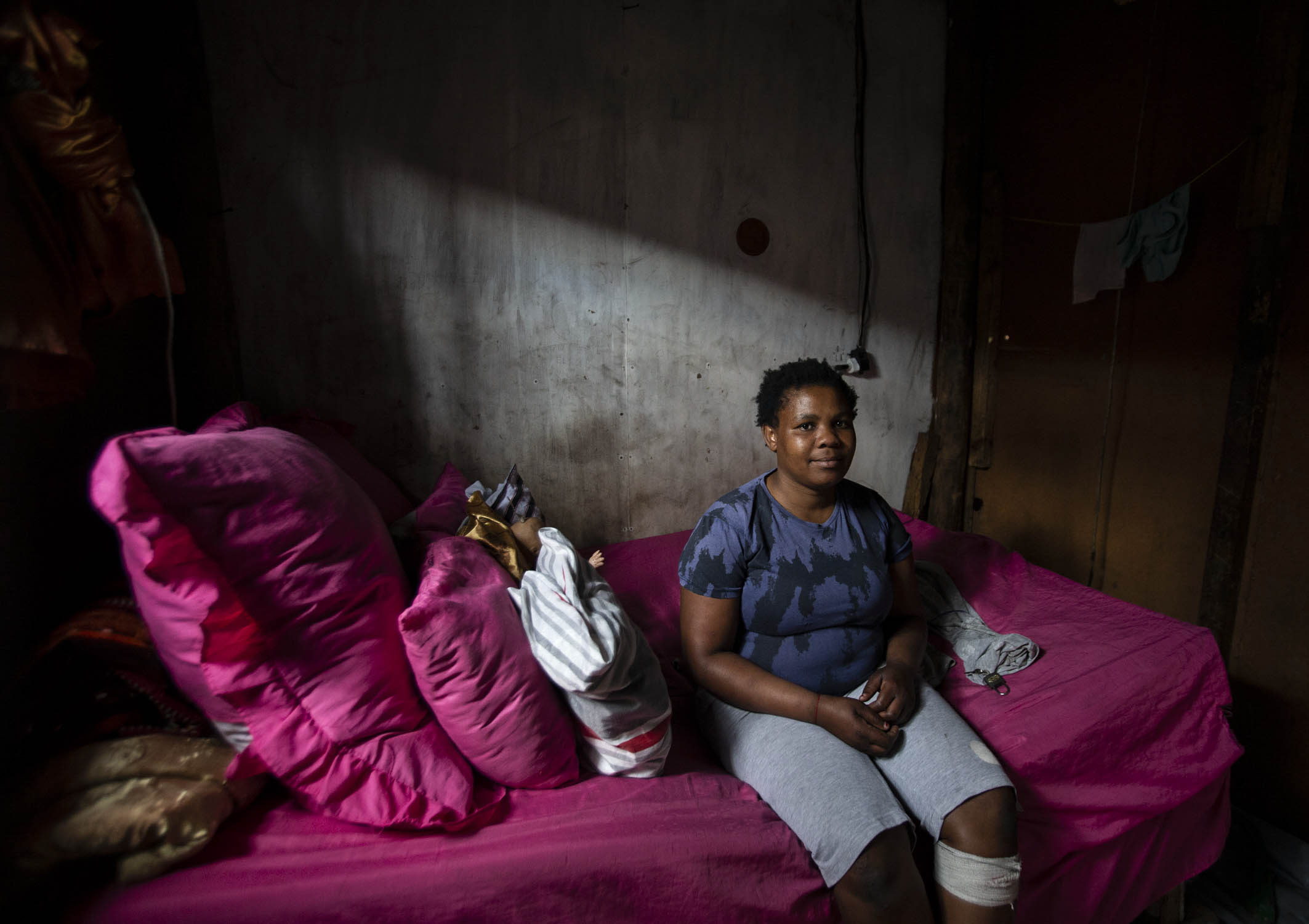 [Where the fight is: Nomonde Nyembezi was shot with a rubber bullet during the eviction campaign. She says she spent the weekend on the streets. (Rogan Ward)]
"They told us we couldn't stay here any more. While my things were still outside, another woman came and started to move in. We started arguing. She called the security. They shot me in the leg with the rubber bullet. She slapped me on the face.''
Nyembezi returned to her house on Tuesday after the ward councillor, Eunice Khanyile, had the new residents who replaced them moved to a hall at the nearby SJ Smith (Wema) Hostel.
"I spent the weekend sleeping outside. I couldn't go back to hospital to have my leg treated because I had to look after my belongings. This is wrong, what they did to me. I don't have anywhere I can go to," Nyembezi said.
Comfort Bam was busy rebuilding his wall unit, damaged in the eviction, on Wednesday. "I came from work to find my stuff outside and my door broken," said Bam, who hails from Mount Frere in the Eastern Cape. "They told us to go back to where we came from, just like that. They called us amaMpondo and told us to get out. We are citizens of South Africa, but they told us, just like that. No court order, no nothing."
Bam didn't only lose his belongings in the eviction. His employer, a local distribution company, fired him when he didn't turn up for work on Monday. "I couldn't leave my things lying in the open and go to work. When I went there today, my boss didn't want to understand. This has cost me everything,'' he said.
Abahlali's general secretary, Thapelo Mohapi, said the movement believes the eviction was sparked by statements in council last week by the ANC chief whip, Nelly Nyanisa, that Abahlali was making the city "ungovernable" and that they would "deal with" the movement.
"It's pretty obvious that this is them dealing with us. The mayor has made it clear that she wants to destroy our movement and this is their way of going about it," Mohapi said.
"There was no justification for the eviction. They did not even come to court to oppose the [spoliation] application because they knew their actions were illegal, that they were breaking the law and violating the Constitution."
READ MORE: SA's road to freedom is stalked by death
The evictions come after the killing of Abahlali leader Sifiso Ngcobo in Marianhill last month. Ngcobo, the chairperson of Abahlali in Ehlathini, Dassenhoek, was shot seven times by three men who attacked him at his home.
No arrests have been made in connection with the killing of Ngcobo or the shooting of another Abahlali member, Ndumiso Mnguni, the same week. According to the organisation, eight of its members were killed during the eight-month period leading up to Ngcobo's murder.
City spokespeople did not respond to a series of questions from the M&G at the time of writing. Nyanisa did not answer calls on her cellphone.