Afghanistan is the home of high quality heroin, and is producing more of it than ever before. Last year an estimated 328 000 hectares of arable land were devoted to growing the poppies from which the drug is derived, a 65% increase on the year before.
This presents drug traffickers with a unique challenge: with so much heroin being produced, how can they get their product to the lucrative markets of Europe and North America? Especially considering that the usual smuggling routes, via the Balkans or Central Asia, are increasingly unstable, thanks to conflict and better law enforcement.
The answer to this illicit business dilemma is increasingly being found along Africa's eastern seaboard, where a combination of long coastlines and poor governance makes for near-ideal conditions for drug trafficking, new research shows. Drugs can be smuggled in to Somalia, Kenya, Tanzania and Mozambique with relative ease, while South Africa's corrupt ports and international trade links make it an ideal base for export to the west.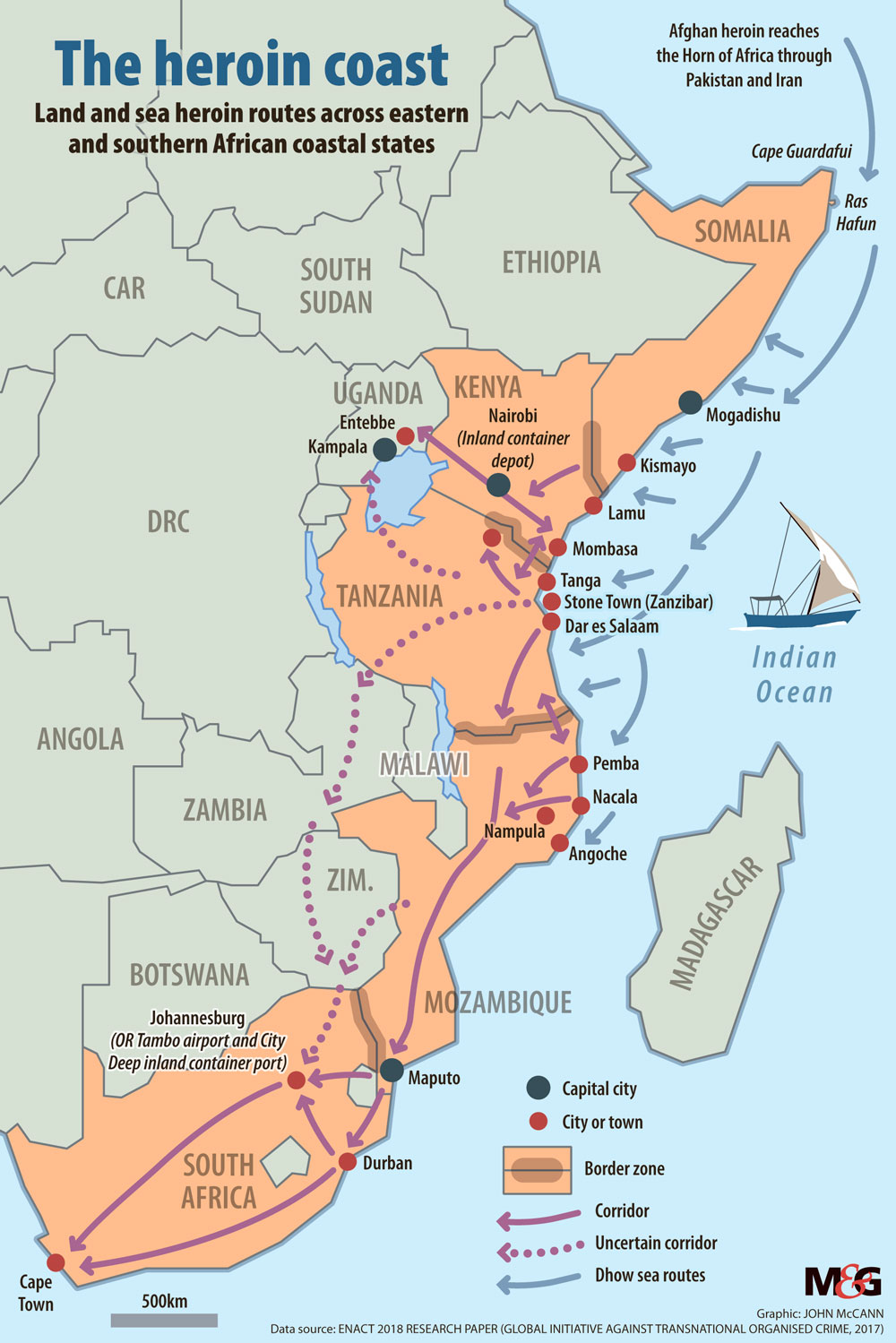 These countries are not just heroin transit hubs, however, and have been impacted deeply by the increase in the drug trade: not only is heroin use is rising dramatically in the region, but politics and politicians are becoming increasingly intertwined with organised crime networks.
"In recent years, the volume of heroin shipped from Afghanistan along a network of maritime routes in East and southern Africa appears to have increased considerably. Most of this heroin is destined for Western markets, but there is a spin-off trade for local consumption," concluded a new report released by the Enhancing Africa's Response to Transnational Organised Crime initiative.
Estimates suggest that between 22 and 40 tonnes of heroin are being smuggled along this 'southern route' annually. In Mozambique, the problem is so pronounced that heroin is thought to be the country's second largest export, according to researcher Joseph Hanlon.
Global trade
The report, based on over 240 interviews in seven countries with people connected with the drug trade, explains in detail how the route works.
It begins, of course, in Afghanistan, where poppies are processed into opium paste. This paste is moved to Pakistan, where it is refined into heroin. From there, wooden seagoing dhows transport it to somewhere along the east African coast, in batches of between 100 kg and 1000 kg.
The dhows don't usually make landfall. Anchored in international waters, they are met by flotillas of small boats which ferry smaller quantities of the drug to nearby beaches, islands or coves; or sometimes even directly to commercial ports. This route is used all year round, except for during the three month-long monsoon season, which makes the waters too choppy.
Once it hits the shore, most but not all of the heroin is trucked to ports in South Africa, including Johannesburg's notoriously corrupt City Deep container terminal. It is repackaged again and put on flights or container ships to Europe or North America, sometimes disguised in shipments of fruit or wine, which are not usually treated as suspicious by customs authorities.
Local consequences
Not all of the heroin makes it out of the region. Some of it is skimmed off bigger shipments and sold locally, fuelling a dramatic increase in heroin addiction rates and associated health issues like Hepatitis C. Larger cities, like Cape Town and Johannesburg, have their own relatively robust heroin markets.
According to the 2017 World Drug Report, the African continent is currently experiencing a sharp increase in heroin use.
In South Africa, the heroin crisis is a regular feature in news headlines – although it is not always recognised as such.
"In South Africa people have been observing it without realising what they are looking at for a very long time. The reporting on local consumption of heroin is very obscured by the fact that people are using different words to describe it. One city thinks it has a nyaope crisis, one thinks it has an unga crisis, another think it has a woonga crisis, and people don't realise that they are observing the same phenomenon," said Simone Haysom, a co-author of the report. Nyaope, unga and woonga are all forms of low-grade heroin mixed with bulking agents. The heroin trade is also a major factor fuelling the gang wars in Cape Town and Johannesburg.
But an even bigger impact of the new popularity of the 'southern route' for drug trafficking may be on the politics of the countries involved.
"What was most striking was the degree to which this illicit economy had become a crucial part of the functioning of politics," said Haysom.
Kenya is probably the clearest example of this. Several high-profile politicians, including Mombasa governor Hassan Joho and Nairobi governor Mike Sonko, have been implicated in the drugs trade in a report made to Kenya's parliament. They deny these allegations.
In Mozambique, the relationship between drug traffickers and senior officials within the ruling party dates back decades, and has provided a major source of income for the party. In South Africa, this relationship is more nuanced, but no less troubling:
"The research did not turn up any direct links between the heroin trade and the political establishment, but there are long-standing allegations of political protection of the South African drug trade more broadly, and in particular of corrupt relationships between gang figures and foreign mafiosos, and individual ministers, senior policemen and even the ex-president [Jacob Zuma] himself. As in the other countries discussed in this report, the links between the drug trade and state officials are only part of a broader picture of criminal penetration and capture of state institutions," the report said.
---
Uber for heroin
Drug traffickers are embracing the gig economy, says researcher Joseph Hanlon. In a paper for the London School of Economics, Hanlon described how technology is changing how drug networks operate in East Africa, with a new reliance on smartphones and flexible freelance workers. This model that echoes the approach of major tech companies like Uber and AirBnb.
"The new model is looser and more flexible, using drivers, fishers and others for individual pick ups and deliveries – just like delivery services in New York or London," he said. "People are contracted and paid for specific jobs, and often assigned by mobile phone using WhatsApp or BlackBerry, which are encrypted. Thus a driver of a boat owner may just receive a WhatsApp message telling them to go to a particular point to collect a heroin parcel ― just like calling an Uber taxi. Sometimes those employed are already involved in the illegal trade of timber, ivory, fuel, liquor, and cigarettes."