When we entered the warehouse floor that morning, we were immediately enveloped by the buzz of activity around us. The place was filled with automobiles of every kind and humans lusting after them. Up front were the more luxurious sports cars: Mercedes, Porsche, BMW and the like. They were the kinds of cars I never dreamt of owning because of their impracticality. The deeper you wove yourself into the room, the less desirable the cars became. The cars at the end of the room were meant for the optimists, like my father, who believed anything could be salvaged. People walked about, pen and paper in hand, on a mission to hunt down their targets. I was clueless. There I was, a first-time buyer with a pitiful R45 000 in my virtual pocket, hoping to get a functional, yet presentable car without having to co-own it with a bank.
The little I knew of auctions was what I had seen on television; a fast-talking man in a tux, a gavel, numbered paddles and neat white rows of Wimbledon chairs. There wasn't any of that here. Here, it seemed, people congregated around the cars and the auctioneer was a balding white man standing on a step ladder in company overalls. Instead of paddles, laminated numbers were handed out to those who had registered to bid. I was grateful that my father was the one who would handle the make-believe paddle.
Almost as soon as we arrived, my father left the pack (comprising him, me, my mother, my sister and my mother's friend, who had told my parents about the auction house) and went on the prowl. His strategy was to divide and conquer. Being a practical man, he went straight to the middle of the room and immediately made friends with one of the employees working the floor. Soon enough he came to fetch us to look at a 2005 Toyota Tazz. It was red, my favourite colour at the time. But it was a Tazz. I knew I couldn't afford the Hyundai i20 he dragged me away from, but surely not a Tazz. That was an appropriate first car maybe 10 years ago.
"Lesang," he began, "as long as a car's body is still in good shape, you can fix the rest."
Right on cue, my mother interjected, "No, we don't want a car that's constantly going to need to be fixed."
"No, Thandi. You don't know. A Toyota is reliable and has cheap parts. You can't go wrong with a Toyota."
My sister and I looked at each other. A Tazz though?
It was probably an hour before the auction began that I saw the one I wanted. It was black, sleek and compact. It was closer to the back, so I knew it might fall within my price range, but not so far back that it would have my mother calling me every 15 minutes to check if I was okay every time I left the house. Citroën C2. Créative Technologie. Granted, it bordered on the sports car senselessness, what with the two doors, but the interior was more up my alley and my generation. My sister and I got into the car and imagined all the Sho't Lefts we would take. All the women in my entourage agreed that the car suited me. Someone even went as far as to say that it seemed as if it had been made especially for me. Yet, with all the affirmation, I still needed to convince the man with the fake paddle.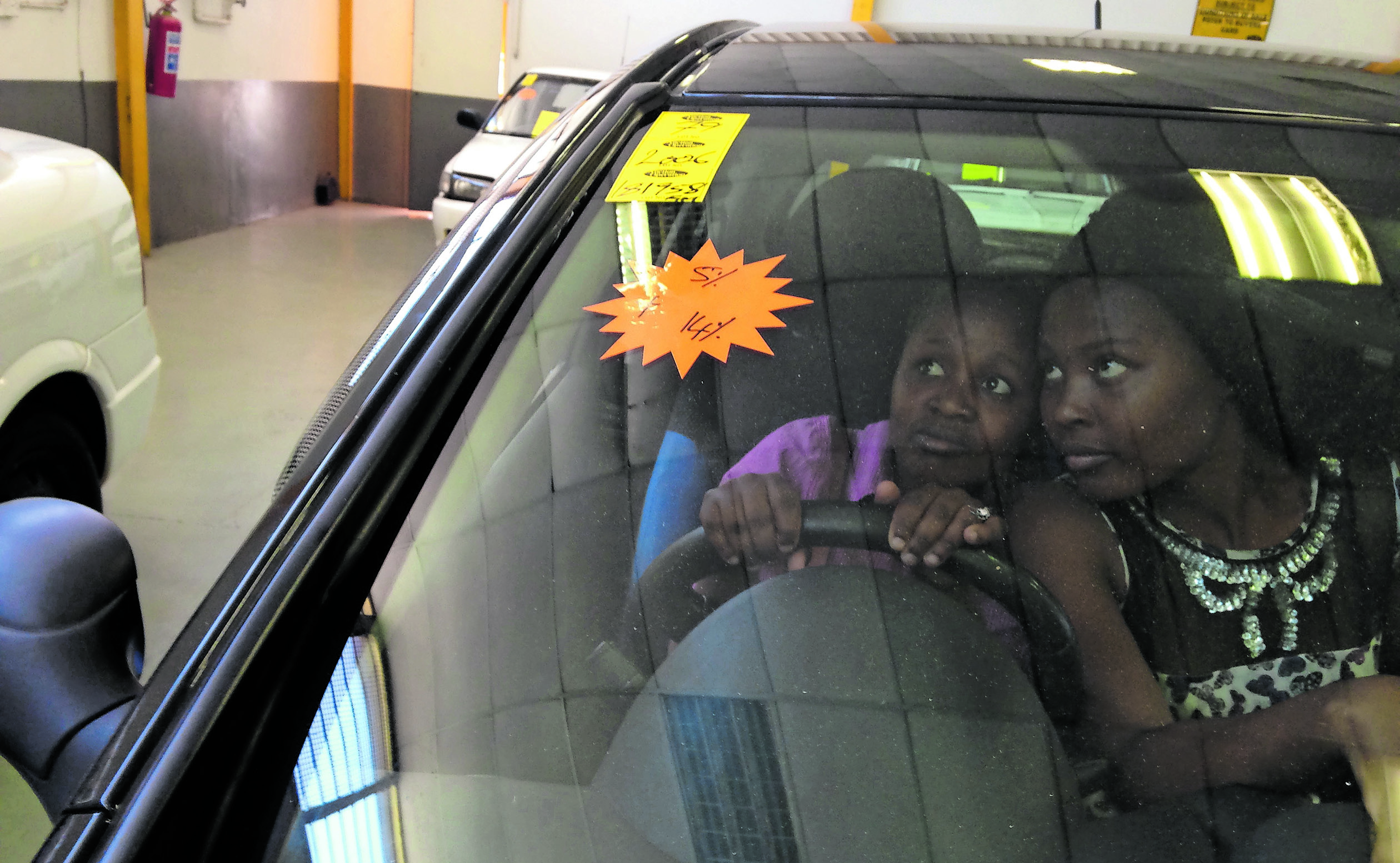 When my father came over, he simply looked at it and said, "A French car?"
"Oui!" I wanted to respond but instead went on to ramble all the facts I had found out from the lady working that section of the floor. "Its mileage is not awful; barely 200k. Not bad for a seven-year-old car. It has a good service history and the previous owner was a woman."
In the 15 minutes it had taken me to fall in love with the black beauty, I had also learned the tricks of buying a pre-loved car. I neglected to mention that the car had had an accident before, so when my father brought it up, I diverted to his focus to how great the body of the car was. After another failed attempt at selling the Tazz to me, he relented.
The bidding for the car began at R20 000. There were three or four other serious bidders who ran the price up to R37 000. We closed it at R37 500. The total, including the 14% VAT and 5% commission, was R44 625. We had just made it. It was mine! I couldn't believe it. I had a car. Almost a year into my first job and a month after getting my licence, I had a car! My elation was enough to drown out the lingering grumbles about how Toyota is the brand to get and how parts for a Citroën were hard to find outside of a dealership.
Skidonk is the Afrikaans slang word for a less than new car. It is often used as a term of endearment, for said car that might not be the most reliable thing you own. I reckon it might have been a faux pas on my part to bequeath my new-to-me car that name. We lasted almost two full years together before it utterly gave up on me.
The road to the two-year mark was not a smooth one. In addition to the tyre, oil and battery change basics my father had taught me, in the 20 months with the Citroën, I had learned how to kick-start a car using three different methods, bypass the petrol tank mechanism with a screwdriver and use the top half of a plastic Coke bottle for refills when I was stuck in the middle of the road because the gauge decided it wanted to go on holiday.
I also learned how to operate a car being towed by a Tazz from Sunninghill to Zola because the gears had stopped working. All valuable lessons, my father would remark just before he descended into the "I told you so" speech.
I finally gave up on my French skidonk when the cost of getting a new gearbox cost almost a quarter of what I had bought it for. Ironically, even three years after the car started gathering dust in our backyard, my father was the one who still believed that it would one day drive again. I left him in that belief when I decided to co-own a new car with a bank. It was a reliable, affordable and father-approved Toyota.