From afar, the rectangular windows that line the five floors of Johannesburg's Transwerke Building look as though they are covered by slightly open wooden shutters that keep what's inside the building a mystery.
Up close it is apparent that the dust-covered shutters are made of glass and only look black because they lead into dark, vacant rooms.
Although Transwerke stands strong after 75 years, it has lost some of the pigment its ancient paint job provided. Close up to the exterior, its character blossoms like pimples covered by foundation.
TRANSWERKE: It wears its name in bold marble letters that stubbornly stay in place while the rest of the exterior wears away above the entrance.
The first Queen Victoria Maternity Hospital was built by James Loban and Sons in 1904. The design was the work of Allen Wilson, who was commissioned by the Guild of Loyal Women. This was a gathering of Dutch and English women, who remained loyal to the queen of England. They formed the guild to maintain the spirit of loyalty to their homeland while in South Africa.
It was located in Doornfontein on Siemert Road, and had 50 beds.
After a few decades there was a need for expansion so, in 1939, architect Gordon Leith designed the new home of the Queen Victoria Maternity Hospital. The new location was about 2km away, below the Old Fort. In 1910, a prison for women had been built near the Old Fort.
On May 10 1943, the building was completed. The new Queen Vic Maternity Hospital with its 185 beds, was no longer just a temporary home for mothers-to-be, it was also a boarding facility for midwives.
Afterthe apartheid government came into power in 1948, the hospital was renamed Transwerke.
Women who were detained for matters such as brewing beer illegally and transgressing pass laws were held at the women's prison.
They endured a different fate to those in Transwerke. They were not supplied with underwear and sanitary pads, and they had to wash in outdoor showers, visible to people in the surrounding office blocks.
Women who were incarcerated while pregnant remained in custody but received visits from Transwerke midwives for prenatal care and births.
The hospital ran successfully until the Old Fort, Number Four and the women's prison were closed in 1983. The precinct stood vacant until 1995.
"It was vacant until new management came on board, when the Constitutional Court was built and the prison became a heritage site in 1995," says Constitution Hill's public programmes director, Reuben Pasha.
Seventy-five years later, the Transwerke building is establishing itself as a hub for matters related to arts and culture."Restorations are underway. We have restored the ground floor and given it to young, upcoming creatives. It's a mix of people and organisations, about 20 of them," says Pasha.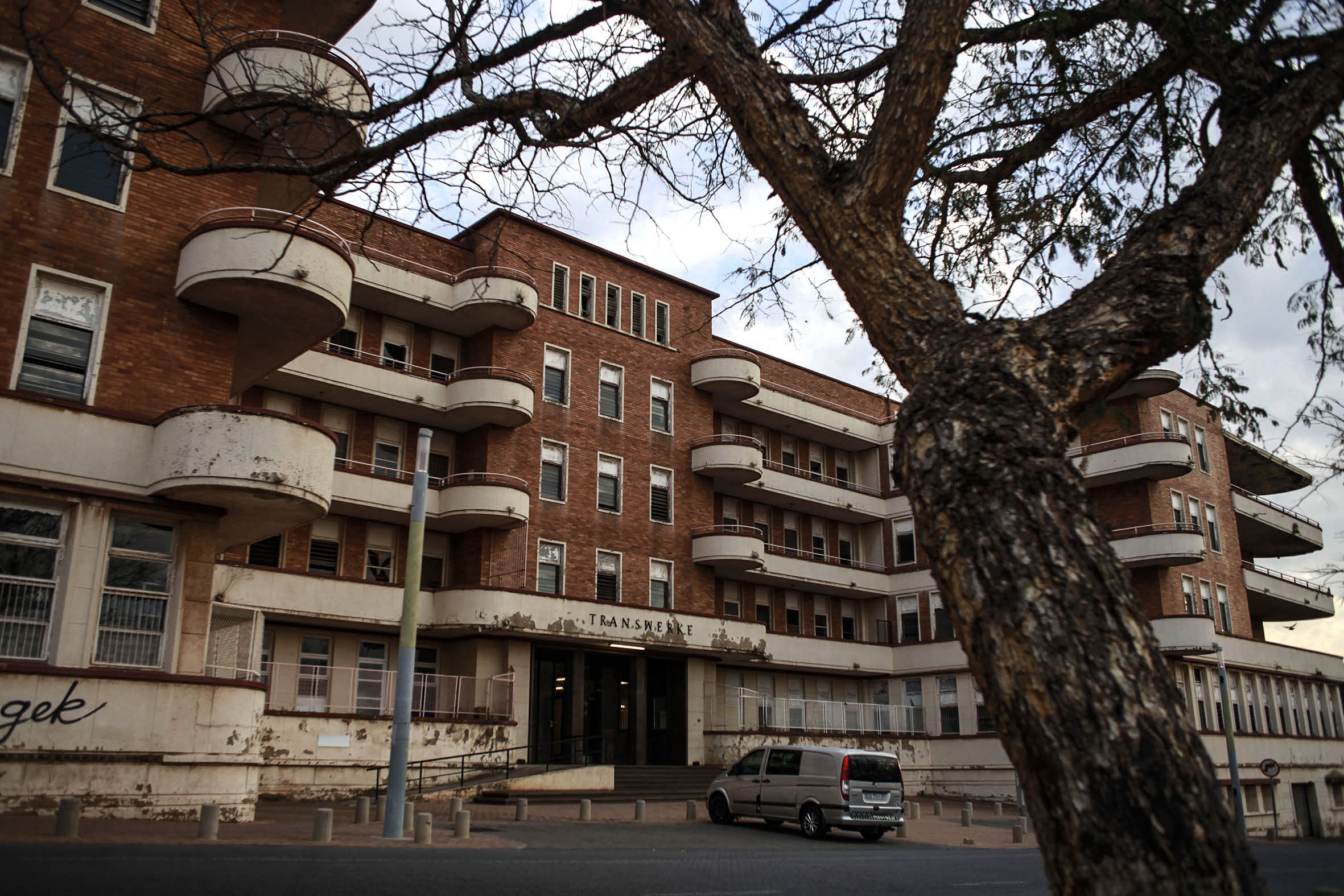 [The current state of the Transwerke Building which is now home for artistic endeavours (Photo: Oupa Nkosi/ M&G)]
Some of the tenants include the Visual Arts Network of South Africa, portrait photographers such as Leroy Jason and Victor Dlamini, the Sello Maake ka Ncube Foundation and painter Mandlenkosi Mavengere.
Inside, Transwerke is quiet and cold with low ceilings.
Because only the first floor has been restored, I wander up the small flight of stairs or ramps until I reach dead ends. There is nothing on the concrete walls that match the floors in colour and smooth texture. No natural lights seeps into the hallways, which are dimly lit by bulbs covered by translucent white spheres.
Every door is closed. But behind them, creativity has begun to blossom and call Transwerke home. In contrast to the dark, narrow hallways, natural light pours into the refurbished units and bounces off the white walls to create well-lit and spacious spaces.
Until now, Transwerke has sat quietly among heritage sites such as the Constitutional Court and the Women's Jail museum, gently speaking to the presence and importance of women in the history that established the Constitution Hill precinct as a heritage site. Today, it is shedding its old skin and coming into its new artistic being.