While 96 municipalities across the country are scrambling to negotiate payment agreements with Eskom for overdue bills that amount to R27.8-billion, local businesses are fighting to pay Eskom directly, bypassing the municipalities, in a bid to keep the local economies going.
By this week Eskom had signed 56 payment agreements with municipalities and was a respondent in at least three court cases to prevent the utility from cutting off power for between four and seven hours a day.
But the cuts are inevitable, Eskom said this week, and have been happening since September last year.
"Eskom has interrupted supply to a total of 17 municipalities," said Eskom spokesperson Dikatso Mothae. "Initially the interruption was for four and a halfhours a day. In some cases the interruptions were extended to six and a half hours a day and the next step would be for 14 hours a day. No municipality has been interrupted for 14 hours a day [yet],"
This final step of 14-hour interruptions may soon become a reality for municipalities such as Emfuleni in Gauteng and Maluti-a-Phofung in the Free State.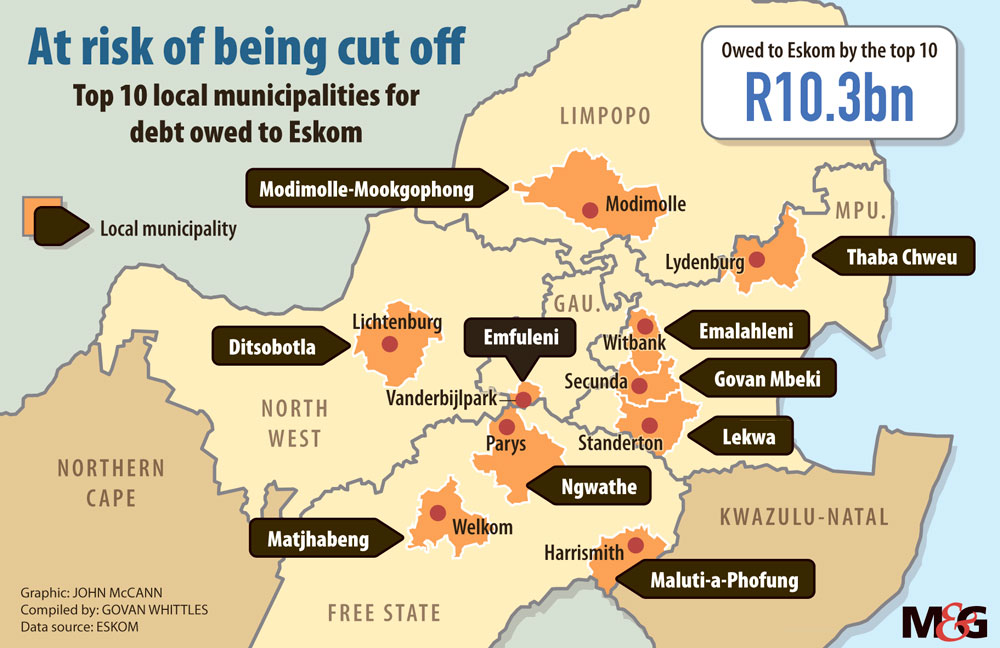 The repossession of Emfuleni's fleet of government vehicles this week further hurt the wounded municipality, which was placed under administration by the Gauteng provincial government after it was declared bankrupt in January this year.
More than 70% of Emfuleni's gross domestic product is based on the steel mills and metal manufacturing industry, which now faces 14-hour blackouts because of the municipality's nonpayment. These companies have now applied to the high court in Johannesburg to prevent blackouts in Vereeniging, Vanderbijlpark, Sebokeng, Boipatong, Tshepiso, Sharpeville and Evaton.
Maluti-a-Phofung tops Eskom's list of municipalities that owe it money for power supply, with a bill of R3-billion, nearly half of the entire provincial bill of R6.7-billion, Mothae said.
Co-operative Governance Minister Zweli Mkhize's inter-ministerial committee on electricity distribution and reticulation has been managing talks between municipalities and Eskom about the payment agreements.
This week, Mkhize told the National Council of Provinces that municipalities believed they were getting a bad deal from Eskom.
"There are concerns from municipalities about the interest that the utility charges on the overdue amount[s]," he said. "Eskom also needs to be engaged over the tariffs they charge municipalities for bulk electricity, and the interest charged on municipal debt."
Mkhize said the committee was concerned about the tension between Eskom and the municipalities about servicing customers—both hold licences with the National Energy Regulator of South Africa to supply electricity.
The metal producers and local cash-and-carry stores in Emfuleni are hoping to exploit this tension, and will argue in the high court next week that they wish to pay Eskom directly.
They are being represented by the Opposition to Urban Tolling Alliance, whose head of legal services, advocate Stefanie Fick, said: "Eskom agreed to hold off on the power cuts until the interdict application is heard, because the courts still need to decide whether these companies can pay Eskom directly."
Department of public enterprises spokesperson Adrian Lackay said the Eskom board had oversight of the payment agreement negotiations and power cuts.