The visibility of black practitioners in the South African visual arts is a favourable indication of a transformed cultural industry. It is a visibility that is fashioned on the desired democracy that deserves celebration. Such is the rhetoric of unreflective, depoliticised optimists who opt to paint a false reality of South Africa's continuing legacy of colonial apartheid. Convenient examples of this cosmetic transformation of this art world are said to be the increasing exhibitions and art awards worn by black artists in recent years locally and internationally. Such exhibitions are many and are growing in numbers, not to mention their splendid quality and professionalism that are comparable with international trademark. The prices and sales of artworks by select black artists have also swollen. And art audiences are feasting on these artworks, with some dealers and collectors competing over selling and possessing them.
These developments are owed to the incredible work and investment made by local commercial galleries such as the Stevenson, Goodman, Everard Read, SMAC, MOMO, WHATIFTHEWORLD and Blank Projects that are regulars at the FNB Joburg Art Fair and Invest Cape Town Art Fair. The Goodman Gallery, Stevenson Gallery and Blank Projects deserve commendation for also representing their artists at reputable international art fairs such as Art Basel, Frieze and Armory as well as Africa-focused fairs like 1:54 in London and New York, and Also Known As Africa in Paris.
The contemporary black artists who are producing innovative and fresh artworks deserve the local and international recognition and accolades they are currently receiving. Nicholas Hlobo, Zanele Muholi, Robin Rhode, Kemang Wa Lehulere, Dineo Seshee Bopape and Mary Sibande are among a dozen that are parading the global art arena. The likes of Turiya Magadlela, Igshaan Adams, Lady Skollie, Sethembile Msezane and Buhlebezwe Siwani are slowly though certainly carving their visual presence and mark, too. Gabi Ngcobo is doing more than well internationally, having (together with her team) curated the 10th Berlin Biennale and appointed one of the members of the Finding Committee that is responsible for selecting the next Artistic Director of Documenta 15 (2022).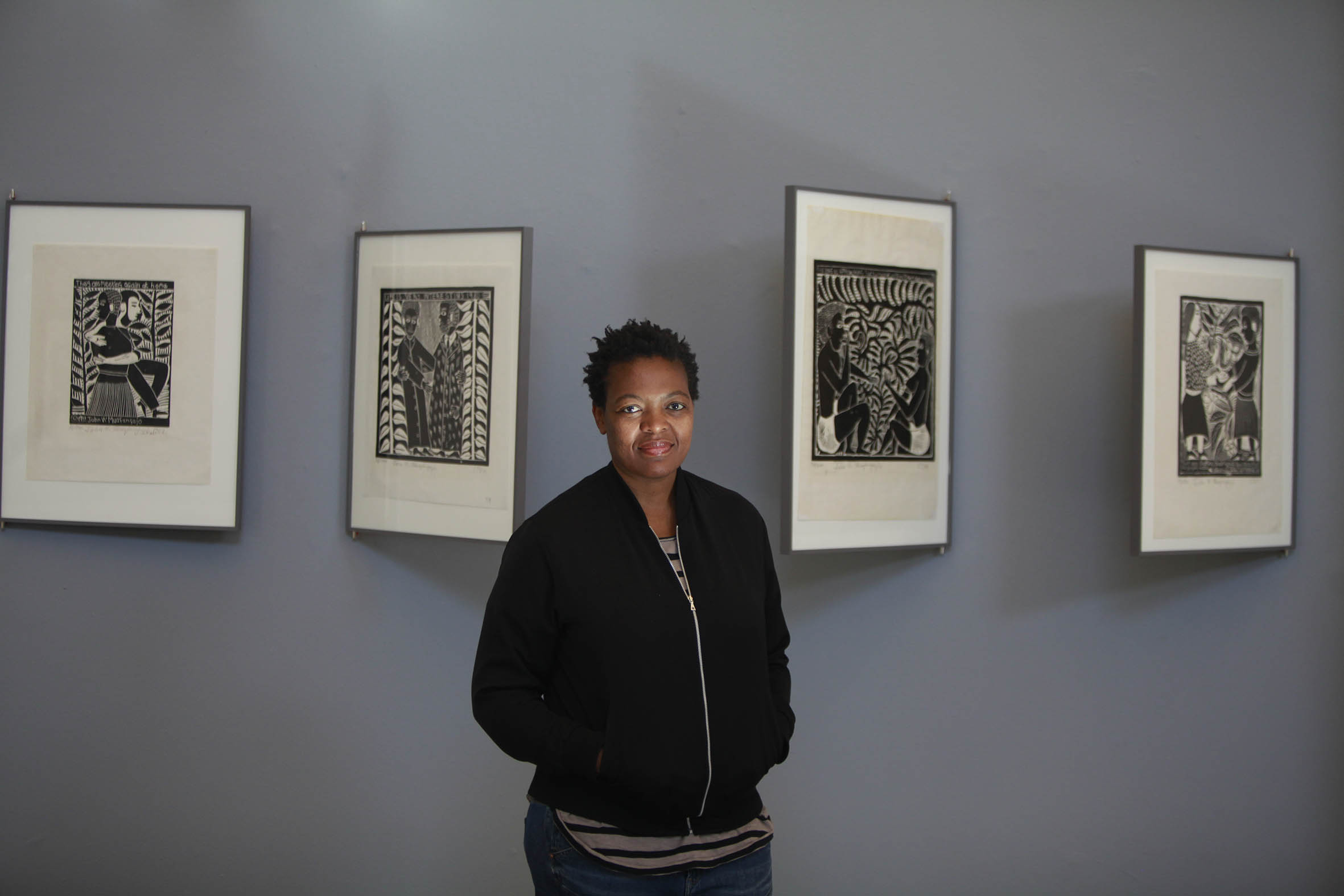 [More than well: Gabi Ngcobo curated the 10th Berlin Biennale and she has been appointed to the committee selecting the next artistic director of Documenta 15, to be held in Kassel, Germany. (Photo: Oupa Nkosi)]
Locally, art historian Dr Same Mdluli is the new manager and curator of the Standard Bank Gallery and Khwezi Gule is the new chief curator of the Johannesburg Art Gallery. Other strides include but are not limited to Ernestine White and Ingrid Masondo who are curators at Iziko South African National Gallery in Cape Town, Dr Mduduzi Xakaza the director of the Durban Art Gallery and Bongani Mkhonza the curator of Unisa Gallery in Pretoria. This short list of black professionals is an indicator of the significant developments that mark the ongoing racial and gender changes taking place in curatorial positions that have been historically held by white people for a very long time in the history of South African visual arts.
These changes are also evident in fine art departments that are part of our historically white universities, which are now increasingly admitting black students, employing black lecturers and allowing deserving black professionals to assume the positions of programme coordinators, headship and directorship.
In these art institutions, the image of black cleaners, gardeners, tea makers and security guards is changing, although white people have not assumed these domestic and menial jobs. Changing also is the racial and gender image of art audiences, appreciators and collectors. What is fascinating and supposedly mind shifting about these developments is the fact that black men and women are no longer only associated with the lower end of the professional and socioeconomic hierarchy. They are now occupying some of the most significant positions in various professions. Encouraging, too, is witnessing them being entrusted with key responsibilities that are, however, not without the burden of excessive expectations to demonstrate black excellence.
Yet, all the while they are wrestling with white scrutiny, approval and certification that give rise to various sorts of depressions, psychologically, emotionally and physically. For the pervasive white gaze is always at work policing, haunting and traumatising young and established black professionals. Many black professionals have disturbing stories to tell about their white bosses, seniors and even junior colleagues. If you listen attentively to their whispers about white authority, intimidation and violence you will understand the sad reality behind the mirage of a democratic art scene and social interactions staged during the glamorous exhibition openings and arty parties at our galleries, museums and art fairs.
These black stories are slowly but surely breaking the silencing discourse of not rocking the boat or spoiling the party as they rise above what the musical band Stimela calls "whispers in the deep". It is such whispers that we also find in the critically reflective artworks of black artists, artworks most of which that are however sterilised and cleansed of the black politics, black agony, black struggle, black rage, black death. These are some of the artworks that have been tamed, if not pacified through filters of an art market that renders them sexy, trendy and palatable. This is possible through tactical campaigns that are not dissimilar to the manner in which black artists, black curators, black brokers or agents in the world are also fashioned, styled and programmed.
The power and effect of this black veneer, one could easily hazard to say, has engendered "a black time" in the world of visual arts. Just ponder how Mandla Sibeko the director of the FNB Joburg Art Fair and Tumelo Mosaka the curator of the Cape Town Art Fair are fashioned as the black faces of commercial enterprises whose actual owners are the invisible, though known, white patrons and institutions. Make no mistake to think these black professionals are not capable, qualified, talented and experienced to deliver excellence in what they do.
My concern here is the common practice of white enterprises that rent natives for purposes of tokenism and window dressing, legitimacy and political correctness whilst alienating black professionals from the actual means of economic production and creation of wealth. This racial exclusion in the visual arts is most evident in the auction houses whose ownership, executive officers, specialists and operations are white business as usual. If black people are part of these companies, they mainly feature in peripheral and menial jobs. Even the new private museums such as Zeitz MOCAA and Norval Foundation (including those in the process of physical construction) are white enterprises whose inclusion of black professionals is limiting.
This status quo is neither surprising nor uncharacteristic of the driving economic apparatus of the art ecosystem. For white people dominate and control the commerce of the visual arts in South Africa and elsewhere. Such white dictate is endemic in the country's key commercial galleries that are making an exorbitant fortune in selling works of black artists. These black artists are benefiting financially and in ways that accelerate their careers locally and internationally, not least them becoming part of the global conversations and mobile citizens. What remains deeply problematic is the fact that these commercial galleries together with their clientele, network, media and technology dictate the being and becoming of these celebrated black artists in the art world. It is no exaggeration to suppose that in the main analysis, these black artists, somehow, are subservient to the white monopoly capitalism even if they negotiate or manoeuvre possible acts of resistance and subversion; even if they make reasonable cash to elevate themselves and their families from poverty. What is quite certain is that they do so within the playground of whiteness or terms of white monopoly capitalism.
In my limited knowledge, to work within white dominated systems rarely produces any radical transformation to collapse whiteness to ground zero than affording possibilities of accommodation and assimilation of black subjects into the affluent white world. Through this route, it is black people who mostly transform themselves than white people getting out of their comfort position of privileges, working to end whiteness and allowing other cultural and social ways of being and becoming in the world.
It is not a cliché to say money rules the (art) world. Nor should it be a truism to note that the currently appraised achievement of black artists and curators locally and internationally, largely (but of course not completely and solely) is owing to the empathy and capitalistic predilections of white people who possess a great deal of money, infrastructure, media and related facilities. This should not imply that black artists and curators are simply complicit or are without agency. What is of concern is the fact that their agency is limited in whatsoever way when it comes to calling the shots in the business aspects of the visual arts. We are constantly told that our government is doing its part to address the inequitable distribution of wealth and is prioritising black creative producers. But its efforts have so far yielded no tangible redress to the visual arts industry whose commercial aspects remain the private business of white people.
It would seem black professionals in the arts and business sector have not acted in addressing this predicament for reasons that require investigation. What is safe to say here is that this racial problem is rooted in the unrelenting afterlife of colonial apartheid, irrespective of the celebrated democratic makeup of South Africa. It is no secret that South Africa is administered by black politicians whilst its economy remains largely in the control of a white bastion that in effect contributes to the status quo of visual arts. Some observers see hope in rich black people and the rising black middle and upper classes that are showing interest in the visual arts. Among them, there are appreciators, collectors and patrons as well as enthusiasts who are establishing art consultancies, joining or partnering with established commercial galleries and art fairs. One would hope it is them who might make equitable changes in the visual art industry. But only time will tell.
Thembinkosi Goniwe is an artist and art historian living in Johannesburg