It is easy to imagine gentrification as a focus of artists working in the city limits of South Africa's urban centres. It is the story of our times. But often, artists are the first group of city dwellers co-opted into silence about the workings of gentrified spaces because art and artist studios are often used as draw cards.
In Façade, Happy Dhlame looks at the human cost of gentrification, a subject he has studied closely, having lived and worked in several inner-city locations such as August House, Victoria Yards and Newtown in Johannesburg.
Dhlame, who grew up in Soweto, knows too well the difficulties of sustaining an art practice in economically precarious times, hence his familiarity with the deep bowels of the city and his research into its origins.
The works, made with multiple-layer canvases include mixed-media works, paintings, drawings and lithographs that combine to create a desolate Johannesburg that still beams with colour and faded promise.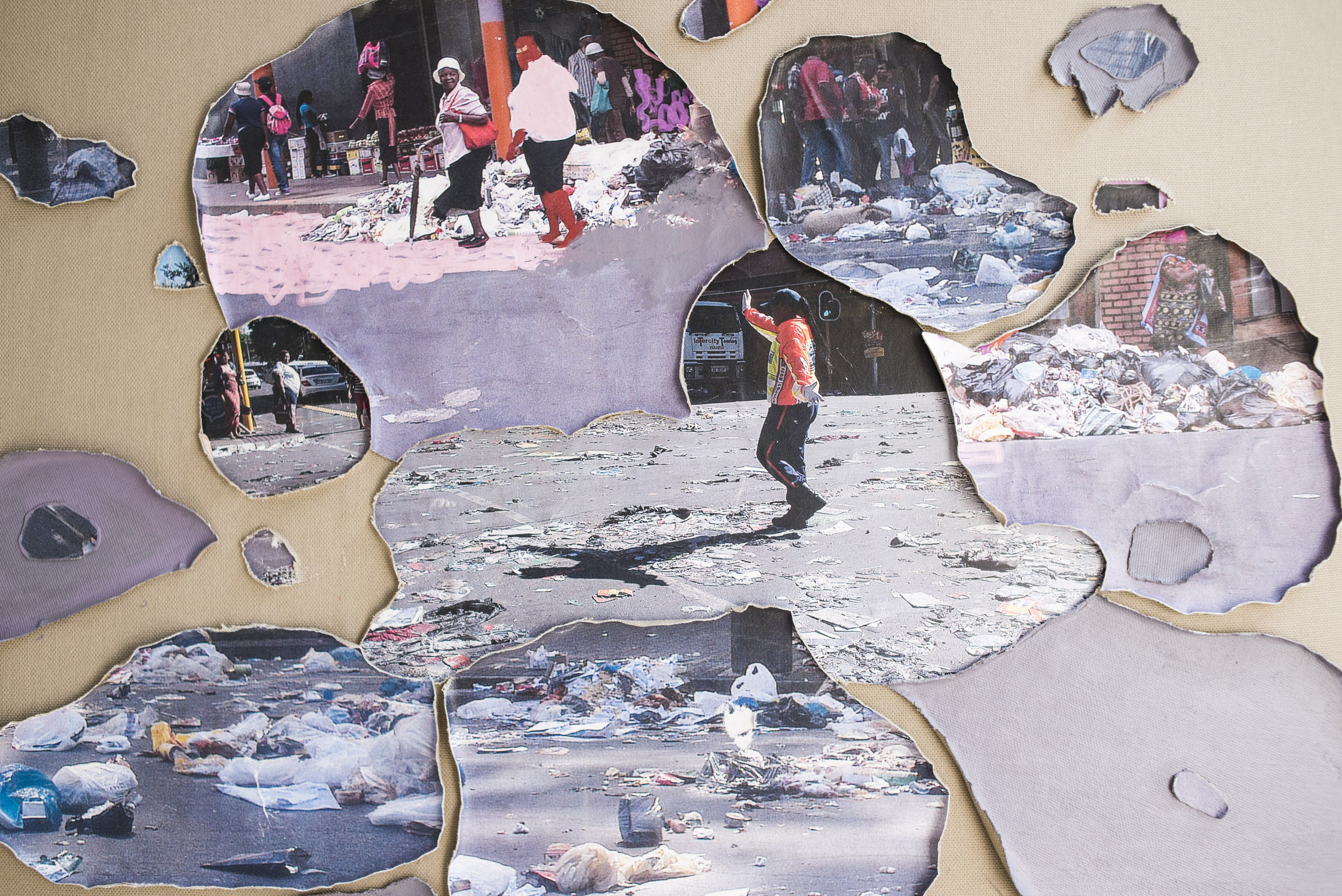 Looking at the work, Dhlame is unequivocally a sceptic of the redeeming qualities of gentrification, attempting to weigh up the human toll involved and speak to its unrelenting pace.
Façades in this case refer not only to buildings but also to the act of concealment, like illusions and masks. The balaclava, a form of headgear often associated with crime, cold weather and Lesotho's shepherds, becomes a tool to examine the search for dignity for Jo'burg's homeless and informally employed. Many men Dhlame encountered are recyclers who provide for their familiesby doing a job associated with digging through people's waste.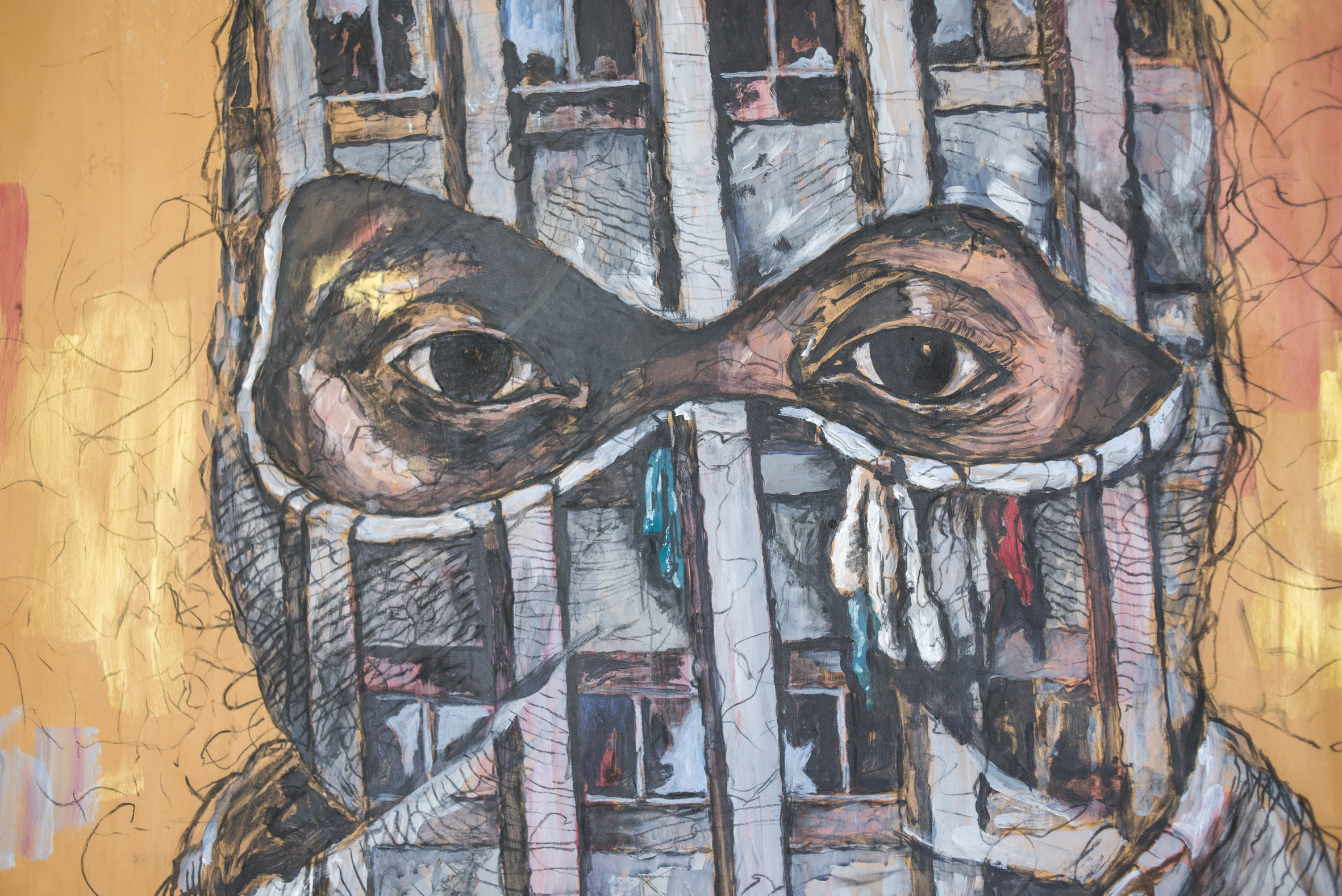 "The guys in balaclavas, I met some of them who stay near Maboneng," he says. "They now stay under the bridge at Kwa MaiMai. They are mostly from Lesotho. While the balaclavas might mean protection from the cold in Lesotho, in Johannesburg the balaclava is used to hide their identity. When you are looking into dustbins for a living, people assume that you are poor. But they play a big role in generating the economy of the city and keep our city clean at all times. But they hide their identity here because we judge."
Dhlame does not see his work as a diatribe against gentrification but as something more considered.
"I see it as archiving what the city was beforehand and what the city is now," he says. "The processes applied to my work describe ageing due to abandonment. There is a sense of duty that you find in these places because they are able to tell you the history of a particular building or space."
With these new works, Dhlame gets under the skin of a city whose total population has swelled to nearly eight million, but another key concern is how artists can sometimes be party to their own demise.
"Newtown was started by artists," says Dhlame of the precinct's now-neutered reputation as a hub for all things artsy.
"There were even tourists. A cultural life was happening there. What you see today is 'development' taking over in Newtown. Nedbank offices, call centres and now there are other things coming like hotels ­— all in the name of artists. We make the space vibrant and it becomes an invitation for others to come because they realise that a cultural hub is happening. But most artists only have cultural capital, they don't have it in the form of money."
A dominant technique in Dhlame's work is the use of layered canvases cut to reveal patterns of a life beneath, an underbelly of the city if you will. But there are also works that seem to focus directly on the economics of his art practice. A work titled August is a Bad Month for Art imagines the façade of the August House building as a Pac-Man icon. Its mouth agape, it readies to swallow a long line of dark figures. In the queue is a multicoloured, fragmented bovine figure — presumably a cow — standing on its hind legs, struggling to offer itself into the mouth of the figure. The piece seems to be in communion with another diptych representing the façade of a building superimposed on a cow's body.
At the top of the cow's head, partially obscuring its horns, is a triangle whose angles bear the names of the three farms that Dhlame says were what is now inner-city Johannesburg before the gold rush: Doornfontein, Braamfontein and Turffontein. Stretching across one end of the two canvases is an inscription reading,"Zimkile inkomo magwala ndini [the cows have gone, you cowards]". Other inscriptions seem to refer to the cow as an object of culinary consumption, speaking to the commerce and appetites of the informal economy.
Other artworks address this issue more directly such as a large, layered canvas titled University of the Pavement, whose lower layers reveal snippets of the second economy, with its sale of everything from bootlegged DVDs to abortions. Although Dhlame's works brim with colour, the colour contrasts, enlivened by spots of darkened, shattered windows, give off an ominous mood, as if one is being pulled into the interior of these buildings.
Kumnyama Tshuuu! depicts what one may call a close-up of a façade, with a rat made of office carpet hanging off it by the proverbial thread. The rat could be the average working man, living cheque to cheque, nowhere to go from the darkness that abounds.
Dhlame's technique, when he speaks more allegorically, is a thing of textured beauty, but in all honesty a visceral, depressing edge runs through the works—and maybe that's exactly how he wants it. He pulls no punches about how he sees Johannesburg: a bleak cesspool of exclusion and titillation carried out by a later generation of Randlords who mine not the bowels of the earth but the entrails of the city's skyscrapers.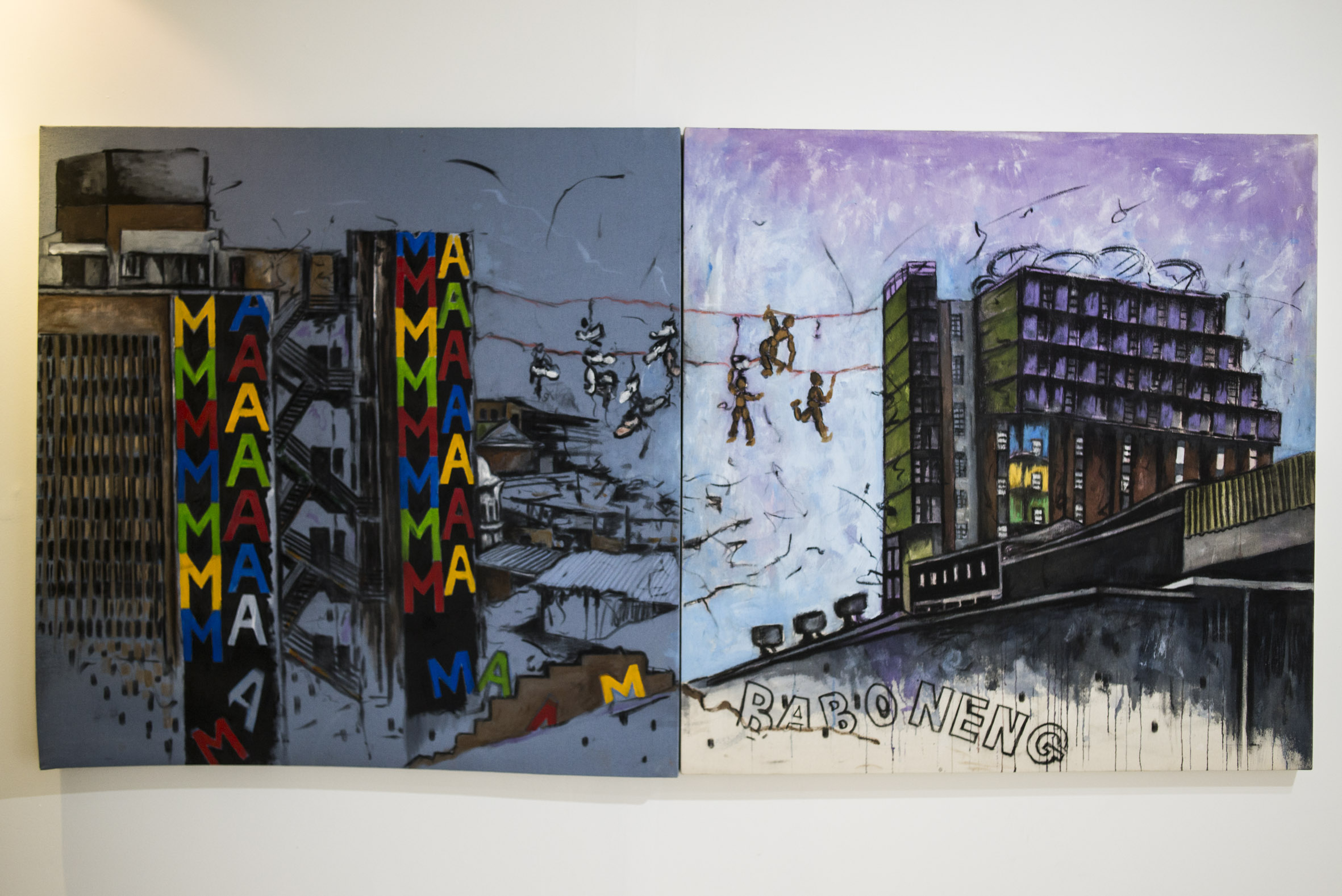 In a sense, Dhlame's work is a form of reportage translated into fine art. Its beauty is minimalistic, its frills less impressed with their own aesthetic qualities and its message direct and polemical. It is a testament of his movement through the city and the toll of our nightlife habits on those who have to wash our glasses and sort our waste.
Façadeis on at mmArtHouse, 1 Hillcrest Avenue, Blairgowrie, Johannesburg, until September 22