With 2019 set to usher in democratic South Africa's sixth national and provincial elections, the Mail & Guardian in partnership with the Gauteng Provincial Legislature (GPL) hosted a Critical Thinking Forum on October 17 at the Ekurhuleni West TVET College in Germiston. Facilitated by Broadcast journalist Xoli Mngambi, the panel saw TV presenter Jessica Mthimkhulu, Radio DJ Bujy Bikwa, comedian Donovan Goliath, and Executive Producer Bongekile Skosana engage with students about what voting means for young South Africans.
Comprising six campuses around the Ekurhuleni metropolitan municipality, the Ekurhuleni West Technical and Vocational Education and Training College provides students with a number of study options; bursaries from the department of higher education and training are also available. Acting principal of the institution Ntombizodwa Dangazele addressed students at the event, and said: "As students, you have a responsibility to register to vote."
Fezile Nondonga of the GPL says that the legislature as the tribune of the people of Gauteng is mandated to make laws, provide oversight over the Executive, facilitate public participation and foster corporative governance. It also has a fundamental responsibility to encourage citizens of the province to participate in democratic processes aimed at improving their lives. This includes encouraging citizens to exercise their right to vote in the 2019 National and Provincial elections.
"The legislature as a tribune of the people must strive for in all of its endeavours to open the doors of democratic process and discussions. We must work particularly hard to ensure that the voice of the youth is heard in the debates that shape their lives. In collaboration with the Electoral Commission of South Africa (IEC), the GPL is ensuring that young people know how voting works. Addressing the crowd at the event, the IEC's Tshidi Hlahane said: "The work of the electoral commission is to strengthen democracy by protecting votes."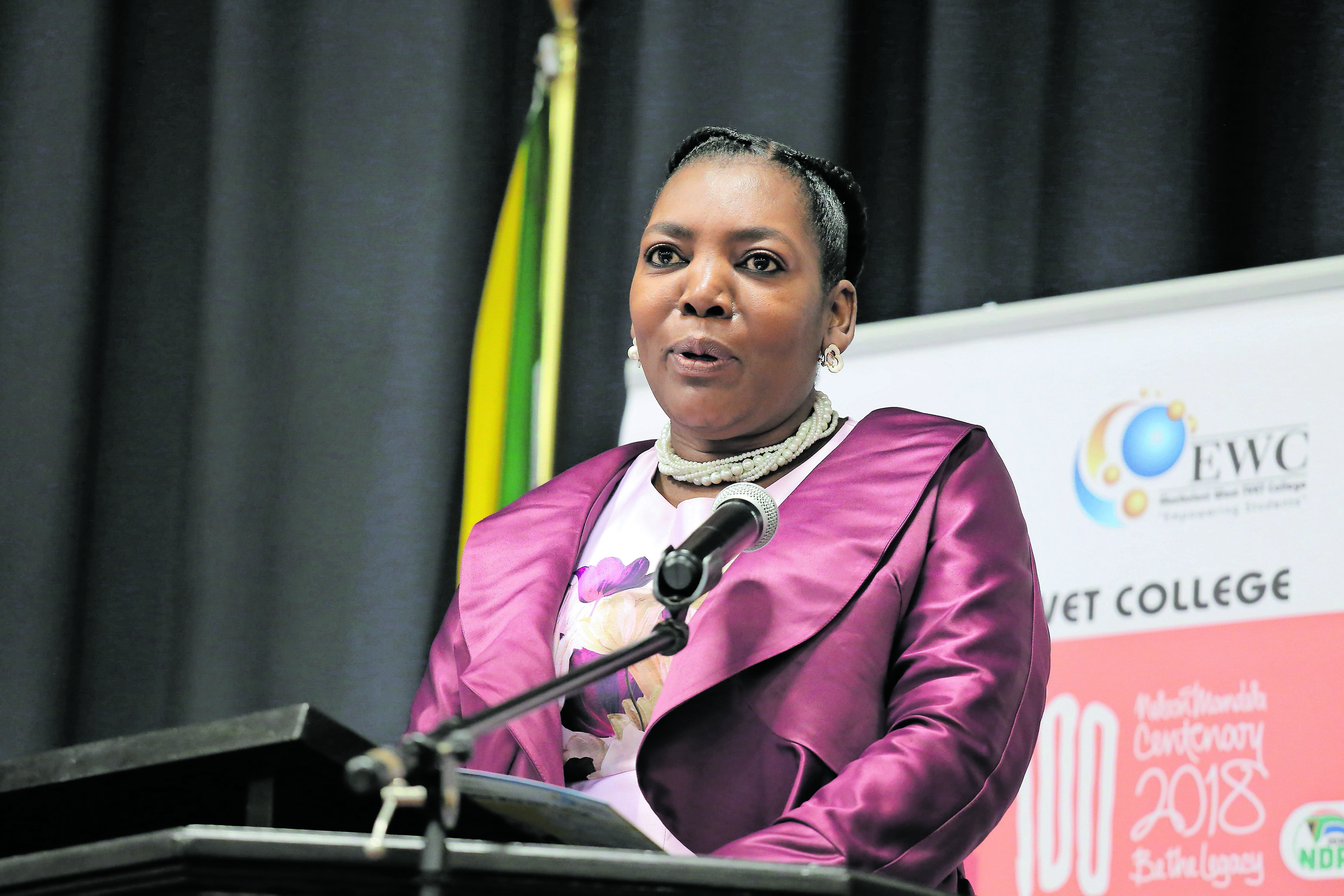 Acting principal of the West Ekurhuleni West Technical and Vocational TVET College, Ntombizodwa Dangazele
Mngambi reminded the audience of an important statistic: in Gauteng, young people aged 18-29 make up 60% of voters. When he asked the crowd whether they have voted before, there was a wide variety of responses. Hairdressing student Thuleka Adams (28) said that she voted "for the experience" and was excited to do so, while 22-year-old electrical infrastructure student Yonga Malgas said that he is undecided on whether to vote or not to vote, even though he comes from a politically active family. Adams was slightly more optimistic: "I know that if I vote, I might have more opportunities," she said.
Mthimkhulu told the crowd that she voted for the first time in 2009, in her first year of university. "They call it the post-adolescent idealistic phase. As your teen years come to an end, you start to feel like you own your choices. As young people, we should not feel pressured by anybody to vote for who they think we should vote for. At this age, you have agency and choice to vote for who you want to vote for."
Skosana said that she comes from a politically conscious family and has been interested in politics from a young age, which led to her vote as soon as she was able to. "Because I voted, I knew I could go to the public representatives and ask, 'why don't I have water, why don't I have electricity, why is a particular hospital not in service,'" she said.
According to Goliath, young people these days are inundated with information.
"Radio, TV, social media, people who govern things, what are you going to say to me that will make me stop scrolling, pay attention, and share it with a friend of mine?
"You have to understand what you are voting for. I hear everybody talking about 'corruption' and 'land'. These keywords are always popping up in the media, and what I hate about that is it is a bit lazy to keep repeating it when we don't necessarily understand what it is about," he said. "As youth, what we should focus on instead of these big issues — which we all know are controversial — is the South Africa that you dream of, the ideal place that you would like to live in."
Khulekani Mnguni (32) studies mechanical engineering at the Ekurhuleni West TVET College. He says that for many of the students, poverty remains a huge struggle. For him, it does not seem like much has changed since 1994: "The struggle has always been for the emancipation of black people."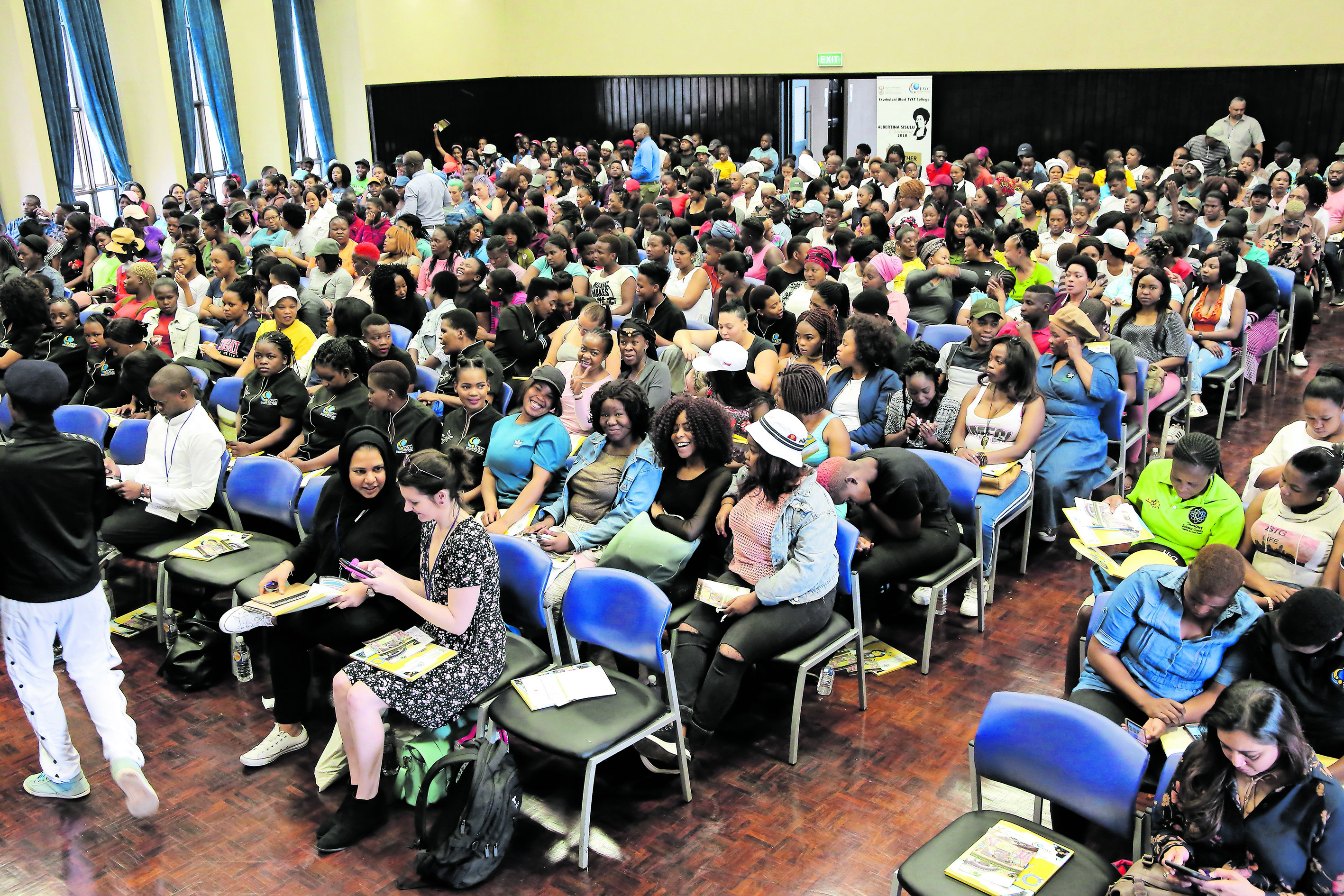 Hospitality student Chanterelle Makeman (21) is a mother of a three-year-old child. She said she would not survive without her side hustles. "I work on weekends doing promotions. The bursary that I have been given doesn't last until the end of the month. Some people apply for a few allowances that they say are available — food allowance, transport allowance — and will only receive one of them," she said. "Some young people are privileged, with parents who have money, but many of us here do not have that luxury. And as a young parent, I have the responsibility to also make a plan for my child's future. I therefore think that it is important that when one votes, they vote for the party that will address their immediate challenges."
Bikwa had nothing but words of encouragement and support for Makeman. "Once you have gone and voted, you have a voice. Something needs to happen, and unfortunately it starts by voting. Yes, you are struggling right now but you are conquering, and you are going to be a better person at the end of this," he said, encouraging the crowd to applaud for Makeman.
Although he has never voted in the national and provincial elections before, 30-year-old Bikwa says he looks forward to voting in 2019. His co-panelists reiterated his sentiments. "If you complain about something but don't vote about it, it is not going to change anything," said Skosana. "In order for change to come, we need to go and cast our votes."
Goliath said that his attitudes towards voting have changed as he got older. "When I first voted, I voted based on parental pressure, knowing that my parents had voted and I felt obliged to vote. But now, my attitude is very different. I go and look at that paper and really think before making my mark."
Mthimkhulu said that while young South Africans have been told that they are privileged in many ways, she understands how it remains difficult for that to be seen as the case. "In the Vaal River right now, there is a sewage spill, because the system is out of order. How can privilege look like 'I must think before I drink the tap water?'"
Chairperson of Committees at the GPL Mike Madlala urged students to continue the conversations that were started at the event, and especially not to forget South Africa's history of apartheid. "We need to encourage the youth to know where the country comes from so they can participate in democracy. This forum is to try and establish why the youth are not voting. Marking a ballot and dropping it in a ballot box once every few years is an important element of democracy," he said.
Skosana and Mngambi both used the example of #FeesMustFall to remind the crowd of the power of a mobilised youth. "Students went out in their numbers and stood up for what they wanted. Look at the influence that had. Government had to make moves to address students' issues," said Skosana.