The Central Metho­dist Mission Church on Cape Town's ­Greenmarket Square was filled with piano music and worshippers attending a lunchtime service on Tuesday last week.
But, in a corner of the church, which until a few days ago had been a children's playpen, there were only echoes of violence. Nine Blikkiesdorp families, who over the past few weeks had fled the so-called temporary relocation area under threat of death, have found refuge here.
Jo-Ann Cupido (53) struggled to find the words to describe the violence and killings she says she witnessed.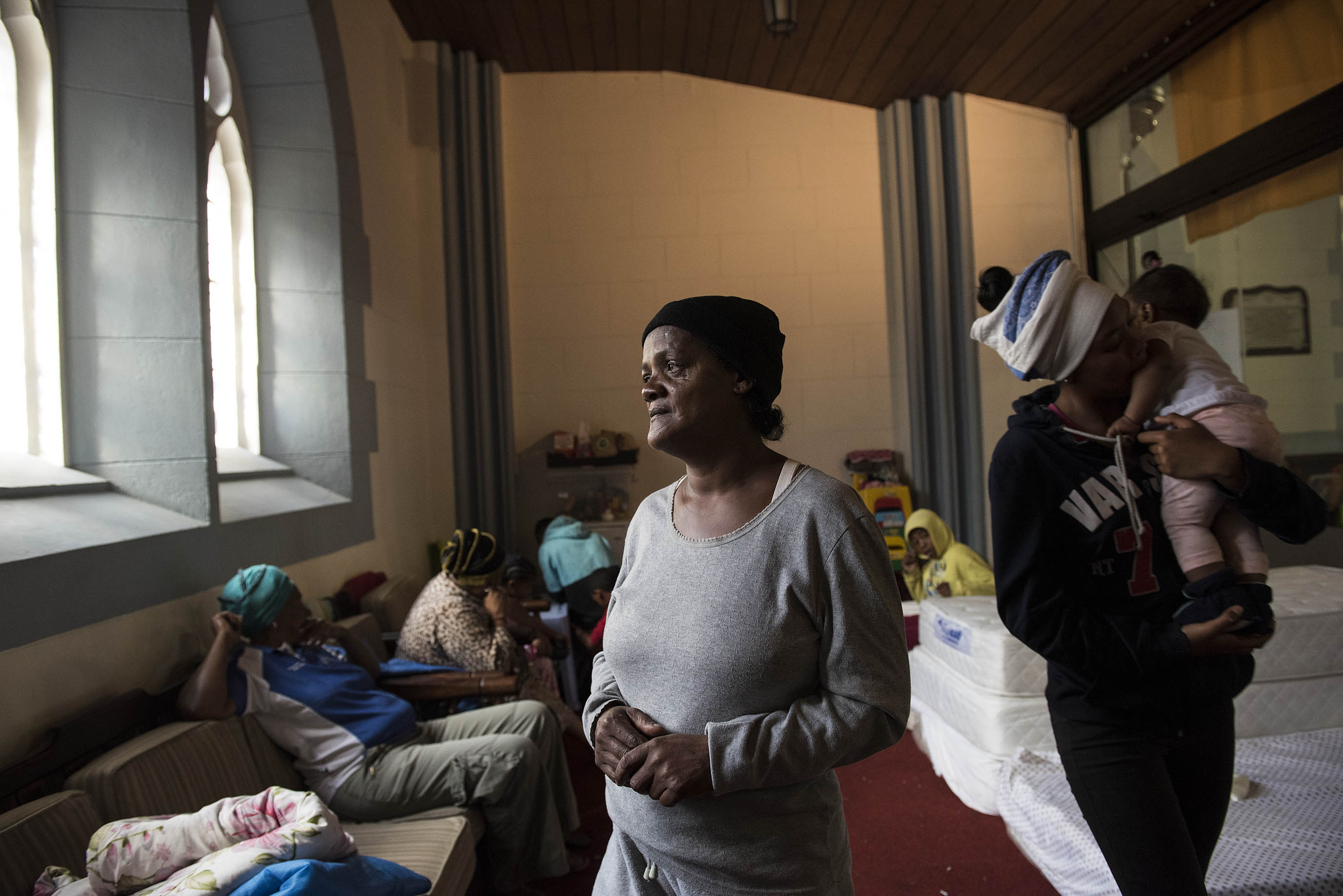 Jo-Ann Cupido. (David Harrison/M&G)
The killings included the September necklacing of Tashreeq Johnson (26) and John Florence (26), whose throat was slit so deep he was almost decapitated, according to news reports.
"Hulle shot 'Apie' in the head: Bah!" a 12-year-old boy said matter-of-factly into the hanging silence. He didn't look up from his phone.
"See, this child knows that because he was on the scene," Cupido said.
According to Cupido and others living temporarily in the church, violence has been normalised at Blikkiesdorp (Tin Can Town). Established in Delft near the city's airport in 2007, Blikkiesdorp is officially known as the Symphony Way Temporary Relocation Area and is home to people evicted from ­various parts of the city.
The residents number almost 1 500, who, over the years, have been dumped there whenever pre-gentrification evictions of areas such as Woodstock are ordered by the courts, or when the munici­pality orders a cleansing of street children and homeless people from its central business district.
Cupido said the trouble started when "vigilantes" started mobilising against alleged gangsters in the area. This was after a meeting convened by the local ANC, she said, adding that a day later "six homes were petrol-bombed by these vigilantes".
People were intimidated and, according to Cupido, hunted down as a reign of terror appeared to be unleashed on Blikkiesdorp.
Cupido remembered bursting through a circle of vigilantes who had ensnared a drug user in mid-August: "They had a tyre around his neck and I pleaded with them. I told them, 'No man, this kind is just a drug user, that's all.' I took the tyre off his neck and he managed to run away."
The violence escalated and Cupido was not so lucky the next time, when Apie was cornered by the ­vigilantes: "They were in P Section, hitting Apie and another guy, Zack, with pangas and spades. The sangoma hit Apie with a panga and he fell down. The sangoma put a gun in his mouth and shot him dead," said Cupido, who was unable to identify the "sangoma" by name.
Cupido alleged that police officers observed the alleged murder of Apie, but did nothing. Instead, she alleged, the police hid the murder weapon and then refused to lodge her complaint or open a case. The police did not respond to questions from the Mail & Guardian.
"The vigilantes said Apie was a Gifted [one of the local gangs], but he wasn't a Gifted; he just came to Blikkies to change his life; he used to talk to the kids and was a good man."
Cupido said she left Blikkiesdorp soon afterwards "because my life was threatened … The vigilantes know I am a witness, like many ­others, to what they have been doing in Blikkies."
Yet some of the people who remain in Blikkiesdorp have a very different story to tell.
On a hot Thursday last week, the bleakness of Blikkiesdorp was most palpable. The displaced unemployed, many of whom have lived here for more than a decade, jostle for the scant shade provided by the tin structures in this windswept, exposed penury.
Thabo Makapela, a Blikkiesdorp resident since 2009, alleged that Cupido, Jane Roberts and others forced out of the area are part of the Blikkiesdorp Joint Committee (BJC), and have been colluding with the gangsters for a few years. The BJC is a nonprofit organisation that represents resident's interests.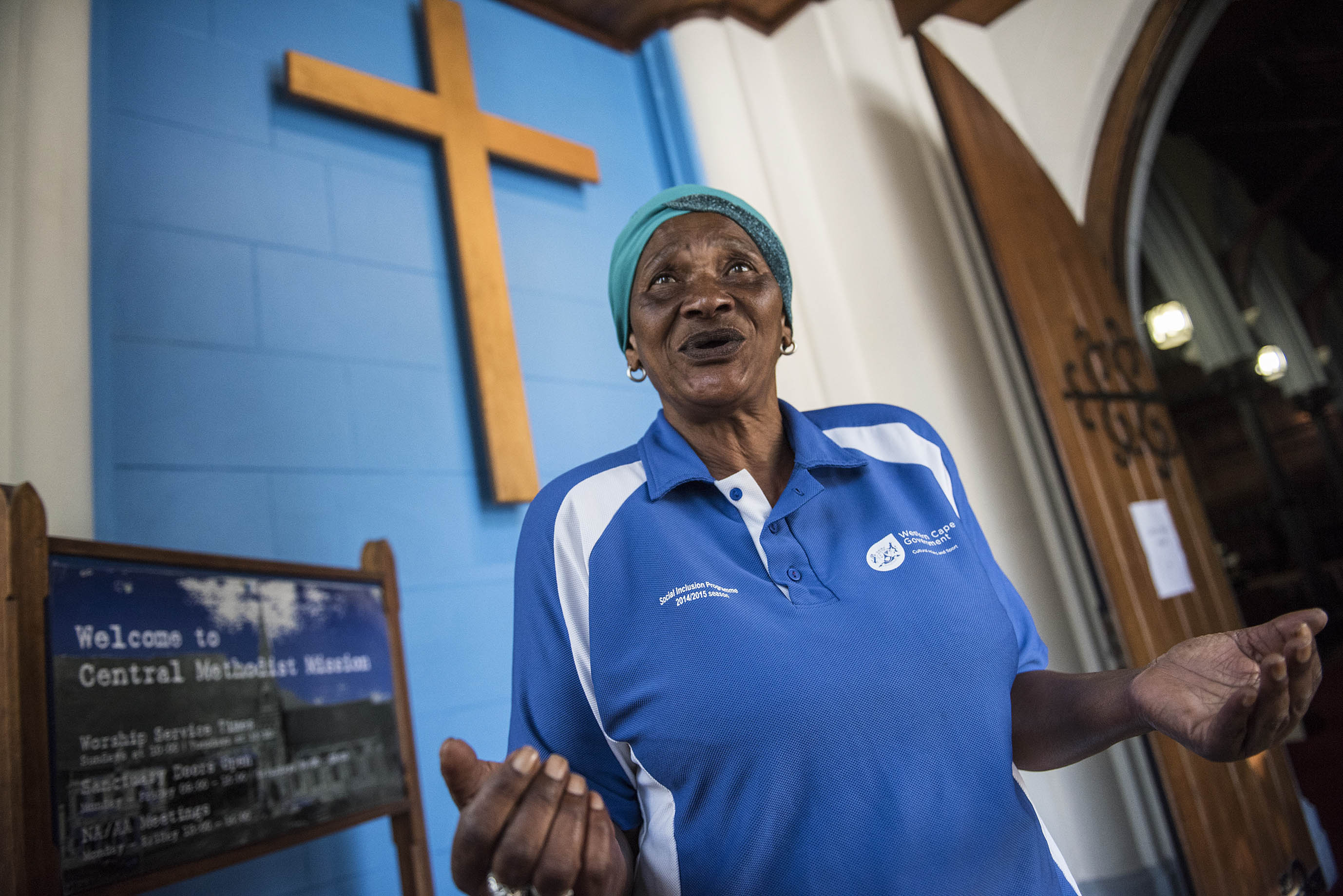 Jane Roberts. (David Harrison)
Talking about rampant crime, muggings and break-ins, which he attributed to The Gifted, Makapela said residents like him had to challenge this collusion: "We stood up and we told them we are not going anywhere and they ran away.
"Instead of being killed while sitting down in your house, you better stand up and go to them and fight them and that's how this whole thing started," he said about the recent purge.
According to Makapela, one of the BJC members, Badronessa Morris (Aunty Badro), was known as Mother Gifted and he accused committee members of housing gangsters.
"Aunty Badro and Aunty Jane were the ones who were behind this. They would protect the boys who were doing this crime, hiding them in her house until the police had left," she said.
Another resident, who wanted to remain anonymous, backed up Makapela's story, describing the women as a clan who controlled the gangsters.
"My house was broken into about four or five times and their children were involved," she said. "I have been here for 10 years and it was bad, I'm telling you it was bad. My daughter was raped, we didn't really have a life. Now it's so peaceful and so quiet, thank you Jesus. We prayed for this and it happened."
Roberts dismissed the allegations against her and said people were misrepresenting the BJC's relationship with alleged gangsters.
"When we see them in Blikkies and we know there are crimes that have been done, we call them over, talk to them and try and find out what happened. We liaise with them to try and get the gangsters to stop picking on the community," she said.
Roberts, who chairs the BJC, has lived in Blikkiesdorp since 2009, when the occupiers of Symphony Way were moved there by court order. She was a leader of the Symphony Way Pavement Dwellers who had occupied the road in protest against the housing shortage for two years. Homeless in 2010, Cupido was moved to Blikkiesdorp before the Fifa World Cup, when the local ­government went on a "beautification" drive for the mega-event.
Leadership of the BJC is supposed to be voted in annually. But Roberts said the committee did not hold elections this year because of an impending project, which will give Blikkiesdorp residents houses and land. "The City of Cape Town and Airports Company South Africa [who are involved in the housing project] wanted continuity in who they were dealing with regarding the houses," she said.
Roberts attributes the upsurge in violence to something more sinister: an attempt to control the allocation of houses in the recently announced housing scheme.
"Project Symphony Way will see almost 2 000 houses built by 2021," said Roberts, "but the houses will be built for people who were documented in the 2016 housing report conducted by the city. Those captured after that date will be given land to develop."
Roberts said the violence increased after the project announcement was made in August. The "vigilantes" set up their own committee purporting to represent the residents and requested all documents pertaining to the planned housing development. "I will give them nothing," she said. "These people represent themselves and not the community."
ANC ward councillor Xolani Ndongeni said the vigilantism had erupted after residents held a meeting at which they identified alleged gang members and chased them out of the settlement.
Jean-Marie de Waal, the spokesperson for the City of Cape Town, said the municipality was told that the families had left voluntarily and because of this the city was not in a position to provide emergency alternative accommodation.
The municipality did not have "sufficient information available at this stage to comment on the alleged unlawful displacement", De Waal said. But the city was working with police to investigate, she added.
Councillor Brett Herron, the city's mayoral committee member for transport and urban development, said the land on which Blikkiesdorp is situated will soon be incorporated into the Cape Town International Airport precinct.
"We have identified two sites along Symphony Way which will be ­developed for state-subsidised Breaking New Ground housing to enable the relocation of Blikkiesdorp residents. But, given the scale of the development, this process will take a few years to fully complete," Herron said.
He confirmed that a project ­steering committee that included members of the BJC had been established so that "residents of Blikkiesdorp should be aware of the status of the project".