Statuesque models lining the foyer's walls look down on those who walk through the narrow aisle between them. People rush past with clipboards or push rails of clothing while models are selected to wear the designers' latest garments. Down a passage models are being pinned into the clothes they'll show off.
It is a week before the 21st South African Fashion Week, specifically the Autumn/Winter 2019 collections..
Around the passage is a room from which Mafikizolo's Sibongile is coming. Inside, Thebe Magugu is squatting to pull at the hem of the dress he has just put on a model. He stands up, takes two steps back, narrows his eyes and slowly examines the model from the neck down. He steps forward and adjusts her headpiece. Again, he takes two steps back. "Could you walk from here to there and back for me, please?" he asks in his quiet, deep voice while pointing to two corners of the room. The model heeds the instruction with long, graceful strides before she is photographed, thanked by Magugu and told to wait in the foyer.
For as long as the model is in the room Magugu's eyes do not stray from the garment she wears. In the interlude before he dresses the next model, he notices I'm standing there, greets, warmly and thanks me "so much" for making time for him.
He changes from Mafikizolo to a Madonna song with a quicker tempo that is reflected in his swift but calm movements.
Twenty-five-year-old Magugu, who is from Kimberley, designs and makes ready-to-wear women's apparel under his eponymous fashion line. The line came about after he studied design at Lisof in Johannesburg, but he's not stopping there. He is furthering his studies through the International Fashion Showcase, developed by the British Council, the British Fashion Council, the London College of Fashion, the University of the Arts London and Somerset House Studios. Fifteen young designers from 15 countries are selected for the programme, which includes a business component, a residency at Somerset House, master classes with the likes of designer Christopher Raeburn and social media expert Susie Bubble, and an opportunity to exhibit their work at London Fashion Week.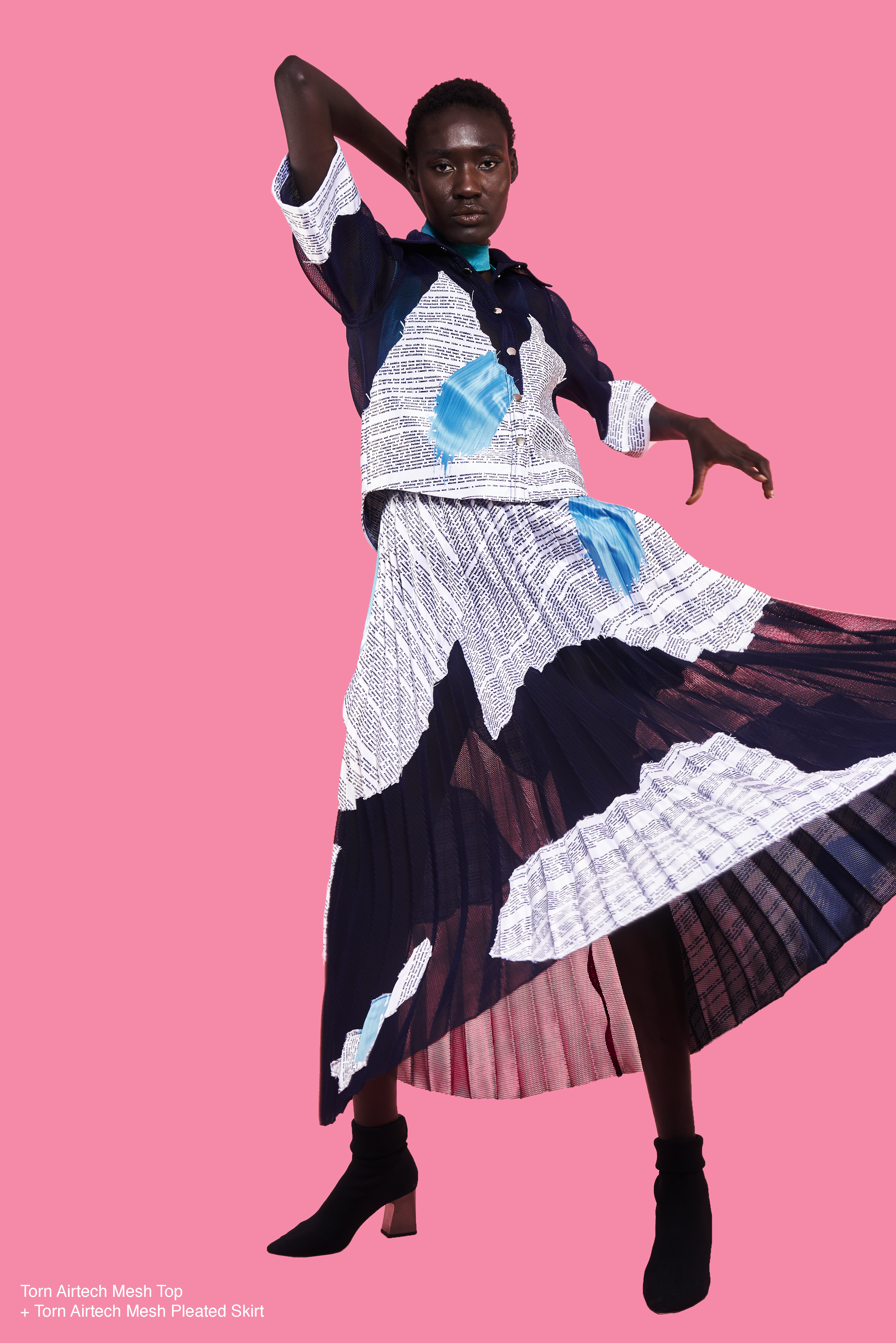 Sociopolitical edge: Magugu's collection comments on South Africa's current landscape
Magugu doesn't thrive only to make beautiful and functional clothing to enhance the wearer's everyday. He prides himself on ensuring that each collection has a sociopolitical edge that represents and comments on South Africa's current landscape.
At the time of this fitting, Magugu has exhibited four collections: Social Sciences SS16, Geology SS17, Gender Studies SS18 and Home Economics AW18. Each collection is named after a university subject because of the influence academia has had on the way Magugu and his peers navigate their social landscapes.
"I have a very deep respect for education. I recognise the value it can have. So with each passing collection, I name it after a university subject I'm really engrossed in at the moment, which also ties in with the closest mood of the season. For Geology, I was going through a very tough time and I kept having these thoughts of escaping the noise and pressure of urban living. That's an emotion I had, so I linked that with the closest possible university subject, which was geology."
In Geology SS17's lookbook, women are draped in browns, golds, coppers, reds and blue tones that reflect the sandy landscapes and open skies of Magugu's hometown.
With Home Economics AW18, Magugu was tackling his annoyance with the expectations placed on women. He reinvented domestic wear such as aprons using colours found in cleaning products such as magnesium purples, powdery blues and sulphorous pinks. Social Sciences SS16 was born from Magugu moving from Kimberley to Johannesburg.
In addition to the use of university subjects as the common thread through his collections, Magugu's style shows off his confidence in layering, mixing textiles and reinventing staple items.
---
One model, two models, three models, four models later.
"Is Michelle here? No? Could you ask the next model to come in?"
With only three outfits left on the rails, Magugu was more than halfway through his fitting. To keep him going he blasted Lebo Mathosa's Gcwala on a loop. During this fitting, Magugu was working on his latest collection, Art History SS19.
After the fitting, we found a quiet place to talk about Art History over tea. "Is it Five Roses?" he asked the man behind the counter. "Okay good, because I only drink Five Roses," Magugu laughed awkwardly for his insistence.
In Art History SS19, Magugu pieces together a collection that addresses the contrasting cultural and spiritual ways that South Africans have used to keep afloat.
"South Africa has a beauty and a brutality to it. On the one side, we're very modern and forward-looking. But then there's another side that's very conservative, misogynistic. It's as if we operate in all these juxtapositions. We're everything all at once. So I wanted a collection that made reference to this," he says while cooling down his cup of tea.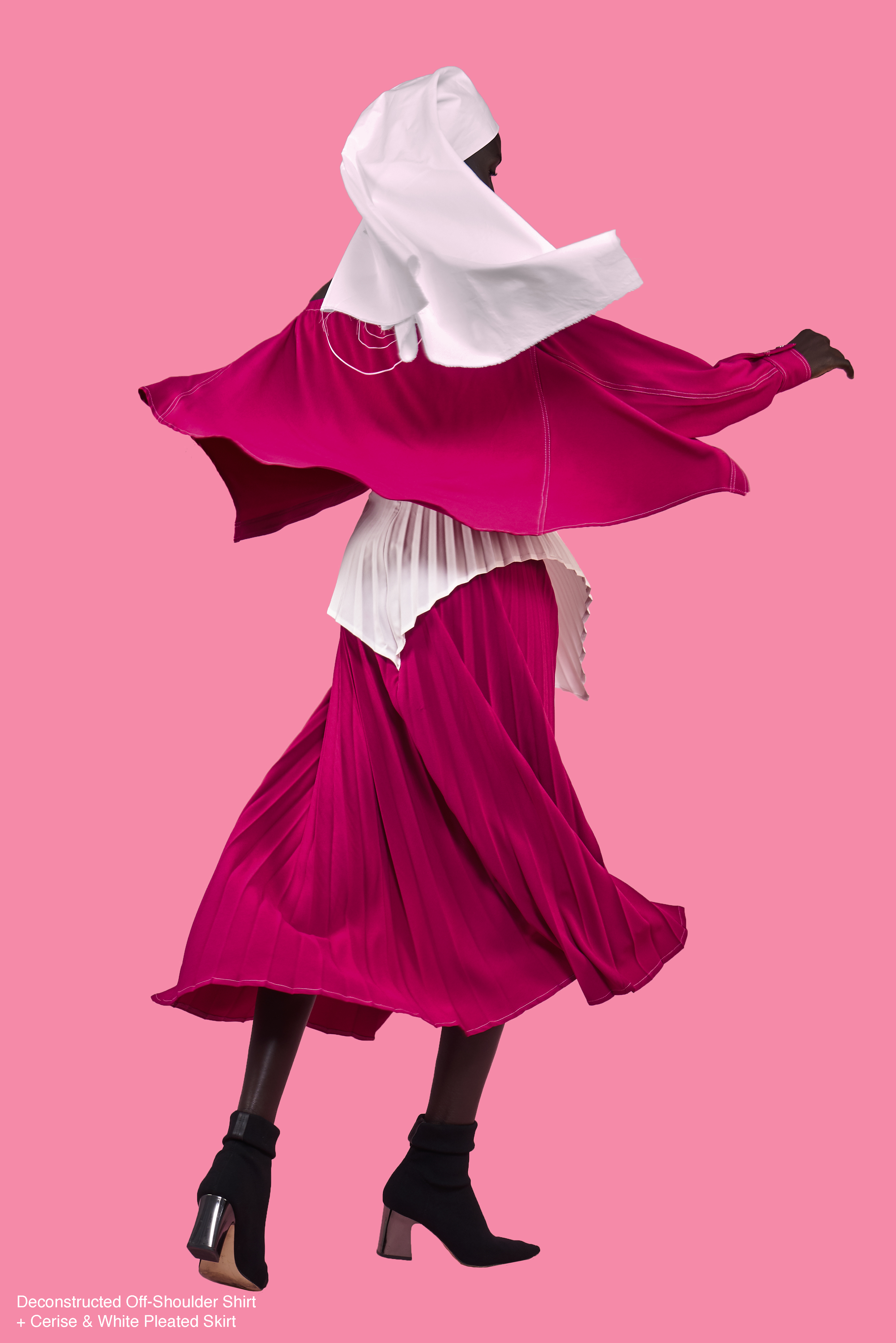 In an Instagram post about Art History SS19, he furthered his explanation by saying: "I found it quite beautiful that most of the major art movements stemmed from times of suffering and war, and you don't have to look far to see that we are in a time of sociopolitical and economic upheaval. But hope has always been something that has forged us on, and personally, for my family and I, that sense of hope has been through the church."
To fabricate the conservative side, the silhouettes in Art History SS19 renew the idea of Sunday bests with high necklines, poofy shoulders, layering and hems that graze the ankles. Every now and then there is an exception of plunging necklines, corseted waists and see-through material. The garments play a game of concealing and revealing the body.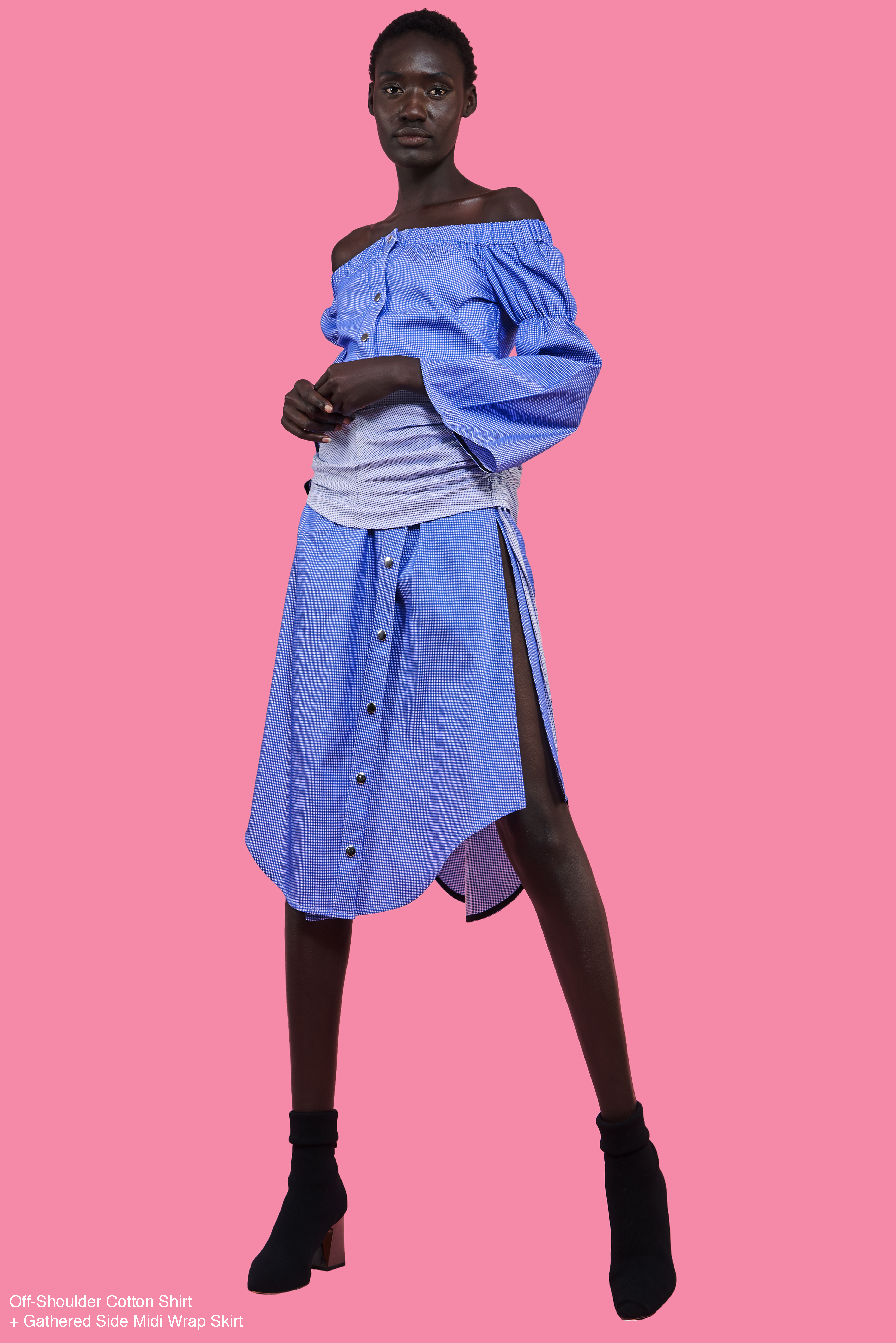 In addition to the ecclesiastic shapes, Magugu goes as far as reinventing headwear of the Methodist Church's bo mme ba seapharo (women of uniforms). His creations merge durags with nun's habits.
Alongside the use of multiple textiles, the artistry in the collection is also shown through Magugu's collaboration with sisters Abi and Claire Meekel, who custom-made the printwork.
"Collaboration is really key. With every collection I've always involved another creative. Whether it's to create the jewellery to underpin the collection or something outside of fashion completely. I love working with disciplines outside of fashion to see how they fit into the fashion conversation. I find it very exciting to get creative input from disciplines outside of fashion and seeing how it affects it."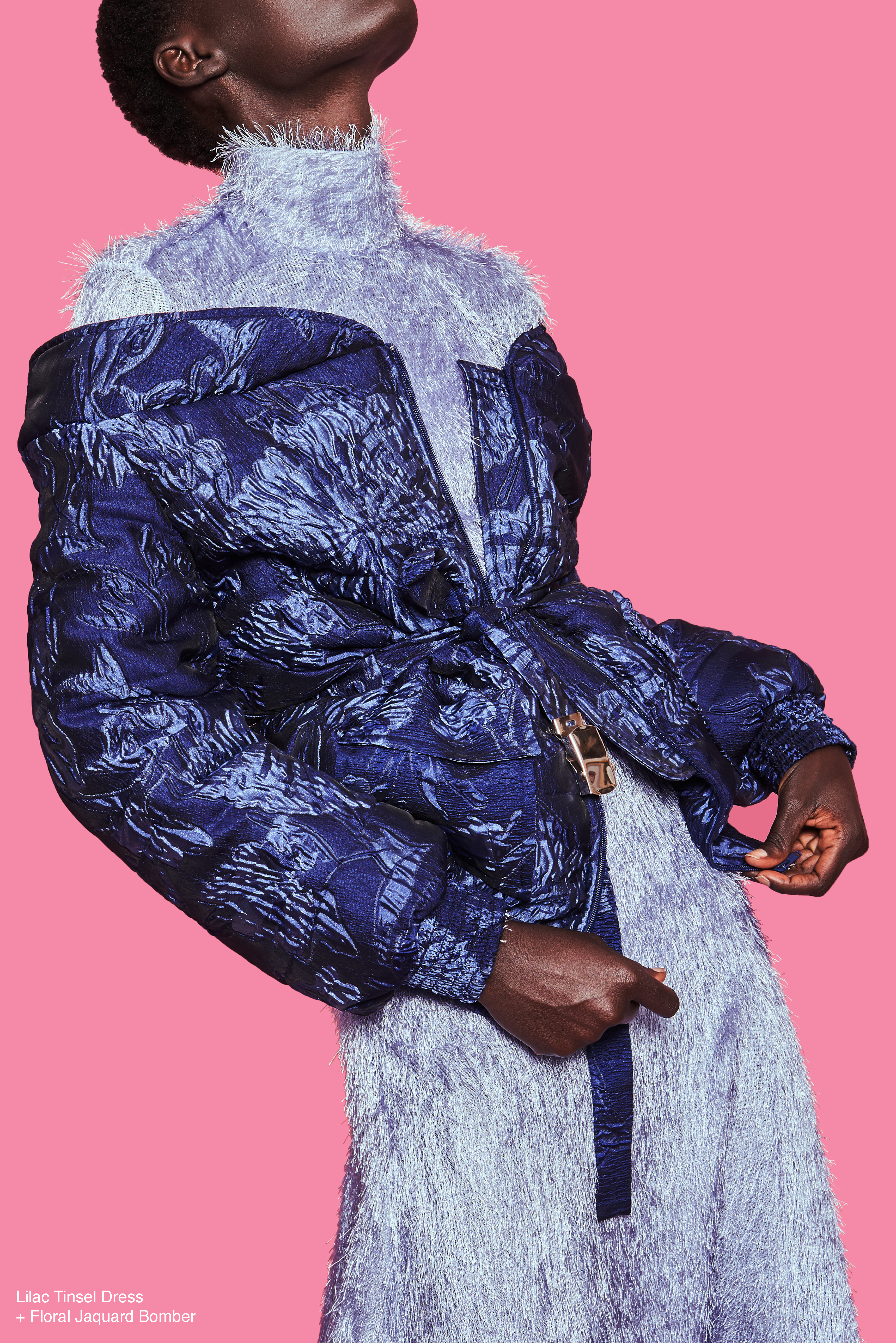 Subject matter: Thebe Magugu mixes fabrics and uses layers alongside print fabrics made with collaborators
Magugu believes it is his duty to provide people with garments that allow for expression.
"Fashion is a powerful system of semiotics. People dress a certain way to reveal and conceal who they are. Yet people have this bizarre idea of it being very effervescent and quick. But fashion is a reflection of the times. It's probably one of the more political creative disciplines. Designers participate in fashion by commenting on what's happening around them with their clothes," Magugu explains eagerly after a thoughtful sighing pause.
It seems Magugu's scholastic approach is paying off. His efforts have brought him to the attention of Sarah Mower, Vogue.com's chief critic, and Vogue Italia named him as one of 10 people to watch.