It could have been a Thursday or Friday night at one of the bohemian clubs in Braamfontein, Jo'burg. The DJ was playing a range of genres from rave and deep house to dubstep. It could have been Muntu Vilakazi or Dwayne Kapula on the decks. I was too inebriated to remember. The packed dance floor was sticky with spilt drinks and sweat. It was impossible to take two steps without touching someone. At about midnight the DJ scratched his record twice and there was a brief silence as people waited in anticipation for the next song.
When Shwi Nomtekhala's Ngafa started playing, people screamed and embraced each other. No one seemed to care about the stampede; we were too engrossed in the music.
The song invoked a particular feeling, a spirit and a memory. There was a shared familiarity with the song. It not only roused nostalgia for a particular epoch, it also connected everyone in an unimaginable way. I began to realise that maskandi is more than taxi driver, elbow out the window, in a Pringle shirt and Brentwood pants, kind of music.
Ngafa is not the only widely known maskandi song. Many others attained commercial success and enjoyed popularity throughout the country. Among them is Imbizo by Phuzekhemisi, Mroza's Sobulala uVan Damme and perhaps the entire oeuvre of Izingane Zoma. Yet despite the popularity of certain maskandi songs, the genre has not been given the same attention as other genres such as jazz, hip-hop and even kwaito. Both in academia and nonacademic spaces there has not been enough effort concentrated on understanding what the music means. Where maskandi is spoken of or written about, it is usually localised and thought of as only relevant to some Zulus far away in KwaZulu-Natal or in some hostel. This ethnographic reading of maskandi robs us of its rich aesthetic value.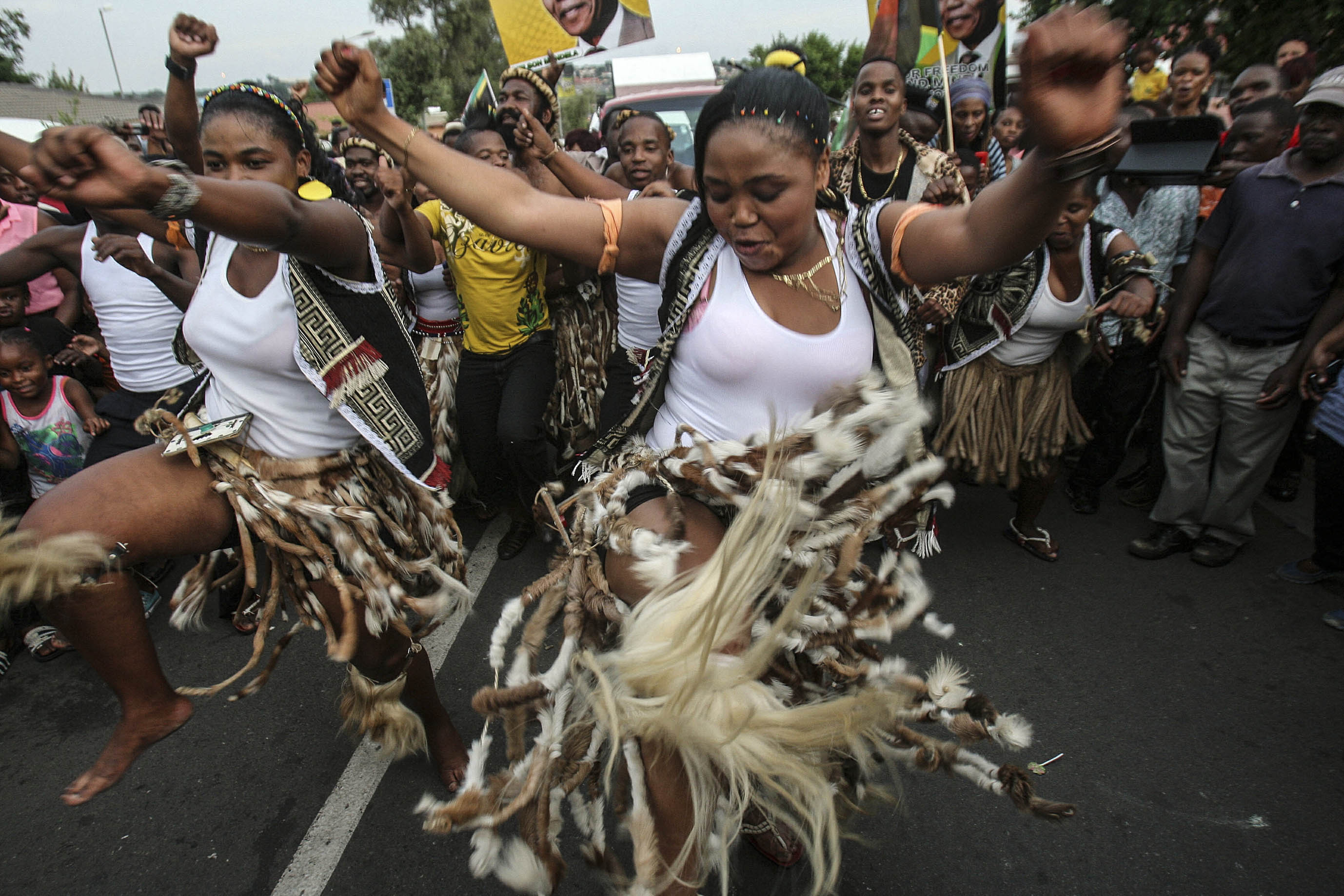 Fitting tribute: When Nelson Mandela died Izingane Zoma group performed outside his house. Photo: Veli Nhlapo/ Gallo Images/ Sowetan
Maskandi is a mosaic of musical styles that is a consequence of the meeting of various cultures from all over Southern Africa. The music emerged out of the conditions of colonisation, particularly the migrant labour system. The mining of gold and other minerals led to large contingents of black people leaving their homes to work in the mining areas. It is in these mining camps that maskandi was created.
Maskandi as a distinct acoustic South African identity has contributed to how we listen to this music, how we make it and how we relate to it. It is impossible to listen to the music of Busi Mhlongo without hearing the influence of Mfaz' Omnyama. House cats like Black Motion and Culoe De Song have sampled maskandi joints on numerous occasions. Zakwe's eloquent rhymes are unimaginable outside of the composition and the oration of izibongo, which form part of the maskandi structure.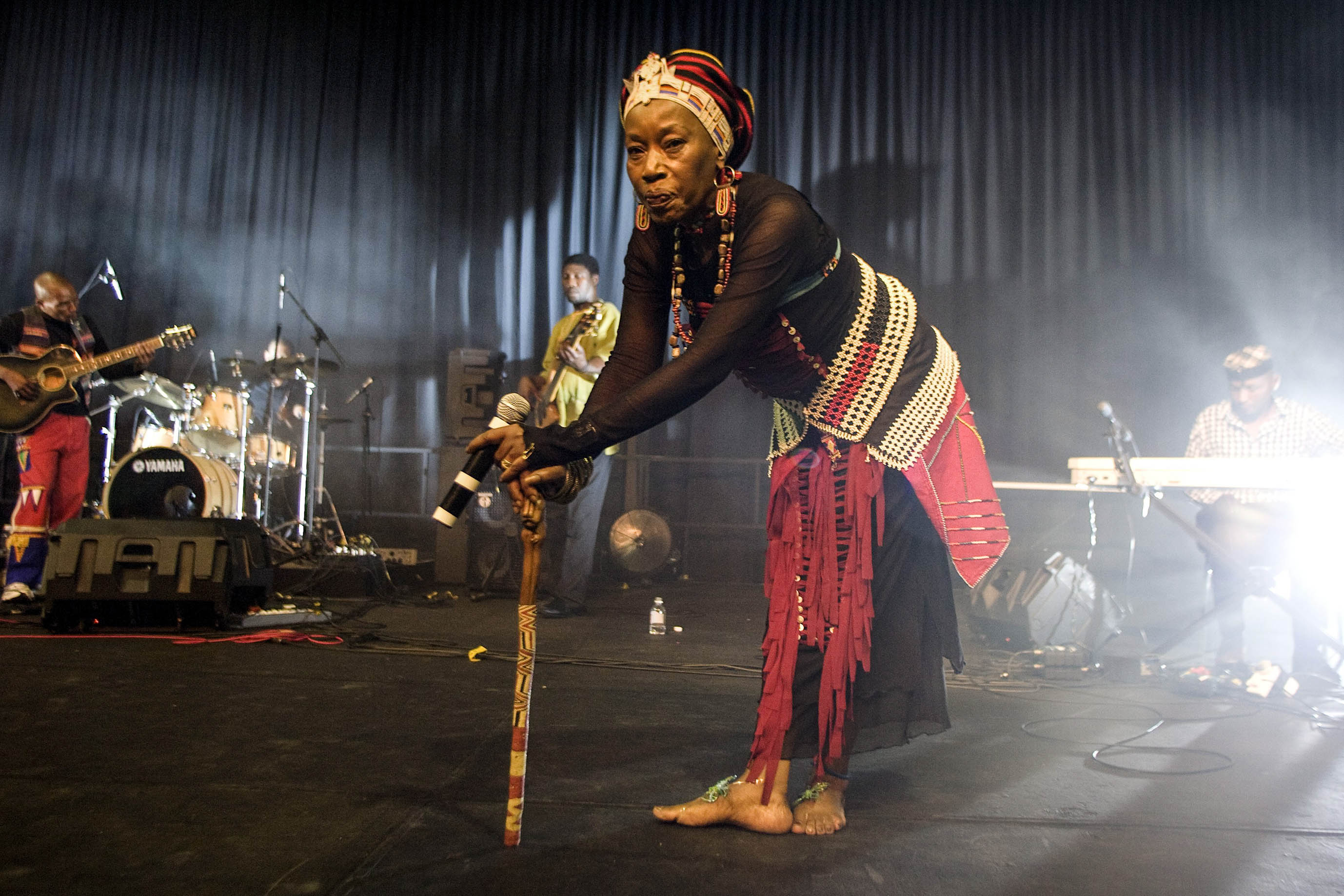 Busi Mhlongo is known as the Queen of Maskandi. Photo: Muntu Vilakazi/ Gallo Images/ City Press
In both content and form, maskandi responds to the specific sociopolitical conditions of black people in South Africa. A close listening and reading of maskandi reveals that the music is concerned with dispossession and dislocation. This is no surprise considering the conditions under which it emerged. The question of dispossession is one that continues to haunt South Africa's present. It is a shared experience of black people in Southern Africa. So, whether you were born in Soweto or you are a student at university, it is easy to resonate with Bhekumuzi Luthuli's lamentations about the loss of kinship and separation from ancestral ties. Maskandi articulates the relationship we have with pain, loss, pleasure and history.
A close reading of maskandi could assist us in understanding ourselves through the music.
Through a reading of maskandi I am interested in how we can reimagine what we call genre and categories of music, black music. Is it not Gabriel Letswalo who always says black people have a point of departure in giving an account of their experience and that point of departure is often a place of ugliness and despair? In subtle and sometimes covert ways maskandi is an expression that comes from these horrid conditions. I am therefore concerned about the discovery of the know-ledge that maskandi is willing to offer about our experiences and conditions as black people. I am interested in the location of this knowledge and what it could potentially mean to us.
Perhaps what I have tendered here is that, through maskandi, we can broaden our aural perspectives. It is to open a conversation about what one should really think when a maskandi jam plays on the radio or in a passing car. It is to complicate our understanding of genre. How blurred the lines are between these categories we have given to our music. Music is always in conversation and an exchange is constantly happening. It is this exchange that has shaped the genealogy of our musical expressions. So the next time you hear the distinct texture of the maskandi guitar you must listen to its wailings and know that this is a song about us. A song about our collective histories, current experiences and shared desires. That this is black music.