South Africa has made significant advances in the mission to reduce the HIV transmission rates. We are known as a country with one of the highest prevalence rates, with a reported 7.2-million people living with HIV.
But South Africa is also known as the country with the biggest antiretroviral therapy programme globally, with 61% of HIV-positive adults on medication, and as the first country in Sub-Saharan Africa to roll out a pre-exposure prophylaxis programme to high-risk groups, estimated to reach more than 80 000 people by 2020. The rollout of this programme included targeting students.
Young South Africans are seen as having a double burden of disease when it comes to HIV. First, they are highly susceptible to infection with HIV, especially young women and adolescent girls. According to the South African AIDS Council, young women have a prevalence that is four times greater than young men their age. Contributing factors to this include low decision-making powers in relationships, including on matters such using a condom. Young women between the ages of 15 and 24 make up 37% of all new HIV infections in the country.
The second burden is the additional strain of caring for family members living with HIV, who also lead lives that are disempowered and preventing them from being fully engaged.
But, the country has, over the years, rolled out programmes specifically targeting young people to increase awareness about HIV. One of the most successful projects is LoveLife – a programme that used TV, radio and print to reach more than 12-million South Africans. The programmes are most famous for propelling the ABC message (abstinence, be faithful and condomise) to drive the reduction of transmission.
The Soul City Institute, a nongovernmental organisation (NGO) that used TV and radio to deliver messages about HIV, is known for producing and developing Soul City and Soul Buddyz. These programmes successfully reached people in rural areas (who are often overlooked and neglected in campaigns) and 70% of people over the age of 16. Brothers For Life, a national mass media campaign targeting men over the age of 30, aims at increasing HIV awareness and dispelling myths about the condition. It has extended messages about gender-based violence.
These various campaigns and NGOs have had varying degrees of success through the use of traditional forms of media to deliver messaging. But, the world is continually changing and with it our forms of communication need to adapt. Globally and in South Africa, young people have migrated to spending more and more time on the cellphones and less so on other forms of media. News and current affairs are read daily on Twitter, visual stimulation from Flicker and Tumblr and communication and entertainment on Facebook.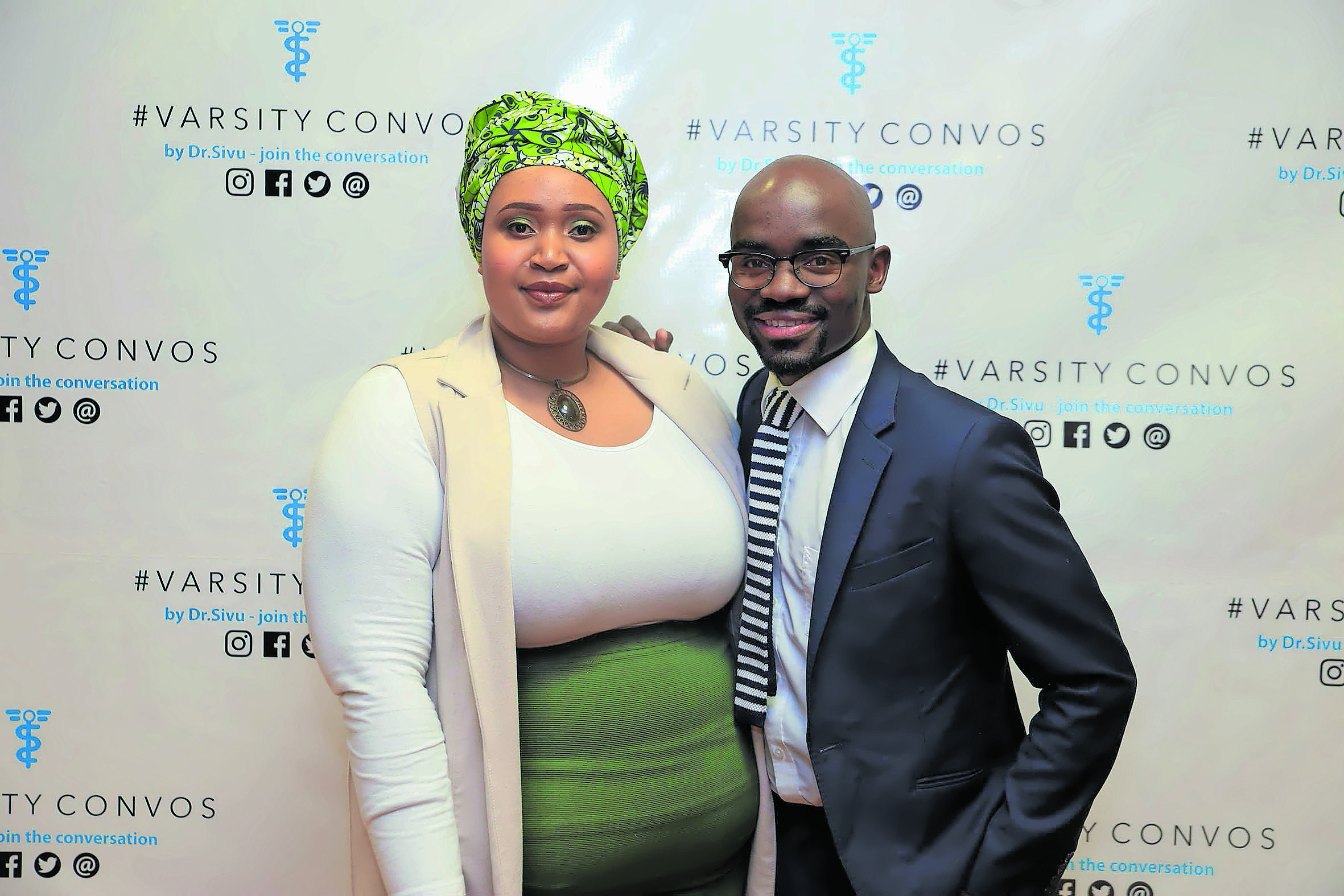 Basetsana Magosi, a nursing student at the University of the Witwatersrand and Dr Musa Mthombeni, were panelists at the #VarsityConvo conference. (Photo: Motlatsi Maomela)
The advent of social and digital media has presented a great opportunity for the healthcare sector to reach an even wider audience. The number of smartphone users in the country has been steadily growing over the years and is expected to reach about 25.5-million users by 2022. Unfortunately, this means that more than half of the population doesn't have access to these services. But, for those that do have, plans need to be made to increase awareness about HIV and issues affecting the youth.
Many countries in the world have started to use cellphones to target high-risk groups for HIV prevention and care. The use of SMSes has been widely used to target youth to increase testing and reduce substance use. Social media, on the other hand, has the potential to reach an even wider audience — and communication can be tailored for one-on-one or one-to-many conversations.
Existing platforms can be used to encourage behavioural change or to gather information on patterns of behaviour. Digital communication allows for dissemination of otherwise hard to reach knowledge. Information is disproportionately available to some people and not others.
These are just some of the reasons that have driven the development of software applications such as "Ask Dr Love", an app developed in the Democratic Republic of Congo, where there is a high burden of teenage pregnancy and illegal abortions (abortions are not legal in the DRC). The app allows users to interact with doctors on an online interface and ask any questions related to sexual health.
Last year we launched VarsityConvos. It's a programme that targets young people in institutions of higher learning to tackle the rise of communicable diseases such as HIV and other sexually transmitted infections and tackling gender-based violence. A conference, with a panel and audience, took place at one university to initiate conversations about these topics. But, these conversations were also broadcast through live streaming on social media with the hashtag #VarsityConvos. This allowed other people and students to take part in the conversations, ask questions and contribute from wherever they were in the country.
The learning from that exercise was that young people became more involved and were ready to learn, ask and hear more about the topics being tackled. They didn't need to be physically present to participate in the conference. The information also lives online and can be recalled whenever it is needed.
There is still a long way to go to fully understand the potential to use social and digital media to reach the young people and the general population. Essentially, to tackle the epidemic of HIV among young people, we need to meet them where they are. We need to use the tools they use daily. There are numerous opportunities for health education for behavioural change, research and engagement. Mobile technologies, augmented reality, social media platforms, these are just some of the few technologies we have at our disposal.
Dr Sivuyile Madikana is a medical innovator and health advocate